FEATURES
Exploring the Intergalactic Wonders of The Space Lady
By Blake Gillespie · August 24, 2021
Susan Dietrich never consciously set out to become The Space Lady, the name under which she'd become the interstellar matriarch of "outsider music." Instead, the persona was an outgrowth of who she was—and a tool for her to tap into her own creativity. "More than just my alter ego, when I don that helmet I feel some kind of energy that flows through me and is beyond me," she says. "I just gained a confidence I wouldn't have ordinarily. Lately, I've been describing it as, 'Channeling a being from outer space that's giving input I wouldn't otherwise have on my own.'"
For decades, The Space Lady was a familiar presence outside subway stops in Boston and, later, at BART stations in San Francisco, where she'd busk for commuters with songs like her ethereal, kitschy cover of Steve Miller Band's "Fly Like An Eagle." Some of those commuters even bought her cassette, which she'd cleverly titled The Space Lady's Greatest Hits. But mostly, she'd meet businessmen who'd ask things like, "How many years have you been at this, anyway?"—usually in less-than-complimentary tones. "I said, 'Twenty years…it's a start, anyway'," she says. "That would shut them up. I was just such a die-hard."
Busking was a means of survival for Dietrich in the 1970s. She and her late first husband Joel Dunsany—who went by the stage name The Cosmic Man—were draft-card-burners who went underground, obscuring their identities, cutting ties to family, and hitchhiking to different cities. Panhandling and busking was their only path toward income. When Susan became pregnant while the couple were living in Boston, Joel bequeathed to her his Cosmic Man helmet—the kind worn by the ancient goddess Roma, except that his had a blinking red bulb fixed in the center. For Susan, it was a bit of whimsical flair that increased the tips that fed the family.
"It almost instantly became my trademark," she says. It was meant to be a temporary addition during the Christmas busking season. But when commuters saw her without it, they'd ask what happened. "Joel had to let go of his possession of it," Dietrich says.
The helmet was just one piece of Dietrich's legend. The other was her Casio MT synthesizer keyboard, as well as the echo unit through which she ran her vocals, giving her covers of "Ghost Riders In The Sky" and "Major Tom" a sense of otherworldliness. Eventually, the family moved to San Francisco, where Dietrick entered a "street musicians" contest under the name Suzy Soundz. The host, however, kept referring to her as The Space Lady. The name stuck.
But it was not until she retired from busking in the year 2000 that The Space Lady found her largest audience. Someone had uploaded Greatest Hits to the internet, and international interest slowly grew. A second act was imminent.
---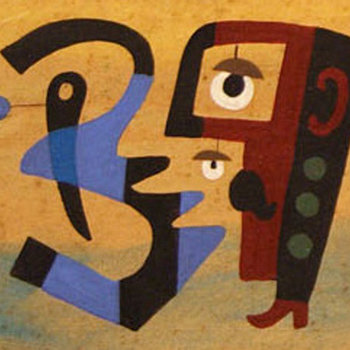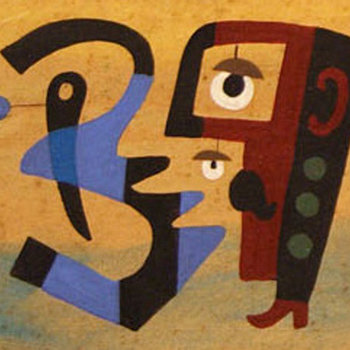 The catalyst for The Space Lady's re-emergence stemmed from her inclusion in the music criticism of Irwin Chusid and his cataloging of a genre he'd dubbed "outsider music." As a radio DJ, music historian, and journalist, Chusid had dedicated his life to, "finding things on the scrapheap of musical history that I know don't belong there, and […] salvag[ing] them." That led to the creation of the banner of "outsider music," under which lived such visionaries as Daniel Johnston, The Shaggs, and Congress-Woman Malinda Jackson Parker. When it came time for Chusid to assemble the second installment in Songs in the Key of Z, his outsider music compilation series, he contacted Dietrich to ask for permission to include her interpretation of The Electric Prunes's "I Had Too Much To Dream (Last Night)."
"I just thought, 'This is perfect,'" Dietrich says. "Yes, I'm an outsider. I'm just playing from the seat of my pants, making a go of it and following my muse. I was really swept away and humbled and honored to be considered a part of that genre. It was a huge breakthrough for me."
Merch for this release:
Vinyl LP, Compact Disc (CD)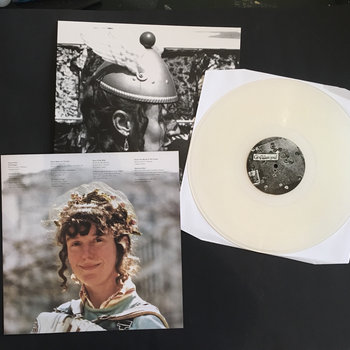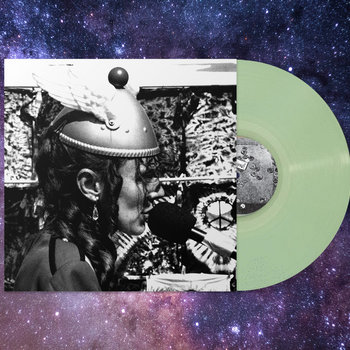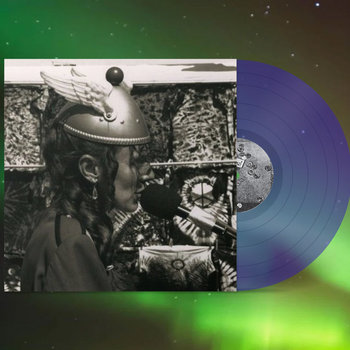 Another fan of the Space Lady was Michael Kasparis of the Glasgow-based Night School Records. Kasparis had heard her music on a mix CD in 2011, and was transfixed. He later wrote, "It felt like this was music from another dimension—a loving presence charged with looking after humanity, a benign alien who'd taken the pop music of the 20th century and reimagined it sublime, blissed-out, shorn of machismo and ego, […] a direct communication between souls." Kasparis wanted to reissue Dietrich's legendary Greatest Hits cassette, but his first email to her in 2011 went unanswered. Two years later, Dietrich's second husband, Eric Schneider, replied to let Kasparis know that, yes, the Space Lady was ready to return.
"The circumstances that led to the Greatest Hits is that we were living in a kind of bombed-out basement of a three-story Victorian apartment building," Dietrich recalls. "The guy on the top floor was a musician, and was pretty tech-savvy. At the time, digital technology was just coming out. He bought himself a recording set-up and wanted to practice using it. I was the guinea pig who played while he twirled knobs."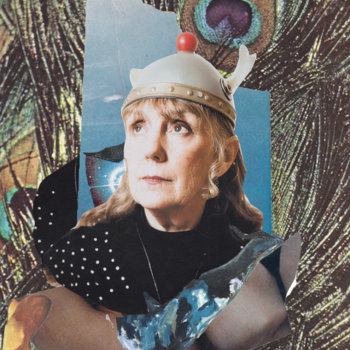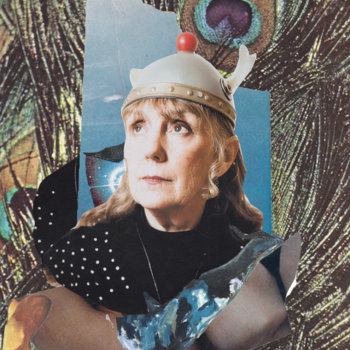 Merch for this release:
Cassette, Vinyl LP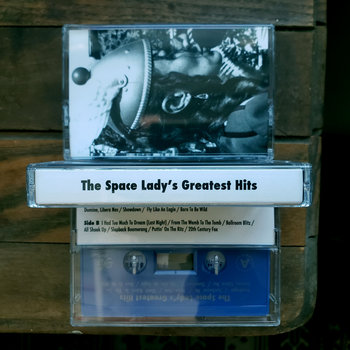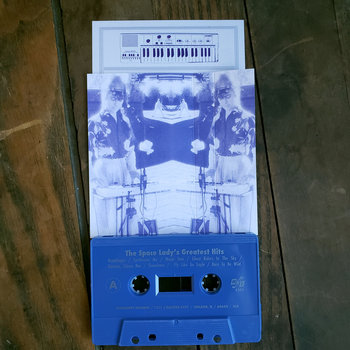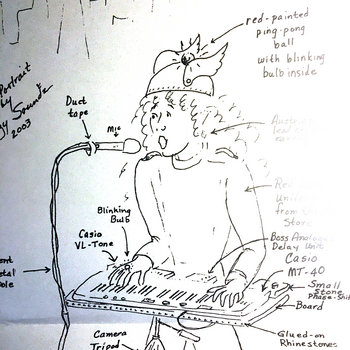 Though The Space Lady is mostly known for her interpretations of '60s pop and psych, her signature song was written by late husband Dustany, and was titled, "Synthesize Me." He wrote the lyrics and chords on his guitar, which Dietrich then rearranged for her keyboard. When she played it back to him he said, "I hardly recognize it…but I like it!"
Dustany was deeply supportive of Dietrich's busking as The Space Lady, helping to create her look by wiring blinking lights to her gear. They stayed together until the year 2000, when Dietrich and their three children moved to Colorado. Despite the fact that draft dodgers were being pardoned by President Jimmy Carter, Dustany remained distrustful of the government. "I was majorly disappointed Joel didn't feel freed up at all," Dietrich says. "By that time, Joel was entering a state of paranoia. His fears were almost unfounded to some extent. He just couldn't acclimate to society."
In that context, the lyrics to "Synthesize Me" feel like a clairvoyant love letter, opening with, "I love to see you shine/ Because you really blow my mind" before realizing, "the terms of you and me are up/ Set us free."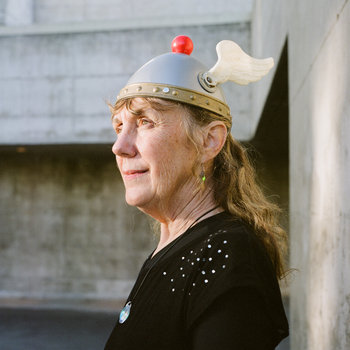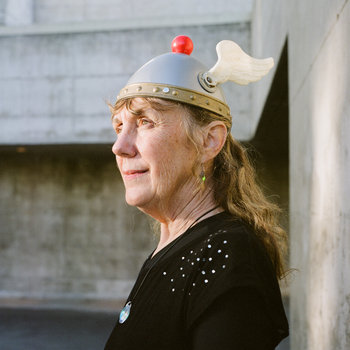 In 2013, Dietrich's second husband Eric Schneider began wondering why his wife was receiving emails from fans requesting performances by the Space Lady. Who was the Space Lady? Susan decided to bring her out of retirement, playing a set in their home for him, including "Ghost Riders In The Sky," which blew him away. A musician himself, Schneider began managing her, which led to her first new recordings since Greatest Hits. The self-released Imagine Peace On Earth compiles four home recordings intensely focused on universal healing, featuring covers of John Lennon's "Imagine," Ed McCurdy's "Last Night I Had the Strangest Dream," and Schneider's own "Who We Are is a Key," which promises, "Who we are is light/ Looking for a place to shine."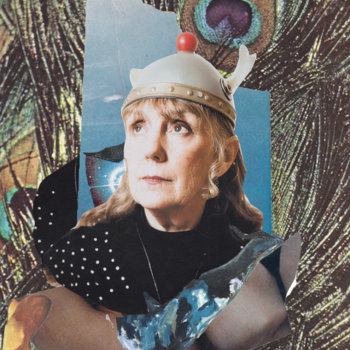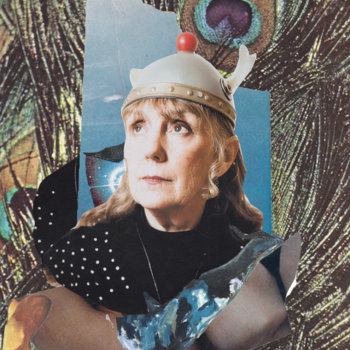 After picking up Greatest Hits for a U.S. pressing, Mississippi Records continued to transmit the Space Lady's message of of peace and harmony with On The Street Of Dreams in 2018. The title track is a cover of the English rock band Rainbow—but in true The Space Lady fashion, it takes on autobiographical meaning: "Do you remember me/ On the street of dreams?"
By 2018, Dietrich was now being managed by her grandson Skyler Wright, who created the cover art for On The Street Of Dreams. For years, Wright served as her tour manager, an experience she misses now that he's gone off to college. "We were quite the dynamic duo," she says. "It was such a privilege that I was able to give to him at his young age. It was in his blood to be my helper."
Merch for this release:
Compact Disc (CD), Vinyl LP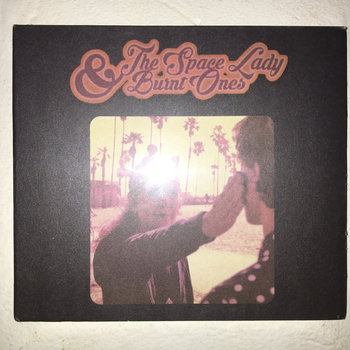 This split EP with Burnt Ones exists as a testament to the impact The Space Lady has made on the generations of musicians that followed. The Indianapolis-based band recorded a cover of "Synthesize Me" and reached out to Susan to get her approval and clearance. "I really liked their version," she says. "It was great, and they stayed true to the essence of the song. I congratulated them and thanked them."