FEATURES
Exhumed on the Real-Life Grave Robbing Story that Inspired Their New Record
By Zachary Goldsmith · October 10, 2017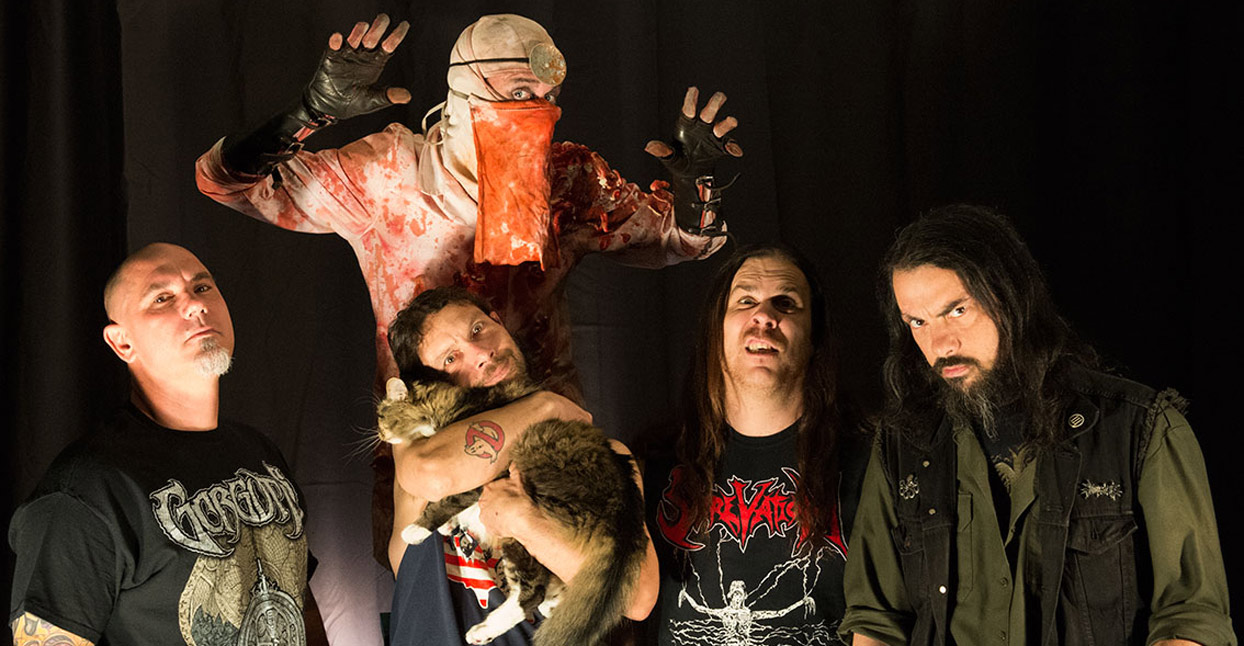 San Jose-based death metal stalwarts Exhumed have long been a driving force in the genre. Along with bands like Autopsy, they are credited with founding the subgenre "gore," which combines the unrelenting brutality of death metal with lyrical themes centered around medical anomalies and open wounds. On their upcoming record, Death Revenge, their first in two years, Exhumed have put their riff-centric metal in service of a suitably grim concept record.
Revenge revolves around the infamous Burke and Hare murders that took place in 1828 in and around Edinburgh, Scotland. Edinburgh, a leader in cadaver research was experiencing a cadaver shortage, so Burke and Hare took it upon themselves to provide the bodies for research. Over the course of 10 months, the duo murdered 16 people and sold their cadavers to Dr. Robert Knox for scientific dissection and research. The murders resulted in the passage of the Anatomy Act of 1832 which resulted in people voluntarily donating their bodies to the advancement of the medical arts via scientific research.
We sat down with founding member and frontman Matt Harvey (also of Gruesome) to chat about the idea of concept albums, and the gruesome story behind Death Revenge.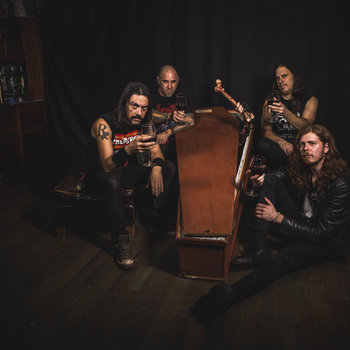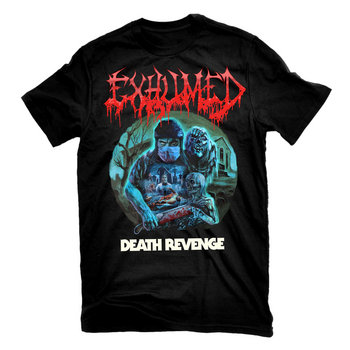 .
00:10 / 00:58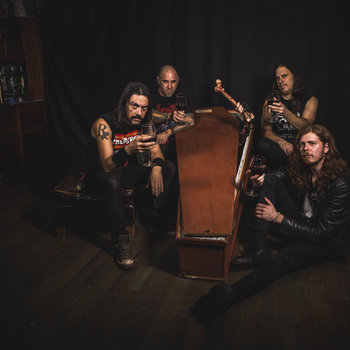 Merch for this release:
T-Shirt/Apparel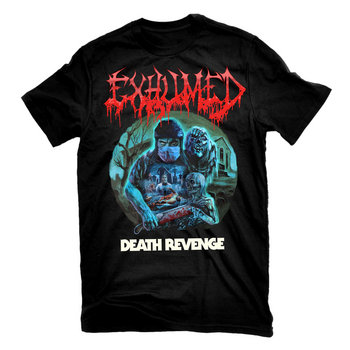 I wanted to jump off by talking about the idea of a concept album. That's something wholly new for you. What prompted you to undertake this challenge?
You know, I've had the idea to do a concept album for a while. I was sort of reading through different Wikipedia articles one night, just cruising around for lyrical inspiration, and I stumbled upon the Burke and Hare anatomy murders. I read the entry and thought, 'Wow, this has so many elements that intertwine with the aesthetic that we've already established.' So, I did a bit more research and found that very few bands had touched on this story. Which surprised me, because it is so conceptually rich that I thought another death metal band would have already explored it. From there, I ordered a couple of books—The Anatomy Murders by Lisa Rosner and Death, Dissection, and Destitute by Ruth Richardson—and did more research on the story and surrounding issues, and it just developed into a really fun project. The culture of grave robbery and murder and anatomy school just fit so well with the Exhumed themes.
What kind of background did you get from the books?
They clued me into the culture, really—the religious ideals surrounding death and the socioeconomic positioning that made people targets for guys like Burke and Hare. There was a real fear of grave robbery. You had a lot of itinerant workers coming in from Ireland, and they would drift in not knowing anybody. If you've got no one and no friends, it's quite easy for someone to make you slip away completely unnoticed. And, sadly, it happened.
Until Jack the Ripper, it was probably the most famous crime of the 19th century in the United Kingdom. It led to the Anatomy Act of 1832, which opened up the paths for more cadavers to be used for scientific dissection which helped remove some of the public fear about dissection. Which was important because the faith tradition during that period was that, at the time of the Rapture when Christ returned to Earth, he was going to resurrect your literal body. So people were horrified that their corpse would be dissected, and then they would end up resurrected in a mutilated form.
How did you guys choose the characters? It seems like you divvied them up pretty evenly among the band. 
That's just it, we divvied them up by character. We dramatized a bit of the background of their lives to fit their characters into a death metal framework. Since we hadn't done a concept album before, there would have been a few ways to approach it. We could have just used the vocals as an omniscient narrator, but we chose the more complex version—a character-driven way. So, it became me being the main vocalist with Ross being the sub-vocalist and Bud being the incidental vocalist. The fact that we have three moderately capable vocalists really freed us up to do more interesting stuff.
You have a pretty extensive musical background, was it you who handled the overtures and symphonic stuff on the record?
I don't know if my background is all that serious, I just wanted to put in some more symphonic, cinematic stuff that would tie everything together and help it make sense as a whole—film elements that keep reminding people there's a story happening. A lot of the arrangements were trial and error. I worked with Matt Widener on them, he's in Cretin, and was in Exhumed way back when. He's more knowledgeable about arrangements. So I brought him some parts, and he helped me arrange by choosing the instruments for different parts. I really wanted this to sound like a movie, and not a cheap synthesizer. I wanted it to feel like a death metal album with symphonic elements interspersed.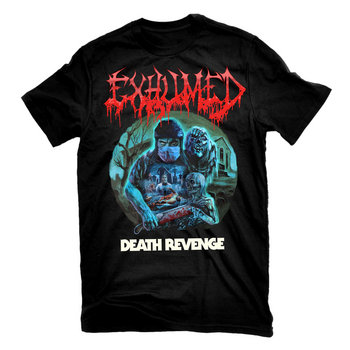 .
00:10 / 00:58
Merch for this release:
T-Shirt/Apparel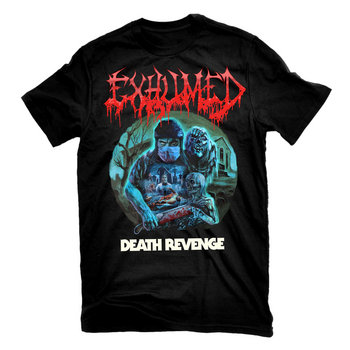 What changes compositionally about the aesthetic when you're writing an album like this versus, say, Anatomy is Destiny or even the more simple Gore Metal?
Well, each record has had an overall vibe. Gore Metal was really our statement record. We wanted to let people know that we were a band that they hadn't heard before, and we wanted to show them that we do old-school death metal and grindcore mixed with German/Canadian knuckle-drag thrash with a bit of melody thrown in. With Anatomy is Destiny, we wanted to prove to people that we actually know how to play. This one, the core driving force was really just to do something that was darker than before. I really love early death metal stuff like Death and Necrophagia—they had a real horror soundtrack vibe, and I wanted to bring that back to the palette.
You talk about different themes on each album, but there have been significant breaks between albums. I've heard Weird Al say that he's the only artist ever who has had every album he's done labeled a comeback album. I feel like that kind of applies to you. When you did Necrocracy, everyone screamed 'reunion,' and now it's happening again.
Well, we went away for a few years between Anatomy is Destiny and All Guts, No Glory. That was a true break, because we didn't write, record, or tour. But we never said the band was broken up. I think it's just the perception of people who haven't stayed in touch with the scene over the years. I mean, we played hundreds and hundreds of shows for the last few albums. I think part of it is also that new bands have the advantage to just pump out releases. Once you have a few albums out, you can oversaturate people. You can't do things the way bands in the '70s did, where every nine months a band has a new record. You would just fizzle out. We are certainly capable of coming up with material at that rate, but we feel like it would just be too much Exhumed. So we try to focus on producing quality stuff that's always a bit different from what we've been doing in the past.
—Zachary Goldsmith