FEATURES
Evvol Discuss Their Surrealist Electropop and Creepy Calvin Klein Ads
By Elizabeth Rushe · Photos by Elizabeth Rushe · March 13, 2017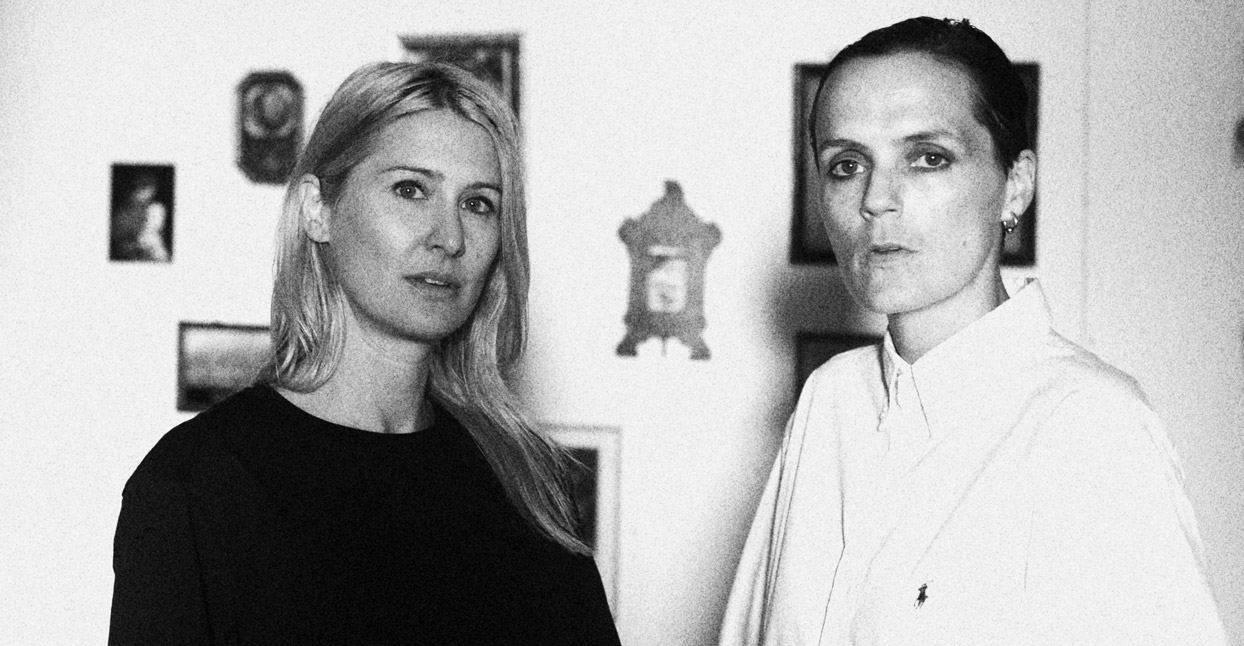 Julie Chance and Jane Arnison, of the Berlin-based band Evvol, first made noise with the darkwave "noir moodscapes" of their 2015 debut album, Eternalism. They were dubbed New Band of the Week by The Guardian, and the Pet Shop Boys' Neil Tennant praised their performance at Leipzig.
Now, Chance and Arnison are hard at work on a follow-up to Eternalism, which they say will represent a step away from the "dark and wintery" sound of its predecessor. Though that album is slated to be released this summer, the band is offering up the remix EP of  Physical L.U.V this March as a way to help set the stage.
A couple who have lived together in Berlin for six years, Chance and Arnison are as collaborative in work as they are in life; together they write, play, record, produce, and mix all of their own music.
The same week that global Women's Marches drew millions to the street in protest, the band released a video for Comfort Fit, a feminist take on the banned '90s Calvin Klein ad. The video was directed and edited by Jeff Way.
We spoke with Evvol about the dark times in which we're living, the role that Berlin plays in the music community, how to navigate the world as artists and women, and how a cancelled flight in Paris brought them together.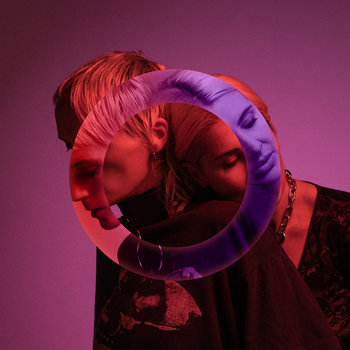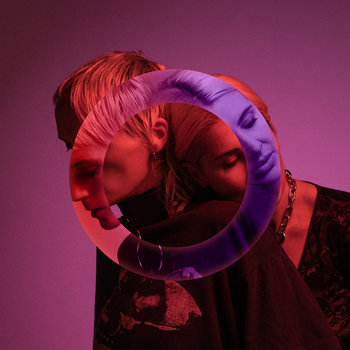 You're working on your new album during a very tumultuous period in the world.
Julie Chance: This album is definitely a response to our current political climate.
Jane Arnison: I feel as though the Trump administration is so arrogant and narcissistic that the protests won't affect them. What they will affect is everyone like you and me, and everyone around the world going, 'Oh no, hang on—that ' s where the power is, it's in activating people.'
Chance: Did you hear any of the Women's March speakers? Angela Davis was epic, and Gloria Steinem was pretty good. I woke up this morning thinking somehow that it was the beginning of the unravelling of the patriarchy. It was a solid action.
Arnison: And that it was internationally aligned, the power of that. My friend lives in India, and there were marches in the evening, when women usually don't go out because of the threat of rape. In small towns, not just big centres, it really has had such a knock-on effect everywhere.
Phrases like, 'It's darkest before the dawn' sound like clich é s, but human beings need to have deep, deep, discomfort before they change. I feel like Trump and his lackeys—this last, ghastly breath of the white middle-class, heteronormative system—is railing against the changing tide of the world. And I think this is acting as the catalyst we need.
Chance: We never would have seen this with Hillary Clinton. Hillary Clinton for me was the status quo. Trump in comparison is, first and foremost, a total disaster; but it's such a low point in our time that it will bring about some radical change, and we saw a glimpse of that yesterday [at the Women's Marches].
Arnison: It was heartening to feel like 'We do still care, and can be empowered to act against these terrible injustices that have been done in our name, without our consent, by our governments.' Angela Davis said, 'The two party system doesn't work,' and hinted at the idea that there is no Left or Right—everything's Center. So we need to have an actual Left, and all the subversive minorities to be represented holistically. It's also about money, that's how the people in power maintained that power for so long. They muscle out anyone who tries to come in with another voice.
What gave you the idea to do your own version of the banned Calvin Klein jeans ad for your new "Comfort Fit" video?
Chance: The original one was so creepy, and just sort of all about the male gaze, and the male in control. We thought it would be cool to flip the script.
Arnison: Visually, it was really appealing, but then that's where it ended.
Chance: We definitely wanted to do something with DVCAM (a digital video format), and this idea felt like we could combine all these little elements together. We weren't sure what direction to go in, or how it was going to turn out because we had so much footage! We were there for the whole bloody day.
Arnison: It was a process of elimination. Jeff, the Director of Photography, went through and came back with options—there was a funny edit, a serious edit, a philosophical edit. Then, we went back and discussed cutting and chopping and changing until the final mix.
Chance: It was funny: because we were so close to it, we couldn't tell if it was good or not, or if people would be interested. We thought it was cute, but maybe, like, randomers wouldn't think that. But the feedback was really, really good and we were really happy.
Arnison: When we were in the process of editing it, someone posted the original, so it's like it had entered back into the mind of the zeitgeist. It was cool to think that someone else was thinking of it too.
So, to back up for a bit: how did the two of you meet?
Chance: We met in a club, I was DJing, and I had just broken up with a Danish girl, who was starting in film school in Denmark—her career has totally taken off, she edited the Victoria movie (https://www.youtube.com/watch?v=qlG0nauf8fo) about Berlin. She dumped me because she was starting film school and needed to concentrate on her studies. I had this DJ gig in Paris and thought, 'I'm not going,' I was miserable, I didn't want to go. My friend said to me, 'You go there, and you hook up with as many people as possible, and you have a good time—just do it." So I was really miserable over there, but Jane was there, and then we hooked up. That's how it started. Jane was working in an Irish bar in Paris, working a 40 hour week. No time for writing or music.
Arnison: I took a year off music because I needed to. I had just finished a really intense degree in Australia, I worked in music for film, and then I was totally burned out. So I left and, on purpose, took a job to do…not-music. But then—around the time I met Julie—I got to the end of that job and found myself thinking, 'Is this who I am now? What happened to my path?' So it was quite serendipitous meeting Jules, because it was at a time where I was thinking, 'Do I go back to Australia, or do I become a … professional bartender?'
As it turned out, Julie's flight after that DJ gig was cancelled, so she had to come back. So that's actually how it got started. The first night was a hook-up, one-night-stand kind of thing. And then the second night, it was all very romantic—the cancelled plane in Paris, 'I've nowhere to stay.'
Chance: I didn't want to stay with my French host, so I thought, 'Maybe I'll just try and find that Australian girl on Facebook and ask if I can stay with her.' So that's what I did.
So you already started making music together the second time you met?
Arnison: We started talking about it, and I pulled out my guitar and we started playing around with ideas. When Julie went back to Berlin, we had this idea that we ' d do music by sending things to each other. But that didn't quite work out, I think it was just a little bit before internet speeds [in Europe] were fast enough to handle the data transfer, so it was a pain in the arse. Which was kind of good, because that encouraged me to move here.
How does living in Berlin compare to living in Paris?
Arnison: Coming to Berlin six years ago from Paris was like… just more space. Being an Australian, there's a spaciousness that you get used to, because Australia is so empty, I associate that with Berlin; even though now it's getting much busier, it's still very spacious, peaceful, there's enough personal space. There's also an openness to do things [in Berlin]. You can create, you can build a scene. So many of the people we know have come and just done things , whether it's DJing, producing, anything in the music and arts scene—they've just started by making their own parties, and making a name for themselves by making their own events.
Chance: People propel themselves, for sure.
Arnison: But in the same way that anyone can do anything, you get a lot of people who are just starting out and experimenting. You can see music every night of the week, but the quality of it is variable. It's all connected to why Berlin is so great for musicians—it's a place where you can try things out and develop, and there's not as much pressure. That's the way we developed and honed our live act, like many people.
Someone who I was really into is Jamie Lidell, and he lived in Berlin and figured out his whole new direction, and then went to live in New York. And I think there's many acts that have done that over the years. It's a breeding ground in a way. The quality of the nightlife reflects the fact that people are trying things out.
Arnison: Berlin Music Board support a range of things, from touring to album support to promotional support—whatever it is you need. They're really helpful. There's the realisation, on some level, by the government in Berlin, that they're investing in popular music. Because often arts grants are given new music, and that's very important and necessary. In the same way, they'll give this tax break to Berghain, realising that club culture is part of the cultural capital and Berlin is very much the centre of pop music in Europe
What's your process when you're working on music together?
Arnison: We do everything except for mastering. We start off in a room together in our studio and we throw around ideas. It could be thematic stuff, it could be stylistic, it could be tempo-based. We kind of start with anything and just experiment. We have all our instruments on-hand, and have stuff loaded up into the computer, so we just play around and see what comes up.
Once we have a seed of something that we like, we split off. Julie will work on lyrics, and I will work on refining the jams and experiments that we have, and then we'll come back in and out and in and out, weaving everything together until we get a demo that we're happy with. These days we leave the demos really raw, because every time we do stuff, it's an experimentation. For this album, since the demos were so raw, when we went into the recording studio, we weren't fixed to, 'It has to be this way.'
Chance: We demo here in this apartment, but re-record everything in a proper studio through a proper desk. We record vocals [at] Golden Retriever studio on Kottbusser Damm.
Arnison: Obviously after a live recording, it sounds very much like a live band. We're hybrid—we're very much about the electronic sound as well. So it becomes, 'How can we fuse these two things together?'
You're very hands on with your music from start to finish, is that a standard you set for yourselves?
Arnison: I t's an important part of it for us.
Chance: A lot of female artists are produced by men, or men always have some sort of hand in it. We definitely take pride in the fact that we do everything. Jane's an amazing producer,
Arnison: Thanks, babe. Everything Julie is saying is absolutely true, but also from my perspective, it's selfish, because I'm obsessed—I'm a sound geek. The opportunity to do this, and with our music, I can ostensibly do whatever I want. So trying techniques out and different things, you don't always get that freedom when you're working with a client. Because we're focussing on the album [right now], I'm not working with other people as much. I also teach music at a school, so that's the division of my time. Any time I have that's not for the band is given to teaching. I produce and engineer other people.
When you're teaching, what's the gender breakdown in the classroom?
Arnison: In one of the music production classes I teach, there's one female in a whole production class of 28. Which is alarming to me, in this day and age. I'm working with the administration to make sure that we're finding the women who want to do this. A female student came to me once and said, 'I feel panicked because I don't know about compression, and all the guys are sitting there doing stuff.' And I was like, 'Let me let you in on a secret: they have no idea what they're doing.' And she said, 'But they all look like they do,' and I said, 'Yeah, it's called 'fake it til you make it, ' and you need to practise that.'
Julie, you have previously written about your struggle as a gay teen in Ireland. What was the situation like for you in Australia, Jane?
Arnison: I had a long struggle with my family, to traverse great distances in regard to their opinion about that. I'm happy to say that we're in a really good place now, but it took about 10 years. I was really fortunate to have really good friends at school who kind of always knew I was a bit of a lez. I was talking to one of my friends after being out all night, and I was going, 'I think I might be…' and she goes, 'Oh my god, Jane, shut up, you're a lesbian, we all know.' So I think with my friends, it carried me through that period. It was difficult, but not destructive to the level it was for Julie. There was more visibility [in Australia] as well, with the Mardi Gras in Sydney, and the gay scene. The difficulty I had, was that I was a femme lesbian in a very butch environment, in the late ' 90s. So I would go into nightclubs, and people would be like, " What are you doing here? This is for lesbians!"
Chance: [mimicking] I'm a lesbian too!
Was music something like a sense of freedom for you both during those times?
Chance: Yeh definitely
Arnison: Music was a place where I found people, all of my heroes—Me'shell Ndegeocello is one of my greatest heroes, musically. She's a lesbian, and her songs are really erotic. I was really into Ani Difranco and Skin from Skunk Anansie, Madonna with Erotica . So a lot of my quiet, fantasy life when I was younger was through the records I was listening to, and that music was where I could explore those ideas.
Chance: I had "Smells Like Teen Spirit" on cassette. Nirvana actually played in Dublin, and I saw them play. Teenage Fanclub were supporting them. I really tuned in to his angst and [the feeling of] wanting to die. It really spoke to me, where I was at the time. Even—and this is cheesy but—I remember "Everybody Hurts' by R.E.M. I didn't really have any friends when I was in primary school, and I was maybe 12 or 13 and I remember coming home and crying to my mom, and listening to that song, thinking 'Yeah,' and tuning into it. It's so cheesy to say, 'Music saved me,' but on some level it really, really does.
Arnison: That has to be some of why we write music. For me, the intimacy of recorded music is that, what I experience by myself in my room with music was such an amazing thing. For me, the thought that anyone would ever be listening to my music, by themselves in their room, while going through whatever it might be they're going through—it makes me quite emotional. I don't know if that even happens to people with our music.
Tell me about the remix EP that's coming out
Arnison : It's the title track from the Physical L.U.V EP. We've got two remixes, and the original's gonna be on the 12 inch. We have a remix by Steffi, [Diliberto, Panorama resident DJ, producer and label owner] who is very well known in Germany, and one by Dexter, who we know through Steffi. Steffi's is a more chill, 90's electro version and Dexter's is a really banging, garage, house version. It's a really nice contrast. We talked about it for ages. Initially we wanted it to be done last year, so that 2017 was all about new music. But it's taken the pressure off us to finish our new album. Our sound has transformed since the first material. It was much darker, more wintery.  Now we're back from Thailand… It is interesting to be able to reflect the light and shade.
—Elizabeth Rushe