FEATURES
Eureka California Premiere "Versus"; Talk Sobriety, Springsteen and The Importance of Pop-Punk
By J. Edward Keyes · March 23, 2016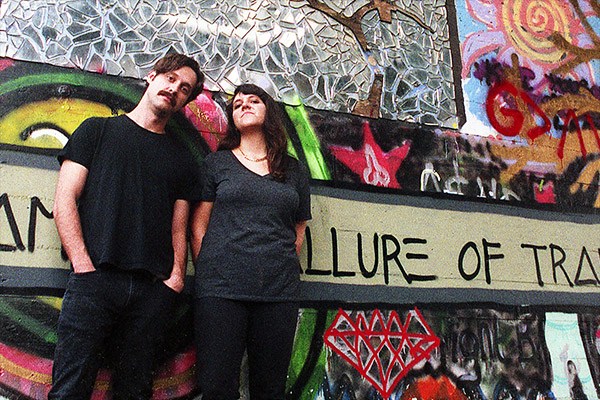 "I wasn't allowed to buy CDs. My mom would go into my room, find the CDs I'd bought and look at the lyrics—one time, she had to 'have a talk' with me about profanity."—Marie Uhler
"Go to bed well before the evening/ but I don't sleep, I just lay awake," sings Jake Ward on "Caffeine," a rare moment of quiet on the band's roaring new record Versus. It's a good summary statement for the record in general: after a string of charming but decidedly lo-fi releases, Ward and bandmate Marie Uhler scrape the mud from the corners of their songs and make a panicked, restless record about panicked, restless times. Versus operates almost entirely in the red: "Sign My Name With an X" pits supercharged riffing against Ward's bottom-of-a-well vocals; on "Sober Sister," Ward skips a twitching guitar line over Uhler's ricocheting drums. That song serves as the record's unflinching personal center, cataloging Ward's struggle with sobriety. It also continues the band's tradition of referencing other songs (the breakout single on their last record was called "I Bet That You Like Julian Cope".) In this case, they nick a line wholesale from Springsteen's "Atlantic City." In honor of the release of Versus—which we're premiering exclusively at Bandcamp—we chatted with Ward and Uhler during a tour stop in Brooklyn.
Listen to the Exclusive Premiere of Versus: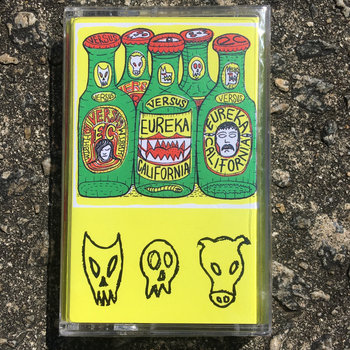 .
00:10 / 00:58
Merch for this release:
Vinyl LP, Compact Disc (CD), Cassette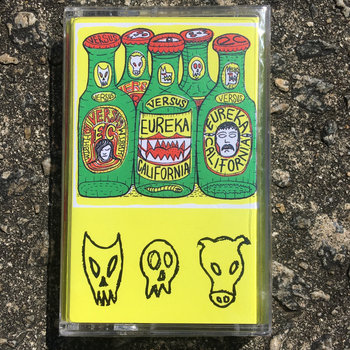 What were some of the first records you can remember hearing that rearranged the way your brain thought about music? There's a reason I'm asking you this.
Ward: There have been a few. I remember when I was 13, my dad gave me Quadrophenia by the Who. That was a huge, sprawling concept record, and it really changed the way I thought about what music could be. And then in High School I heard Superchunk and Guided by Voices, and they changed it again. And even more recent things—like David Comes to Life by Fucked Up, that was really cool. It feels like every couple of years there's something that I hear that just changes how I think about things.
Uhler: I grew up in a small rural town with really strict parents, so I wasn't allowed to buy CDs. My mom would go into my room, find the CDs I'd bought, and look at the lyrics—one time, she had to 'have a talk' with me about profanity. The closest music store was half an hour away, and it was a chain store. When I was 13 or 14 I found Led Zeppelin 4—as a drummer, I was pretty into that. When I was in high school, I got into pop-punk, and when I moved to Athens when I was 18, I went to see The Ergs at a house show. I didnt know anyone there, I'd never been to a house show before. It was really cool.
Ward: When we were both in high school, it turns out we were both massive Thursday fans.
Uhler: That was the one concert my parents would drive me to see. I saw Thursday like four times.
Ward: We were coming home from a show with Mike, who runs our label, and were like, "Alright, you need to hear these two records." We made him listen to Tell All Your Friends by Taking Back Sunday and Deja Entendu by Brand New. Like, back to back.
Uhler: He was dying.
You know, a lot of people look down their nose at pop-punk, but if you're a suburban kid, or a kid from a small town, and you don't have access to house shows or a DIY scene, those records can actually be a really important gateway to that world.
Uhler: Listening to Victory Records albums in 2003 is totally what led me to start going to house shows when I moved to Athens. And then once I figured out, 'Oh, you moved to a place with a music scene. You can leave your dorm and walk three blocks and see 20 bands in one night,' That blew my mind. I went to shows almost every night the first two years I lived there.
Ward: That's how it was in Raleigh, where I grew up, too. I remember Reel Big Fish covering 'Boys Dont Cry' by the Cure and I was like, 'Whoah, who wrote this song?' When you don't have these cool bands from the '80s and '90s coming through your town, the bands who are covering those bands are your introduction. And that led me to The Jam and The Damned and all kinds of different stuff.
The reason I asked that very first question is because there are so many little embedded clues in your lyrics to other records—I caught a Springsteen lyric on this one from Nebraska, for example: "Everything dies, baby, that's a fact."
Ward: There are smaller ones, too. In one song I sing about being, 'crazy from the heat'—that's the name of a David Lee Roth record. We put a lot of clues in there, and listening to our songs and the lyrics, it's really easy to tell who our influences are. I always liked it when other bands did that—when I'd hear things and it was an allusion to something else. It just makes it easier to search around and find new bands. Plus, I have a lot of fun doing it.
The thing that struck me about this record is that it's so much bigger and brighter than the stuff you've done before. There was always a layer of distortion in the past, and a kind of "lo-fi" feel to the songs. This record is a full-on rock record.
Ward: There were a couple of changes we made that were very conscious. One was in the actual sound. On Crunch, it's just me playing out of a guitar amp, but around the time we started writing the new songs, I started playing out of a guitar amp and a bass amp to make it sound fuller. I added fuzz and delay to create a mood and an atmosphere. As we would play the songs, we went in different directions. Not every song had to be breakneck fast all the time.
Uhler: When we did "Realizing Your Actuality," I was just trying to see if I could play a basic 4/4 drum beat slower than I'm used to playing it. I've always had a hard time playing more slowly—even when I was a kid. That's why a lot of our songs, when we play live, are twice as fast.
You've expanded lyrically, too. Jake, on this record it seems like there's a lot of internal frustration on your part—almost like you've got the weight of the world on your shoulders.
Ward: Lyrically, it was very much a conscious effort to be 100% honest about what was going on with me in that year. The end of 2014 and then all of 2015, I'd had a shitty year. A lot of the songs are just a snapshot of that time. So some of the songs deal heavily with things that were happening at that time. 'Sober Sister' is my thoughts on and problems with sobriety. 'I Will Write Mine Over Potomac' was about leaving town saying goodbye to everything that you knew. 'Realizing Your Actuality' is about social anxiety. Those are very personal songs to me, because I know what I was going through at those times. I don't feel like I'm a very negative person or a very dark person, but writing these songs was just a way of coping with what was going on. I think it just came out a little darker because I tried to write more honestly. And maybe also it seems darker when it's so fast, and the words are being yelled, and there's fuzzy guitars and pounding drums. Maybe if the same lyrics were over Steely Dan, it would be like, 'Eh, it's not so bad.'
Photos by Stacey Piotrowski