FEATURES
The Muscle Shoals Country-Soul of Emily Duff
By Jim Allen · March 29, 2017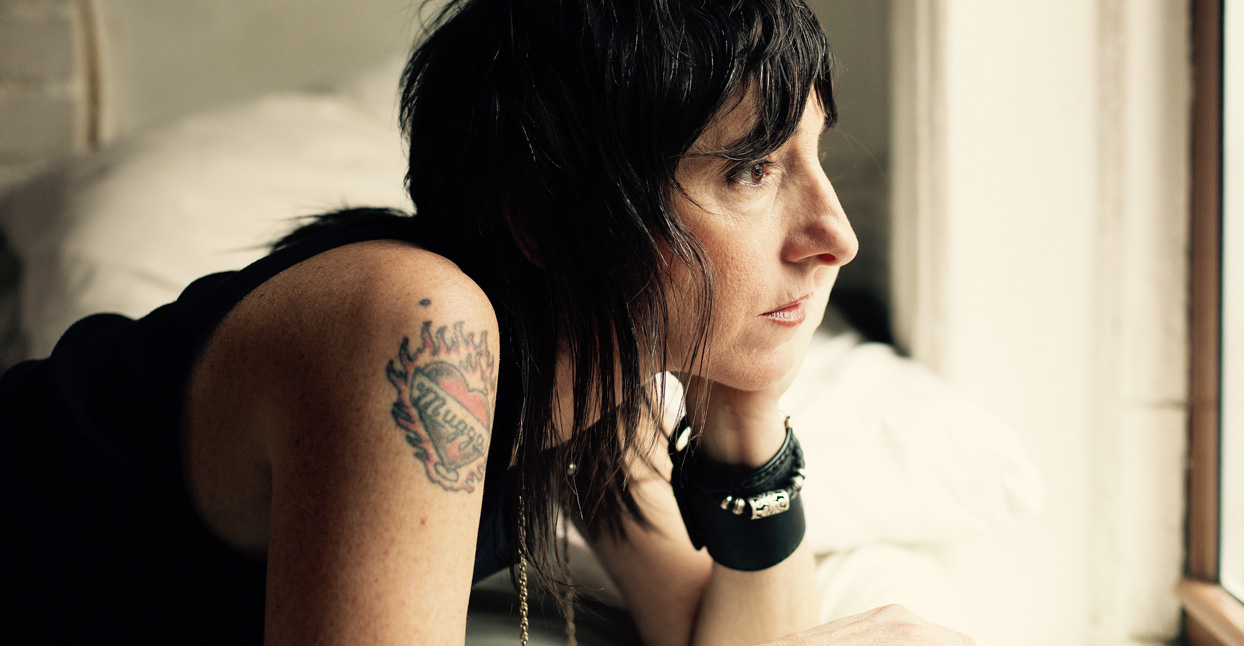 "The place is spooky and full of ghosts," says Emily Duff of the studio where she cut her new album, Maybe in the Morning. That seems about right, considering that the New York City singer/songwriter came to Muscle Shoals, Alabama to record at FAME Studios, the storied soul hub where Aretha Franklin, Wilson Pickett, Otis Redding, and countless others cut classic sides in the R&B golden age of the '60s and '70s.
"If you're an insane music lover and worshipper of that era like I am," Duff says, "you walk in the door and you're like, 'Fuck, I'm home.' Every time I walked through that door I got the chills. You're with people who basically built the whole structure that is your church of music, and you're in that room. You can't stop smiling, My face hurt from smiling so much."
Merch for this release:
Vinyl LP, Compact Disc (CD)
But the path that led Duff to that musical mecca was far from straightforward. She grew up on Long Island, on a steady diet of singer/songwriter and roots music. "Kris Kristofferson, Neil Diamond, Willie Nelson, Janis Joplin, Johnny Cash, those were the records we listened to," she remembers. "And then there was The Partridge Family and Sonny & Cher, because I was a child of television. And I was heavily into the whole soul thing—I loved Al Green and Marvin Gaye and Aretha Franklin."
After playing in a string of the requisite high school and college bands, and moving to New York City, Duff fell in with avant-rock legend Gary Lucas in the mid '90s. Lucas, who first earned renown as the guitar wizard in Captain Beefheart's Magic Band, had a group called Gods and Monsters that turned out to be their lead singer Jeff Buckley's onramp to solo stardom (Buckley included songs he wrote with Lucas on his seminal solo debut, Grace).
"I replaced Jeff Buckley as the lead singer in Gods & Monsters," Duff recalls. "As soon as we started playing together, we knew something was cool. I did that for about a year and a half. It was pretty interesting; [Lucas is] not the easiest person to work with, but he sure is talented. And I respect what he does. But it turned out to not be.a good situation for me."
Famed producer Sandy Pearlman (The Clash, Blue Oyster Cult) wanted to make a record with the band. But Lucas was wary of being burned by another Buckley-style exit. "Gary wanted me to sign a contract that I wouldn't do anything with anybody else for a really long time," Duff explains, "And it just didn't make sense to me." This was partly because she had already discovered a different outlet for her music. "At the time I had started writing a lot of songs again. I was playing with these two other women, Michelle Johnson on guitar and Anna Goodman on fiddle. And I thought to myself, 'I just want to start this little three-piece girl thing called Eudora.' It conflicted with what I was doing with Gary, and Gary said, 'No, you've gotta choose one or the other.' So I chose Eudora."
The shift represented a move back to the rootsy sounds Duff grew up with. "It was the heyday for that whole alt country/Americana thing that was just really revving up. So we had a lot of fun doing that." After starting another band called Sweetfeed, Duff took some time off from music, during which she started a family. "Time away was good for me," she says, "because then I came back writing like a train. 2013 is when I picked up my pen again and said, 'I've got a lot of songs to write now.'"
Starting the Americana-oriented Emily Duff Band, she finally began to feel like she had come into her own. "I think that i had gone through some stuff—becoming a wife, becoming a mom—and the stuff that I was writing just felt incredibly different," she says. "[My work] didn't feel like a high school band anymore, it felt more confessional, more like I was singing almost like—a memoir. I just felt like I had lived long enough now to really own it. I felt like I was really telling my story. It felt like I was finally me in my own skin.
Consequently, making distinctly country music in the middle of New York City didn't feel incongruous to Duff. "It didn't matter where I lived," she says, "it didn't matter where I came from. The music was where my heart was, and who I felt like I am at my truest. It felt absolutely liberating. In certain bands, it was all about putting on a show, or feeling like a character. This feels very real and very true, like I'm not wearing a costume or putting anything on. It feels right."
Merch for this release:
Vinyl LP, Compact Disc (CD)
Shortly after releasing the Go Tell Your Friends EP in 2015, Duff began contemplating her next move. With financing from a Southern music lawyer who also happened to be a big fan, Duff set her sights on Muscle Shoals. "I went back to all the things I love," she says, "like Bobbie Gentry, "Ode To Billie Joe." And then Etta James, all these classics. I was always gonna do something that was rock 'n' roll with country soul, because that's what I related to."
The mating of country twang and funky grooves by artists like Gentry, Tony Joe White, and Larry Jon Wilson in the late '60s and '70s, tagged with the umbrella term "country soul," fell from favor by the time the '80s came along, but not before nestling itself in Duff's heart. "It's naughty and exciting," she says, "there's a sexiness to it that almost feels forbidden. It's rock 'n' roll, but there's also a bit of it that sounds sanctified, that's protecting from the devil. It's almost got a church quality to it, that you can step to the edge but then you'll step back. So I could be naughty, but know that I wasn't going down in flames at the same time. You can dance there, but you don't want to get in trouble when you're a kid."
But though she chose the studio where Gentry recorded her 1970 album Fancy, Duff never deliberately set out to make a "vintage-sounding" album. "I knew that the tunes were all sort of sounding like they could live there," she says, "but I didn't know what it would sound like until we got to the studio. And then I thought to myself, 'This is just who I am, and this is what it's gonna sound like.' So it wasn't like I made a decision that this is gonna sound like a throwback to all the music I loved listening to in the back seat of mom's 1971 Monte Carlo. It just wound up sounding like that because that's who I am. That's the shit I love. It doesn't mean I don't love listening to David Bowie, or Gang of Four. But if I had to put out a record that really says This is who I am, that's the sound. It's gonna sound more like Ike & Tina Turner than The Jam."
So while many of the tracks on Maybe in the Morning feel like they could have come from the days of bellbottoms and sideburns, the whole thing also feels completely natural. The funky flow, organ swells, and full-bodied harmonies on "Hypmotizing Chickenz," the foot-stomping, Southern-fried rock 'n' roll of the title tracks, and the sanctified soul plus slide guitar of "Somebody on Sunday" tap into the same sort of timeless vibe that first captivated the young Duff's ears decades earlier.
Merch for this release:
Vinyl LP, Compact Disc (CD)
Of course, the surroundings couldn't help but influence the outcome. "It was incredible," Duff recalls of her FAME experience, "anything that you would expect it to be, it's even more than that. Walking into the vaults and seeing the tape that had Duane Allman's name on it, all that one-inch tape that had Bobbie Gentry's name on it, and Wilson Pickett. In the middle of our session, Randy Owen from the band Alabama stops by with his wife and he starts telling me stories about sessions between Wilson Pickett and Percy Sledge. He goes, 'Oh, that console you're working on, I was there when Percy Sledge knocked Wilson Pickett out on it because he called him a pussy-ass singer.'"
Merch for this release:
Vinyl LP, Compact Disc (CD)
In addition to Duff's regular band, including guitarist Scott Aldrich, bassist Skip Ward, and drummer Kenny Soule, the core group was enriched immeasurably by the presence of longtime session keyboardist Clayton Ivey, who was was called in for the sessions by engineer John Gifford. "I'm like, 'Oh, Clayton, I'm sorry, you're gonna be playing to a scratch vocal today.' So he says, 'Oh, let me tell you a story about playing to a scratch vocal, so he starts telling me, I was playing organ on the session for Aretha's "I Say A Little Prayer."' I'm like, 'What?!' I had no idea what he had played on, but this guy was in the original FAME gang. He sits down at the Wurly [Wurlitzer electric piano] and goes 'Is this Spooner [Oldham]'s Wurly? This is the same piano I played on when I was 23 years old when I cut 'Patches' with Clarence Carter. And at that moment I started crying."
A similar occurrence came when Ivey played on the slow-rolling R&B waltz "Don't." "He listened to like 40 seconds and said, 'I know exactly what to do.'" remembers Duff. "He goes, 'I'm gonna do a Wurly part and then I'm gonna do a B-3 part. He starts to play just based on 40 seconds of what he heard on the track. The chills, goosebumps, and I can't stop crying, because it's exactly what I heard when I wrote the song, in a perfect world, and he knew exactly what to do. And then he comes in and says, 'Well I haven't enjoyed playing something like that since I played on [Etta James'] 'I'd Rather Go Blind.' I'm like, you've gotta stop this! It was heaven, it was absolute heaven…the greatest privilege of my life."
But for all the Dixie sauce slathered on the tunes, the topics Duff addresses are undoubtedly informed by her home town's milieu. The title track is, "a real story about a woman who fell in love with a man who was a junkie, and then she wound up getting addicted. Not only did they get killed, but one part of the story that always freaked me out the most—one night she got so angry with him…she took pliers and pulled out all his teeth while they were high. He woke up with no teeth in his mouth. These were friends of mine who eventually did wind up getting killed copping dope. They would always say, 'We should really stop getting high,' and it was always like, 'Maybe in the morning it'll be a new day and we'll stop.' But that never happened for them."
Ironically, Duff penned the song "Alabama" before she ever had any idea she'd end up recording it in Muscle Shoals. Drawn from her childhood memories, it evokes a family's car trip from the city to more rural environs, with the kid in the back seat giddy with anticipation about the adventure that lies ahead.
Maybe in the Morning occupies a place somewhere in between New York City and Muscle Shoals, equally influenced by both, but ultimately indebted primarily to Duff's earthy-but-urgent delivery and emotionally penetrating songwriting. It may not spark a wide-scale country soul revival, but for the duration of its dozen songs, that rarefied sound rises up tall and timeless.
—Jim Allen