FEATURES
How Singer-Songwriter Eliza Shaddad's "Future" Defies Breakup-Album Norms
By Amaya Garcia · October 23, 2018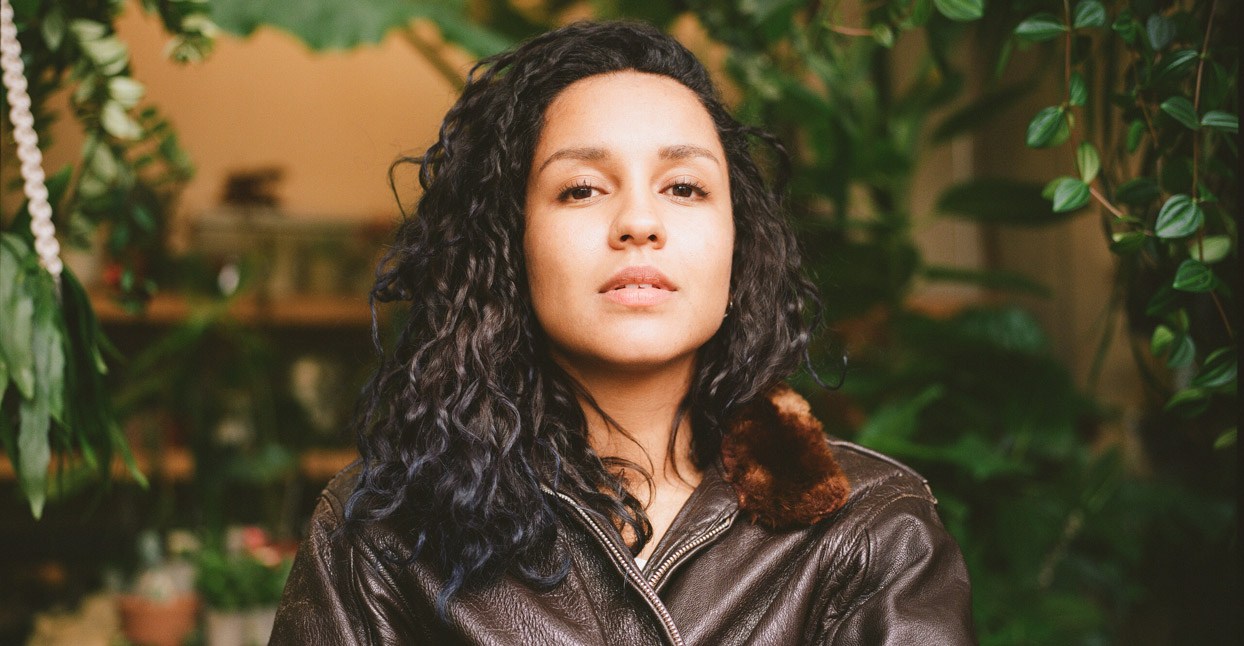 During the first few seconds of "White Lines," the opening track on singer-songwriter Eliza Shaddad's debut album Future, you can hear the Scottish-Sudanese artist casting a shadow of doubt over a seemingly irrevocable decision. There's nothing to mull over anymore, yet Shaddad is as painfully conflicted as she is determined in putting an end to a long-term relationship. "If I drive away, far from you, can I get free from this?" she asks, simply and bluntly, letting us into a conversation she's been having with herself. "If I stay awake, my eyes on the view, I could get miles."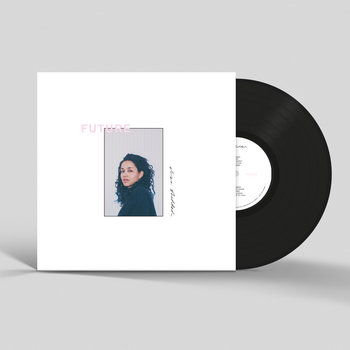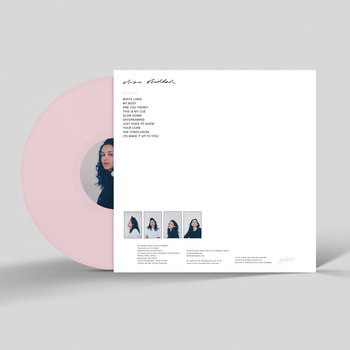 .
00:10 / 00:58
Merch for this release:
Vinyl LP, Compact Disc (CD), 7" Vinyl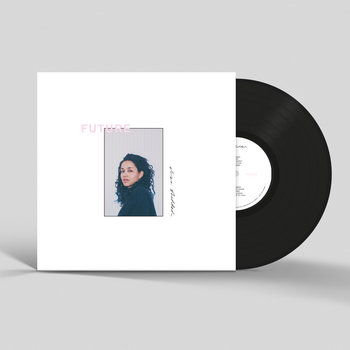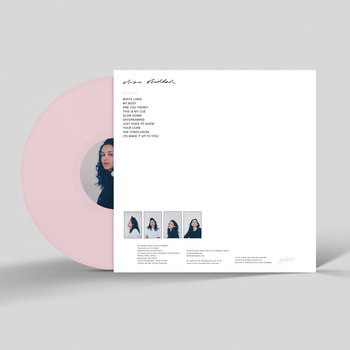 Shaddad being torn about the ending of a relationship is not uncommon. As she tells it, she's become accustomed to feeling torn about much of her life, partly due to a childhood spent moving to different countries every three or four years, and partly due to her education in philosophy. The latter has given her an unnerving ability to identify with people quite easily and understand every side of every argument, to counter the irrational and conflictive nature of emotions with sensible, rational thought.
Future is a breakup album that eschews the scorched-earth narrative of a love gone horribly awry—the universal path taken by everyone from Bob Dylan and Adele to Angel Olsen and Kanye West. It's a deep dive into the poetically dark and intense journey that begins as soon as the decision to end a relationship is made, but it ends with the exhilarating promises of freedom and endless possibilities. Her understanding of the philosophical dimensions of heartbreak, in particular, makes it a deeply empathetic work—an album where she wrestles between the memories of the body, the whimsical wants of the heart, and the reality of making sound decisions for a better tomorrow.
"Philosophy is almost conflicted within itself," Shaddad explains on the phone, calling in from her home in the U.K. "I truly believe that, objectively, nothing matters. That's completely at odds with how emotionally and how strongly I feel existence, and how much I will blame myself or other people. Sometimes, the things I learned from philosophy about myself help me to step back from the super intense world of phenomenology, like feeling and experiencing the world as I do. They help to give a wider perspective and question stuff. "Arguably, that makes you less happy as a person. But it helps you, hopefully, in that the things that you do decide on, you are sure about. That's kind of what the album is about."
As a lyricist, Shaddad poses painful and existential questions in a very blunt and precise manner, a quality she takes from the traditional Scottish tales and the folk music she loves and studies. It makes for songs with a predictable story, from the beginning to an almost, always, tragic end. This can be heard in a track like "My Body," where Shaddad details the tug of war involved in leaving a relationship and craving solitude, while still being betrayed by your physical wants and needs. "I'm well aware that there's a danger in the games I play, pretending he is here with me," she sings, her voice wavering between soft highs and a deep lows. "Still I twist and turn until I'm tired enough that I can blur the empty space of my reality."
It's refreshing to hear Shaddad recognize the twisted ways in which pain, regret, and longing play with our heads. It's akin to hearing her reading pages plucked out from a diary that's been guarded under a pillow—a deep and uncomfortable dive into what it feels like to lose a part of your life and replace it with a new one. "The music that I loved and I most identified with growing up was the kind that displayed the darkest, most intimate details," Shaddad explains. "It was the really revealing moments that made me feel like I was listening to a true story, I guess. Unrevealing art doesn't feel true to me, so I don't feel like I've much of a choice to hold stuff back."
While Shaddad's songwriting is indebted to folk, the music she composes to accompany her words is far removed from the genre. Informed by her love for artists like Tori Amos and Jewel, and iconic bands like Hole, Portishead, Nirvana, and Skunk Anansie, she's crafted a sound that feels like a relic from the 1990s. You can hear it in the way she picks at the guitar strings in "Are You There?," a devastating folk song written in minor keys; it's accentuated by a wailing guitar and crisp drums that have just enough reverb to make you hear and feel the void she's singing about. Liz Phair's influence is undeniable in the high/low melodies Shaddad strings together for "Just Goes to Show," a song about an ill-advised second chance at a relationship, while Hole's characteristically dirty riffs and wall of sound backing vocals supply the building blocks for songs like "Your Core" and "My Body."
"I just started gravitating towards that—drum sounds that arrive clean and crisp, this kind of dark American sound," Shaddad explains. "Then, also affected drums, with some distortion that gives them, like, a trip-hop weight. I just naturally gravitated towards those things based on ear, but when you put the riffs I was writing in with those kind of styles of drums, then you add those backing vocals—these kind of wordless wails; it's the sound of grunge, basically."
That Shaddad chooses the heavy sonic aesthetics of grunge, the narcotic, bass-heavy sound of trip-hop, and the bittersweet qualities of '90s British pop rock is fitting; it's a nod to the inherently tangled emotions these genres helped her navigate through in her youth, and the isolation one feels while treading these murky waters throughout adulthood. "Me and my sister both, we used to scream to Hole," she reveals. "We used to close the door—we'd turn the record up so loud—and literally scream to it. To this day, there's nothing that makes me feel more like I'm releasing bad energy than doing that."
Future is a masterclass in self-assurance. It's a space where Shaddad mines her knowledge of philosophy and love for grunge, folk, and trip-hop in order to understand the feelings she harbors towards her ex-lovers and rationalize them into oblivion. She disarms herself for her listeners and, in the process, creates a shiny, new suit of armor to guard herself on her journey into a different future. That's not to say she's permanently released from the pains of the past, or that she feels good about her decisions moving forward; it's just that she's finally learned how to face her actions, and be OK with whatever happens next. "I've been running like a total child from everything, just hoping for a difference in my home on return," she sings after a deep sigh during album closer "(To Make It Up To You)." "I don't think it matters now how much I write or sing. I never truly ever seem to learn a thing." To end the album on such a note might seem ambiguous, but it's more of an admission of lack of real control. No matter how hard she tries, she'll be back here, at some point in the future, with new questions and newer answers.