FEATURES
A Trip to Alaska Opened Elephant Micah's Eyes to the Climate Crisis
By Grayson Haver Currin · April 21, 2021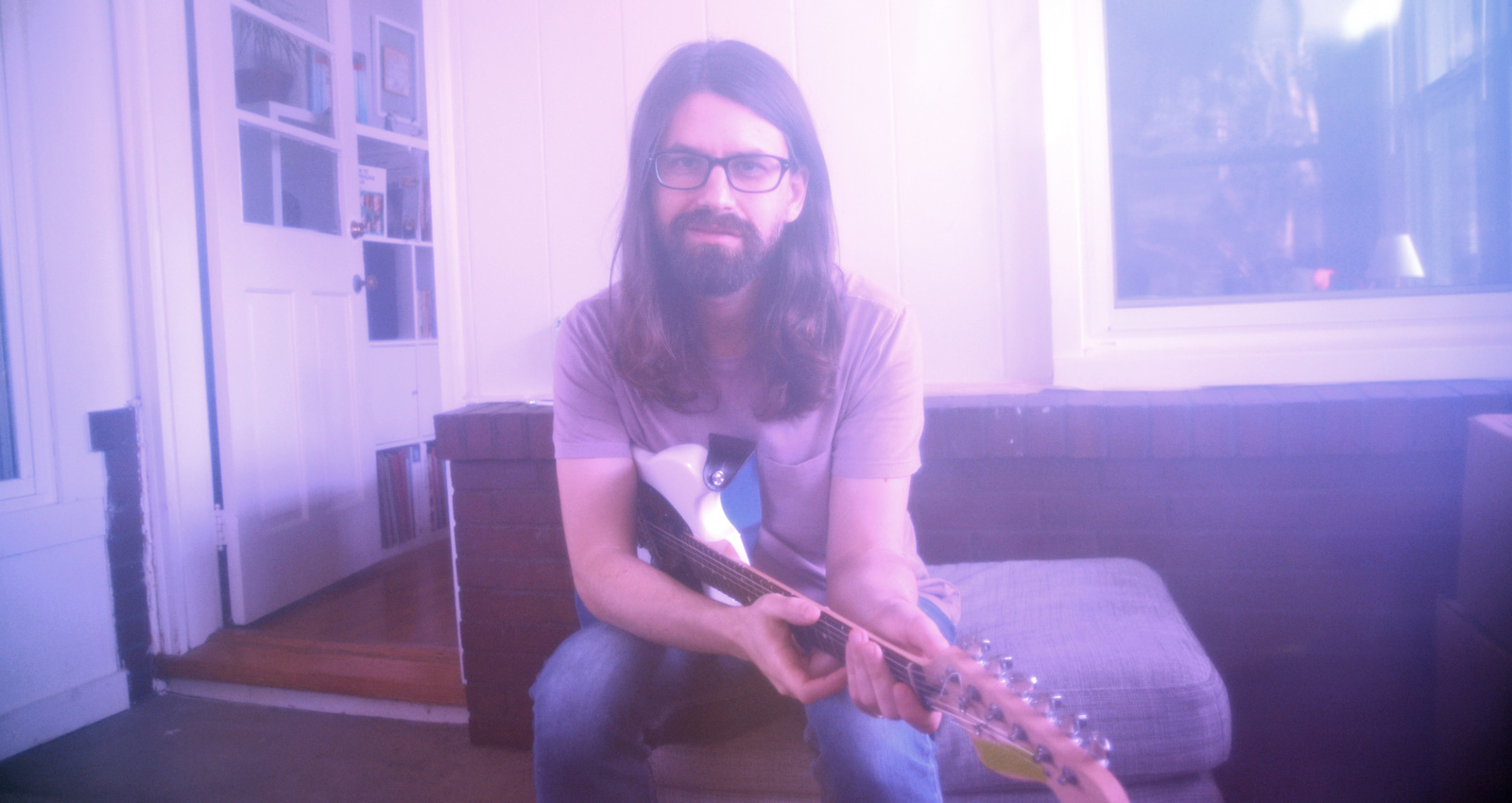 More than 15 years have passed since Joseph O'Connell read the mysterious email he hoped would answer at least one of the most pressing dilemmas of his then-fledgling career: Did the beguiling and eccentric records he'd been releasing as Elephant Micah since 2001 actually matter? And if so, where did they fit into the lineage of American songs?
"I felt embarrassed to be making music that felt so personal, like it had a lot of rough edges," says O'Connell, standing in the backyard of his home in Durham, North Carolina just after dusk. "Writing songs that were eccentric—or songs that were difficult to teach people—felt like I was going against what came naturally."
The mysterious email in question arrived from Alaska. Years earlier, O'Connell met Jason Overby, a peripatetic native of the 49th state who had been roaming the Lower 48, playing old folk songs for and with anyone who indulged him. Overby's ease with the material intrigued O'Connell, who wondered how such a young person came to such atavistic music. And Overby, O'Connell remembers, was fascinated by his uncanny recombination of blues, folk, and country. Back home, Overby wrote to ask O'Connell if he might fly to Alaska and enlist in a statewide tour he'd booked with bands he met during his travels.
Merch for this release:
Compact Disc (CD), Vinyl LP
O'Connell agreed: Then in his mid-20s, he was looking for any opportunity to build an audience. And he wanted to know if Overby's traditional approach might somehow feel more, well, authentic.
Neither actually happened. Though the tour covered O'Connell's travel, he returned to Kentucky without his month's rent, much less any newfound fame. Instead, he'd had a set of surreal experiences—being pursued by a bear, roaming the country's most captivating wilderness in a ramshackle RV, watching and waiting for Northern Lights that never came—that he set to elliptical verse on two out-of-tune pianos. Now, 15 years later, those pieces make up Vague Tidings, a compelling new career peak and a timely reflection on how we interface with and exploit our environment.
"How could it be that natural-resource industries like oil, and industries where people come to visit wilderness, are beside each other?" says O'Connell. "That felt scary and poetic, something I wanted to think through. What does it mean to be a tourist who visits a wild place to try to make a living?"
Indeed, almost as soon as the trek started, O'Connell began to wonder whether he was touring Alaska as a musician or merely as a tourist—a dude on a bus seeing the sights. There were shows, of course, like a set at a health food store in Palmer, another at a public library in Anchorage, and even a shindig in someone's backyard. And since it was tourist season, people came to them, too. The motley coterie of musicians went on camping trips and hikes, sipped glacial runoff, and took in parades.
Merch for this release:
Compact Disc (CD), Vinyl LP
O'Connell realized he'd been lured west by the prospects of a wild unknown like untold generations before him, from trappers and explorers to settlers and oil prospectors. That mix of danger and possibility had seduced him, too. The notion prompted O'Connell to consider the way his seemingly anonymous choices as a consumer had an actual impact on the world—that is, oil hits different after you see the scar its pipeline has left on what was once the woods.
"I began to think, 'How does your ordinary life relate to other things that are going on in the world, that we're doing to the world?" says O'Connell, pausing to fret about the possum climbing the tree in his neighbor's yard. "I wanted to grasp this place that has this majesty and this really intense industrialization."
That Alaskan paradox stuck with O'Connell, even as he moved across the country a few times and made a fleet of stellar records on various bleeding edges of folk-rock. By night, he would sometimes dream about Alaska; by day, he would ponder how what he'd seen implicated him in the crisis of climate change.
Two years ago, after more than a decade of intending to complete these aging pieces, he finally assembled a brilliant band in central North Carolina, including Libby Rodenbough of Mipso and Matt Douglas of the Mountain Goats. They give the songs a quizzical grace, warping the edges of tunes that first recall Bill Callahan until they start to feel like transmissions from some alien Americana.
In the last several years, a rising tide of records have addressed environmental calamity, tapping a zeitgeist of global anxiety. But Vague Tidings offers more questions than answers, perhaps the hallmark of Elephant Micah's proudly discursive career.
Merch for this release:
Compact Disc (CD), Vinyl LP
When he talks about the record's images and metaphors, for instance, he struggles with their exact origins: Was the bit about the tourists who conceived babies beneath the Northern Lights—the linchpin of the compulsory "Eastern Callers"—a rural legend? And why does he sing about an American flag with 31 stars, the United States' insignia after California joined the Union in 1851, when the country was still nearly two decades from Seward's so-called folly?
The actual rationales barely matter. The songs on Vague Tidings frame a world where something significant has broken off the bow, where the firmament has shifted in irreparable ways. Pipelines burst, flooding the earth with its own ruined riches. The seas bleed as opportunists seek their bounty. Rugged landscapes confound modern conquistadors, looking for whatever still holds potential profit. Vague Tidings is an elliptical folk record for the looming end of nature, inspired by the stunning edge of the country that led the charge. It holds space for beauty and the rot beneath.
"It's good that I made this record before I started thinking explicitly about a 'climate change record'—if I tried to make that, it would be really bad," O'Connell says, noting the possum is now at bay. "But I'm glad I made this record when people are having conversations about a complicated relationship with this stuff called wild nature. How do we make art that relates to the environment and justice that isn't just a new version of romanticism?"