FEATURES
The Disco Daze of Easy Bay Records
By Blake Gillespie · September 28, 2016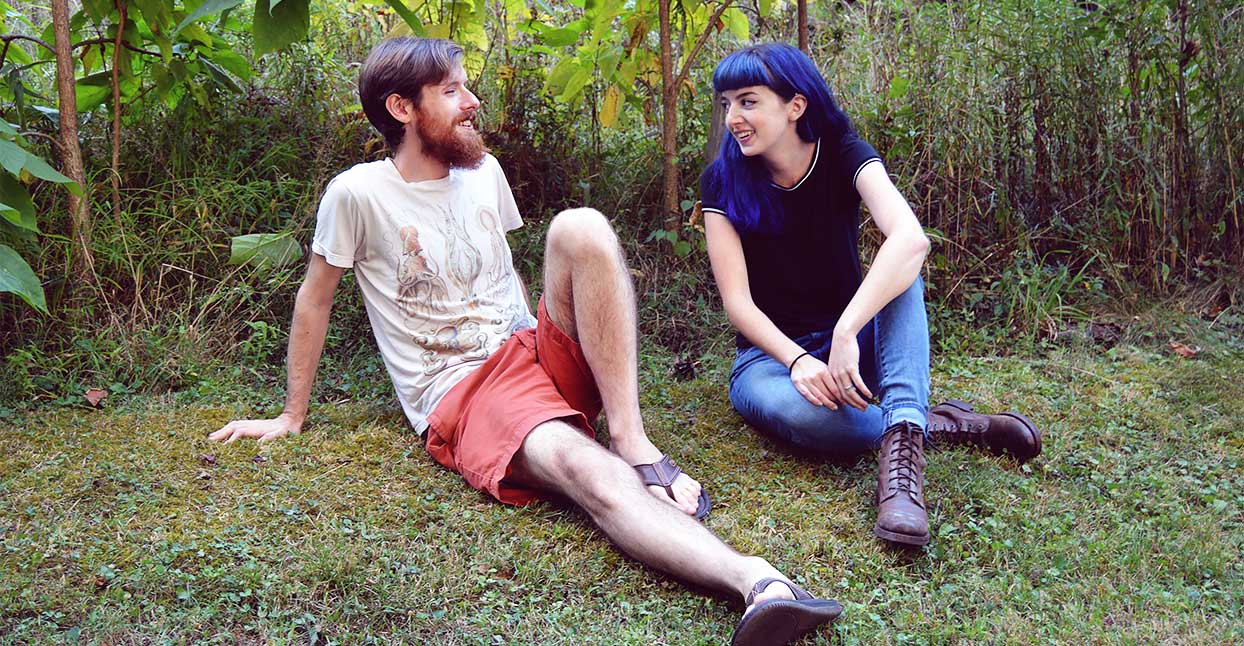 Sixteen minutes into a Skype session with the founders of Easy Bay Records—a new tape label and sister imprint to Crash Symbols—co-founder Dwight Pavlovic asks a seemingly random question: "Who was the president for disco?"
Richard Nixon was United States president when the genre came to fruition. Gerald Ford was commander-in-chief when disco rose to mainstream popularity, and Jimmy Carter was in charge when it fizzled out completely.
"Just a bunch of assholes," Pavlovic says with a laugh. He pauses, then says, "Disco definitely helped."
Merch for this release:
Cassette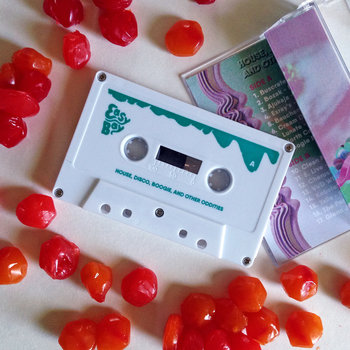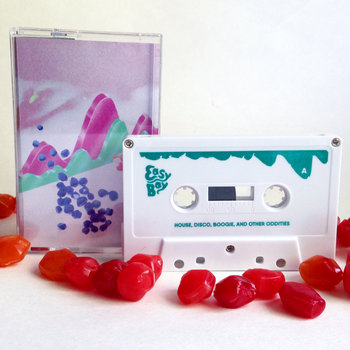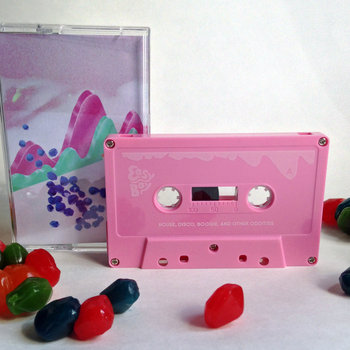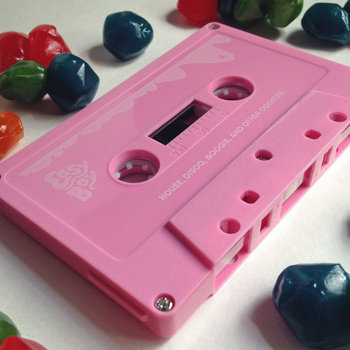 In the bleakest of times in America, disco grooves have offered escape. With Barack Obama leaving office and the fear of a Donald Trump presidency on the horizon, it seems we might need disco's good vibes once again. Enter Easy Bay, a disco, house, and boogie imprint based on a short-lived DJ night in Oakland, which remained in the memory of old friends who kept in touch via Skype.
Before moving Crash Symbols to Morgantown, West Virginia, Dwight and Liz Pavlovic lived in Oakland. Founded in 2010, Crash Symbols mined the weirdest in psychedelia, spanning a wide gamut: dub, electronic, sound collage, hip-hop and vaporwave. Occasionally, they dip into house music—like with the Cream Dream: Collected tape in 2013. Dwight and Liz moved east in 2012, which was also around the time that electronic producer and former XLR8R editor Glenn Jackson was throwing Easy Bay nights in Oakland. Despite the distance between them, Jackson and the Pavlovics maintained a strong friendship through chat sessions on Skype.
Now, six years into its lifespan, the Pavlovics want to narrow the scope of Crash Symbols, and have committed themselves to pursuing psychedelic music. "There's an agenda around the definition of psychedelic," Dwight says. "There's a lot of soft rock coming out right now that's called psychedelic music, and I don't know what normal experience that's going to jostle you out of. Unless you're just really having a shit time."
Launching the Easy Bay imprint with Jackson as curator, the House, Disco, Boogie, and Other Oddities compilation was their way of setting the parameters. Jackson sees it as a way for artists like Exray's, who are not known for disco, to experiment with a simple and fun format.
"One of the things I liked about doing something with Dwight and Liz, [is that] the whole Crash Symbols label doesn't take itself too seriously, which I had encountered a lot of working at XLR8R," he says. "I love electronic music, but at the end of the day, it's often just a person in a room clicking a button."
"One of the emphasises we landed on was that it's going to be fun and sort of breezy," Jackson continues. "The name ties into that. It's fun disco music. It's not going to change the world. Hopefully, it's just going to be fun to listen to when you're stoned and you've got your boombox out."
Merch for this release:
Cassette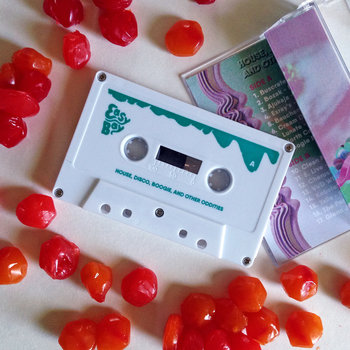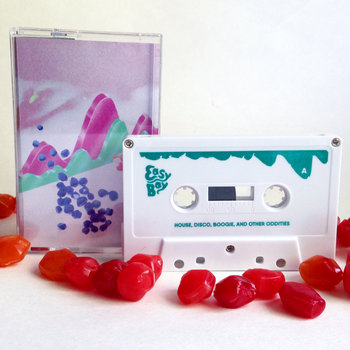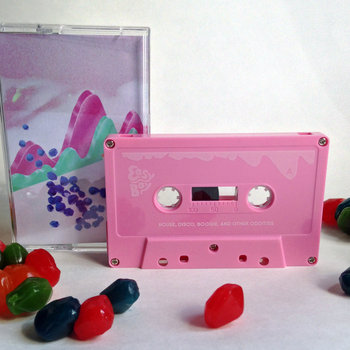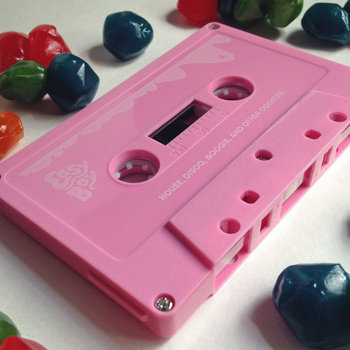 Up to this point, how would you describe Crash Symbols?
Dwight: Crash Symbols has been really spontaneous. It loosely focused around stuff we found interesting for one reason or another. This year, we're pulling the primary thread out of that and focusing on psychedelic music and stuff we see covered by that umbrella. And it's a pretty open term for us. We have a lot of weird vaporwave releases planned. Some finger picking. We're doing a Black Swan Network box set. We've had fun running Crash Symbols by the seat of our pants, but we're enjoying an actual modus operandi.
What was the impetus for Easy Bay?
Dwight: When we lived in Oakland, we were tentatively planning a music night called Easy Bay Wednesdays. We left Oakland before those actually happened.
Liz: So Glenn hosted some of those.
Glenn: But that didn't really last that long. I got roped in by this place in Oakland to do it once a month, then the guy there was like, "How about you do it once a week?" But that sounded like way too much work. The few Easy Bay nights that happened featured Devinwho and Giraffage. The last show was a James & Evander [Glenn's former group with Adam Myatt] release show.
Once Dwight and Liz left, we'd get on Skype to smoke at the same time, as if we were in a living room hanging out. They have this amazing pipe that has a mustache on it. I was sort of obsessed with it for awhile.
Is there a corresponding disco, house, boogie scene in the Bay Area?
Glenn: There's not a huge disco scene that I would say I'm involved with. It's more friends who make music and share it with each other as opposed to a scene. There's a lot of dance music nights that happen in the Bay Area. Push The Feeling is kind of close to that. They're not taking themselves too seriously, not doing anything too big. It's fun and adventurous. That's the closest thing Easy Bay could be tied to. One of the things me and a bunch of the other guys do is called Music Monday. We meet up and play each other tracks. That sort of turned into a scene of just people making music rather than throwing a night. Mostly because I kind of hate throwing shows.
I have some friends that just make music as a hobby. Just having someone to actually hear your music while you're in the room is just a lot cooler than simply throwing it up on Soundcloud. It's nice to have a reason to finish a track, because it will actually be heard by four people and I'll see their face, whether they get happy or sad. The music started to move into a house and disco-influenced area just because that's what we've been bringing. Like the guy Boogie Butter is just a friend of a friend who would show up and made cool stuff. I don't think he's ever thought about releasing music before.
Why disco tapes? Why not a 7" series?
Dwight: I feel like what you're doing when you make an album's worth of disco is an interesting phenomena. I like the idea of doing it in a way that's permissive and accessible. It's permissible to the extent that we can do whatever the fuck we want with it and accessible in that it costs $5 or $6.
Glenn: Speaking to the fact that there isn't a scene or night based around this music in Oakland, it's not like it needs to be on a 12" for a DJ to play. Realistically, most of the people who listen to this are going to be at their house. It's not like it's going to be deejayed at [San Francisco dance venue] 1015 Folsom. The tape gives you a little more leeway to get weirder, which is Dwight and Liz's forte.
Also, I'm losing my edge. I go out to [fewer] shows. You know what's tight? Going to bed somewhat early. But I still listen to dance music in my house. It would be cool if a label leaned into that a bit. If you're buying this tape and you live in Kentucky, is there really a DJ night you're going to to hear this music?
Liz: It's "there's nothing here music" or "music for 30-year-olds."
Merch for this release:
Cassette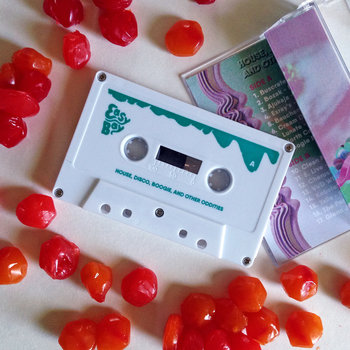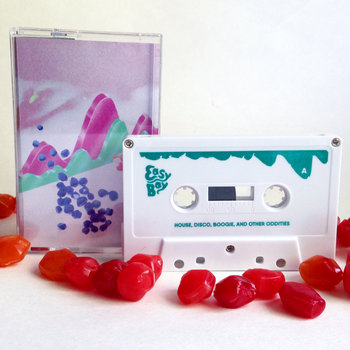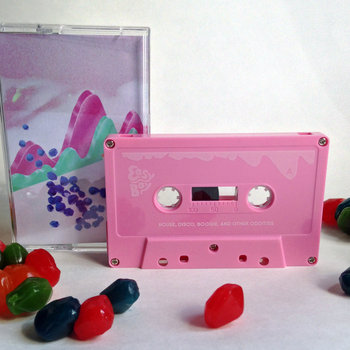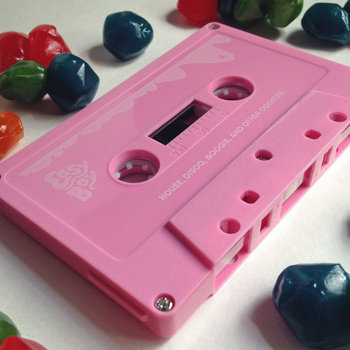 What will be the format going forward?
Dwight: Our second tape will be a project with 1-800-DOGCIGS. I don't really know where to start with that besides: it's disco, there are dogs and cigarettes involved, and you're gonna love it. We've got tapes with Buscrates and E. Live. The Oakland aspect of it for us is a meditation on memories and what we'd like to facilitate to people.
How will the design differ from Crash Symbols?
Liz: I think will be more consistent than Crash Symbols. With that, it was my stuff, Dwight's stuff, collaborations between us, as well as the artist's artwork. With Easy Bay, it's all going to be created in-house just for consistency's sake.
Was this something you wish you'd done with Crash Symbols, and this is a fresh start opportunity?
Liz: In a way.
Dwight: I think maybe there are a few specific releases that we might have done differently if we'd thought about it. But we wouldn't know what we feel particularly strongly about now if we hadn't done it that way early on.
Will the launch of Easy Bay alter the future of Crash Symbols?
Liz: Crash Symbols is going to be super jealous.
Dwight: Crash Symbols has changed a lot. We're trying to be more consistent with the artwork. If someone is not familiar with the label, if they are coming out of a totally new zone, then it's nice to have a context. Liz and I have been doing collaborative packaging and doing collage stuff together. That's part of the fun of the new routine. It's slower, more regular. Like one release a month.
So Crash Symbols is in its thirties?
Liz: It is six this year. That's probably 30 in people years.
—Blake Gillespie