FEATURES
Duploc Taps Into the Deeper Side of Dubstep
By Laurent Fintoni · June 16, 2016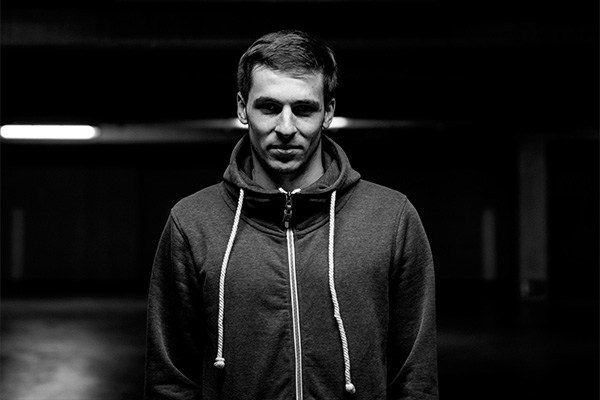 "There's no local community here. The Internet was the only way."—Pieter Grauwels
Growing up, Pieter Grauwels never had much exposure to underground music. Living near Hasselt, a small town in the Flemish part of Belgium near the Dutch border far from the nightlife centers of Brussels and Gent, the only regular live music nearby was of the mainstream, middle-of-the-road variety, which failed to capture his imagination. That all changed when a friend introduced him to dubstep in his late teens. "There was something about the music I became obsessed with," he says. The songs he'd heard were on the more accessible end of the music, which by then had found mainstream pop appeal.  So Grauwels did what any respectable youth from his generation would: he went "digging." After a few nights spent on the internet, he found new dimensions in the sound—deeper and more experimental releases that created within him with a desire to get involved. Five years later, he launched his own label, magazine, and podcast, Duploc. "The first uploads I came across were very heavy, but then I discovered labels like Deep Medi," he explains, referencing the label founded by British dubstep pioneer Mala. "I learned about a deeper side of dubstep. That's what we're trying to promote [with Duploc]."
.
00:10 / 00:58
A law student, currently finishing the equivalent of his master's degree, Grauwels launched Duploc in 2012, while he was still in high school. First, it was a YouTube channel, then he moved on to arranging free digital compilations and, in early 2015, Duploc graduated to a proper label with a release by Münster-based producer and sound system builder Noclu.
Duploc also operates a digital magazine, where Grauwels reviews dubstep releases, and a podcast, where he mixes and highlights releases he loves. He's also started promoting events in Belgium and The Netherlands, at which he DJs alongside artists from the label. The impact of live dubstep was another early catalyst for Grauwels' involvement. "I went to Antwerp for a Monsters show, alongside H.E.N.C.H, and the vibe of the music really took me," he recalls. "I think dubstep, and grime, is really live music; you need to experience the energy."
In the 13 months since Duploc's first release, Grauwels has focused on putting forward digital-only 2-track offerings that seek to capture the energy of the music. Each release is named after the artist and catalogue number, in chronological order. The covers are all artist portraits, first in black drawings set against various colors and, since earlier this year, in more abstract, colored shapes on a white background. The effect is striking, dynamic, and consistent—an aesthetic that pushes to the forefront the colorful energy of Duploc's offerings while also helping to create a strong, cohesive identity for the label. The two tracks on each release balance the two styles of dubstep Grauwels is most familiar with. "One track is generally deeper while the other might be heavier," he explains. "I want to focus on quality, and respect bass music culture." And while he hopes to expand into longer format releases in the future, for now he says the shorter approach works best. "I keep the releases at two tracks because I notice that's normally what people buy," he says. "Also, this is music to be played live, so I assume DJs are looking for single tracks rather than a full EP."
The label's latest release, 012, saw Grauwels graduate to vinyl. The two tracks—tough, minimalist productions—come from Belgian producer ARtroniks, who lives in Ghent, and the combination of homegrown talent and the fact that it's the label's first vinyl pressing makes it Grauwels' "favorite release to date." Originally planned as just another digital drop, a conversation with ARtroniks at a show in Amsterdam convinced Grauwels to take a leap and invest the money in a physical release. "I want to release something on vinyl when it's worth it," he says. "I want to find the balance. There will still be digital-only releases, but we'll also be doing more vinyl in the future." The fact that ARtroniks is a fellow Belgian fills Grauwels with pride. "It feels good to work with someone who is passionate and talented and also from Belgium," he enthuses.
.
00:10 / 00:58
Merch for this release:
USB Flash Drive
Asked to pick highlights from the label's catalogue, Grauwels points to Dubamine, a young talent from Santa Cruz, whose dubwise sound he says represents what "we want to put forward." He's also effusive about the "very talented" Noclu, who was the label's first artist in April 2015 and returned later with 011. And then there's the split release from Requake & BadKlaat, 004, which earned the label its first airplay on the national radio station Studio Brussel. In April of this year, ARtroniks and Grauwels were invited to Studio Brussel, a government-funded leading alternative station in Belgium, for a guest session as part of the station's weekly show focusing on dubstep and drum & bass. After 012 is released in June, Grauwels will welcome new artists to the label, including the UK's Dark Tantrums and Rygby, the latter will be the featured artist on Duploc's second vinyl release.
By embracing the connectivity potential of the Internet to discover music and create a label and relationships, Grauwels manufactured his own scene, creating the kind of underground community he felt was missing around him and connecting with the global dubstep underground. "There's no local community here," he says. "The Internet was the only way." When asked about the roots of the music in London, and its culture of singles and dubplates, Grauwels admits that he simply mimicked what he saw at first; he has great respect for what came before. His approach, as well as that of the artists he has championed, many of whom came of age after dubstep achieved global recognition, is one of a new generation. And with every new generation must come a new way of doing things. Still, Grauwels admits he really keeps his eyes "on the foundation. I don't want to change anything, but just make sure [the music] keeps living on."
—Laurent Fintoni