FEATURES
Dreamer Isioma Builds a New World on "Goodnight Dreamer"
By Ann-Derrick Gaillot · March 10, 2022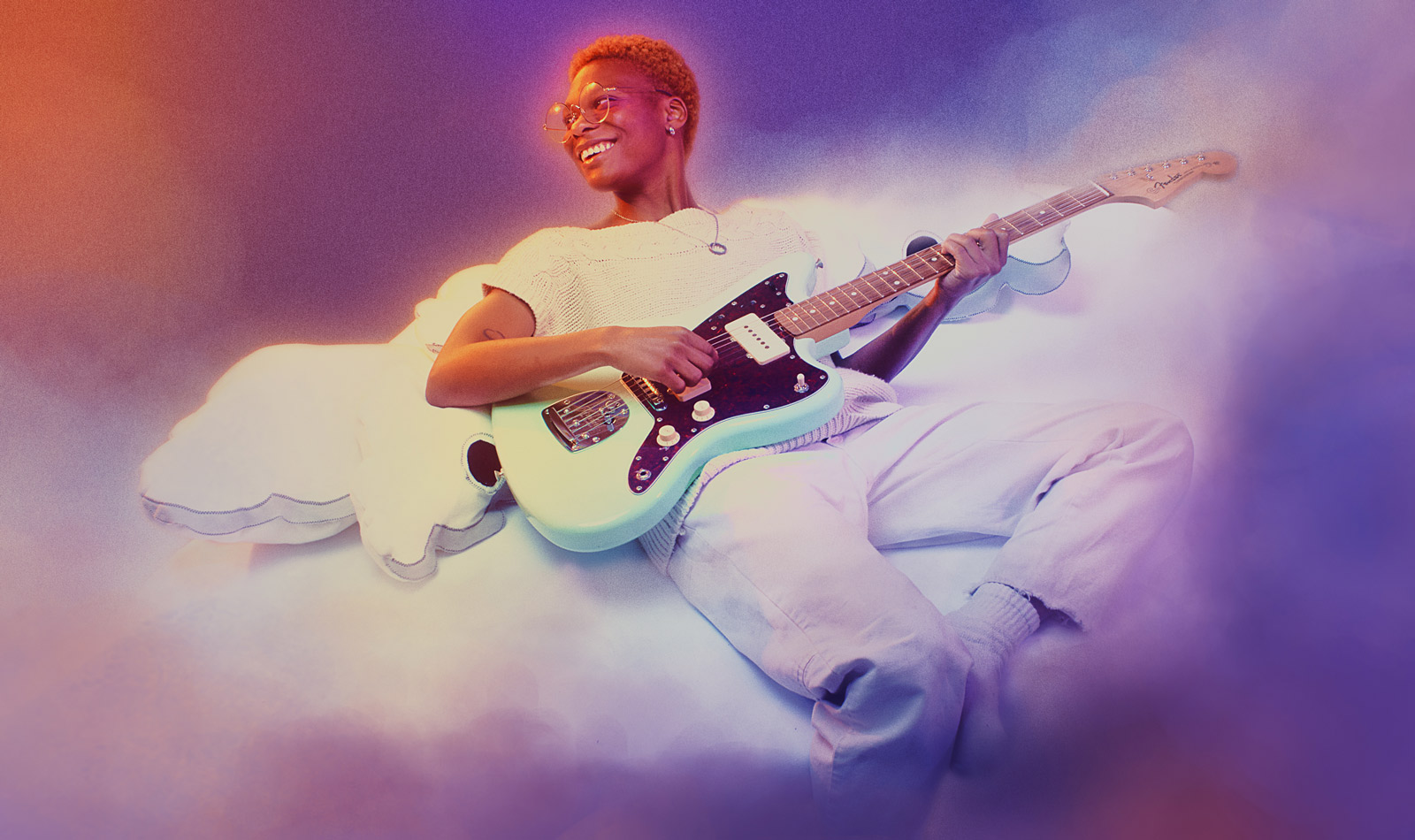 A week before our interview, the Chicago-based artist Dreamer Isioma read a book that introduced them to the idea of quantum immortality. "I'm writing a video based on this concept," they say. "Basically, the theory is that you consciously cannot imagine yourself dead. Therefore, you will always be alive in some form of dimension or universe."
The book is the latest bit of astrophysical literature to inspire the musician, whose work flits from bedroom pop to indie rock to chillwave with abandon. They had first turned to the headier sciences a few months ago when they began working on their debut album Goodnight Dreamer. "I was mentally at one of my worst points," they say. "And something that brought me a lot of comfort was learning about the universe and space and science. I researched a lot on that, and still do to this day. It brings me comfort to know that there's a whole universe outside of my problems."
The idea of looking into the shadows of the universe for clarity is at the heart of Goodnight Dreamer, on which Isioma uses shifting tempos, theatrical production, and lyrics that range from bleedingly earnest to brazenly cheeky to trace the emotional and multidimensional journey of the main character, also named Dreamer. From the bubbling opener "StayUp!" to the lullaby that closes the album, Goodnight Dreamer celebrates spiritual resilience amidst volatile personal and interpersonal ups and downs.
.
00:10 / 00:58
Goodnight Dreamer follows a pair of EPs from 2020, Sensitive and The Leo Sun Sets, released the same year their brash pop/alt-R&B track "Sensitive" became a TikTok hit. They took their artistry from the internet to the stage for the first time in 2021, pulling off a freshman U.S. tour bookended with appearances at Lollapalooza and Austin City Limits. A first-time performer, they were admittedly winging it.
That same DIY ethos drives both Isioma's music as well as their creative direction of the accompanying visuals. From dreamy, nostalgic music videos to candy-colored, spacey album art, their queer, utopian vision is imprinted on every project. "Music is just kind of like the foundation right now," they say. "In time, I wanna go bigger and better. I wanna make movies, do fashion shows, create video games, houses, interior design, anything like everything. This is just a start."
Growing up in the Chicago suburbs, Isioma started playing classical piano and violin and learning music theory when they were still young. They attended Catholic school and sang in a church choir before transferring to a public school and joining the choir there. "I fucking hated it cause they made us sing songs that were ancient," they say. "And I was like, 'Bro, this shit's fucking lame.'" Frustrated, they quit, deciding instead to chase their new dream of being a rapper. "I started looking up Drake-type beats and shit, but I realized 'I'm singing on these. I should learn how to sing for real.'" Using Garageband autotune as a way to learn how to recognize a wrong note or moments they slipped out of key, Isioma practiced until they got a hang of the easy, slip-sliding pop stylings they wield on Goodnight Dreamer. Their earlier training shines on tracks like "Bad Ting" and "Sunset Drive," for which they spent hours recording layers of background vocals in various ranges in order to create the sound of a celestial choir.
.
00:10 / 00:58
"I know that Goodnight Dreamer is a classic album, and when I was making the album, I wanted to make sure that I was hitting the mark," they say. "So I was listening to a lot of Prince and Bowie and Smiths and Michael Jackson—just a lot of the pop-rock indie greats that I want to live up to." Working alongside co-producer Saint Lewis, Isioma focused on highlighting the funk and jazz-inspired instrumentation of their backing band The Celestials, as well as experimenting with voice modulation and a bevy of manipulated synths. Their hyper-specific vision, combined with a "let's see what happens" attitude in the studio, comes through in both Goodnight Dreamer's playful bops as well as its downbeat tracks about understanding yourself in a relationship.
Isioma's next adventure is translating the album into live performances. They plan on incorporating carefully-crafted set design, lighting, and theatrics to envelop audiences in Goodnight Dreamer's exhilarating, emotional world. The album offers a first look at Isioma's talent for conceptual worldbuilding in their music, but the center of their creative ambitions still rests on the search for comfort and perspective that brought them to quantum physics, philosophy, and music in the first place.
"I want the album to make people remember that there is a world outside of themselves or a world outside of whatever they're going through," says Isioma. Goodnight Dreamer, with all of its pop-centered, cerebral fervor, does just that.