FEATURES
Dots Will Echo: Jersey's Homegrown Indie-Pop Antiheroes
By Jim Allen · September 26, 2016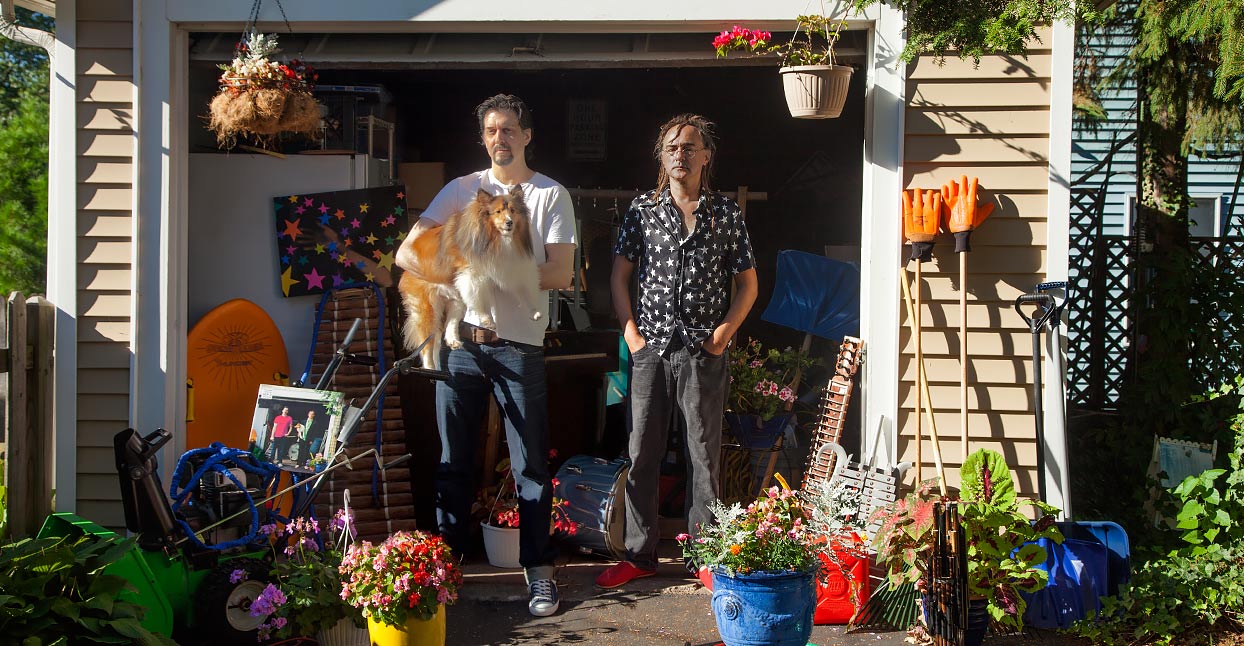 "It should be a bit of an amusement park ride," says Nick Berry of More Songs From the Little Yellow Garage, the dizzying new double album from his band Dots Will Echo. It's a record that leaps from hook-heavy power pop, to trippy psych-folk and angular avant-rock oddness with giddy glee. It has contributions from the world's fastest finger-snapper and a crater-voiced announcer. With everything from glockenspiel to Indonesian harmonica, it can safely be classified as a wild ride.
Guest artists aside, New Jersey's Dots Will Echo consists of just two people: drummer Kurt Biroc, and Berry, who's responsible for everything else. The duo's last album, Drunk Is The New Sober/Stupid Is The New Dumb, another double record, came out on Sufjan Stevens' Asthmatic Kitty label in 2012. The Dots Will Echo story goes back much further than that.
Band life began for Berry as a teen in an out-there '70s ensemble fancifully dubbed Stro Moon Dayglo ("I'm sure the name had something to do with either marijuana or acid," he says). They were all about experimental music and outrageous antics. "I remember doing a gig and chasing a dog around the theater with a clarinet," he recalls. "We got notorious pretty quickly, but we were all teenagers and pretty much out of our minds, so it didn't last."
At some point Berry made an abrupt volte-face, embracing pop appeal. "I set out to discover what it is that makes a song seem irresistible rather than outrageous," he remembers. "Somewhere along the way I found I could write a hook, and I really liked to do it." Inspired by Talking Heads' 1979 album Fear of Music, Berry began to embrace the burgeoning New Wave movement, forming a band called Zero that eventually became Dots Will Echo Mk. I, with Steve Meltzer on drums and Bob Albanese on synth bass.
DWE came off like a Garden State cross between XTC and Cheap Trick, with hard-charging power-pop riffs, quirky lyrics, and effervescent vocal harmonies. But they also took a page from Stro Moon Dayglo's book of onstage Dadaism, turning each show into a single-ring rock 'n' roll circus. Berry would spray his guitar with whipped cream ("It seemed like a good idea at the time"), attack his fretboard with a fistful of carrots ("An electric guitar, with the steel strings and metal frets, ended up being an excellent vegetable slicer"), and playing from inside a lawn-size trash bag.
Whether on account of or in spite of their carnival-esque live shows, after several years of slogging it out on the NY/NJ club scene, Dots Will Echo ended up in the unusual position of being the first (and very near the only) rock band to release a record through seminal New Age label Windham Hill. The mellowness merchants decided they'd reached a dead end with George Winston sound-alikes, and in 1991, they started a new imprint—High Street—to release rock and singer/songwriter records. "We were the first artists on High Street," says Berry. The band's self-titled album landed them a Rolling Stone artists-to-watch feature and a No. 3 record in Sweden, of all places. "I remember us being ahead of Stevie Wonder on the [Swedish] charts and I thought that was pretty wild," Berry recalls. But the usual music-biz complications kept the album from achieving enough momentum to achieve real lift-off. A few years later they were on their own again, crafting a DIY follow-up, the memorably titled Get Your Hands Off My Modem, You Weasel, with Chris Butler of The Waitresses producing.
Albanese and Meltzer eventually departed, and Berry began busying himself with a cavalcade of lo-fi DIY releases that continues to this day—elaborately packaged, handmade limited editions sporting a potentially confusing variety of monikers and moods. There's Norton Antivirus, the alias that allows him to explore his lifelong love of electronic music; the duo Sunday Afternoons with Alan Menzies, which produced "improvised ambient-ish electronic folkie kind of stuff;" Walk Among The Living ("spontaneous music with half words, half scat singing"); solo acoustic outings like Barry Gibb Called, He Wants His Vibrato Back, and occasional stealth Dots Will Echo EPs.
By 2004, the Berry/Biroc version of Dots Will Echo was in full effect. They eventually attracted the attention of Asthmatic Kitty, which released Drunk Is The New Sober… in 2012. More than any Echo album before, it highlighted the full range of Berry's gifts, from fierce rockers to hushed lullabies. And the two-LP set paved the way for the latest Dots double album.
More Music From The Little Yellow Garage is the most fully realized version of the Dots Will Echo vision to date. Every side of their sound is represented over the course of its sprawling expanse. The triumphant stomp of "Innovation"; the blissful junkyard pop of "Won't Let It Get Me Down"; the Tom Waits vs. Grizzly Bear vibe of "Big Red Moon"; the (almost) a cappella "Things I Do," consisting entirely of three female singers and self-proclaimed world's fastest finger-snapper Bobby Badfingers; the hazy hippie folk of "Brother, Brother" (the album's lone cover, originally cut by freak-folk cult hero Brother JT)—all these disparate moods somehow fit together, with help from a series of offbeat interstitial pieces.
It's the Dots Will Echo record Berry's been looking to make from the beginning. "There's certain melodic themes on some of these little interludes that relate to stuff that happens later on. I've always wanted to do that even back to the Windham Hill record. I've been trying to get this out of my system for a long time," he confirms. "I want there to be a cohesive flow from beginning to end. Look at something like the White Album that goes from 'Helter Skelter' to 'Blackbird'—both Paul McCartney songs—and the whole thing holds together."
Part of the sonic thread binding the songs together is the duo's predilection for an organic, lo-fi feel that's sometimes gently naturalistic and sometimes gleefully loose. "I like to feel like there's actual humans taking part in what I'm listening to," Berry says. "And certainly a lot of our stuff is pretty sloppy [laughs] so hopefully you should get that from it."
That said, these guys are no shambolic slackers—whether whispering or screaming, Berry and Biroc put every ounce of themselves into Little Yellow Garage, leaving nothing on the studio floor but an occasional bloody trail. At the end of "Won't Let It Get Me Down," for instance, Berry caps the chaotic coda with a dog whistle-like wail, hitting a death-defying high G. "I don't think I'm ever gonna try that again," he confesses, "because I'm gonna end up bleeding to death."
—Jim Allen