FEATURES
Footwork Takes a Step Forward With DJ Taye's "Still Trippin'"
By Lorena Cupcake · March 14, 2018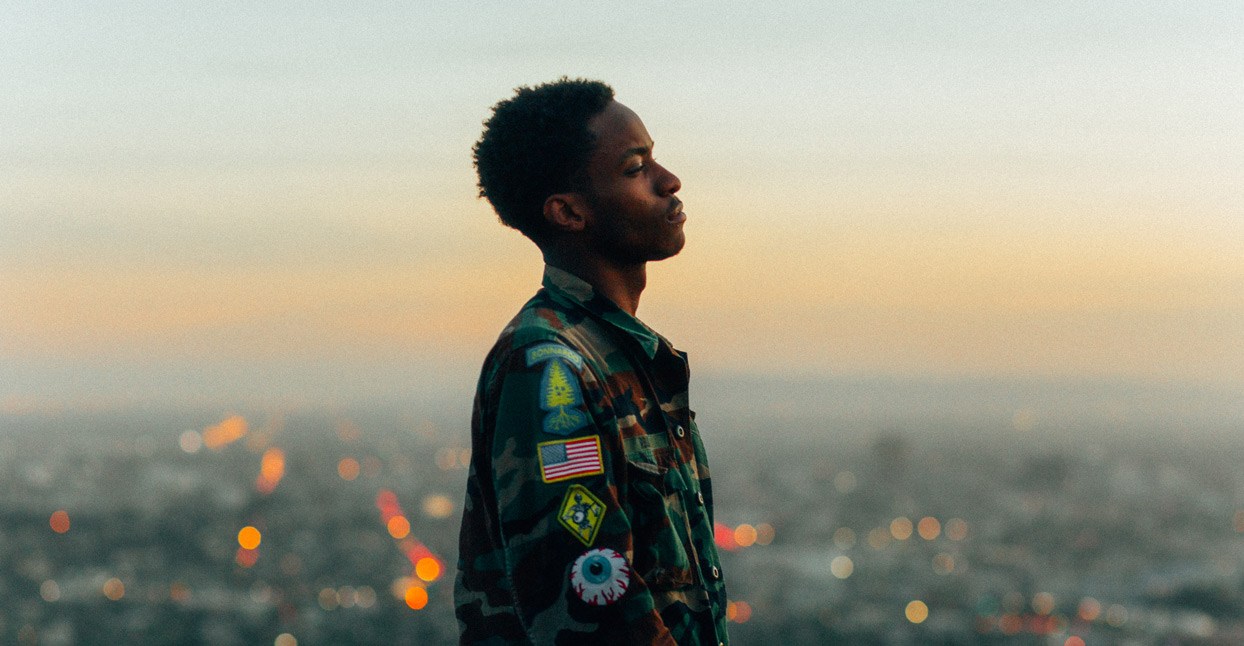 Dante Sanders, aka DJ Taye, was born midway through the 1990s into a household along 93rd Street on Chicago's South Side. His father made sure '70s jazz and Chicago house were part of his musical upbringing; his mother, one of his biggest supporters to this day, passed along musical aspirations of her own. "I feel like every mom was probably singing in the car, but my mom was always singing in the car, listening to everything passionately," he recalls. "[She] raps in the car still to this day. OK, mom. She told me that she used to want a Casio keyboard, I don't know why she couldn't get it, but she always wanted one. So now she sometimes says that she's vicariously living through me."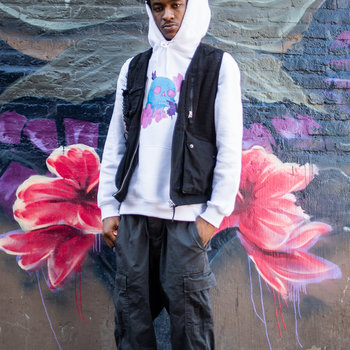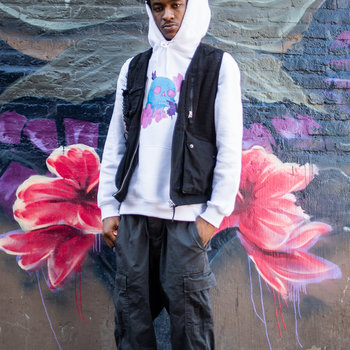 Merch for this release:
Compact Disc (CD), 2 x Vinyl LP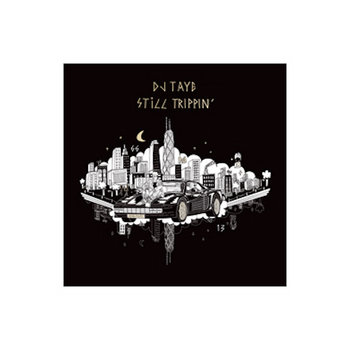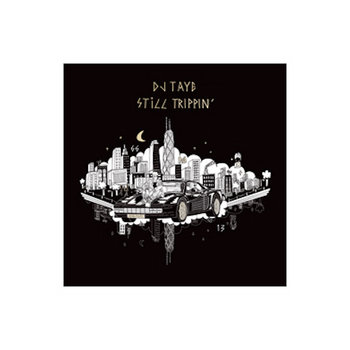 At the age of six he moved to Harvey, in Chicago's South Suburbs. Though the South Suburbs face high levels of poverty and unemployment, they gave birth to ghetto house and juke, genres that pioneers like DJ Clent, RP Boo, and Traxman helped transform into footwork.
Harvey's neighbor to the west, Markham, was home to the Markham Roller Rink where DJ Spinn and DJ Rashad, two founders of the Ghettoteknitianz crew that later became the Teklife collective, first met. "When I think of juke," Taye says, "I think of Markham Roller Rink, and the skating rinks, and the Bigfoot Juke Jams. That's how I know about footwork."
Footworking is a style of dance where steps, basic to complex, are performed to a beat that hovers around 160 beats per minute. The upper body remains relatively static (especially compared to similar regional dance styles like Baltimore club), but the feet fly. Experiences at these early juke parties and battlegrounds inspired Taye as he spent his early teen years working on rap beats. "I was hearing so much stuff," he says. "Just being there and being in the essence of the music and the footwork. There was juking and footwork going on in the circle. It just had me kinda like, 'Hmm, the music controlling everything, it's kinda crazy.' I was always just thinking of beats, so it just made me go try to get it more."
Merch for this release:
Compact Disc (CD), 2 x Vinyl LP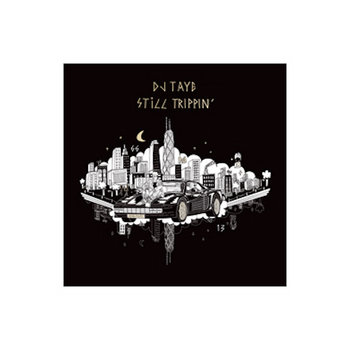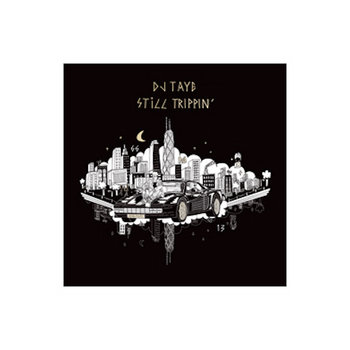 "I started digging into more footwork music, once I heard Rashad, Spinn, and the rest of the Ghettotekz at the time," he explains. The sound influenced his own work, which he began posting on Myspace: "I just got in touch with Rashad and Spinn over the Internet. They heard of me, but they knew about all the DJs in Chicago. One day they was just holding tryouts. I was 16, I just went to play some tracks. That was my first time in Teklife, eight years ago."
Teklife continues to work together to this day because of the collaborative nature of footwork. The songs on Still Trippin' were tracked out in studios in cities across the country (as well as London and Berlin) in rooms filled with smoke and many hands crossing over keyboards, passing microphones, and adjusting drum loops and samples in Ableton.
Taye makes frequent appearances on the Teklife collective's compilations, as well as albums of longtime associates like DJ Paypal, DJ Manny, and DJ Earl. The favor is returned on Still Trippin', which boasts features not only from Teklife members but also from musicians like Jersey club producer UNIIQU3, Cool Kids rapper Chuck Inglish, and Fabi Reyna, guitarist and founder of She Shreds magazine.
It's an egoless approach to collaboration that carries the energy of creation through to the final product, a vibration the listener can hopefully hear. "It's just good to work with people who's ready to work. We can just talk about ideas, we ain't gotta be scared to share the same ideas, just get it. Just turn the mic on. Just both get it," Taye says.
That work ethic was instilled into him by working with DJ Rashad, the legendary producer of the seminal footwork record Double Cup and one of the founders of the Teklife collective. Chicago, and the electronic world at large, was stunned by shock and grief in 2014 when Rashad passed away due to a drug overdose.
"Knock down shit, right then and there. That's what was the attitude," Taye recollects. "We gotta do this, and we gonna get it done, right here. Not finna sit in the studio and look at the equipment. That's what it was like being in the studio with [Rashad]."
The loss of family and friends, constant stress of touring, and pressure to succeed as a full-time musician are a looming weight on Taye's narrow shoulders, struggles he shares freely on social media. Despite the ghosts of his past, he moves relentlessly forward with all the momentum of a dancer's weight. He refuses to give up or stand still. He books gigs globally, traveling the world as one of Teklife's ambassadors. Now, with his new album, he's ready to bring Chicago footwork to more people than ever before.
"I think it's crazy, because I feel like this is kinda how hip-hop blew up. You know what I'm getting at?" Taye asks. "With this music I wanna actually try to make some hits. Some hit songs that can actually work as, 'This is a footwork song, but this is a hit.'"
Still Trippin' is not only Taye's first full-length album on Hyperdub Records, but his first project to truly showcase his rap skills. The album is defined by triplet patterns laid out over beats and basslines that compel listeners to get down on the floor. Taye's voice is strong and imperative but also fluid, even when unassisted by the rapid-fire edits intrinsic to the sound of the genre.
Essential to his resiliency is his focus on innovation. He spends too much time listening to his own tracks in the club to be satisfied with that he calls the "obvious replication of the Rashad-and-Teklife-type-beat" that's allowed footwork to become stagnant and homogenous.
Merch for this release:
Compact Disc (CD), 2 x Vinyl LP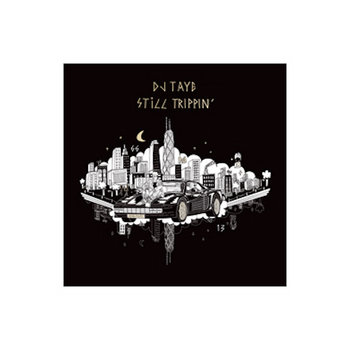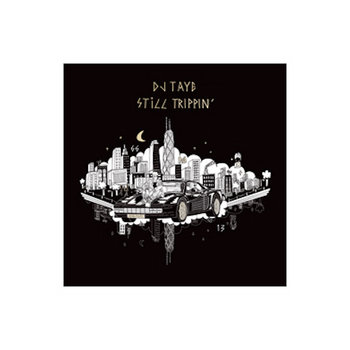 "If I was to make the same music and not be able to make nothing better, I think that's the worst thing that could happen to me," he says. "I always gotta be able to make better music than what I just made before."
With Still Trippin', he's given dancefloors across the world a sound they've never heard before; as Taye gesticulates over the booth on any given night, the bass shakes the room and dancers work their feet into a rhythmic blur. "The sound is cool, we trying to push it as hard as possible, but it's about getting the dance out. That's all Rashad really implanted in my head, in the last days I was with him, it was really about getting the dance out here," Taye stresses.
As one the youngest members of the Teklife family, DJ Taye is charged with spreading the gospel of footwork globally. His newest project proves that he's up for the challenge. "It's kinda like saving the world from bad music," he says with a smile in his voice. "It's just something to keep everybody together."
-Lorena Cupcake