FEATURES
DJ Spinna Takes a Deep Dive into Stevie Wonder's Catalog
By Christina Lee · July 11, 2016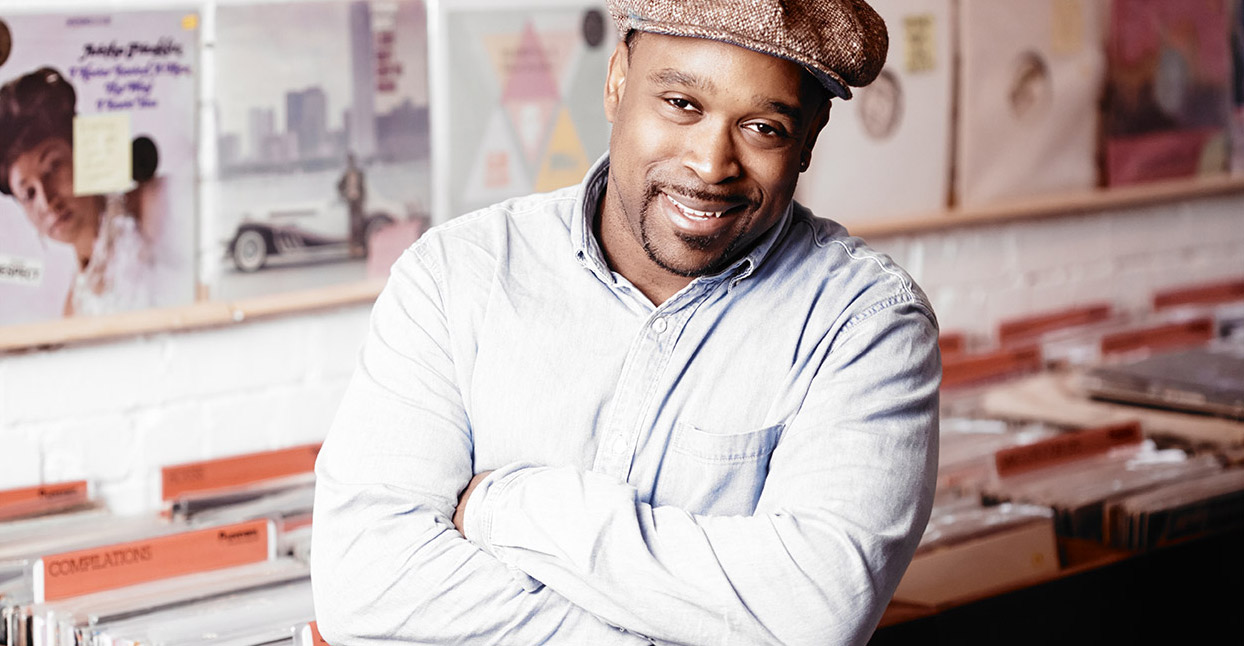 In a 2013 YouTube video, DJ Spinna is seen hunched over his mixing console, grinning. When he shifts his weight to the left, you can see why: Behind him is Stevie Wonder, leading a singalong to his 1976 single, "I Wish." By the early 2010s, Spinna had produced and remixed songs by Talib Kweli, Mos Def and De La Soul, and his vocal mix of Shaun Escoffrey's "Days Like This" became a New York club essential in 2001. Yet that surprise appearance by Wonder confirmed what many people have known for 15 years: If anyone can do Stevie Wonder's catalog justice, it's Spinna.
The latest proof of this is The Wonder of Stevie Vol. 3, a compilation featuring songs Wonder wrote and produced throughout his career, as sung by past Motown signees, Latin soul-jazz collectives, mentor Quincy Jones and a Navy fleet band. Consider Vol. 3 only the latest album version of those same Wonder-Full parties that even the man himself can't resist. Co-founded with Bobbito Garcia in 1999, Spinna's Stevie-themed events launched in New York, before they took him to Japan and Berlin.
Ahead of Vol. 3's July 1 release, Spinna spoke with Bandcamp about how he has been called on—time and time again—to pay homage to his musical heroes.
Most of the songs featured in Vol. 3 are from Songs in the Key of Life. What is your earliest memory of listening to that album?
I had heard songs by [Stevie] as a kid, but [Songs] was the first album I got to know from beginning to end, inside out. Part of that is due to the packaging. It came with a bonus 45, which was interesting for that time, and a booklet with extensive liner notes. Even as a young kid, I was heavily immersed in music. But that particular album was like an event. I don't think I had any other double albums at the household at that period.
How do you approach the creation of compilations like Volume 3?
There's always research to do. G.C. Cameron's song "If You Don't Love Me," on this record — G.C. Cameron was the lead singer in Spinners, and also had a solo career. I just learned that Stevie wrote and produced that song for him last year. It's amazing that, just when you think you have a grasp on an entire catalog, something pops up out of nowhere.
This time around, unlike the other [volumes], I try to get more modern. A few of the tracks, like one by the Foreign Exchange and Jrod Indigo, are recently-recorded material, so it's not just all old '70's [and] '80's sounding music. It's a lifetime mission for me to complete Stevie's catalog.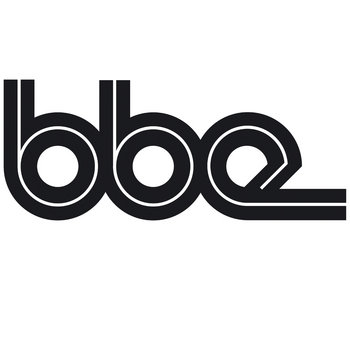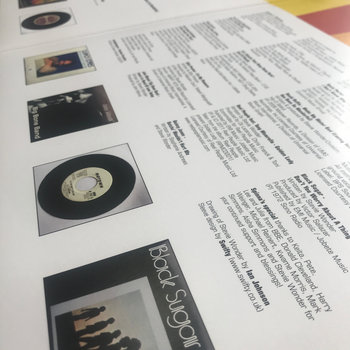 .
00:10 / 00:58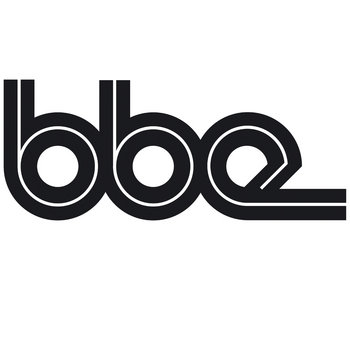 Merch for this release:
Vinyl LP, Compact Disc (CD)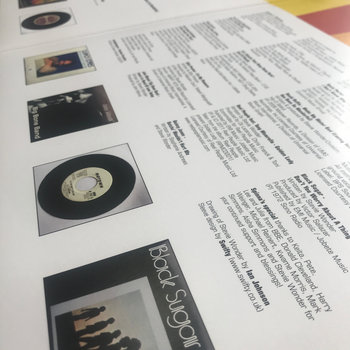 What do you mean?
I want to own everything. Obviously it's hard to do, because he's done stuff in other countries as well. About 10 years ago, I found some stuff where he is singing in Italian on this Motown Italian album. Haven't seen it again. I also read—well, not autobiographies, but biographies with discographies in the back. Sometimes they miss things, too.
Could you write a book?
I've spoken to him about writing a book. Actually, I spoke to him first about a film, because I think he's deserving of a movie. But he said he wants to write the book first. I've thought about it, but that would entail someone being with him all the time, and he never wants to be looked at as a tombstone.
You could be a good secondary source.
I would love to be a consultant.
You've done tribute parties for so many musical heroes, sometimes right after they pass. Which was the most memorable?
The Stevie tributes where he's shown up, those are always amazing. When Michael passed away, the first tribute party that I did was very small. It felt like the ceiling was crying. People were banging on the walls, crying, singing their hearts out. A lot of people to this day tell me that they'll never forget it.
I never thought that there would be a day that Prince and Michael wouldn't be here, but I'm glad that I've been doing [the parties] since the time when they were both alive. I actually met Prince. It was a funny meeting. I was introduced to him through his DJ, Rashida. In his own way, he thanked me for the party.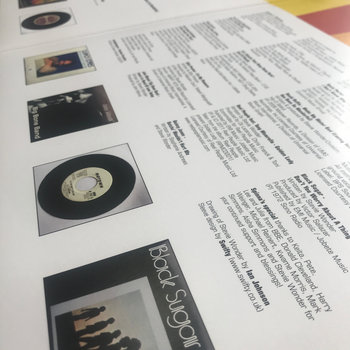 .
00:10 / 00:58
Merch for this release:
Vinyl LP, Compact Disc (CD)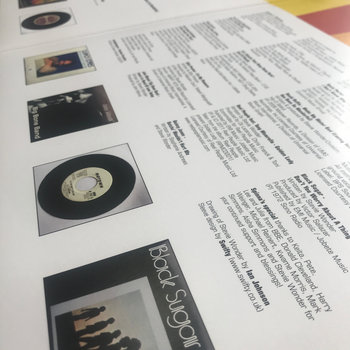 How?
He basically made a comment about the party being a 'versus' thing between him and Michael. (Ed: Prince and Michael Jackson were reportedly feuding for most of their adult careers, though no one quite knows the extent of it or why.) It was a bit sarcastic, but at the end of the day, he respected me as a DJ. I think he understood where I was coming from: It was a celebration, not really a battle, and I'm honoring him. He respected what I played, and he heard me play a few times in LA; that was great for me.
Where has been the best city to do your Wonder-Full parties?
Some cities might get mad at me. New York—maybe because it's home base, maybe because it's New York. Next is San Francisco. I get a thousand people every year, sold out, with a line down the block. The Bay is a melting pot, similar to New York, and people just get it. Third is D.C. It's a chocolate city, and although the venues are not as big, the energy is always intense. That's one of the parties where Stevie showed up—one of the most incredible moments of my life. He did an a cappella version of "I Wish" with me at the turntables cutting up a James Brown break.
Anything else you want to point out?
I have a Jigmastas album—that's my hip hop imprint. We have a new record called Resurgence. Robert Glasper put together this reinterpretation album of Miles Davis's music, Everything's Beautiful. I produced a song, which features Stevie Wonder on harmonica, "Right On Brotha." I believe they're about to make it the next single. I'm about to remix it. The journey of Stevie, this brings it full circle. I have to do it soon, as in this week, because I'm past due.
—Christina Lee