FEATURES
DJ Girl and Nondi_ are Planet Mu's Next Generation
By Jude Noel · April 20, 2023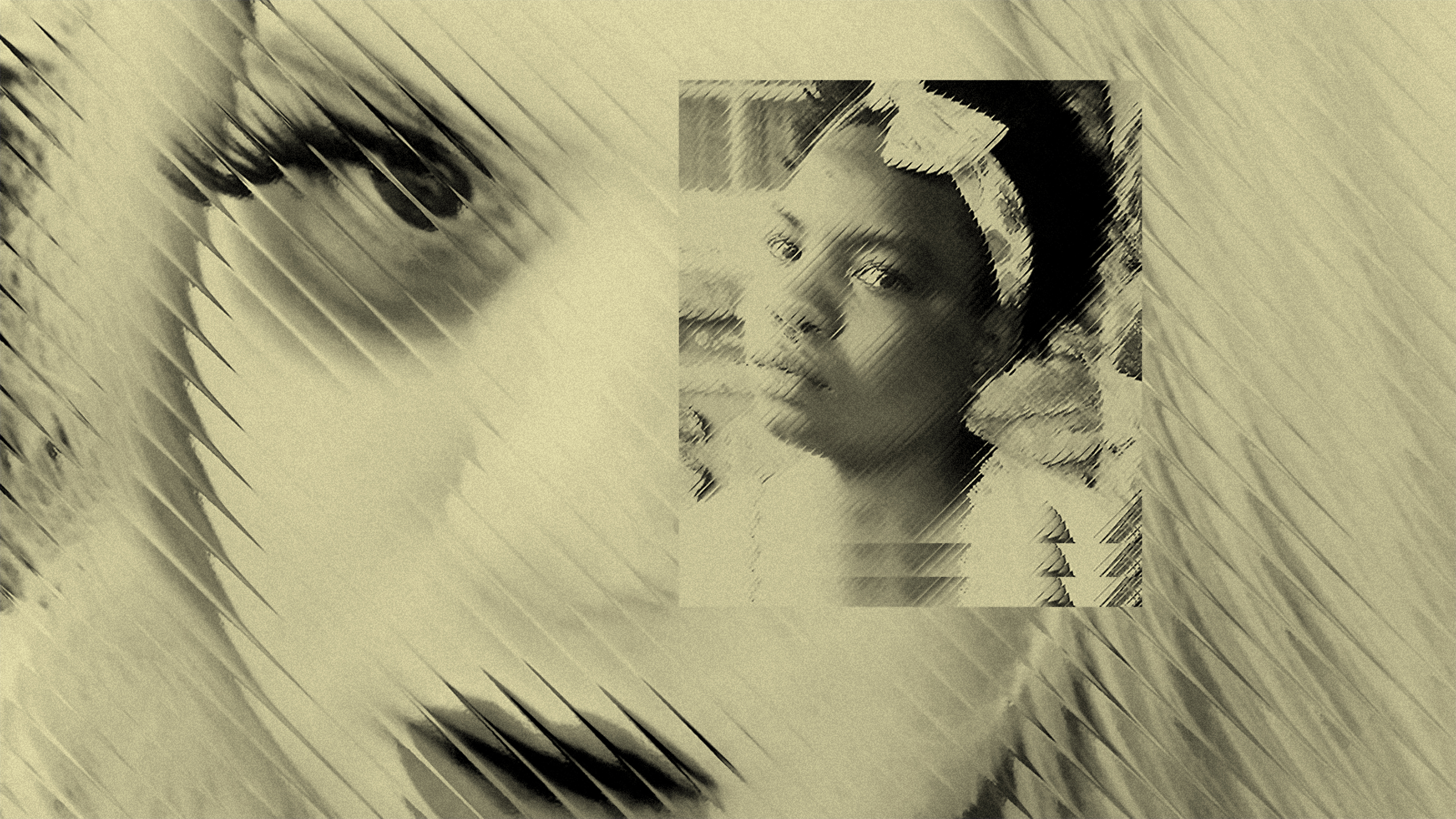 More than 25 years after Planet Mu pressed its first record, the English electronic imprint continues to introduce its audience to cutting-edge dance music from across the world, connecting the sounds of footwork, Dutch bubbling house, and breakcore to the IDM scene that founder Mike Paradinas (better known as µ-Ziq) helped shape. Longtime friends DJ Girl (aka Theresa Shaska) and Nondi_ (Tatiana Triplin), who kicked off spring 2023 by dropping back-to-back debuts on the label, both cite Planet Mu releases as some of their biggest influences, partly owing their layered production style and taste for dream-like atmosphere to the works of RP Boo and Venetian Snares.
"I got a message from Meemo Comma, and she was like, 'Hey, do you want to do this?'" says Shaska. "At first I was struck by how out of the blue it was. Like, Planet Mu? That's insane. I've been listening to them since I was 14. Once I heard Nondi_ had an album coming out too, I was so happy. It's like, the most epic come-up ever."
"Yeah, it's overwhelming thinking about how much Planet Mu influenced me, and now I'm a part of it," adds Triplin. "Teenage me wouldn't even be able to comprehend that."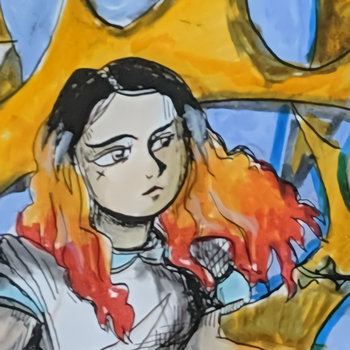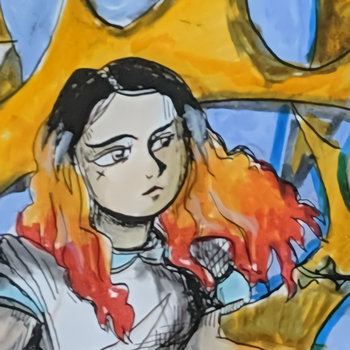 Merch for this release:
Vinyl LP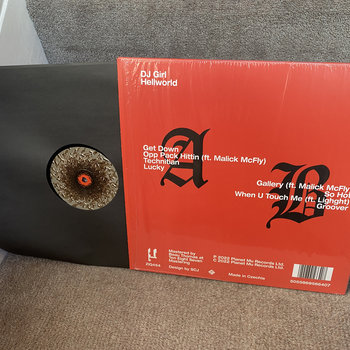 DJ Girl's Hellworld, which dropped on March 17th, is a syncretic blend of underground club movements, fusing juke music's frenetic pace and sliced samples with the squelch of acid techno and the progressive bent of IDM. "Technician" exists in the direct center of this Venn diagram of influences, threading a tangle of dissonant, malformed synth lines around an industrial beat that glitches and overheats, eventually giving way to a kitschy, Cybotronian voice imploring listeners to shake their ass. "When U Touch Me," produced in collaboration with Ireland's Lighght, is a melodic outlier built around sparkly gated chords and sped-up nightcore vocal chops.
"This is definitely more of a corruption of my sound," says Shaska. "It was made during a point where I wasn't doing so hot. I felt really pent up due to the pandemic and some other horrible shit going on in my life. I was making these tracks out of stress. There are some classic DJ Girl vibes, but there's also a lot more fuck-y synthesis-type shit. I kind of went nasty with it."
Arizona rapper Malick McFly MCs on two tracks, lending laid-back verses and Dance Mania-esque soundbites to "Opp Pack Hittin'" and "Gallery."
"I need to find a way to perform with that dude," says Shaska. "I've known about him since he was, like, 18 or so. I've always liked his deeper-sounding voice. I thought, 'Let's just throw it on some techno,' and it worked well. I want to collaborate with more rappers on unhinged techno."
Though Nondi_'s Flood City Trax, released April 7th, is quite different from Hellworld on the sonic front, favoring muffled textures and meditative atmosphere, each artist's work stems from an early fascination with the raw but aspirational ethos of Detroit techno.
Though currently based in Austin, Shaska grew up in Detroit, where the city's history as the birthplace of techno first influenced her to experiment with electronic production.
"I didn't really think about dance music that much until I was a moody teen looking for something inspirational," she says. "I ended up finding Jeff Mills's first album. I have a specific memory of sneaking up to the computer at 3 a.m., trying not to wake up my mom listening to Jeff Mills. It blew me away when I found out he was from Detroit. I was like, 'This piece of shit area?' As soon as I turned 17 or 18 I was trying to go to shows as hard as possible. Suddenly, I started to realize that Detroit was actually cool."
.
00:10 / 00:58
Triplin's interest in dance music was initially sparked by rhythm games like StepMania, through which she learned about genres like breakcore and IDM. "I loved it so much that I had to learn how to make it, and through that I learned more about Black dance music," she says. "Once I found out about Moodymann, I was blown away that Black people made this music. Then I learned about Detroit techno and really got hooked on making club music. The internet and imageboard culture were also big parts of it."
Largely recorded in 2020, Flood City Trax is a loosely conceptual album about Triplin's native Johnstown, Pennsylvania, which was ravaged by catastrophic floods in 1889 and 1977. Far removed from traditional club culture, the record is shaped by her own experiences scouring the internet for obscure dance music and the reality of living in one of America's fastest-shrinking cities.
While her recent production thumps with a bit more bass-y aggression, this material hovers in place, letting droning sub bass, twinkly synths, and flickering hi-hats all fade into a heterogenous haze. The brisk rhythms of footwork throb beneath the surface of tracks like "Nostalgic Vision," but beneath their lo-fi filter, they also resemble quirky Warp Records experiments like Squarepusher's "Tommib Help Buss" and Aphex Twin's "Beetles." Even a breakneck song like "Sentimental Juke," with its rapid-fire kicks, feels like getting caught in a hailstorm of plush toys. An LED rainbow of bitcrushed synths breaks through cracks in the insulation.
"It started with me wanting to make more ambient-sounding footwork music," Triplin says. "I don't think the finished album is that ambient at all, but it grew into these tracks that are meant to be emotional experiences that reference footwork. Every track is supposed to feel like a moment captured in time, basically, and meant to feel like a little timeless because you can't really pinpoint when these are made or even what they're really meant to be referencing."
.
00:10 / 00:58
Shaska and Triplin met in a Last.fm group more than 13 years ago, and they've remained close friends ever since. 'It was Last.fm, then Tumblr, then Twitter," says Shaska. "Since 2010, 2011—I swear to god, it's so crazy."
They've only officially put out one musical collaboration together—2019's "She Tracks / Sappho Erotica", released under past pseudonyms Yakui and Tchan—but the pair run in the same creative circles. That same year, Triplin put out her glitchy and distorted IMNI LP on Shaska's EAT DIS label, which has grown into a hub for club music producers with a penchant for sinister sounds since its founding in 2018.
"The label came together really quickly, almost like an afterthought," Shaska says. "I had a bunch of friends on Discord, and we were all making deep house at the same time. One day I was like, 'Hey, why don't we make a deep house comp?' That was our first release on the label. The name Eat Dis came from a party series I was going to do in Detroit, but I had to move out and find housing. It didn't end up working out, but I still had all the logos and shit, so I just slapped those on the release. From there it just kind of became a thing."
Triplin has also operated her own boutique label—HRR—since 2016, primarily uploading her own music under a variety of aliases, as well as plunderphonic music by artists like Indiana's Kinesthetiac.
"I always wanted to have a label or be on a label because on sites that archive music, it made me go crazy when I saw my stuff without a label number there," she says. "That's like 90% of the reason I started HRR. It has kind of turned into my own vanity label now, where I'll basically put out whatever I want to release, but maybe under a different pseudonym. But it's just me for now until I get the resources to support people."
With their first major releases behind them, Triplin and Shaska continue to experiment. Among other projects, Shaska plans to drop an EP on Dutch techno label New York Haunted while Triplin has been dabbling in a number of niche subgenres.
"I've been wanting to make something more hardcore, like some up-tempo speedcore tracks, but for the most part I haven't really been succeeding at it, " she says. "I've also been making these really minimal, meticulous footwork tracks that sound more like my Yakui stuff. I'm probably going to make more in that vein, alongside some video game-inspired music. More simplistic stuff."