FEATURES
The Oppositional Stances and Enduring Charm of New Zealand Punks Die! Die! Die!
By Nick Fulton · November 03, 2017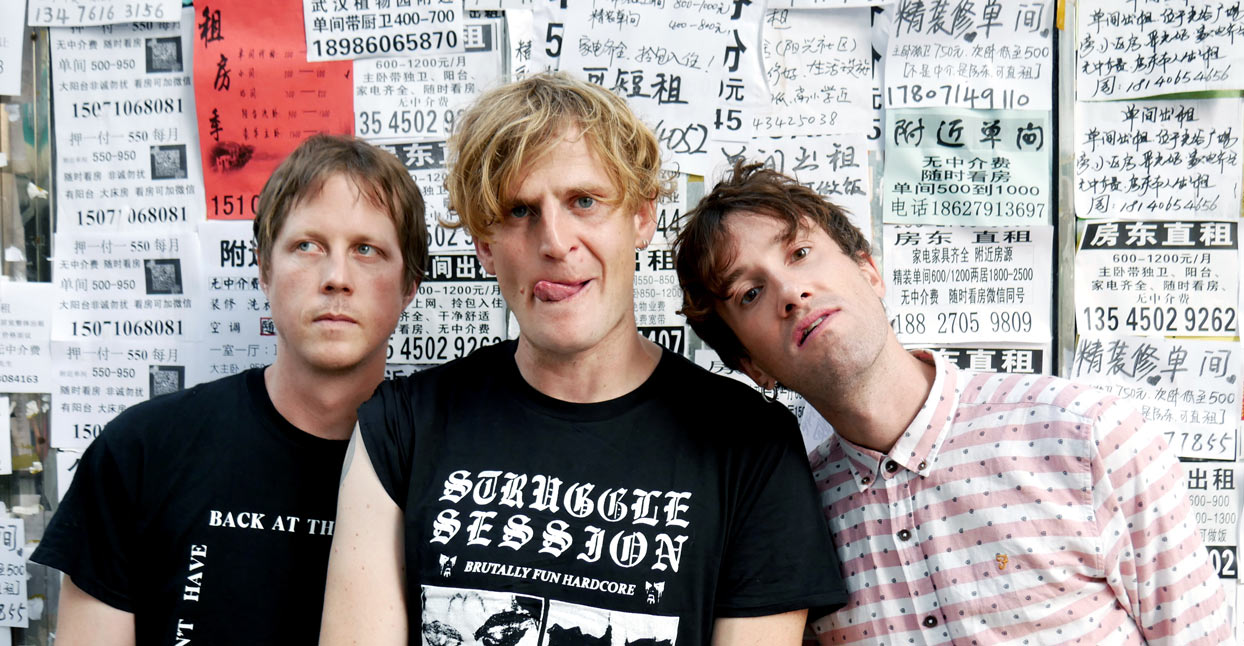 As best friends, Andrew Wilson and Mikey Prain have been through a lot together. The pair started playing music together in 1999 while attending Dunedin's Logan Park High School in New Zealand's South Island, and in 2003 they formed the punk band Die! Die! Die!. Now in their 14th year, they've just released their sixth studio album, Charm. Offensive., which was recorded in three countries, including inside a boat moored on the River Thames in London. Speaking via Skype on the eve of flying to China to begin what will soon evolve into a world tour, Wilson (guitar/vocals) sounds upbeat and positive about the band's latest chapter, which he says came about "more for the pure fun of it." He tells me that the band's last two records—Harmony (2012) and S W I M (2014)—were both "laborious," but Charm. Offensive. "was really quite effortless."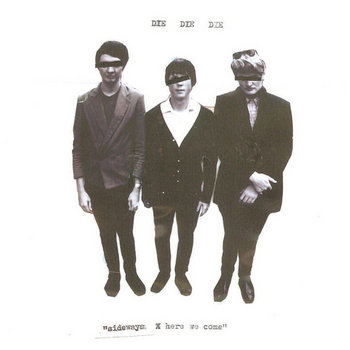 .
00:10 / 00:58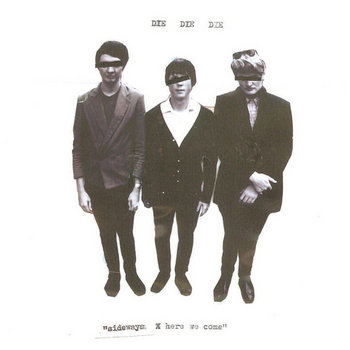 It's their first record with bassist Rory Attwell, who joined in 2015 after the toughest period in the band's history, one that led them to briefly call it quits. According to Wilson, Charm. Offensive. was the result of a happy accident, rather than any specific planning. The band was visiting a friend in Byron Bay on Australia's east coast and asked him to book them a recording studio for a day. They ended up improvising four new tracks, which became the catalyst for the new album, and then recorded eight more in Dunedin, Whanganui, and London.
The improvisational process, combined with Attwell's approach has produced the noisiest Die! Die! Die! record to date. Charm. Offensive. sounds alternately weathered and abrasive, as if all the studio doors were bolted shut and the sound had nowhere to escape but back into the mixing desk. If you listen through headphones it feels warm, almost soothing to the ear; through speakers, it sounds both fractured and frayed around the edges. You get the impression it's made exactly the way the band wanted it to be made, with little regard for commercial radio or fans of their more melodic records, Promises, Promises and Form.
Throughout the past decade, the band has built a catalog of aggressive post-punk songs that address social decay and the fracturing of personal relationships, romantic or otherwise. Whether fans realized it or not, Die! Die! Die! was—and still is—an outlet for Wilson's own personal politics. "How Soon Is Too Soon? (It's Not Vintage It's Used)," the opening track on Charm. Offensive., continues that trend by fixating on a romantic relationship that recently turned sour. It's a theme that turns up on some of Die! Die! Die!'s most beloved tracks. "Blinding," the opening number on Promises, Promises, begins with the line, "I could never forget her if I tried." On "Whitehorses," from the same album, Wilson sings, "What would you do, when she says, she fell out of love with you?"
.
00:10 / 00:58
Some of the band's more aggressive songs deal with gentrification and genocide, evidence of Wilson's interest in sociology (he's currently studying for a degree in sustainable business). He tells me via email from China that "Ashtray, Ashtray," from the band's debut record, is based on a story he was told by an indigenous Australian man. "When we first left New Zealand and played in Australia, the treatment of the Aboriginal population had quite a profound effect on me. I talked to an Aboriginal man on our first trip to Sydney, on Oxford Street, and he told me about how his relatives were murdered and their skulls were used as ashtrays, but that in the context of his culture of over 40,000 years, they will rise again and that this is a small nightmare in the context of his people."
Wilson's songwriting has always been nuanced, but certain songs always contained more fire than others. With age, that fire has slightly faded, but early Die! Die! Die! songs like "Auckland is Burning" and "Britomart Sunset" still remain some of the most beloved by fans. When I asked Wilson about "Auckland is Burning," and comments he made to me in 2009 about disliking New Zealand's largest city—he said he thought there were "really good bands everywhere but Auckland"—he laughed and said, "When you come from Dunedin, it's quite fun to rage at Auckland." It's a narrative that those who grew up outside any big city can relate to, but one he seems to have taken personally. He went on to suggest that after writing "Auckland is Burning," Die! Die! Die! was blacklisted by Auckland's largest student radio station.
I ran this statement past Stevie Kaye, who in the mid '00s worked as a music critic for the now-defunct Real Groove magazine. Kaye rebuts Wilson's claim, saying, "I don't think there was any animosity towards Die! Die! Die! in Auckland, but perhaps Auckland indifference could register that way for people used to a smaller, more supportive scene in Dunedin." Kaye also noted, "As another Dunedin transplant, I had a similar initial suspicion/resentment of Auckland and Aucklanders [who didn't know] the South Island bands I loved that made an effort to tour and instead had hometown heroes that could get away with only playing Auckland."
Even if Die! Die! Die! were overlooked in New Zealand's largest city, it never impacted their success elsewhere. Touring New Zealand was always on the agenda, but they also saw opportunities beyond the border and were ambitious in pursuing them. Kaye admires the group for it, and says they "forged a touring-based career pretty much unmatched by any contemporaneous New Zealand band of their ilk." He noted that when he was in Guangzhou, his "Chinese friends [would] talk about them with respect." Die! Die! Die! toured China in 2011 and 2016, and they loved it so much that they have now returned for a third time. Wilson told me that they initially wanted to record the vocals for Charm. Offensive. in a sleeper carriage on a train in China, but that, "those days are mostly gone now, it's all high-speed rail."
Die! Die! Die!'s strong work ethic was often overshadowed by Wilson's antagonistic approach to authority. He says that his philosophy was, "If I'm gonna burn a bridge, I'm gonna really fucking burn it—no going back, I want to make sure it's completely fucking burnt." But in hindsight, he's realized, "you've got to work through these things." Label manager and music promoter Ian Jorgensen remembers Wilson's attitude "used to cause conflict" between them, but that he knew he "was a super sweet person with a good heart, so though impulsive and hot-blooded, I always knew he was coming from an earnest place."
Throughout my conversation with Wilson I noticed evidence of that softer touch, and we spoke about maturing with age. The combative personality I remembered interviewing in the past seemed more like a distant memory. When I asked if there were things he regretted, he spoke first about living in New York when second bassist Henry Oliver left the band in 2006, and how the band cancelled shows and ran back to Dunedin. "That wasn't a good idea," he said. He then spoke about third bassist Lachlan Anderson leaving and said, "I should have put a friendship first, instead of caring about the band."
Others I spoke to remember Wilson and drummer Prain's passion for music and their loyalty to those who shared common values. There's evidence of this in Charm. Offensive.'s cover art, which was designed by artist Harley Jones. Wilson and Prain went to the same Dunedin high school as Jones, albeit half a decade apart. When it came time to choose support acts for the Promises, Promises tour in 2007, Wilson asked Jones's high school no wave band TFF to play. Wilson remembers thinking, "I just couldn't believe there was a band from Dunedin playing such far-out music." From his home in Melbourne, Australia, Jones told me, "My old band owe nearly everything to Andrew and Mikey's support. They got our first album recorded, soon after we toured with them, and once in Auckland, Andrew hooked us up with Nick Roughan of Skeptics, who recorded our second album." Jones says Wilson also gifted one of his band mates a "beautiful" old guitar, and he described being asked to design the cover art for Charm. Offensive. as "a personal milestone."
During Charm. Offensive.'s "Window In My Pocket," Wilson repeats the phrase "I had a window in my pocket / It turns out I'm good at breaking things." Later in the song, amid a shower of thunderous drums, he can be heard saying, "I'm so destructive." The following track, the gloriously named "My Friend Has A Car He Starts With A Hammer (What Has Been Seen Can't Be Unseen)," begins with a series of frustrated grunts. There's still plenty of evidence of the old Andrew Wilson for fans wanting to hear an aggressive punk rock record, but in public he's undoubtedly more self-aware, intent on building bridges rather than burning them down.
—Nick Fulton