FEATURES
Story of a Song: Devon Welsh, "Go Go"
By Max Savage Levenson · September 30, 2016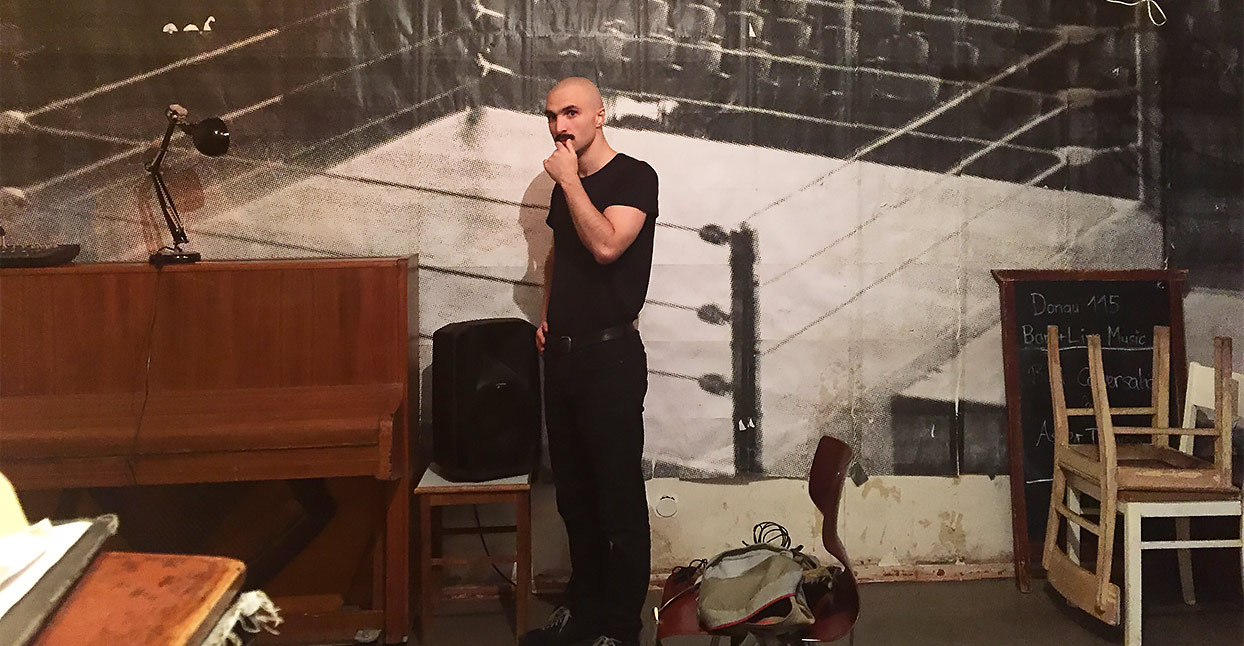 Throughout his career, both as the frontman of the now-defunct minimalist electronic duo Majical Cloudz, as well as the recordings under his own name, Devon Welsh has made a point of diving headlong into the mystery of death. Welsh launches his voice like a bolt of lightning, illuminating the scary and uncomfortable truths we typically push out of mind and out of sight. While his past collaborations with Matthew Otto, the other half of Majical Cloudz, used bare-bones instrumental arrangements in order to emphasize Welsh's magnetic voice, "Go Go," the single track that Welsh quietly uploaded to Bandcamp earlier this month, marks an even more radical level of starkness in his craft. On the track—which Welsh wrote, recorded and mixed alone—he strips away nearly every layer of sound between his voice and our ears, leaving nowhere to hide from the cold reality its lyrics convey. In part written for a mentor suffering from a terminal sickness, and in part an inward-facing meditation on the uncertainty of life, "Go Go" is a study in mystery and confusion, delivered with diamond-sharp clarity.
.
00:10 / 00:58
Welsh originally wrote "Go Go" while fooling around with an "unwieldy" old Juno synthesizer in his hometown of Montreal last summer, eventually coming up with an oscillating patch—the series of settings that produces a particular tonal quality—that became the primary accompaniment to his vocals. Yet even though "Go Go" repeats that two-note synthesizer figure throughout, Welsh insists that the song is rooted far more in traditional folk music than electronics. He cites John Jacob Niles, the mid-century folk artist often called "the Dean of American Balladeers," as a major inspiration. On songs like "Go 'Way From My Window" and  "Turtle Dove," Niles hypnotized listeners by boiling his songs down to simple arrangements, his voice typically accompanied solely by a lute-like dulcimer. "His voice is what ends up being the vessel," Welsh says. "You end up spending more time on the lyrics, and especially on the voice, because it takes up so much space emotionally and in the dynamics." Like a lot of folk music, from Niles to contemporaries like Devendra Banhart, whose breakthrough album Rejoicing in the Hands Welsh cites as one of his favorite albums as a teenager, "Go Go" doesn't have a chorus. It tells its entire story in three abbreviated verses, each word exploding in stark contrast to the threadbare bed of sound behind it.
In "Go Go," Welsh addresses, "someone who was a mentor to me with writing and creativity" since Welsh was a young boy; his mentor had recently fallen ill, and was suffering at death's door. Welsh studied religion at university, and his lyrics, which at one point imagine his mentor ascending to heaven, "like a car flying quickly through the desert," reflect both his curiosity and skepticism on the subject. "When I was writing the song," he explained, "the real emotion going into [it] was confusion—not having answers about someone being sick, passing away, which are extremely complex and uncertain phenomenon that are hard to deal with." Welsh tackles that doubt in sparse language—the entire song is comprised of less than 50 words, even if you count every "go." Each one feels deftly weighted without sounding precious or over-wrought. He told me that he found inspiration in the work of American poet Robert Creeley, whose poems, like "The Mirror," are often built around just a handful of airtight words, but open doors to a vast range of ideas and perspectives. "Please be faithful, God is good," Welsh sings at one point, subtly blurring an irrational sense of hope along with feelings of helplessness and anger.
Although it's set against a backdrop of death, "Go Go" is not without a sense of joy. Each verse ends with an exclamation that practically detonates on impact—"Yeah yeah!" or "Whoa whoa!"—underscored by a single bass tone. In another composition, that added note may go unnoticed; here its brief appearance is bold and inescapable. By balancing an account of devastating loss with unbridled exuberance, Welsh has created a piece of music that is far more complex than a simple eulogy. "To be confronted with life and to say yes to it is not necessarily to understand it or to have all the answers," Welsh says towards the end of our conversation, "but just to go into it without all the answers." Delivered by a narrator whose eyes are open wide, "Go Go" is a statement of awe more than defeat, and a poignant reminder that asking questions can be just as powerful as getting answers.
—Max Savage Levenson