FEATURES
Despite Quarantine, Beauty Pill Find New Artistic Paths
By Joe Gross · April 07, 2021
[Content Warning: This story deals with an album and theater piece that address suicide.]
Like a lot of artists in 2020, the genre-resistant D.C. outfit Beauty Pill spent most of last year on hold. "I had a map in my head of how summer 2020 would go," frontman Chad Clark says from his home in Washington.
Their previous album, the critically-feted Describes Things As They Are, was a breakthrough for the long-running band, generating rave reviews and showing up on year-end lists. But that was released back in 2015. It was time for new music. "We would have gotten together, finished a new BP full length, maybe played some shows," Clark says.
Instead, like most folks, Beauty Pill stayed home. They did, however, manage to make new music: An album (Sorry You're Here, a score for a dance piece), an EP (the five-song Please Advise), and a single ("Instant Night"), two of which were completed before the pandemic, one during. It's a remarkably large amount of music from a band known for taking their time.
Merch for this release:
, Vinyl LP, Compact Disc (CD), Cassette
"That was largely [singer] Erin [Nelson]'s doing," Clark says. "Her impatience helped all these records come out in 2020. The logical thing was to delay Please Advise, but she was absolutely thinking clearly that everyone was home now [and in a listening mood.] I remember [Erin's husband] Ryan told me, right before Erin joined the band, 'The thing about Erin is that if she tells you she is gonna do something, she hangs up the phone and begins working, so be ready.'" Nelson agrees. "I don't procrastinate," she says. "I will move walls."
Right before the world started shutting down, the group released Sorry You're Here—a striking and largely electronic score to a production of "suicide.chat.room." The play mixes dance, music, and drama, and is set inside an early internet chat room where people express the desire to end their lives. And while the music was used to score the Taffety Punk Theater Company's production, the bulk of the songs on Sorry You're Here aren't new—in fact, much of the album was written 10 years ago. "It is not the 'lost Beauty Pill album,'" Clark says. "It was never lost. I chickened out. I buried it."
In 2010, Clark was having mixed feelings about Beauty Pill. The band had cranked out two lauded EPs—2001's The Cigarette Girl From the Future and You Are Right to Be Afraid in 2003—plus a full-length in 2004, The Unsustainable Lifestyle. But though they were signed to venerated D.C. label Dischord, the group was a tricky fit—they had a more catholic, complicated view of rock music, and their compositions were complex, nuanced, and rarely straight-forward.
Two years after Lifestyle, they released "Ann the Word," a largely electronic song that sounded unlike anything they had attempted before. Clark posted it to the group's MySpace page where it immediately blew up. "It had 100,000 listens," Clark says, "which seemed really impressive to me at the time."
Merch for this release:
Vinyl LP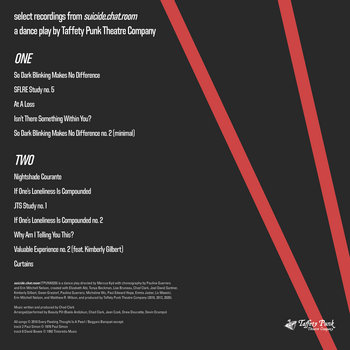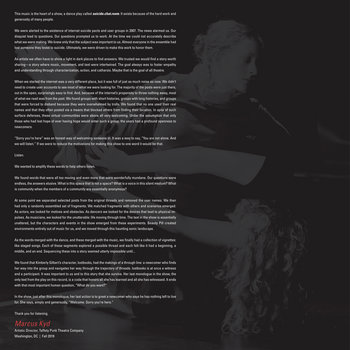 Marcus Kyd was one of those listeners. Kyd also had some tangential connections to Clark: Under his government name, Marc Nelson, Kyd had fronted the Most Secret Method, a late '90s, Dischord-adjacent rock band, the drummer of which was his brother Ryan Nelson. "Marc was really supportive of 'Ann the Word,' and that registered with me," Clark says. "He was really excited about it. He wanted to know how I'd done it."
A few years earlier, in 2004, Kyd and his future sister-in-law Erin Nelson founded Taffety Punk Theatre Company as a way to combine music, dance, and theater (or, as they put it on their Bandcamp merch page: "Taffety Punk is a theatre company that is a band. Or a band that is a theatre company. We dance, too, so watch out.")
"We wanted to make accessible, affordable theater that could be lots of things to all kinds of people," Nelson says, "not having just one audience that we are pushing toward. And it definitely parallels the do-it-yourself theme of Dischord that became a model for folks."
Eventually, Kyd asked Clark to create the score for a play Taffety was putting together about suicide. "Marc felt like the kind of music that I was doing with 'Ann the Word' would suit the play," Clark says. The result is Sorry You Are Here: a mostly instrumental effort built around chopped-up samples, drum machine experiments, and the dislocation between the sounds themselves. "Nightshade Courante" recalls Autechre's skitter, while "Isn't There Something Within You?" layers spoken-word samples from a Christian website about death over synth stabs and a cut-up break. (It is—intentionally—very Negativland).
Merch for this release:
Vinyl LP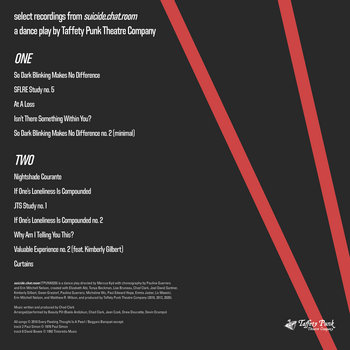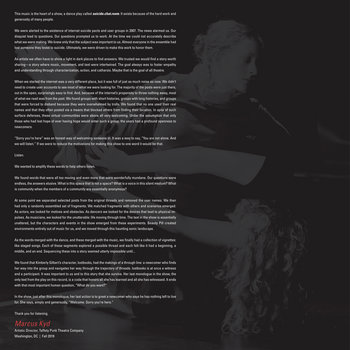 There are also two covers—both of them carefully chosen and delicately executed. On "SFLRE Study no. 5," Jean Cook turns Paul Simon's "Some Folks' Lives Roll Easy" into an electronic ballad, her voice processed, both intimate and distant. "I love ('Some Folks') because it's someone saying, 'I'm at the end of my rope,'" says Clark. "There are people who have the privilege of having an easy life, and not everybody is like that."
The other cover is David Bowie's "Jump They Say," the first single from his 1993 album Black Tie White Noise. The song is about Bowie's brother Terry Burns, who struggled with schizophrenia before dying by suicide in 1985. "That song is very moving," Clark says. "When we practiced it recently, I started crying in front of the band. I was thinking about how the song's POV is, 'I know that you were struggling with your brain, and I forgive you. I understood that you were vulnerable and you submitted. And I forgive you.' That's a very heavy thing."
"This is the only record Beauty Pill has ever put out that I didn't write any lyrics for," Clark continues. "I just didn't feel capable of deliberately expressing that which was consistent with the play, so I started to think, 'What songs do I know that are about despair?'"
While it feels utterly contemporary, Sorry You're Here also represents a transitional moment between Beauty Pill then and now. "It absolutely influenced Describes Things as They Are," Clark says. "Describes ended up being a pretty popular record, and I hope now that people see it wasn't such a leap—that there was a building process."
In May, the band released Please Advise, the first record Erin Nelson worked on with the band. Completed in 2019 and named, as the liner notes read, "after producer Teo Macero's famous 1969 memo to Columbia Records about Miles Davis ('Miles just called and said he wants this album to be titled BITCHES BREW. Please advise.')" The EP was nearly shelved until the band could flesh it out into an album, but Nelson pushed for its release. Clark is glad she did. "When I die, I expect this one to endure," Clarks says. "I am really proud of that record."
Nelson takes the lead on single, "Pardon Our Dust," which sounds like a direct sequel to the group's work on both Sorry and Describes. Clark takes over on "Tattooed Love Boys," where Devin Ocampo's rush of drums burbles under glitchy keys and strings before resolving into the kind of dance groove that deserves a thousand remixes. Each physical format—LP, CD, cassette—comes with its own distinct bonus track.
The band's most recent work is "Instant Night," a song written and recorded during lockdown. Released in October of last year, "Instant Night" is fraught with pre-election anxiety and suffused with mid-pandemic stress. But mostly, it's about Trump.
Merch for this release:
Compact Disc (CD), T-Shirt/Apparel, Vinyl LP
"That song is about seeing Ann Coulter say in 2015 that the Republican nominee was going to be Donald Trump," Clark says. "As much as I loathe Ann Coulter, I just fucking knew she was right, and it was totally chilling. It was recorded while thinking about how a second Trump administration would be the end of the world. Now, in 2021, I feel that even more strongly."
Recorded piece-by-piece in August in Clark's younger brother's apartment, "Instant Night" serves as an update on the present state of Beauty Pill. One of the song's key moments was an unintentional ad lib. "The original line is 'sad is alright' and that's in there," Clark says, "but, near the end, Erin flubbed it and said 'scared is alright'—which is much better. Some people need to be persuaded to be fucking scared. A lot of young white idealist males who might be righteous dudes might not have access to the same fear that minorities and women do."
In that way, Beauty Pill's music has never felt more urgent, more necessary to the conversation. "I remember [Dischord label head] Ian [MacKaye] used to say to me, 'People will get what you're doing about 10 or 15 years after you do it,'" Clark says. "And part of me hated that. I hope it doesn't take 10 or 15 years for people to appreciate our music. I hope that people like it now."