FEATURES
Descartes a Kant Turn Toxic Love Into a Punk Cabaret
By Isabela Raygoza · May 31, 2017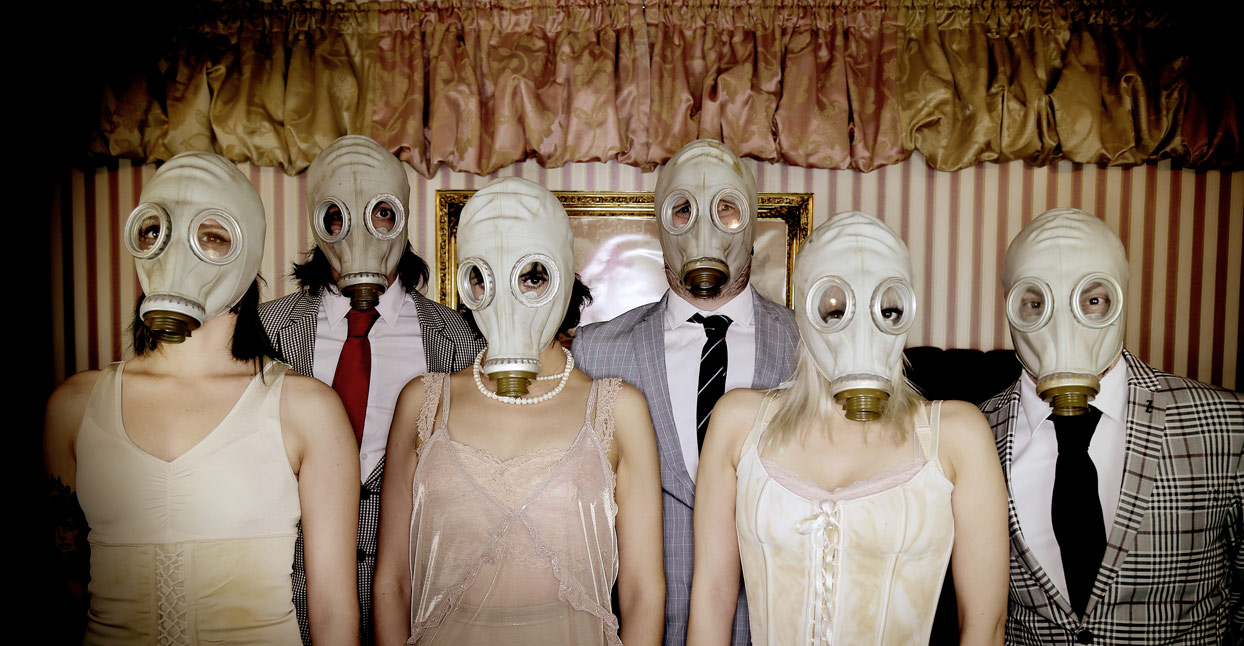 Beneath the hedonistic reverie of Descartes a Kant's Victims of Love Propaganda is the story of a fictional couple, told over the course of 10 deliciously volatile tracks. The songs follow a relationship through its manic highs and crushing lows, from desire, to rabid infatuation and, ultimately, to obsession-induced self-destruction. Throughout Victims, the Guadalajaran iconoclasts illuminate the stark contrasts of toxic love.
Their darkly eccentric opus resists pop culture's romantic clichés. "We find out that [love] is not the way it's presented to be [in media]," says Memo Ibarra, who plays bass and synths—and provides the album's diabolical screams. According to Ibarra, some of the songs are pulled from personal history. "What may seem as a traumatic or terrible experience turned out into what we think is a great album," he says.
Merch for this release:
Compact Disc (CD), Vinyl LP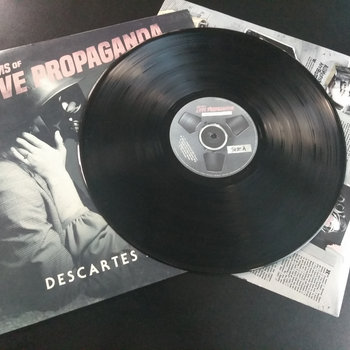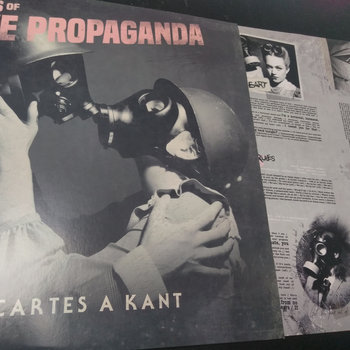 Victims was engineered by Steve Albini, known for his work with alternative rock fixtures like the Pixies, Nirvana, and the Breeders. Throughout the album, Descartes a Kant turn their broken hearts into a sort of exorcism, setting woozy lullaby vocals against digital hardcore beats and frenzied punk riffs. Their live show takes cues from dark cabaret pioneers like Dresden Dolls, as well as the camp of Rocky Horror Picture Show, and all of the group's members wear '50s gas masks on stage. Toxic love, indeed.
We caught up with Ibarra via Skype; in our conversation, he touches on media deceptions, dystopian love, and his fantasy of playing during an apocalypse.
On Victims of Love Propaganda, you explore utopian and dystopian scenarios with the theme of love and heartbreak. How did you settle on that approach?
The concept came from people that we know in relationships who are close to us, and personal things that have happened to us, as well as the way that love is presented in movies, magazines, and in media in general. We ended up finding out that [love in reality] is not the way it's presented to be most of the time.
The title Victims of Love Propaganda tells the story of a relationship going from point A to point B—point A is the crush part, and point B being the ending of it. We have a single out called 'Motion Picture Dream Boy,' which chronicles the beginning of a relationship where everything is perfect. And throughout the album, you go through the different phases of this long-term relationship, and it ends with a break-up song ['The Science of Break-up']. We picked a couple, a girl and a boy, actors who are going be representing these characters throughout.
Each song offers a different take on romance and disenchantment. What's your personal relationship with these characters? How did their passions affect the songwriting process?
Several of us Descartes a Kant members were going through something similar, and during that particular time, we were writing the album. Sandra [Michel], who is the band's main composer, was vomiting a lot of personal experiences into the lyrics. That's a lot of what's in there, as well as some other stuff based on others' relationships. I don't wanna say it was 'perfect' timing, because it's obviously not fun [to break up], but I think we translated it into something good. What may have seemed like a traumatic or terrible experience turned out into what we think is a great album.
Your musical arrangements are refreshingly unpredictable, unconventional even—they turn and twist at every corner. I'd love to hear a little bit about your creative process.
Descartes a Kant has always been a band that pushes boundaries of musical style. It's not that we go out of our way to be unconventional. But that's what we like; it's the kind of music that we enjoy. We listen to lots of different musical styles, from very quiet lullabies to the most hardcore punk and digital hardcore. This album has a lot of influences like that. I understand that this is our first album to be released in the U.S., so for those who don't know this band, you might encounter a lot of bipolar stuff in our music.
Our first album [Paper Dolls] has a lot of style-shifting short songs, similar to what Mr. Bungle did in their time. Then, on our second album [II Visore Lunatique], we took another route, with ambitious arrangements and orchestral stuff. We stopped doing the style-shifting songs, and started to do a narrative in the album. We had a hip-hop song and a Broadway musical. In this new album, we have a little bit of both—we took a little from the first album, in terms of the punk rock and hard songs elements, but we also have a lot of more sophisticated arrangements from the second album. We also included elements that aren't in any of the previous two albums. We went with more synthesizer sounds, and it's also the first record that we recorded to analog tape.
The sounds in the album evoke imagery that's straight out of a horror film. Are there specific cultural references that you drew on for this album?
We've always been huge fans of artists that put on a show—meaning, bands, or singers that don't limit themselves to only singing or playing their instruments, but doing a show for the visual part. That led us to become fans of punk cabaret bands like Dresden Dolls. Sandra is a huge fan of the Forbidden Broadway musical, and Danny Elfman's Oingo Boingo. More recently, Sandra has been influenced by directors like Nicolas Winding Refn—people who are visual, but also musical. I think we're all big fans of the Rocky Horror Picture Show. It has a lot to do with the punk rock part of it. Not every band can do—or likes to do—the whole wardrobe thing—theater, and performance. When I was growing up, I decided I wanted to have this [approach] because I saw videos of the Dead Kennedys. Just the way Jello Biafra expressed himself physically—wow, he didn't use props or anything. We have tremendous respect for anyone who tries to communicate and express things during the live show, taking it to another level apart from the recording. That's what we try to do.
Merch for this release:
Compact Disc (CD), Vinyl LP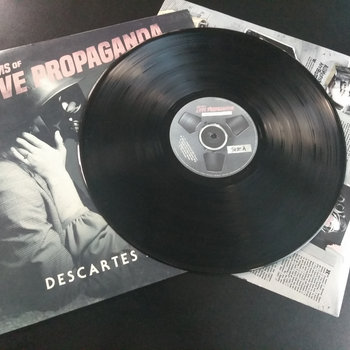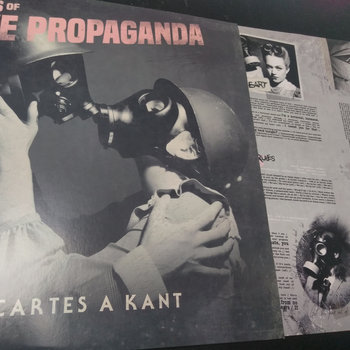 You've dressed up as everything from burglars to characters from Alice in Wonderland on stage. Talk to me about your wardrobe and costume choices.
That Alice in Wonderland get-up was like 10 years ago. In the Paper Dolls era, for each show we did, we'd [depict] different characterizations—it was sort of a multiple-personality concept. We were also devils—we had a lot of costumes, and each show was different. On the second album, the concept was very different. It was a tribute to psychiatric malfunctions, a collection of stories on people in mental institutions. So the outfits had a lot to do with that sort of stuff. Now, we're starting to put out our new live show, and it's a whole new thing, a bit more theatrical. For the first time, we're doing proper design and cinematography. It's gonna be related to the toxic love couple.
How did you guys link up with Steve Albini? What was it like working with him?
I still can't believe it. I'm a really huge admirer of his work, being that I'm also a recording engineer. And obviously, Sandra is a big fan of the Pixies, The Breeders, and Nirvana albums; these are bands that really marked us when we were growing up… Also, [we dig] some of his more recent engineering work, like with Don Caballero and post-rock bands like MONO. The opportunity came to us as a very fun and strange way. A guy named Taylor saw us play in Chicago at Ruido Fest two years ago, and he really liked the band. He insisted on getting us a good producer so we could get a shot at releasing our album with a U.S. label. He spoke to our manager, Brian, and sorted out the whole thing. They were very helpful in getting us to the studio, because it's difficult for a band like us to go to the States and record in a studio like that. It was strange because we thought [Albini] was, like, a dictator, from what we've heard on interviews. But when we met him, we saw that he's not like that at all. He's a very nice guy who made us feel comfortable the whole time. It was a very enjoyable experience and we're all grateful for the opportunity.
Merch for this release:
Compact Disc (CD), Vinyl LP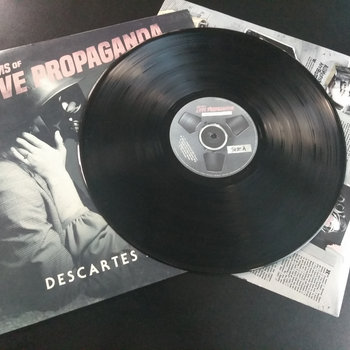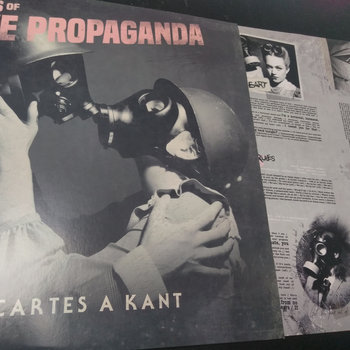 If you could travel through time, whether past or future, where and when would you want to perform with your band and why?
The future. I think it would be fun to play during the end of the world, the apocalypse, where everyone is dying. I think we would be the perfect soundtrack for that. But it may take a long time for that to come.
—Isabela Raygoza