FEATURES
Daylight Robbery on Office Ghosts and House Shows
By Tess Duncan · September 08, 2016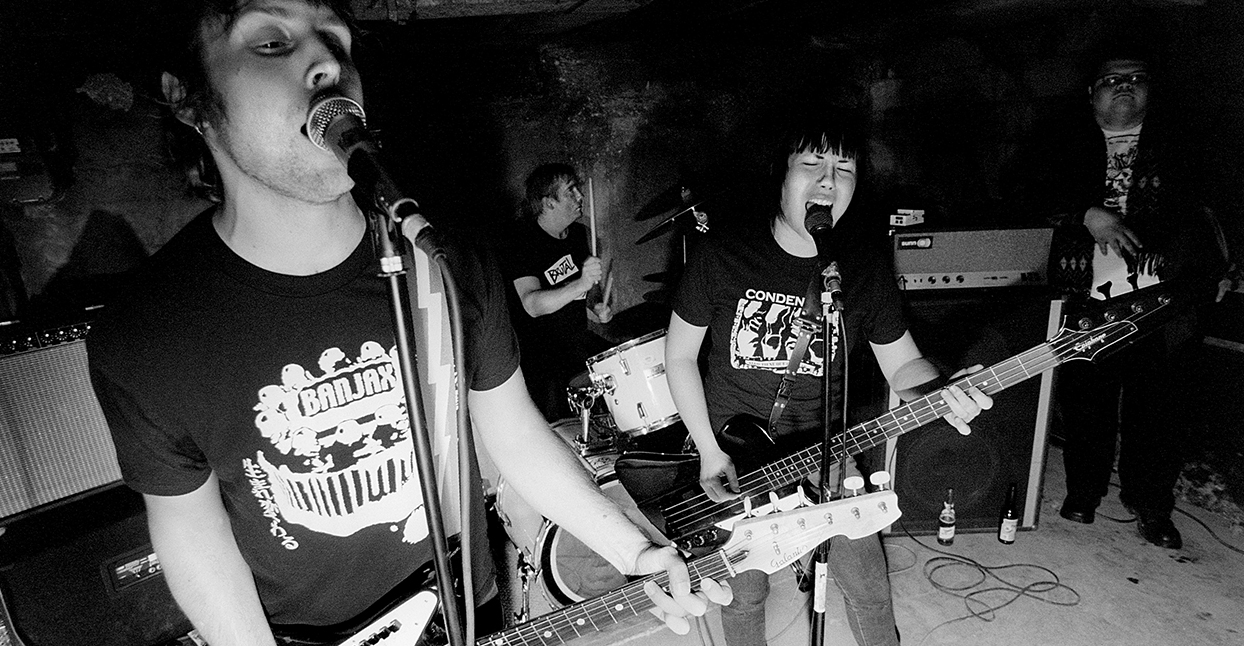 "I definitely feel like trauma can leave a scar on a place—like when you go into a place and you just get the creeps. I think things like that linger." Christine Wolf is talking about ghosts. Namely, the ones that haunt her office building in Chicago, Illinois. When she's not playing bass and singing in post-punk band Daylight Robbery (in which her husband David also plays guitar and sings), she works full-time as a post-production film editor. The office is located in an old courthouse building that was constructed around the turn of the century. Gallows once stood behind the courthouse, which hosted some of the area's most notorious trials.
The space's dark history makes it ripe for supernatural encounters—or at least some convincing rumors. While her coworkers claim to have seen a woman in a white Victorian dress wandering the halls, Wolf herself had an eerie experience about six years ago. "I was working on the weekend, and I heard doors slamming throughout the office," she says. "Nobody else was there. It really creeped me out."
It seems logical to think Wolf would be familiar with the macabre in some capacity—Daylight Robbery's sound has always been dark and heavy, and their lyrics are often equally weighty. However, Wolf prefers to create art with a hopeful message on the trio's new record, Accumulated Error.
One of its most cogent tracks is "Rememoration," a song about Wolf's father and his battle with dementia. "[It] deals with my own selfish fears of being destined to meet the same fate," says Wolf. "It explores the question of whether or not I would have the strength and awareness to take control of the situation, and maybe choose to leave this world on my own terms." It's hard to imagine putting a positive spin on such difficult and somber subject matter, but Wolf found a director for the music video who did just that: Phillip Montgomery. "He came up with the concept of having [the video] start out really dark, sad, and slow, then it explodes and becomes a positive story, which I really liked. It was realistic." The video opens with a scene that captures a daughter's heartbreaking feelings of helplessness, then transitions to a lively dance sequence starring her elderly mother. Reality and fantasy are both on display here, but in the fantasy, the viewer gets a glimpse of her suffering parent's true self.
Wolf's strong connection with the director's treatment wasn't the only advantage of the collaboration. This was the first time that her film and music careers intersected in a mutually beneficial way. She'd met Montgomery through previous film projects for work, and she edited the footage herself. "I felt really supported by the people I work with and our friends who saw the video. It was a powerful thing for me to experience those two things coming together."
It's a thrilling milestone, aptly timed, as 2016 marks Daylight Robbery's 10-year anniversary. Juggling a full-time job and an active musical career (plus being in a band with her partner) has taught Wolf a lot over the course of a decade. "As I've gotten older, I've learned what I can handle and what I can't, and about setting boundaries," she says. There are drastic ups and downs in her daily workflow, but balancing multiple endeavors for years has helped Wolf realize when to take time for herself. When she needs a break, she'll go for a bike ride, or a long walk with her pitbull, Pickle.
This healthy work-life balance has helped Daylight Robbery uncover what works best for them stylistically. On Accumulated Error, Daylight Robbery sound just as potent as ever, but they've adjusted their focus to emphasize the songs' melodic rhythms. "The songs [on Accumulated Error] just happened organically," says Wolf. "I think that's a thing that's evolved with us, with getting older and exploring different types of music." This shift has resulted in catchy riffing ("Goon Beat") and melancholy refrains that hang around the listener like Wolf's office ghosts ("Better Off on Mars," the video for which was directed by Katie Kapuza).
Though their newer material is a bit less hardcore, Daylight Robbery haven't lost their punk values, which were foundational to all three members' musical development; they still play house shows, where they find a particular kind of loving energy. Wolf had been a part of the local punk scene in high school in her hometown of Akron, Ohio, where she met punks and hippies of all ages through the local coffee shop who turned her on to DIRT and Crass. When she moved to Chicago for college, she traded that small-town community for her new city's garage scene. She joined her first band, the Manhandlers, who got their start playing local bars.
However, both the party vibe and barriers to entry—most of the bars were 21+—felt less than fulfilling. It was only when the Manhandlers started playing house shows that she felt a strong sense of community. "Everyone who's there is participating in one way or another because they want to be there," she says. "Nobody is out to make a profit from any of the performers. You have more control over how things are going to go down. And people look out for each other."
Wolf speaks with the kind of clarity and wisdom that one might expect from someone with more than a decade's worth of experience. Over that time, Daylight Robbery has inevitably changed. They've have grown up, they all work day jobs, and they've come to fully comprehend their strengths as musicians. It's certain though, that punk is the common thread that has tied them together throughout it all.
—Tess Duncan