FEATURES
David Harrow Lived Through Punk, Post-Punk, New Wave, Industrial, and Dub Reggae but Isn't Stopping Anytime Soon
By Joe Muggs · April 24, 2017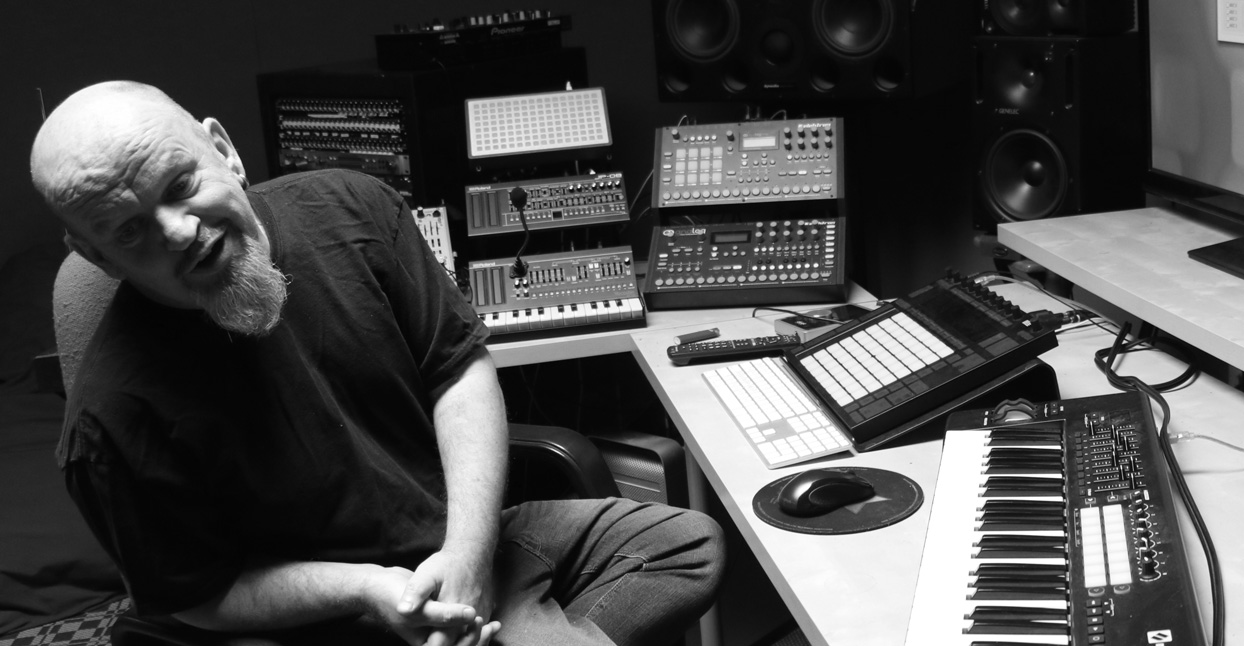 Adopted Los Angeleno David Harrow has been around the block a few times, but his passion for new possibilities in electronic music shows no sign of dimming. Under his prolific Oicho guise, he's explored deep dub reggae roots, with a futurist sheen. But the latest Oicho tracks have moved further from reggae tonality and into more abstracted, ritualistic experiments with percussion and space that put him closest to bass music mavericks like Shackleton and Kode 9. All of this, though, is informed by a musical history that stretches back over three decades, and has been colorful, to say the very least.
While still in his teens, at the end of the '70s, the east Londoner got swept up in punk and post-punk, playing keyboards with the likes of Genesis P-Orridge's Psychic TV, Jah Wobble and new wave poet Anne Clark. Always footloose, he spent time in Berlin—in the orbit of industrial godfathers Einstürzende Neubauten—and San Francisco, where he became a house keyboardist/producer for Razormaid Records, including on records by disco icon Sylvester. Later, back in the UK, he fell in with the On-U Sound collective around Adrian Sherwood, regularly working in the studio and on stage worldwide with Lee "Scratch" Perry, Mark Stewart, Bim Sherman and many more. Their work ethic was boggling, their output was stupendous in its volume and influence, but the collective was also chaotic and as dedicated to living on the edge as to sonic innovation.
By the early '90s, he was remixing Depeche Mode and writing hits like Gary Clail's "Human Nature," but though there was money around, and hard drugs and scene politics were taking their toll. Harrow burned out, and fell bitterly out of love with the music world. That was before UK DJ legend Andrew Weatherall, took Harrow under his wing in 1993, when they met at Weatherall's Sabresonic club. This leg-up in the dance scene saw Harrow recording for Weatherall's label as Technova, writing Billie Ray Martin's enduring global hit "Your Loving Arms," playing with The Orb, and creating the live drum 'n' bass alter ego James Hardway. He toured the world once again, living variously in Jamaica and Cuba when he did sit still for a moment. It wasn't until 2001 that he finally eased off the throttle and settled down in LA.
Though his life became less itinerant, as he raised a family, he remained voracious in his appetite for new music. He participated in the rise of US dubstep, working with the Pure Filth sound system, and L.A.'s "beat scene" led by Flying Lotus. Speaking from his Los Angeles home, the Cockney twang of his Bethnal Green youth is still very much in evidence, and he talks of his musical past and presence with a genially philosophical air.
What takes up most of your time day-to-day lately?
Apart from being a full-time dad, driver, cook and ATM, you mean? I aim for at least 4 hours creativity a day and try not to get sucked into the social media vortex. I also teach advanced electronic music production and film scoring part time, here in L.A., which is totally thought-provoking as well as a massive challenge. The old business models we clung to are long gone and the new ways of surviving in this music industry are as new for me as for my students, so I'm learning the whole time myself.
How connected to you are to the LA scene these days, and who do you find most musically stimulating locally?
It's very satisfying for me, in the 15 years of living in LA, to have seen a tiny electronic music scene grow up to give Berlin a run for its money!  My local club is Low End Theory, I've performed there several times and am a weekly regular as a punter. It has seriously great guests each week, but they are hard pressed to compete with the residents, Gaslamp Killer and DJ Nobody. I'm privileged to watch and listen to them work every week: they have both been inspirational to me, constantly reviving my love for electronica.
What about further afield: any contemporary musicians floating your boat?
Eprom I love. Jlin is doing some amazing stuff, and the Juke Bounce Werk crew are solid.
What keeps you musically "hungry?" 
I try and combine electronics with analog sounds and traditional instruments—but I try not to be retro. There's a lot of music now that feels like it's put through an Instagram filter.  I'm always looking for ways to make new textures, whether that's with brand new digital toys or revisiting classic recording techniques. I started out in modular electronics, it's refreshing and fulfilling to see this come full circle and become standard in the studio again.
Is there an underlying concept behind Oicho?
I spent a lot of time in Japan, having first toured there with Lee "Scratch" Perry and the On-U crews. I was fascinated with the Bushido history and the Zen concepts. Enlightenment through continual practice translates into the life of an artist very well: paring things down to their essential form. Discipline married with a certain revolutionary spirit. The O—or the zero—has featured heavily in my multimedia work ever since then. I got to see the retirement ceremony of the Yokozuna, or Sumo champion, when they cut off his Oicho, the topknot of hair that Sumo wear so elaborately. It was really an extraordinary moment.
There's been a strong mystical undercurrent to a lot of your work, drawing on a few different traditions—are you still a 'cosmic cat' these days?
I'm no intellectual, and have been a staunch atheist for as long as I can remember… maybe that's why I was drawn to the Zazen philosophy: Buddha being an actual real human striving for enlightenment rather than some fanciful fairy story. On the other hand, though, I love religious rituals and ceremonies, from spinning Sufis to the liturgy of Gregorian chants. We no longer have any spiritual center in modern life, and I certainly can't identify with modern religion in any form, neither can I believe in some silly Victorian notion of Druids. In the end, all we can do as individuals is practice compassion at all times.
Over the years you seem to have relentlessly kept working, across some variously quite crazy and demanding music scenes—how have you managed to stay alive and sane while many didn't?
Oh, I had my moments! I learned after some trial and error that you don't have to live the rock'n'roll clichéd lifestyle, but I still suffer the aches and pains from decades of touring on no sleep, not eating right, and all the other temptations that came along. I got away quite lightly though, really. Most artistic folk I've met are self-healing, or self-medicating, in some form, and emotionally fragile. It comes with the territory. But I hope that with age comes some perspective as to what is important, and thankfully the things that I stressed and panicked about 20 years ago don't seem anything like as all-consuming today.
From Sylvester to Weatherall, Jah Wobble to Billie Ray Martin, you've worked with some pretty imposing characters. Have any tips for collaborating with out-there people?
On the one hand I learned so much as far as working on a constantly higher level of creativity—but on the other hand, I gave them all my best work, and you do need to keep something of yourself otherwise you can be consumed as fuel to a very hungry fire! Of your list though, I have to say that Mr. Weatherall was always the most accommodating and easy going. At a time in the '90s when many doors were closed to me, he gave me the opportunity to be creative, a platform to release and perform the music I loved, without interference. He's a genuine lover of music—and you'd be surprised as to how many are really not.
Are there any dream collaborations still on your list?   
Shit, I'm just happy to still be working!
—Joe Muggs