FEATURES
David Bazan Releases an Unlikely Holiday Album, Fifteen Years in the Making
By Casey Jarman · November 10, 2016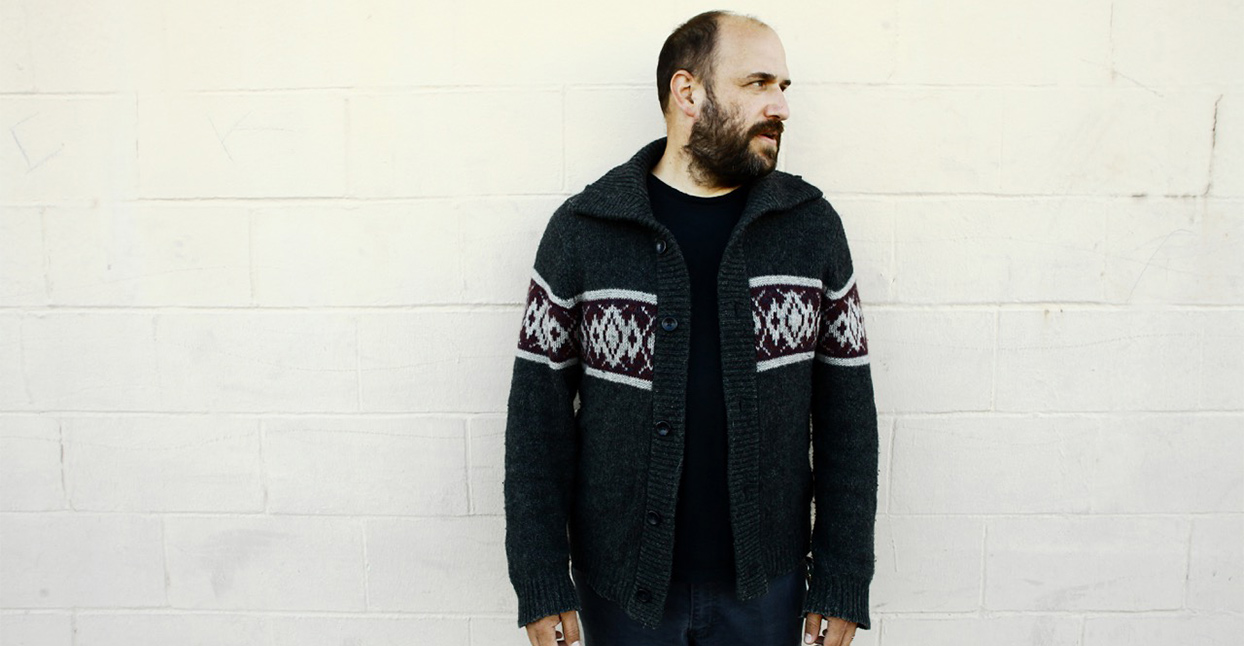 Seattle singer-songwriter David Bazan has never shied away from difficult subject matter. He's tackled infidelity and death, and offered layered commentaries on consumer culture tucked inside catchy pop songs. But no subject has been as deeply explored as Bazan's spiritual journey. On his early albums with his band Pedro the Lion, he prodded at institutionalized religion from a Christian perspective; then, in 2009, he wrote Curse Your Branches, an album centered around his loss of faith.
Merch for this release:
Vinyl LP
It may seem odd, then, that Bazan would deliver something as seemingly sanguine as a Christmas album just in time for the 2016 holiday season. But Dark Sacred Night isn't exactly a shopping-mall holiday record. It opens with one Bazan original, the somber "All I Want For Christmas," and ends with the moving "Wish My Kids Were Here," which could pass for one of Kris Kristofferson's bleakest tunes. In between those originals are eight holiday standards, new and old, delivered in deeply contemplative fashion and soaked in faraway reverb. It has to be one of the least festive holiday records ever made. To hear its prime architect tell it, that's exactly the point.
So how did this Christmas album come about?
All the songs are from 7"s that I recorded. There were 14 songs that I put out on 7"s, and 10 of them made it on the record. I recorded seven holiday 7"s from 2002 to 2011, I think. And then I went through and gave them a pre-mastering sort of feel. I basically took the high end off of everything, and then ran everything through the same reverb. Now they all have basically the same amount of reverb, though I changed the decay a little bit to fit the rhythmic content of the tunes. Maybe the last song, "I Wish My Kids Were Here," I did a little different. That one, I had a hard time fitting anywhere. Mood-wise, it had nothing to do with anything else. So my solution was to tack it on the end, like the last song on A Ghost Is Born or something.
Merch for this release:
Vinyl LP
It's funny to hear you talk about the level of 'decay' on these tracks: you were probably singing them from a more faithful perspective when they were recorded, and you don't identify as a Christian anymore. Why release this album now?
David Dickenson—from Suicide Squeeze—and I have had the intention of doing this for forever. I guess we always thought we'd do it at our earliest convenience, and a couple of years got away from us because the due date was always in like, June. In fact, in this case it was May, because lead times for vinyl pressing were jacked up. So, finally the logistics worked out and I had time to give my attention to it.
In 2002, I was already pretty conflicted. There would have already been a lot of Christian expressions that I would not have been willing to get behind—musically, song-wise and such. There was already a tension there. On that first 7″, I did "O Come, O Come, Emmanuel" and "I Heard The Bells on Christmas Day." The original version of "I Heard the Bells…" ends with "God is not dead, nor doth He sleep (Peace on Earth, peace on Earth) / The wrong shall fail, the right prevail." That's what it said, but I changed it to, "We're only what we sow and reap / If we are ever to get along / Then we ourselves must right the wrongs." That song was on the last 7" that I did—it's like an existentially tweaked version. So that signifies the change, but that's really the only place that I feel like you could notice it. But there are other tweaks and embellishments. I didn't do that deliberately, that's just what I did when I was making the songs. I just reacted to them sort of viscerally and moved things in certain ways because of that.
Then there's "Long Way Around the Sea," but that's just a Bible story. It's not a thing that I believe, but I think it's a rad Bible story, and so well-told. That, to me, is now the definitive version: The best way to tell that story is through that song, you know?
Merch for this release:
Vinyl LP
You also do "Away in a Manger," which is pretty Bible-oriented.
There's something about "Away in a Manger" that, I don't know, it just doesn't seem bad. I could sing that now. It evokes the helpful myth that I interact with in the Christmas story, and not the didactic, prescriptive statement of faith that some Christmas songs double as.
You're doing a handful of Christmas shows live. Are you playing the whole album at those shows?
I won't do the whole record, I don't think. I want to make a show that is enjoyable for folks, and I don't think that would really do it. There are only 10 songs, so that's not a whole show, anyway. So I'll probably cut two and then play eight of my own tunes, something like that. To me, that just sounds like the makings of a really fun show. Maybe there will be a singalong involved on a tune or two, maybe candlelight—or at least people putting up their phones. I'll just really make something knowingly gimmicky and fun, because there's such a darkness to all of it. I mean, it's a chance to express my feelings about the holidays. It's a chance to get therapy, I guess, out of the holidays. I can program a show that is therapeutic for me and anybody who is in a similar place.
What is your relationship to Christmas these days?
It's a difficult holiday, because the commercial aspect of it is just total madness. It's a shit-show that gets creepy. You hear the statistics that America, where whatever the USA's miniscule percentage of the world population is uses a quarter of the world's resources, and then you go to your first Christmas celebration after that, and you see what the problem is. Even beyond global warming, it's just a nightmare. Feng shui is a fucking nightmare. I'm destroying my children's excitement nerve endings every year: giving a first gift or second gift is just, like, peak experience, and then you smash them with 15 other gifts from various other relatives. It's disturbing to me. It's deeply, deeply disturbing. I don't see it as producing virtue, I don't see it as being helpful. I see it as gluttony in the worst way, that we all take part in every year, and it hurts me. It hurts my soul.
But I love Christmas, in spite of that. I just reject Black Friday, I reject the commercial aspect of it and am actively trying to influence my nuclear family to take a healthier approach to celebrating that holiday.
Merch for this release:
Vinyl LP
But do you think you are adding to that commercial side of the holiday by putting out a Christmas album?
No, I don't. This thing that we're selling is not medicine. It is opt-in, every time, and it is not something that adds to the nightmare of people's lives. If people's buying habits are just fucked, then yeah, whatever they buy—including my record—will just go into the big abyss of unhelpful things. But I know what buying a record does for me. If, after giving people a chance to stream it and hear the whole record, people actually decide to buy it, they're going to spend time with it and it's going to do something to their brain that is hopeful.
This record isn't for a party. This record isn't for dinner with your family. This record is for when you've had it up to here and everything is so toxic that you just can't take it, and you need to smoke a joint or have a drink and go walk around the block with your earbuds in and just get away. So, for me, no, I'm not worried about it. I feel no pressure for people to buy this thing. I'm not looking to it for money, necessarily, although it's part of a nickel-and-dime sort of scheme. But I at least am attempting to enter into the marketplace as a helpful antidote to the holiday season that some people have to get through.
It sounds like the holidays are pretty conflicted for you, so what is it that you enjoy about them?
As a kid, the antidote to that was religion. Religion is the pure form of the holidays. I really did take solace in the Jesus story, and the tenderness of that story, and one of the things that "Silent Night" brings out is that tenderness: the savior of the world was this peasant baby. The vulnerability of a peasant baby is just such a beautiful thing to think about when everybody else has to get up at 5 a.m. to go to a Black Friday sale or whatever. It stands in direct opposition to that commercialism-gone-mad. That was always a really big comfort to me as a believer. There was harmony there.
Losing that was really hard. There were two or three years where I was full of despair: 'The religion thing hurts my feelings now, and the commercialism hurts my feelings now. What the fuck is left?' And I was like, 'Oh, family! Family is what's left.' I know family is a hard thing for a lot of people, but in my case, there's a lot of opportunity for harmony there. I've gone out of my way for it. That has remained for me, and I really am involved in family gatherings. I really help, I really care, and I go out of my way to really be present for it. It's really important to me.
Christmas songs are really some of the only folk songs that anybody knows anymore.
I know, isn't that weird? Some of them are beautiful. It's some of our most complex popular music, because it draws from a huge range of time and cultures and subcultures. Some of the tunes are so, so good. Hearing Bing Crosby sing "White Christmas" is fuckin' great. Or if you're listening to Vince Guaraldi's Charlie Brown Christmas album—that stuff is ecstatic. That's just one of the most beautiful records.
I'm trying to think of the most recent additions to the canon, and it's maybe like Mariah Carey doing "All I Want for Christmas is You"?
I love that Mariah Carey record. The whole album is great. It's one of those weird ones that like, everything that's wrong with it is still kind of okay.
The political climate is pretty toxic right now. Is it going to be weird to be playing these pretty, traditional songs in the midst of this big national fracture?
That's really obviously going to play into the preparation. I'm going to get home and be working on the live show preparation for a week, I guess, but then the election will happen. So most of the prep will be happening after the election happens, so it's going to be in the wake of whatever. Yeah, I guess it feels like an opportunity to try and bring an attempt at soothing or healing, at least leaning toward that.
It almost feels like if David Bazan is singing Christmas songs, anything can happen.
Yeah, maybe it'll all be alright. That's the one song I might have to work in there, [Kendrick Lamar's] "Alright."
So, your last two albums have been collections of previous material, which makes me think that maybe you're up to something. Is that a fair assessment?
Well, yes, I am ramping up to something, and I'm not going to be out in public quite as much. If I can help it, I want to stay home until September, starting in January. I haven't been home for nine months at a time since 1998, and I haven't been home for more than two months since 2009. I'm just going to go down to the rehearsal space at like 6 am every morning when there's no one down there, and just make music for immediate release. I'm going to try to make three songs a month.
I have a new understanding of something: I used to have a basic mode that I used to make music. I stopped, I forbade myself from doing it for the last 14 years for some stupid reason. And without realizing it, I took from myself the thing that I'm best at, which is sitting down and arranging songs for drums, bass, and guitar. That's why I get to do this for a living, is because I knew how to do that effectively on a few records, and for some reason, since 2003 or so, I just have not done that again. So now, with this new time of being home, I get to play drums and bass and guitar, and really get good at that thing again that I was doing, and take it to another place. That's what I'm trying to do. I need to just take charge. There's an excitement to it, because that's all I'm going to be doing. No road stuff—or very minimal, if I get the itch three or four months in.
That sounds like a great plan.
Yeah, that in and of itself is going to be fun, but that is all building towards something else. That something else isn't just one record, it's actually a five-record series. It's going to be five albums about five different towns that I lived in growing up between the sixth and 10th grade, and I'm going to go to echrisach of those towns to do the work. I want to use it as an opportunity to sort of absorb a lot of things about that time for me personally, but also to learn about what was happening in the culture. I want to capture the space and the light in each place. So that's what I'm building up to.
—Casey Jarman