FEATURES
Dat Garcia: The Good Side of Having Bad Manners
By Catalina Maria Johnson · May 10, 2017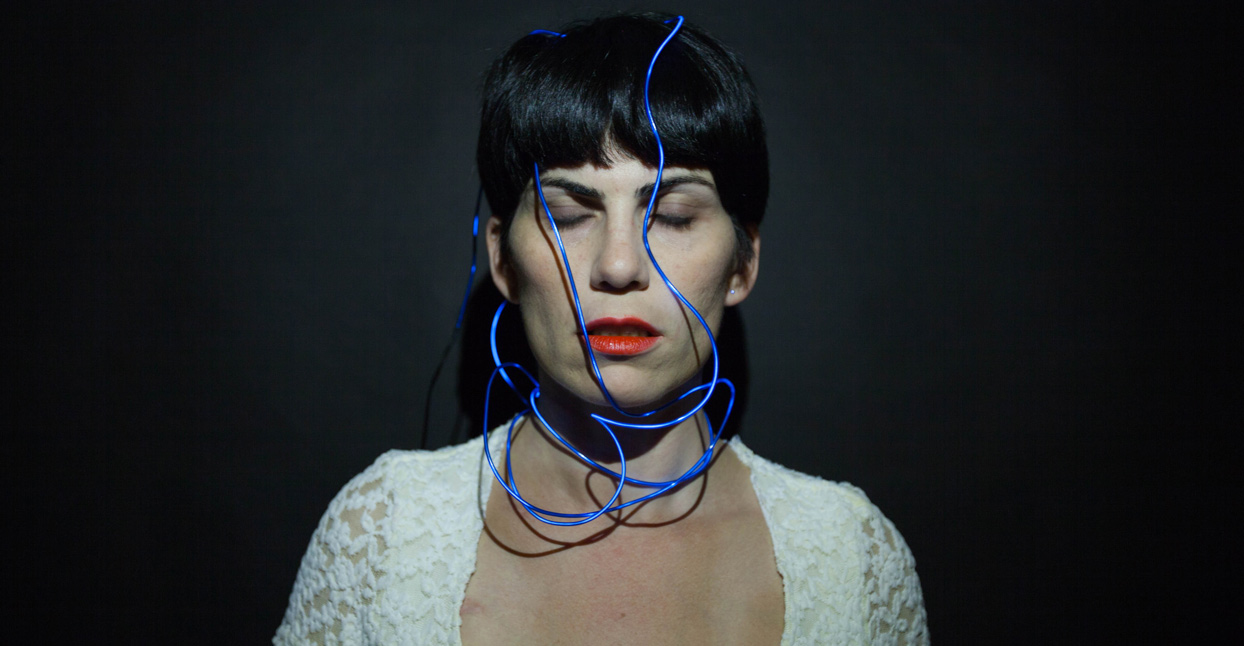 Dat Garcia, who recently joined the ZZK Records crew of producers, speaks proudly of being "maleducada"—roughly translated as misbehaving. It's a Spanish-language term that combines displaying bad manners and engaging in socially unacceptable behavior in one useful word.
With her debut album, Maleducada, Garcia joins a folk-futurist musical movement in South America whose most renowned producers (like Chancha via Circuito, Tremor, and El Remolón) have frequently composed pieces highlighting Andean folk music from remote parts of northern Argentina. Often related to harvest rituals, the ancestral music centers upon women's chanting and hand-held drums.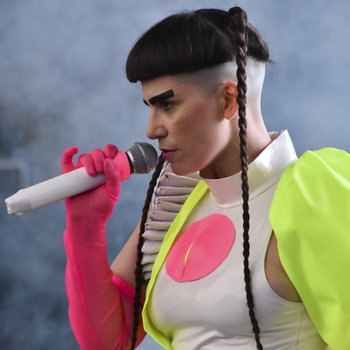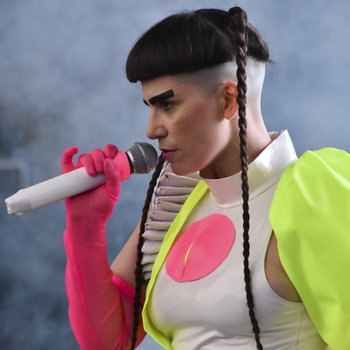 However, Garcia takes that legacy further by building lyrical short stories with her own vocals, adding the gentlest forays into rap. All of this, she surrounds with her sounds from her collection including those of instruments that she plays herself. Garcia's synths, Andean charangos, and flutes all happily coexist in electro-folk songs for the 21st century.
Garcia, the first producer and only the second female artist on the ZZK Records label, spoke with us via Skype from Buenos Aires. In our conversation, she moves from how her music relates to growing up in Argentina's post-dictatorship democracy, to facing machismo and the resistance of an older generation who lived through the oppressive 1980s, to women's empowerment, to personally bucking societal norms to heal her body of a rare form of cancer—all of which is incredibly maleducada vis-à-vis traditional Argentine norms.
[We spoke with Garcia in her native Spanish. We present both the original discussion and an English translation below.]
Did you come to the folk-futurist movement from the electronic side of things or from approaching Argentine folk music as a singer?
I've been making music since I was very young, and also did jazz, but mostly played traditional folkloric music, with instruments. At some point I thought, 'I want to make a product that is totally mine and not to have to be with other musicians.' It was quite clear to me that I wanted to tell stories that with a band would be difficult to do—that is a product created by several people.
So [in 2012] I started by taking a workshop on musical composition and production with Pedrito [Chancha via Circuito]. Three of Pedro's students were quite advanced—Barrio Lindo, Barda, Sidi Rum. And I came to the group without knowing even how to turn on a computer!
It was amazing. We became such good friends, like members of the same graduating class. It was a crazy thing because that course was like planting a seed of love that grew and expanded everywhere. We became musical companions on the same path. Not that we're all doing something similar, we all do different things. But that sprouted different kinds of music, all with a very similar feeling of love.
Hago música desde muy chica, pero hacia folklore tradicional, con instrumentos. Bueno también hacía jazz, pero dije: 'bueno quiero hacer un producto totalmente mío, no tener que estar con otros músicos.' Tenía muy en claro que quería contar cosas que con una banda era difícil; ese es un producto de varias personas.
Entonces [en el 2012] empecé un taller de composición musical y de producción musical con Pedrito [Chancha via Circuito]. Entre los alumnos de Pedro estaban los ya muy avanzados Barrio Lindo, Barda, y Sidi Rum. Ellos tres eran los alumnos. Y yo entré en ese grupo sin saber ni cómo prender la compu!
Fue genial, después nos hicimos muy amigos y arrancamos juntos a tocar todos, de la misma camada. Es muy loco porque ese curso es como plantar una semilla de amor que creció y se expandió por todos lados Nos hicimos muy compañeros de la música, del mismo camino. No precisamente de hacer algo que hagamos todos parecido, porque todos hacemos cosas diferentes, de la misma semilla salieron brotes distintos de música pero con un amor muy parecido.
What was it that you wanted to do and say but couldn't do so with a band?
I went through—but I don't know if every single genre—lots of musical styles: metal, punk, jazz, folklore. But always at the root was folklore, the base and the music I heard at home. What was happening was that I have a rather particular taste in terms of music and I love things that are dissonant or rhythmic and aren't perfect. Like sounds—for example, say you play the flute—and to hear the sound of the breath. Generally people say, 'Stop, let's edit that out so you can't hear the blowing.' But I love it, it's like a song that was more faithful to reality, not so perfect, not quantified. And I don't much care for virtuosity. I prefer something that is richer in different ways.
For it to be, like, the era before the Industrial Revolution. Shoemakers made shoes from the sole to the leather to the shoelaces, all of it! But then with the Industrial Revolution it all just goes down an assembly line and someone puts the soles on, but the final product doesn't belong to that person because they didn't make all of it. I wanted the product to be all mine, from beginning to end, so I could say everything.
Entonces ¿qué era lo que querías hacer que no podías hacer?
Pasé yo creo, no sé si todos los estilos, pero por muchos estilos musicales, desde el metal, el punk, el jazz, el folklore, siempre la raíz: el folklore fue la base, era la música que se escuchaba en mi casa. Lo que me pasaba era que por allí tengo un gusto bastante particular de la música y por allí hay cosas medo disonancias o cosas rítmicas que no son perfectas que me encantan. Son sonidos, como—tocás una flauta—y que se escuche el soplido. En general la gente dice: 'Para, editemos esto porque se escucha el soplar.' Y a mí me encantó, como un sonido bastante más fiel a la realidad, no tan perfecto, no cuantizado. El virtuosismo no me gusta tanto, prefiero algo más rico en otras cosas.
Que sea, como, viste, antes de la época de la Revolución Industrial. Antes, el zapatero hacia el zapato desde la suela, el cuero, los cordones, todo. Y 0en la Revolución Industrial pasaba por la cinta y la persona ponía la suela, pero el producto final no le pertenecía porque no lo hizo todo. Necesitaba un producto que fuera de principio a fin; mío, para poder decir todo.
In terms of the folkloric instruments in your music, do you play or sample them? How do you create this music, that as you say, is all your very own?
I have a studio at home, actually I'm a little bit of an instrument collector. Everywhere I travel, I bring instruments back. I have my regular instruments, folkloric instruments, bombo, caja, string instruments, a few that I don't even know what they're called. Some I play and record, some I sample and then use with some kind of controller. Mostly I sample live, record all the parts, and then start putting together as if it were a meal. Like, you can add onions, and then add some mushrooms, and then maybe later at a little bit of cream so that it all comes together, as if it were a meal.
En cuanto los instrumentos del folklore en tu música, ¿los tocas tú? ¿Haces sampling? ¿Cómo creas esa músic, que dices tú, es toda tuya?
Tengo un estudio acá en casa, de hecho y soy un poco coleccionista de instrumentos de todo tipo; siempre que viajo traigo instrumentos; tengo mis instrumentos de siempre, folklóricos: el bombo, la caja, instrumentos de cuerdas, algunos que no sé ni cómo se llaman. Algunos los toco y los grabo, algunos los sampleo y los uso con algún controlador. Sobretodo sampleo en vivo, grabo todas las partes y las voy armando como si fuera una comida: que vas a ponerle cebolla, y esto, y después le pones hongos y después le pones un poco de crema para que se fundan, como si fuera una comida.
Tell us more about how you define 'misbehaving.'
Thirty or 40 years ago, women were housewives, very repressed, especially in the '70s with all the repression that existed. I always say all of us are the children of that repression. Our parents taught us to be silent, because to speak was dangerous.
But it's not so good to try to be perfect. So to inculcate yourself with having to behave, be a good little girl, greet everybody properly, be orderly, be good in school—they celebrate all these good things and certainly don't celebrate that you question things, that you be creative, that you be curious. Those characteristics that might take you to discover the world are not celebrated. What's approved is to act within a society like they want to you to act. Like a dog doing a little dance and then you give them a piece of meat.
What I mean is that's the way we were educated, obviously that serves a purpose in terms of society because that allows us to be civilized, but there's an extreme sense to this in that one forgets herself for trying to please the other. This is what we were taught. And for me that's not right. I realized that I sometimes didn't do things for myself, even health-wise, because of helping my family or my partner, when really the most important thing is oneself. We have a culture where [women's] self-sacrifice is good. There's a balance to be gained without the need to undergo extreme sacrifice.
Cuéntanos más de cómo concibes el ser maleducada.
Treinta o cuarenta años atrás la mujer era ama de casa, muy reprimida, sobre todo en los '70s, con toda la represión que hubo, nosotros, de alguna manera, yo siempre digo: somos los hijos de la represión;  nuestros padres nos enseñaron a callarnos porque hablar era peligroso.
Pero no está bueno tratar de ser perfectos. El inculcarte el portarte bien y ser una niña buena y saludar a todos o ser ordenada o ser buena en el colegio. Te festejan todas las cosas buenas y no te festejan que cuestiones o que seas creativo o que seas curioso. Las cualidades que te llevan a descubrir el mundo no están tan bien vistas. Lo que está bien visto es actuar como la sociedad quiere que vos actúes. Como al perro que hace la pirueta y le das un pedazo de carne.
Yo a lo que voy es a que nos educaron de esa manera, que a la sociedad le sirve, obviamente, porque también ese tipo de educación lleva a que estemos civilizados, pero hay un extremo en el que uno se olvida de sí mismo por complacer al otro. Eso es lo que nos enseñaron. Para mí está mal porque yo me doy cuenta de que dejaba de hacer un montón de cosas, incluso por mi salud, para ayudar a mi familia o para ayudar a mi pareja, cuando de repente lo más importante es uno. Hay una cultura donde el sacrificio [de la mujer] es bueno. Como que hay un equilibrio que se puede lograr sin necesidad del sacrificio tan extremo.
And this was also related to some pretty serious health issues, right? That you addressed through your music?
I got to the point that I was demanding so much of myself so that I could please everybody: my partner, my family, my work. I wanted to do music but I had so, so many demands I had to meet. And where does pleasing someone else come from? You're afraid the other person won't love you. This is a very primitive and primordial fear for all human beings because we are social beings.
But because of this, I ended up getting sick. I had a lots of symptoms, I was going to doctors, until one day they said, 'You have cancer.' It was a very strange form of cancer called neuroendocrine tumor, which is like the brain giving orders to the body to generate tumors all over the place, it's like I was attacking my own body.
It was really hard, it was like an emotional explosion, and I realize I did it all because I was forcing myself to meet others' demands and that was making me sick. For year and a half I did chemo, I was in the hospital—because it was very aggressive—and that whole time where I was really hospitalized, I created this recording. I said to myself, 'Well, that's good, I'm going to able to take some time by self, and reflect about all of this.' And to reflect for me means to create music. And this is what came out: the entire expression of my body is recorded in this album.
¿Entonces esto también se relacionó con problemas de la salud, cierto? A los cuales respondiste con tu música.
Yo llegué a tal punto de exigencia propia para complacer a todos: a mi pareja, mi familia, mi trabajo. Quería hacer música pero había tanta, tanta exigencia por cumplir. El complacer viene del miedo a que el otro no te quiera, un miedo muy primordial del ser humano por ser social.
Me terminé enfermando, empecé con un montón de síntomas, iba a médicos hasta que me dijeron: 'tenés cáncer.' Y tenía un cáncer muy extraño que se llama: cáncer neuroendocrino, que es que el cerebro le manda la orden al cuerpo de generar tumores por cualquier lado, es como yo misma auto atacándome.
Fue muy fuerte eso, fue como una explosión emocional, entonces me di cuenta que todo eso que yo me forzaba por cumplir y por hacer me estaba llevando a enfermarme. Estuve un año y medio haciendo quimioterapia, internada, porque era bastante agresivo y en todo ese tiempo de internación salió el disco este. Yo lo tomé como, dije: 'Bueno, qué bueno, me voy a poder tomar un tiempo aislada y reflexionar sobre todo esto.' Y reflexionar para mi es hacer música. Y salió todo esto, toda una expresión de mi cuerpo que es este disco.
And how are you doing, health-wise?
I'm perfect! I worked so hard at introspection and solitude and regenerating myself, starting with just breathing and contemplating within nature, trying to come back to my center. It was quite intense emotional work. I finished with all of the chemo and they had told me I could never have children, and three months later I got pregnant. [Garcia's baby daughter chimed in from her arms throughout the Skype conversation—ed.] During the pregnancy I wasn't able to do any tests because they would've been too aggressive for the baby, but a month after she was born, I did my first tests and they said, 'You don't have anything! It's like you're a completely healthy person, normal, there's not even a trace of the tumors.'
Y ¿cómo estas de salud?
¡Perfecta! Fue todo un trabajo de introspección y de soledad y de regenerarme desde respirar y contemplar, con la naturaleza, tratando de volver al centro de uno, fue como un gran trabajo emocional bastante intenso. Terminé con la quimio, y me habían dicho también que no podría tener hijos nunca y a los tres meses quedé embarazada. [La nena de Garcia participó en la conversación por Skype desde los brazos de la artista—ed.] Durante el embarazo no me pude hacer ningún estudio para ver cómo estaba el cáncer porque esos estudios son muy agresivos para el bebé. Cuando nació ella, al mes me hice el primer estudio y no tenía nada. Me dicen: 'Es como una persona totalmente sana, normal, no hay rastros ni de que hubo tumores.'
What about coming to ZZK Records, described by the label itself as 'joining a men's club?'
In this world of digital folklore or digital cumbia world, it's a really beautiful world mostly about emotions and sensing, and I don't think it's like a situation of the doors not being open for women who want to make music. It's simply seems to me that now women are beginning to realize that they can do all these things. There's a whole movement of women that are beginning to do these things. But of course, mainstream music is a very closed environment. If you are a woman and an artist, you have to be attractive, you have to show your ass, you have to expose your body so that people remember you.
¿Y qué dices de estar con ZZK? ¿Lo que el mismo sello describe como 'unirse a un club de hombres'?
En este mundo del folklore digital o de la cumbia digital es como un mundo muy lindo y de sentir, el cual no creo que este cerrando la puerta a la mujer que hace música. Simplemente me parece que ahora las mujeres se están dando cuenta de que pueden hacer un montón de cosas. Está empezando a aparecer toda una movida de chicas que hacen cosas, pero la música en general, está muy cerrada – si sos mujer tenés que estar buena, tenés que mostrar la cola, tenés que tener cierta exposición del cuerpo para que la gente te recuerde.
Tell us more about your participation in the new women's movement in Argentina.
We're a women's collective, DIY, emerging from our daily activities and from our art. Some are visual artists or sculptors, some are musicians, there's a whole movement in Buenos Aires and I think in today's Latin America in 2017 where women are wanting to claim their rights and above all respect.
Respect is also questioning what has been up til now 'unquestionable,' like that women have to be at home taking care of the kids. No, women can do most everything, go out to work, breastfeed on the street. It's about imposing respect instead of submission.
Even being respected on the streets. Someone walks by you and touches your ass, it doesn't bother anyone. It happens to me—I have two brothers, and they're always telling macho jokes. It's a joke, but those jokes give validity to the machismo. So even something that simple, there's something there that allows [machismo] to stay alive, valid, tolerated.
Just now we find ourselves in a state of mourning because this weekend they found another dead girl. And on top of it all, Micaela, one of the militants of the Ni Una Menos movement [Not One Less, meaning not one more woman lost to male violence—ed.]. She was killed by a rapist who had been in jail and was given parole.
We have to get serious about what's happening, it's not a joke. I heard on TV, 'Oh, they killed her. And she was a good student and a good daughter and she behaved well and never went out to dance'…that's supposed to be 'good'? That's why we're supposed to be respected? Because we meet everyone else's expectations?
No, we simply deserve respect simply because we are human beings.
Cuéntanos más, entonces de tu participación en el nuevo movimiento femenino que cuestiona valores tradicionales en Argentina.
Justamente, somos un colectivo de mujeres, auto-gestionadas desde la acción diaria, desde lo cotidiano y desde el arte. Algunas son artistas plásticas, algunas son músicos. Hay todo un movimiento en Buenos Aires, y yo creo en toda Latinoamérica de hoy, 2017, de la mujer queriendo reclamar sus derechos y el respeto sobretodo.
Y el respeto es también cuestionar lo 'incuestionable,' que la mujer tiene que estar en la casa cuidando a los chicos. No, la mujer hace casi todo: sale a trabajar, tiene que dar la teta en la calle. Imponer ese cambio de la sumisión por el respeto.
Justamente este fin de semana acá andamos de luto porque, encontraron otra chica muerta. Encima una de las militantes de: 'ni una menos,' Micaela, la mató un violador que estuvo preso y le dieron libertad condicional.
Desde el respeto en la calle. Alguien te pasa por al lado y te toca la cola y nadie salta a defenderte. A mí me pasa, yo tengo dos hermanos varones y me pasa que mis hermanos hacen chistes machistas todo el tiempo y lo dicen en chiste pero el chiste le da vigencia al machismo. Desde eso simple, hay cierta cuestión que hace que siga vigente y que sea tan tolerada.
Hay que tomarse en serio lo que está pasando, sin ningún chiste. Escuchaba en  la tele que decían: 'La mataron…era re buena alumna y re buena hija y se portaba re bien y no salía a bailar…' y ¿eso es ser bueno?, ¿por eso merecemos respeto? ¿Por cumplir con todas las expectativas del otro?
No, mereces respeto por ser un ser humano.
—Catalina Maria Johnson