FEATURES
Dälek's Unconventional Path
By Saby Reyes-Kulkarni · September 22, 2017
Tonight, for dinner," says Dälek programmer Mike Manteca, "you need to take two slices of white bread, add some potato chips—any brand—and put some mustard on them. It's delicious."
"Preferably deli mustard," adds frontman Will Brooks.
They're kidding, of course, but the pair, speaking by phone from Brooks's studio while rehearsing for a run of live dates, is also trying to illustrate the ways they kept touring costs low when Manteca fell into the band's orbit 15 years ago—first as a driver and merch assistant, then as the group's on-again, off-again live guitarist.
"We were in our 20s, man," Brooks explains. "When we were on the road, we were surviving on, like, potato chip and mustard sandwiches that we would steal from the backstage area of the headlining artists, who shall remain nameless."
Back then, the Newark, NJ-based hip-hop trio was anchored around the creative nucleus of Brooks and co-founding producer/programmer Alap Momin, aka Oktopus. Their then-new album, 2002's From Filthy Tongue of Gods and Griots, had just been released on Mike Patton's label Ipecac, thus thrusting the band into the underground rock scene it has maintained one foot in ever since. Even when measured against the standards of so-called "alternative hip-hop," Dälek have inarguably carved out their own noise-filled path.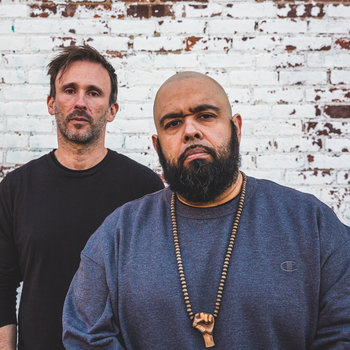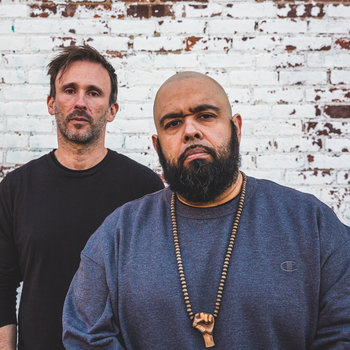 Merch for this release:
Compact Disc (CD), 2 x Vinyl LP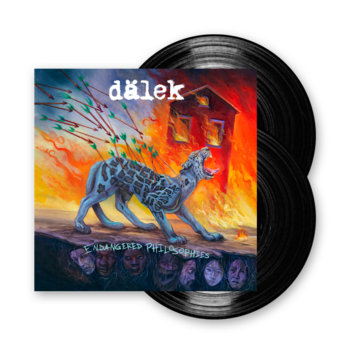 Sure, some of the band's peers—MF Doom, El-P, Dan The Automator—have taken similarly unorthodox approaches, but a fairer musical comparison would be the abstract modernism of Public Enemy's production team the Bomb Squad. Like Public Enemy, Dälek invented a new vocabulary from sonic elements that would have been hard to imagine in the context of rap music. And like Public Enemy, Dälek (a play on the word "dialect" crossed with the famous robot from Dr. Who) brought radical change to the genre while also staying true to their roots and conveying a powerful socio-political message.
For the most part, you'd never mistake Dälek's music for anything other than hip-hop, and yet the group has been matchless in their crossover appeal. Over the years, Dälek has toured with acts like The Pharcyde, DJ Spooky, and Meat Beat Manifesto to Tool, Melvins, and Candiria. They band has also released music on iconic fringe labels like Gern Blandsten, Hydra Head, Profound Lore, and, of course, Ipecac, which the group return to with their new album Endangered Philosophies. The LP features guest spots from all the members of Metz and extreme metal drumming legend Dave Witte, just the latest in a long history of collaborations that includes krautrock pioneers Faust, The Young Gods, Starkweather, Techno Animal, Kid606, and a slew of remix credits.
Though the band's 1998 debut Negro Necro Nekros contained flashes of what made Dälek unique, it wasn't until the band followed up with Griots that their trademark style fell into place: a fusion of classic beats and rhyming draped in a heaving wash of noise. (The band found inspiration in unlikely sources, like My Bloody Valentine and the Velvet Underground.) Brooks, who goes by the handle MC Dälek, is often engulfed in the sound, intentionally positioning his verses deep in the mix so that his voice is just another instrument.
Like other boundary-pushing innovators before them, Dälek sculpt form and even beauty out of a harsh, chaotic palette of sounds that might otherwise come across as non-musical. Across their body of work from 1998 to 2010—six proper albums and a full-length collaboration with Faust—Brooks, Momin, and their rotating cast of DJs managed to stick to their approach while never ceasing to find fresh modes of expression. Before 2010's Untitled saw the light of day, though, Brooks had had enough. Ironically enough, after kicking up such a loud ruckus with their music, the band quietly folded.
"Honestly," says Brooks, "it's as simple as this: me and Oktopus did this shit for 15 years. There were years where we were out on the road the whole year, and that shit grinds on you. There wasn't really one issue; there was no drama, no Behind The Music moment. We were meeting up to do a festival in Geneva, Switzerland. He was living in Berlin at this point, and after soundcheck we were just hangin' out outside by this river outside, just bullshittin', catching up. He was just like 'Yeah, you know, I think this might be the last one.' And I kinda knew it before he said it. I was like 'Yeah, I feel you.' We'd just done some Tool dates, and we did that festival and we were like, 'We're good.'"
Merch for this release:
Compact Disc (CD), 2 x Vinyl LP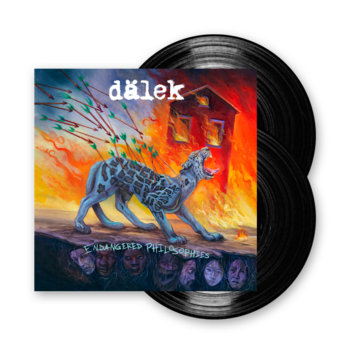 Brooks, who crafts beats and does remix work at the studio on a 9-to-5, five-days-a-week schedule, didn't skip a step. He founded the more traditional hip-hop outfit iconAclass and kept working with other people, including Manteca. But it didn't take long before he felt the itch to revive Dälek. Momin, with whom Brooks and Manteca both maintain a friendship, declined to participate, leaving Manteca to step in as his replacement.
"I was telling [Momin] that I was thinking about starting Dälek again and asked him if he'd be down," says Brooks. "I knew it was kind of a long shot, because his head was more in the experimental, club-slash-dance bass world with his groups MRC Riddims and BKGDaudio. I knew his heart was really into that, and he basically told me as much. He was like, 'Yeah, my head really isn't in it, but if you definitely want to do it, then do it.' Obviously, I wanted to ask him first, because he and I started Dälek. But after that conversation, there's no one else that I would've considered as a co-producer than Mike. We were already working on another project, Phil Jackson Heights. I hadn't already asked him because he was running a brewery at the time, so I didn't think he had the time to tour and do all this shit. But when I asked him, he was like, 'Yeah, absolutely.'"
It was that same "Yeah, absolutely" attitude that had brought Manteca into the fold in the first place. Days before the band set out to tour behind Filthy Tongue, they needed an extra driver, because of restrictions on Momin's driver's license. A music journalist friend of the band volunteered her boyfriend, whom she described as a vegan, straight-edge graffiti artist. Brooks requested meeting at The Raven, a bar on Avenue A in Manhattan. Unbeknownst to him, the boyfriend reached out to Manteca saying, "That sounds miserable—do you want to do it?" Manteca, fresh off touring by himself with his solo noise guitar project Destructo Swarmbots, didn't even think twice. And so he, rather than the boyfriend, showed up.
Meanwhile, Brooks "wanted to see if this guy was gonna be cool with us drinking. I go down to the bar and he's at the bar, drinking a beer. I'm calling him Matt—"
"—And I never correct people," Manteca adds, "when they get my name wrong,"
Merch for this release:
Compact Disc (CD), 2 x Vinyl LP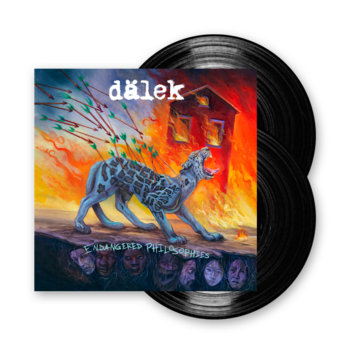 "In my head," Brooks continues, "I'm like, 'Oh shit, I guess he's not straight-edge.' But I'm like 'Eh, whatever, none of us are, so no big deal.' We hit it off, and I'm like, 'Cool, we gotta do this. We're leaving tomorrow.' So he ended up, the next day, coming to my house. He stayed over and we just left the next morning. Our first show was in Cleveland at the Grog Shop. Afterwards, the band meal was at this Mexican spot, and he orders a steak burrito. And I'm like, 'Alright, so he's not vegan. OK, whatever.' As luck would have it, the day after that, we stay with a friend of ours in Chicago who's a graffiti artist. He has all these pieces up on his wall, so I'm trying to make conversation like, 'These pieces are pretty ill, right?' and Mike's showing like zero interest. In my head I start buggin' out, 'cause I'm like, 'Did I go up to some stranger at The Raven?' The next day we're in the van—"
"—And he goes, 'Hey Matt' and I go, 'Well actually, my name is Mike,'" says Manteca, cracking up as Brooks continues, "I'm like, 'Whoa, whoa, whoa—Mike? Wait a minute…who the fuck are you?'"
Manteca also recalls how the only reason the band discovered that he was a fellow noisenik was because Dälek's DJ at the time had gone into his bag and found a CD of his guitar work. Of course, his style and temperament ended up fitting perfectly. And while Manteca had long drifted away from Dälek by the time Brooks and Momin parted ways, his working familiarity with the band's style helped make the Dälek reboot so seamless. It also helped that Brooks also re-enlisted Rudy Chicata, aka DJ rEk.
"REk just made sense," offers Brooks. "He was our original DJ, and he's actually the dude who showed me how to use samplers when I was like 15-16 years old. When I first met him, he showed me how to use the [EMU] SP-12 and [Akai] S-900 [samplers]. Without him, there would be no Dälek. Even though he left the band early on, we maintained our friendship. I felt like enough time had passed and everyone had matured enough where I felt like it would work with him on the road this time around. So far, I've been proven right. He's been on-point. From a turntablist standpoint, the new album is probably some of the illest cuts that we've ever had on any of the records."
Live, it's easy to see how nimble Manteca, Chicata, and Brooks are when it comes to working with noise. Playing off each other the same way a jazz act would, all three members leave themselves room in the songs to take chances. That collective sense of freedom isn't as easy to spot on their recordings, but the new lineup nevertheless showcased their affinity for space and atmosphere in a big way with their first studio offering, 2016's Asphalt for Eden. Where past Dälek records tended to be blustery and forceful, Eden at times verged on ambient music. Endangered Philosophies incorporates many of the same textural elements as Eden, this time with more density and a harder edge.
"I expect each album to sound different," says Brooks. "I actually demand it."
Merch for this release:
Compact Disc (CD), 2 x Vinyl LP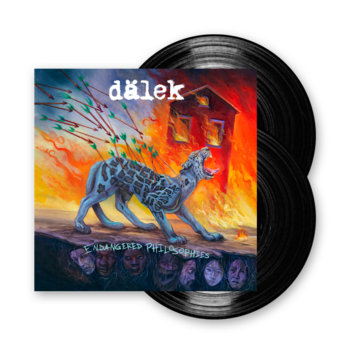 It shows. Throughout the album, the band sounds vital in their ever-expanding search for new sounds and colors. The album is so full of detail you could listen to it dozens of times and hear new things. But what immediately stands out is how proficiently Dälek harness chaos. On "Few Understand," Brooks's rhymes and Chicata's scratches reside within a vaporous, neon soundscape that hovers more than it propels forward. Meanwhile, "Beyond the Madness" begins with giant plumes of noise that vaguely recall the bright, joyful timbre of carnival music, only warped to the point that the music takes on an ominous hue. In fact, it's easy to imagine the album as a backdrop to the visual style popularized by classic sci-fi works like Blade Runner and Ghost in the Shell—a nightmare future that, in some ways, is already here.
"The idea behind the record," he says, "is that it shouldn't matter what year it is when you listen to it. If you put a gun to my head and ask me if it has to do with things that are going on right now, of course it does. But I don't want to make a record that's only about 2017. I want to make a record that's about subject matter, emotions and feelings that resonate through time. That was the mission, to try to figure out, 'How do we convey that?' I don't want people to listen to it and be like, 'Oh yeah, he's pissed about what's going on in this country and in the world.' Of course I am, but it's also deeper than that. There are more layers to it."
—Saby Reyes-Kulkarni