FEATURES
No Longer Behind the Scenes, Producer D33J Wants His Own Shine
By Will Schube · October 11, 2017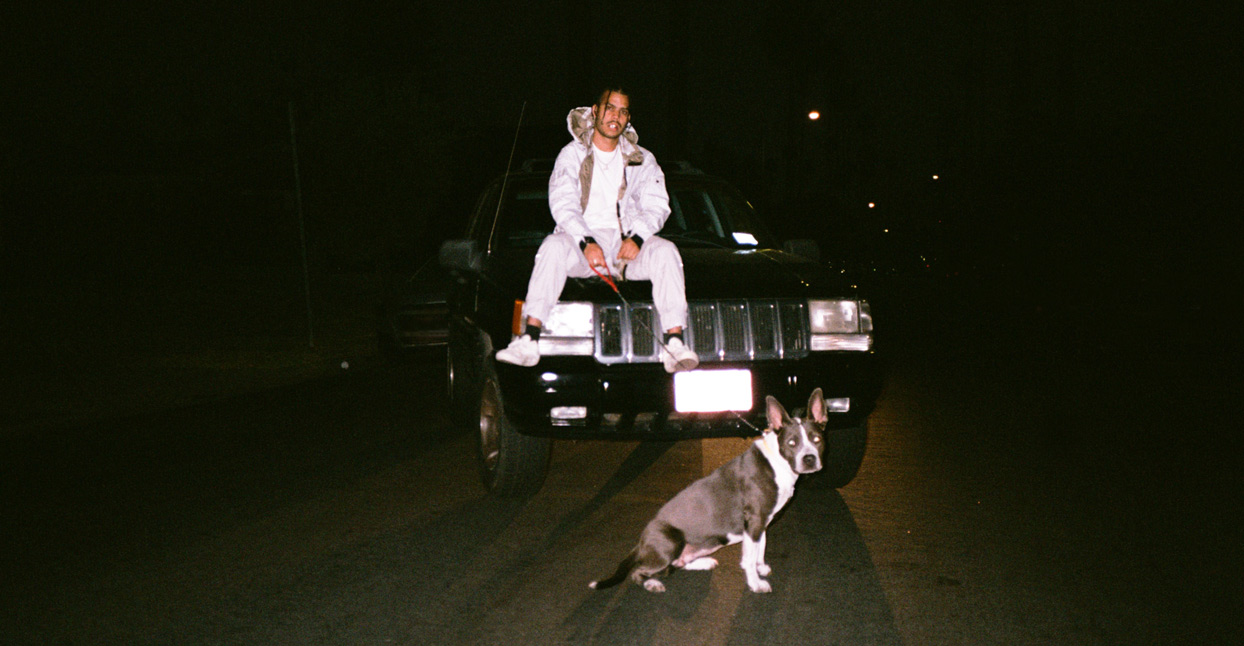 Djavan Santos—who records under the name D33J—has been operating in and around the Los Angeles electronic music scene since 2011, when Bad Vibes, the debut release from producer Shlohmo, put Santos and the WEDIDIT collective on the local map. Since that time, Santos's WEDIDIT fam—Groundislava, Ryan Hemsworth, Shlohmo, and RL Grime—have all released full-length records to mass critical acclaim. But as more and more of Santos's friends were becoming famous, he remained in the background, quietly planning his own ascent. "I've been very silent for the past few years," Santos says, "but during that time we've been brewing and working on this record."
.
00:10 / 00:58
Merch for this release:
Vinyl LP
"This record" is Death Valley Oasis, which was released in September and is the result of D33J's diligent work behind the scenes. "This record was 90 percent done for many, many months," he says. "Knowing me, I could have worked on it for another year. But I felt like I needed to move on and share it…finally." The songs on Oasis are murky and dark, hyper-focused on deep textures designed to elicit an emotional response. The album's first track, the aptly-titled "Ascent," features rolling piano chords and manipulated voices that twist and pulse as the song unfolds. "Wisp," featuring high school friend Will Wiesenfeld (known to many as Baths), is one of the album's poppiest tracks. With bouncy drums and a graceful melody, the song seems specifically designed to suit Wiesenfeld's warm, bubbly aesthetic.
"I've always found Djavan's stuff really creative," Wiesenfeld says. "No songs sound exactly alike, and they all have a deep sense of atmosphere—two things that are really important to me. 'Wisp' was an excellent example of those things."
Here, Wiesenfeld hints at something that's particularly engaging about D33J's music. The producer creates a world in which every song has its own distinct sound and feel, yet they all make perfect sense combined together as a whole. To hear Santos tell it, that depth and breadth of sound is a result of his early limitations as a musician. "I was always a little too shitty at real instruments to be in a real band," Santos explains, "so I started learning electronic music really early on. I think me being shitty at playing guitar helped me in the long run, because I started fucking with all this software at a young age."
.
00:10 / 00:58
Merch for this release:
Vinyl LP
Working with his friends in WEDIDIT has also helped Santos come into his own, but he's occasionally spent some time away from the project to work with top-flight rappers. "I've been working on other pop projects that I just don't talk about," Santos says. "I'm more comfortable as this Wizard of Oz dude, doing all this stuff silently that you hear less about." He produced Lil Yachty's song "Check Up," and co-produced Corbin's new LP with Shlohmo. Yet even when producing for a mainstream rapper like Yachty, Santos has managed to keep a low profile. Death Valley Oasis is perhaps too unassuming to produce a tidal wave of hype, but that's not especially important to Santos.
"I just want people to hear the melodies and vibe with it," he says. "Let it take you wherever you may go with the music." Death Valley Oasis has a particular vibe for sure and, throughout the course of our conversation, it becomes clear that if Santos had rushed to release the record on the heels of WEDIDIT's 2011 rise, the impact would have been lost. "I did this music stuff almost a little backwards," he admits. "I was touring for a couple of years and then finished the record. I've been in it for a while, always making music. This was more of a personal investigation for me."
Death Valley Oasis couldn't have happened without the touring, the success of Shlohmo, and the work with Yachty. Yet Santos found a way to ignore the noise and focus on the work. Because of that, Death Valley Oasis does all the talking for him.
—Will Schube