FEATURES
The Afro-Rock of UK Group Cymande Endures Through the Ages
By Wrongtom · May 10, 2023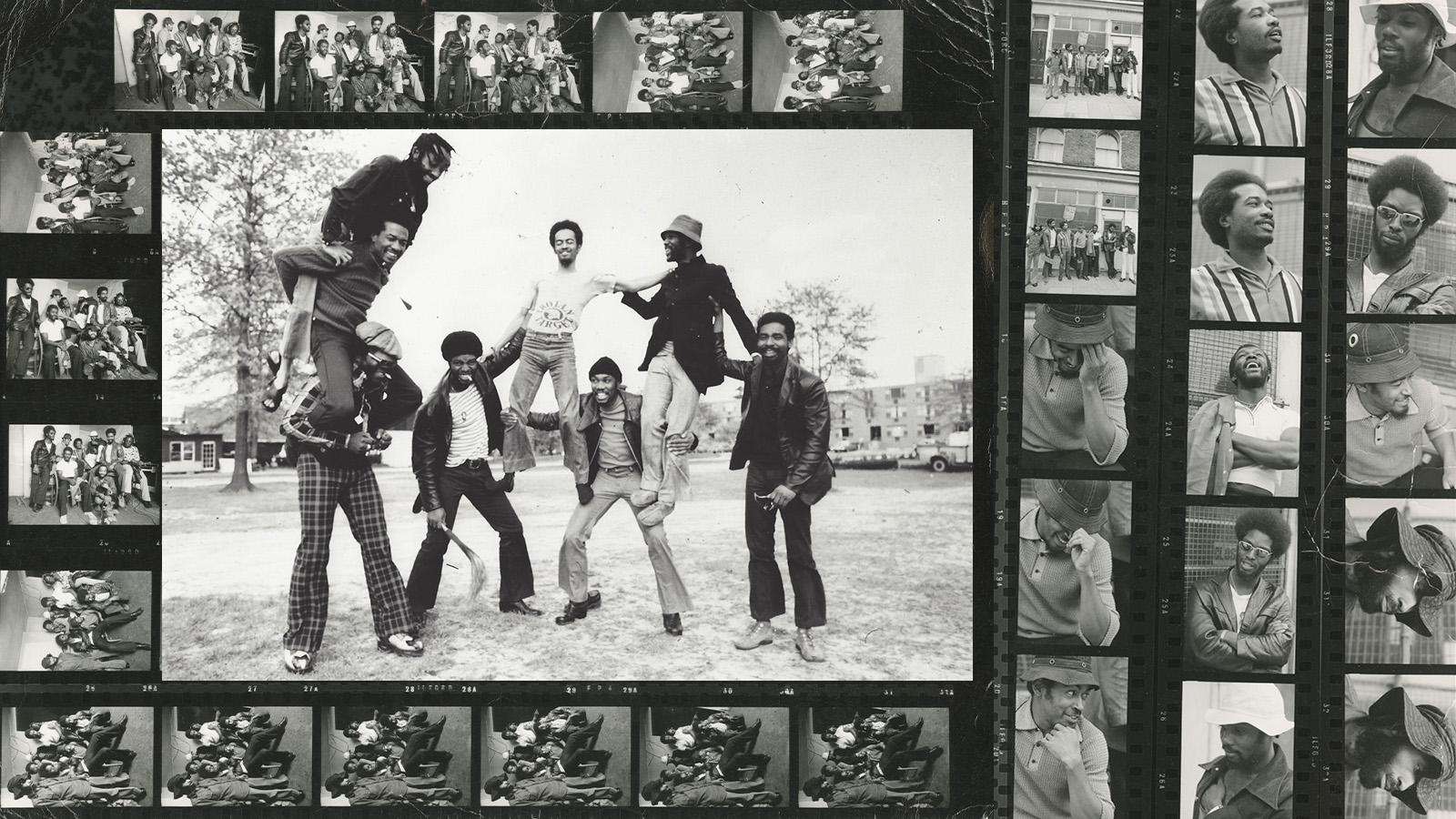 It's been 50 years since that muggy summer evening in the South Bronx when DJ Kool Herc mixed two copies of the same record together—a technique he called "the merry-go-round"—thereby creating the blueprint for hip-hop. Most of Herc's arsenal in those days consisted of homegrown funk and soul from the likes of James Brown and The Isley Brothers. But one record in his collection wasn't like the rest. The curiously titled "Bra" by a group called Cymande seemed to defy genre with its percussion-heavy, Afro groove; jazz horns; and a spacious breakdown perfect for b-boys and b-girls to battle it out on the dancefloor. So where did this record come from, and how did it end up in Herc's box?
Cymande's story begins thousands of miles from the Bronx in the UK's London, where 13-year-old Steve Scipio had followed his parents from Guyana to Balham in South London in 1963. The family's neighbors were friends from back home, and Scipio befriended their son Patrick Patterson, a young guitarist who, as the '60s progressed, was developing an interest in rock music. "My favorite artists were the English rock acts: Led Zeppelin, Jethro Tull, stuff like that" Patterson recalls with a smile, "while at the same time loving the soul music of the day."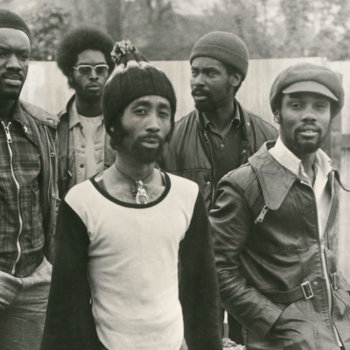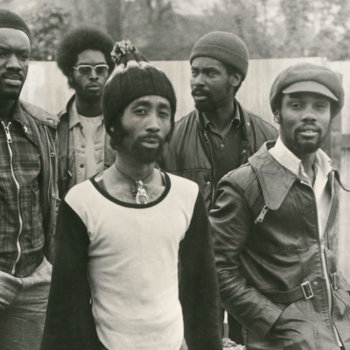 Merch for this release:
Vinyl LP
Scipio, a jazz lover, took up bass, and he and Patterson enlisted two other players to form a quartet called Metre—named after "the time signature thing," Scipio explains. His tastes at the time were driven by an interest in forward-thinking albums by Miles Davis. "In the late '60s, he started to really do things with Bitches Brew and In A Silent Way," Scipio says. "He experimented with syncopation, and a lot of that I utilized in my writing and bass playing." Mixed with Patterson's love of Hendrix, Metre made joyful noise on the Brit jazz circuit. But their success was cut short when drummer Phil Gibbs upped sticks to Australia.
A few years later, in 1971, Scipio and Patterson took the ideas they'd developed with Metre, and formed a more expansive nine-piece group with even broader influences and a wider palette of sound. Cymande found a musical home upstairs at the now internationally renowned Ronnie Scott's jazz club in London, where they honed their unique blend of Afro-centric jazz, soul, highlife, rock, and reggae into something they dubbed "nyah-rock."
Other early Cymande gigs weren't quite as nurturing as Ronnie's, however. Between fits of laughter, Scipio recalls how the group played the university circuit, and working men's clubs, mainly in the north. "The universities were OK," he recalls, "but I think our music was a bit too eclectic for the working men." What were these crowds like? "They were working men!" Patterson replies, offering an impression: "Can you play 'Knees Up Mother Brown'?"
Fortunately, Cymande's agent had a connection to record producer John Schroeder. Known mainly for his easy listening productions with Sounds Orchestral, Schroeder had achieved chart success with Status Quo's "Pictures Of Matchstick Men." But he also loved jazz, funk, and soul. He dropped by one day to watch Cymande rehearse, and offered to produce a single for his label Alaska. The resulting 45, "The Message"—a quasi-jazz-funk workout with reggae undertones—captured the band the way they sounded live. "John understood where the strengths of the band lay," Scipio fondly recalls, "and he never tried to influence the direction or the type of music we should be playing."
Merch for this release:
Vinyl LP
The single was a calling card for their new sound, especially when it reached America with its release on Janus Records. It might not have piqued the interest of the UK soul circuit who, at the time, were eager for cover versions; but university radio stations in the U.S. were supportive, and it was through that airplay—where "The Message" sat comfortably alongside the low-slung organ funk of The Meters or the psych blues of early Funkadelic—that Cymande found a new and open-minded audience.
The group's debut album was recorded less than a year after their inception. "It must have been finished by January '72," recalls Patterson, "because I remember John took the tapes to [music conference] Midem in France, which is in January." A deal was struck, and their eponymous debut LP hit the shelves on both sides of the Atlantic that same year.
Such rapid progression was not without its losses. Original lead singer Ray King, who found notoriety in the '60s with his Coventry-based group The Ray King Soul Band, left Cymande after recording only one song, "Getting It Back." It wasn't an acrimonious split though; "Ray was a soul singer," Patterson says, "and that's not where Cymande was going." King returned to Coventry where he mentored various local musicians including Jerry Dammers, Lynval Golding, and Neol Davies via his groups Nite Train and Pharaoh's Kingdom. His guidance led, in part, to the formation of The Specials, The Selecter, and 2 Tone Records—so Cymande's loss was ska's gain.
In his place, the group recruited vocalist Joey Dee, who Patterson fondly describes as exceptional. "Most of the space was made for Joey because of the quality and the caliber of his singing," he recalls. On tracks like "Listen" and "Friends," Dee's alto floats through the spacious arrangements, sitting perfectly between guitar and sax solos, never stealing the show. The group functions as a symbiotic unit—no one member outshines another, even when a soloist might take the spotlight.
Merch for this release:
Vinyl LP
Album opener "Zion I" is a showcase for the group's dense vocal harmonies—somewhere between The World Is A Ghetto–era War and a traditional Rasta grounation meeting led by conga player Pablo Gonsales (who, alongside fellow Jamaican sax player Mike Rose, brought Rasta ideas and themes to Cymande). The band's name derives from a calypso word for dove, and themes of peace and togetherness pervade their recordings and album art. Their trans-Caribbean backgrounds are displayed with pride on the album's inner sleeve, not only listing where each member came from, but also the year they arrived in England.
But even with an album under their belt, Cymande struggled to gain traction in the UK. In the U.S. they toured as the opening act for Al Green in 1973, hot off the back of his albums I'm Still In Love With You and Let's Stay Together. "I think Al Green was the biggest star at that time" Patterson says, "and through Al, our fanbase was broadened because his concerts were massive. That tells you what an opportunity it was for us—not just in terms of people knowing us, but also in terms of our confidence, and our belief in future prospects."
Two more albums followed in 1973 and '74, but at home, Cymande remained Britain's best-kept secret. "It was difficult for us, after the level of shows we did in the States, to return to England where there was a total lack of interest," Scipio laments. "So we said, 'Let's just take a break.'"
Little did they realize something was happening back in New York, and they were a crucial part of it. Following Kool Herc's lead, Cymande records like "Bra," "Dove," and "Brothers On The Slide" began soundtracking park jams, basement parties, and nightclubs across the five boroughs. Former doo-wop entrepreneur Paul Winley had his ear to the ground, and released bootleg compilations of some of the biggest tracks from these hip-hop sessions. He launched his series Super Disco Brakes in '79, and Cymande appeared on volumes two and three.
Merch for this release:
Vinyl LP
As a rival to Sylvia Robinson's Sugar Hill label, Winley released early disco rap singles by his daughters Paulette and Tanya, as well as the first 12-inches by Africa Bambaata. Neither Scipio nor Patterson could recall how they came to record for Winley's label—an experience that ended badly for the group. "We don't speak of it," Patterson says. "It was an unfortunate meeting with a man who was unprincipled."
Following the "Paul Winley debacle," Cymande took another break, this time for decades. Scipio and Patterson both became lawyers, though Patterson returned to the stage in the mid-'80s with his soul jazz project The View From The Hill, as well as a surprising turn as backing vocalist on Climie Fisher's 1987 pop hit "Rise To The Occasion." That same year, house act Cleavage reworked "Bra" for their house anthem "Barrah," and soon hip-hop acts would follow suit. Gang Starr, De La Soul, and Grandmaster Flash were among the first to directly sample Cymande. "One of my children made me aware," recalls Scipio, who admits he wasn't listening to rap music at the time, "but I never had any problem. I saw it as a positive that people were sampling or using bits of our music to rap to."
The trend continued with rappers Master Ace, MC Solaar, and Ruthless Rap Assassins all sampling "The Message" at the turn of the '90s, and The Fugees used a large portion of "Dove" for the title track to their multi-platinum LP The Score in '96. Gradually, Cymande's music began spreading across genres—from drum & bass to breakbeat, electronica to footwork, even a shoegaze track by Medicine. Today, their peerless music remains border-free; as Patterson says, "Music is an international thing. It's for everybody." With a new Cymande album in the works, which they hope to release in 2024, as well as Tim Mackenzie-Smith's soon-to-be-released documentary Getting It Back: The Story of Cymande (2022), another generation will have the opportunity to hear Cymande's inimitable music—forever, like it was before.