FEATURES
Cuddle Formation's New Record is a Tribute to DIY Spaces
By Blake Gillespie · January 23, 2017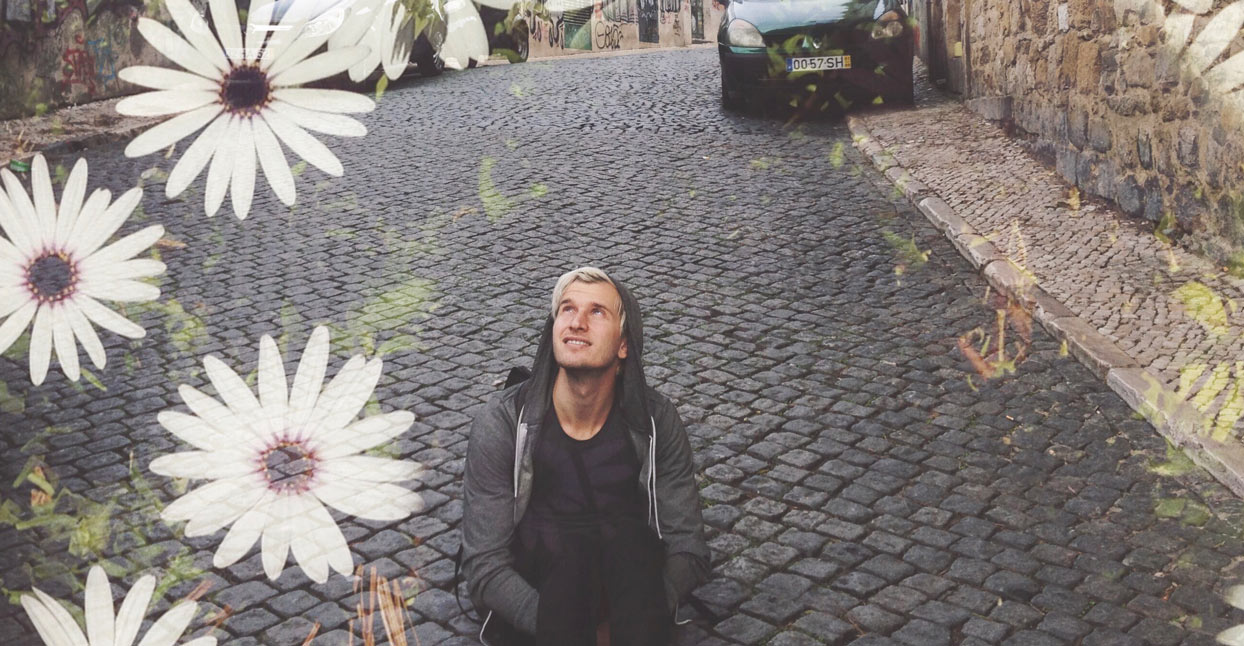 Noah Klein keeps a mantra pinned to the top of his Twitter account as both a notice to followers and a reminder to himself: "Be present, redefine family, nurture community, prioritize abolitionism, dismantle white supremacy, destroy intolerable systems." That same mantra informs his work in his ambient solo project, Cuddle Formation, and the sentiment runs throughout his latest album, Here I'll Be Forever.
Written as a soliloquy to transformative justice and chosen communities, Here I'll Be Forever is an assemblage of soundpieces recorded over three years in various DIY spaces across the country—places like Dreamhaus in Allston, Silent Barn in Brooklyn, Rhinoceropolis in Denver, and Pehrspace in Los Angeles. They're spaces dedicated to creating a safe space for marginalized people, operating well outside the conventional commercial concert industry. In the liner notes, the album is dedicated to "everyone we lost," which feels like a quiet nod to Oakland's Ghost Ship fire.
Over the course of his travels, Klein amassed a series of field recordings that he would later use as instrumentation (the sound of a snare on the record came from a sample of a frozen pizza hitting the Silent Barn floor.) Here I'll Be Forever is a record that would have been impossible without an underground community that shares Klein's values, and the finished product serves as both a documentation of and a tribute to their existence.
We spoke with Klein about the concepts that inform his work.
.
00:10 / 00:58
Merch for this release:
Cassette
With DIY spaces under new scrutiny after the Ghost Ship fire, how do you see the culture changing?
For me personally, what we're doing should be all-inclusive and completely public. DIY communities need to become ubiquitous—like school systems, public libraries, and local businesses. We need to show that every single independent endeavor is a part of culture. It's a voice. It's not just kids wanting to be loud and party and make art. It's a larger picture than that. On the other hand, a lot of communities can't be that public, because they are already such a large target. To put yourself in a spotlight like that is only asking for enormous amounts of trouble. A lot of people need to go further underground and not publicize what they are doing—which is incredibly unfortunate.
In traveling to these various DIY spaces, what were some of the universal components you noticed?
The idea of approaching music and art as something that's prophetic. Everyone is inhabiting worlds and realities that they both want and need to be a part of. In lots of spaces all over the country, there are groups of people who have this creative imperative they can't turn down. People need that sense of community, because sometimes they have nothing else. Whether it's being kicked out of your house for any number of reasons, or completely disagreeing with dominant models of the world. Every one of these DIY spaces represents a different notion of how we can fix the crisis that is our modern culture.
Given the fact that so many DIY spaces end up getting shut down, is the idea of permanence for DIY misguided?
There are benefits to having a permanent space. You can start thinking about ideas that become larger than just having a spontaneous show. Some of the amazing things at Silent Barn have been daytime art classes for kids who don't have access to arts programs, or setting up a recording studio, or having a space where these things can happen regularly. But, on the other hand, the more you start doing them and organizing, having a permanent space can start to be detrimental. A lot of people don't feel comfortable in lots of spaces. If you're working in only one zone, it's limiting the people who are coming in. I don't have any definite ideas, but I go back and forth. Everything is transient. So it's good to not feel an attachment to property. So many of the issues that have happened in the last several hundred years have been because of landowners and attachment to property. And so, especially an entitlement to space in DIY is an enormous conversation.
.
00:10 / 00:58
Merch for this release:
Cassette
To me, you can feel the impermanence in most DIY venues. You feel, in a way, like you snuck in.
On the album, it's very similar. I collect samples of instruments when I'm traveling. A lot of the instruments that you can hear aren't mine. I'm trying to figure out how to play this album live right now. It's pretty difficult. I can do it on a MIDI-controller no problem, but trying to do it with live instruments – like, I can't get that out of tune guitar back. Unless I go out and buy a glockenspiel, I can't make those sounds again. It's similar to living in a house you don't own. I'm out of it now, and I'm just trying to make the walls feels familiar.
—Blake Gillespie