FEATURES
Untangling Crosslegged's Ghost Stories
By J. Edward Keyes · Photos by Nicole Fara Silver · July 27, 2016
According to a story her mother once told her, when Keba Robinson was four years old, she was sitting at the patio door of her family's home in Walnut, California, watching the rain come down outside. After a few minutes, she started murmuring to herself, quietly. She was writing her first song, stringing together words to describe the streaking of water against the windowsill. The beginning of the poem was dedicated to the way the rain looked, and sounded, and felt—soft, calm, and cool.
After a few moments, the calm vanished, and in the song's second verse, a wolf entered.
Years later, Keba would record "Sunbeam," which, much like her first untitled song, also juxtaposes serenity with menace. The heaving centerpiece of her eerie, transfixing album Speck—which, like all of Keba's records, is recorded under the name Crosslegged—on "Sunbeam," Keba wishes to become a ray of light. It's not so that she can flood the world with warmth, or make flowers grow, or brighten a grey afternoon. "I wish to be a sunbeam," she sings in her cracked, oaky voice, "covering up the hands of death."
Merch for this release:
Cassette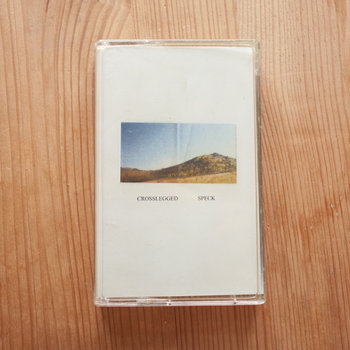 Sitting in the living room of her apartment in Brooklyn's Red Hook neighborhood, Keba's sunny disposition belies the darkness in her work. Speck mostly operates from the base of American folk music, but it knocks out the support beams, so the walls buckle and the roof bows. Her music is filled with dread: small, everyday moments are invaded by unnerving, gothic-horror details. Keba is on a bus watching a silhouette fade, contemplating the caterpillar in her stomach. She walks through a grassy field, listening to crickets, talking about the "monsters in the ground." And in "Good Day," a funereal song built on a spidery guitar figure, she chillingly warns: "You know what's in your back seat." Even the name she records under is meant to signal unease. "Crosslegged, that's not about meditating—like, sitting cross-legged," she says. "It's meant to make you think of someone who's basically a ball of knots."
She speaks softly and a little nervously, and describes her early attempts at songwriting the way you might talk about cracking the pattern to a Rubik's cube. "I remember when I realized I could rhyme words," she says. "It just kind of came to me. I was in the back of my parents' car, and I realized the words 'more, door, and floor' all went together. So I turned it into a song." Shortly after that revelation, Keba purchased a green velvet journal and started documenting her rhymes, a useful practice for when she would write songs with her brother, Raz. As Raz remembers it, her gift for lyrics came early and easily. "Keba is so much more profound than me," he says. "I've always respected her ability to say really massive things simply. She's the smartest person I know."
Merch for this release:
Cassette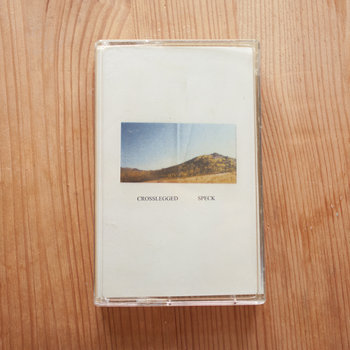 Keba and Raz grew up in Norristown, Pennsylvania, after a stint in California where their father had moved for work. Their parents are both Jamaican, and when they were growing up, their house was filled with the sounds of Burning Spear, and Sister Nancy's "No No No." In California, their father played bass in a church band called Sonic Salvation, and occasionally, their uncle would bring his keyboard over to the house and the two men would jam. When he caught a young Keba noodling around on the instrument, he bought her one of her own for Christmas. When the Robinsons moved to Norristown, Keba and Raz began practicing in earnest, with Raz picking out chords on a guitar and Keba providing accompaniment on keyboard. "The first song we did was this horrible instrumental called '78% Water,'" Raz says, "which I realized years later is also the name of an Ani DiFranco song. I had this guitar progression that was really gratuitous and I was like, 'Keba, do you have any ideas that could go with this?' She sat with the song for about an hour and came out with this amazing keyboard line and all of these backing vocals. She made the whole thing so much cooler than it was."
Merch for this release:
Cassette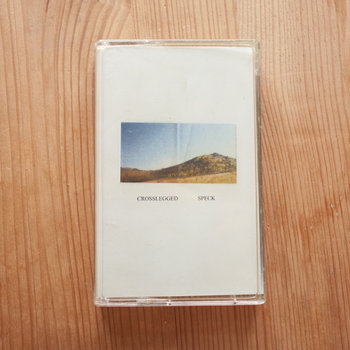 At night, Keba would teach herself to sing not by memorizing Joni Mitchell records, but by working through Boyz II Men's II while drifting off to sleep. "I had this little MP3 player," she says, "And I remember just recording words and lyrics on it. I just always wanted to record stuff. I remember playing around with video cameras and wishing that I could record the images on top of one another." Eventually, Keba took up the guitar, teaching herself to play all of the songs on the Yeah Yeah Yeah's Show Your Bones. "I think it was the first time I had an instrument that I knew well enough to play and sing at the same time," she says. The more she played, the more she discovered other bands whose songwriting approach began factoring into her own. Her touchstones weren't hoary classic-rock Desert Island mainstays—they were newer, younger, more aligned with her age and aesthetic. "One band I really, really liked was Warpaint," she says. "You could sense the folk influence in their music, and it was hyper-melodic, but they sounded different from any other band."
Though she continued to practice and play with Raz, she kept her talent mostly to herself. She was quiet and a little shy, largely as a result of her childhood cross-country relocations. "When we got to Pennsylvania, I kind of had culture shock," she recalls. "I just think people smiled more in California." In middle school, she became known as "the art kid," and took up drawing, moving from simple doodles in the margins of her notebook to larger, more involved work—illustrations and watercolor figures. In High School, she met Yesenia Bello, and the two struck up a fast friendship. "Keba just had this laid-back energy," Bello says. "She's just really approachable—not intimidating at all."
When the school decided to hold a joint art-and-music festival, Keba, Yesenia and their friend Anthony took the lead in organizing it. When it came time to assemble the lineup of performers, Keba added herself to the bill. "She'd never really talked much about her music," Bello says. "And when she got up to play, she totally blew us away. We just didn't see it coming. Keba is so quiet—it caught us all off guard."
"It was something I wanted to try, even though I was terrified of it," Keba says. "I remember thinking, 'I'm never going to do it if I don't try it now.' And people really liked it. They were really surprised—I don't think they knew I sang. That gave me the confidence to keep going."
At home, she began recording songs on her own using GarageBand, spare compositions that hew closely to traditional singer-songwriter structures. The first song she ever recorded, "Leg Ow," is a big, broad strummer, Keba's voice grainy and distorted, almost buried beneath an avalanche of acoustic guitar. That song, which opens her 2011 album Bad Body Language, shows Robinson's gift for swooping hooks and boisterous, joyful songwriting. "I think when you record a song for the first time," Robinson says, "you're so psyched about the fact that you're doing it that you don't care about the quality." The rest of the songs on Bad Body Language capture her abilities in their awkward, formative stages. "Egret on Water (Siouxsie Sioux Ate My Eardrum)" is a forlorn ballad with a tripping chorus that hints at the structural slipperiness she would explore more fully on Speck. And "Wonder Even When" is a sorrowful campfire ballad with an unstuck keyboard line that trips around drunkenly in the background. On the EPs that followed, shadow creeps in even further. "Sleeves," from 2012's All My Plants Are Communists, offsets its warm, rambling vocal melody with lyrics like, "Your eyes are like a glacier/ mysterious, cold, impervious." And "Unnoticed in Tides" is an echo-drenched midnight waltz that recalls the darker moments of Mazzy Star.
At the same time she was making these recordings, Keba was also working with Yesenia and Anthony to put on an annual Arts and Music festival in Norristown called Walla Fest, which grew out of that first show in the school cafeteria. "We started it because we could," explains Robinson. "It's interesting to try to build art and music communities outside of major cities. And that became the identity of Walla—it was this celebration of music and art, but it wasn't centered around any one city or scene. We had at a theatre in Norristown. It became kind of a mission statement: How can we bring art and music to a suburb?"
"When we started going to shows in Philly, we were not even remotely tapped into the DIY scene at all," remembers Raz. "Keba doesn't like Black Flag or Minor Threat or any of that. If you start talking to her about guitar rock, she can't stand it. Keba will say all the time that she just wants to make new things. When she started doing Walla Fest and it started becoming a thing people wanted to do to, she realized, 'Oh, we can do our own thing. We don't need to participate in a system that exists already.'"
After graduating high school, Keba moved to New York City, attending Cooper Union and studying video and photography. But as her time at school wore on, her interest began to falter. "By the time I left Cooper Union, I didn't want to be a visual artist anymore," she says. "All through school, I was making one album per year. It was like a parallel education."
In the context of that analogy, Speck is Keba's master thesis. Even to anyone not familiar with her earlier work, its opening track, "Why Do You Do That," is deeply disorienting. A chintzy drum machine offers a few thudding beats and then Keba's voice enters—bold, aching, almost chilling—tangled in a spiderweb of guitar. None of the pieces feel like they belong together: the guitars veer off at odd angles, deliberately out of time with the stone-faced percussion. And Keba herself sounds eerily disconsolate, like she's singing from the far bank of the River Styx: "Stay by my doorstep." It recalls, in tone, sound and effect, the first track from Cat Power's Moon Pix, a harrowing indication that everything is not OK, and that you're about to spend 10 songs finding out why.
The entire album maintains that dark energy. The chorus of "Am I Real"—which asks again and again, "Am I real or am I fake? I could think about it all day"—is balanced atop a strange coil of guitar that springs and pops at odd, unlikely intervals. On Speck, Keba has finally learned how to use her great, creaking voice. On her first two albums, she carried melodies along gamely, but on Speck she fiddles with syntax and delivery. The syllables in "Land" are like some kind of alien morse code—quick bursts of sound followed by weirdly elongated passages. She layers harmonies in impossible patterns throughout the record; each song seems to have a dozen ghostly Kebas floating their way through the inky backdrop. "Music is a language, just like anything," she explains. "When you first learn to play, you learn by copying Karen O or Kim Deal. But the more you do it, the more you understand the language. And that's when you can do whatever the hell you want with it."
Including, apparently, rewriting its rules. Whether intentional or not, every song on Speck seems hellbent on unscrewing its own framework. "Fonder" weaves and blinks, a bleary-eyed nightclub number heavy on synths that wobble and shriek. "Good Day" is like Joni Mitchell tangled up in glue—odd, specifically misplaced apostrophes of guitar throwing the rhythm off balance, with Keba somersaulting upwards to hit the high notes. "Keba's diversity of ideas and ways of seeing the world just translates into this really, really diverse type of music," Raz says. "Speck is an interesting thing. It doesn't sound like anything. It makes its own sense and its own rule book. It's like, part Father John Misty, part John Coltrane."
Merch for this release:
Cassette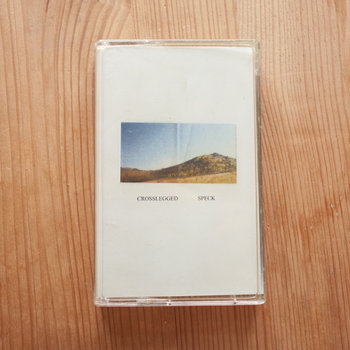 That improvisatory spirit comes naturally to Keba. "I've always liked music that doesn't stay in one place for too long," she says. "When I write a song, I don't think about the structure too much. I very intentionally try to keep songs from repeating themselves. Maybe it has to do with veering away from the folk tradition. Folk music tends to tell a story that's very linear – Speck is more impressionistic. Even with singing—I've always been inspired by singers who, when you listen to them, you can tell they know how their voice works. They're not just singing something straight. There are these weird idiosyncrasies where you feel like, 'She really likes singing this way.' So much of Speck was just me being more comfortable with my voice."
But beyond simple confidence, one of the things that is so striking about Speck is how intuitive it all feels. There's no artistic pretense, no affect, no plastic drama. In concert, she's transfixing, commanding the center of the stage and letting each word hang heavy in the air, full of power and strange portent. As Robinson's friend Mikah Sykes put it, "It's like she's directly channeling some other world." And while she's quick to distance herself from Speck ("I don't like listening to it—it's like looking in the mirror and seeing the bags under your eyes"), there's something about that sense of too-closeness that makes its impact hard to shake. And even if she's eager to move on from it, the things that make Speck so striking are core to who she is, and what she does.
"You can inhabit a way of making music that exists already," she says matter-of-factly. "Or you can use what you have to go to new places. Whatever the thing is inside of you, that place before anything becomes language—that thing can be expressed." With each record, Robinson dives a little further into that formless darkness, taking what's shapeless, and making it real.
—J. Edward Keyes