FEATURES
Contour Looks to the Past on "Onwards!"
By Mercy Kassa · October 26, 2022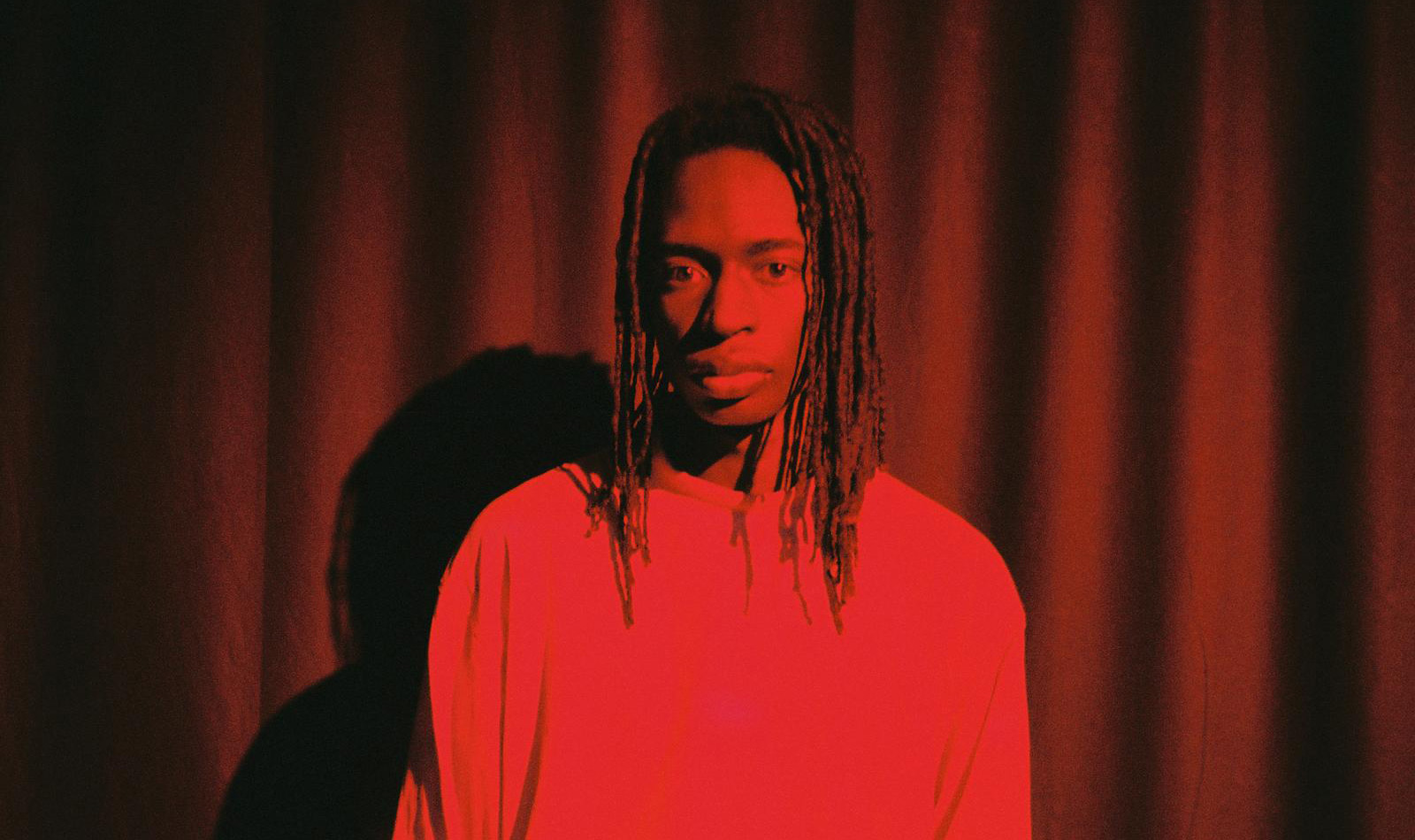 "I think, for me, the writing of [the album] was a lot of letting the things reveal themselves and kind of documenting them, rather than creating them," says Contour of his second full-length Onwards! A deeply archival body of work, the album allows the artist born Khari Lucas to work through his practice of musical research before an audience. It's not the only change to his approach: For Onwards! Contour, who usually produces his own work, enlisted the help of outsider producers Swarvy and 10.4ROG. He drew on seminal bodies of work from various Black Arts movements during the creation of the record, things like Kathleen Collins' Losing Ground, June Jordans' anthology Some of Us Did Not Die, and the L.A. Rebellion film movement. The album's title is a directive to move forward—just not exactly in a linear direction.
Merch for this release:
Poster/Print, Vinyl LP, Ticket,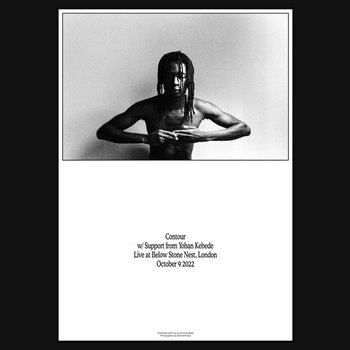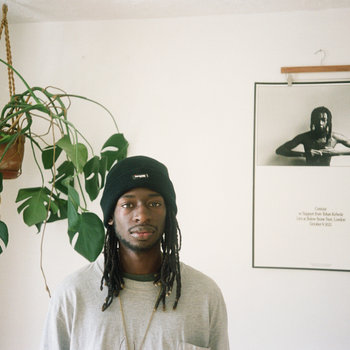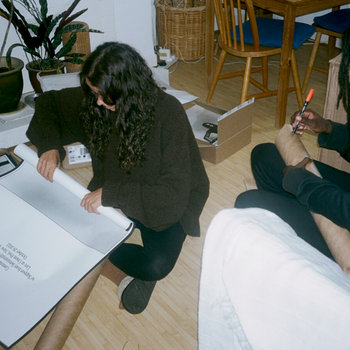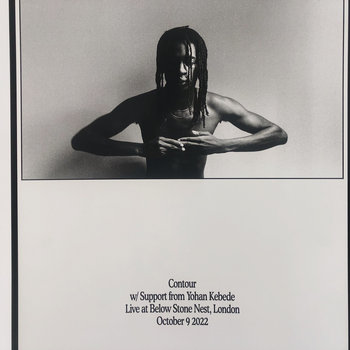 "It's not 'let's just move forward because that doesn't exist," Contour says. The ghostly symbol that appears on the album's cover is intentionally cyclical. "It's a nonlinear connection from every single moment, including the future and the present. Moving forward is simultaneously moving backward—or at least remaining present with some part of your perception of what already happened in order to inform," he says. The idea hearkens back to the Ghanian principle of sankofa—revisiting the past as a guide for the future. That concept is the foundation for Countour's explorations of Black liberation ideology throughout the album.
Lead single "Hearing Voices" moves from a jaunty jazz melody—over which Contour questions the nature of work, labor, and the emptiness found therein—to a slower, more melancholic movement of apology. The ending refrain, "I'm sorry to me/ I'm sorry to me for the times I didn't listen to," is one of poignant intuition. "That kind of self-understanding is a foundation for self-empathy," he says. "The ability to empathize with the self is directly related to the ability to empathize with others. And vice versa. Navigating the emotional relationship to self is really not that different from the emotional relationship to other people."
Merch for this release:
Poster/Print, Vinyl LP, Ticket,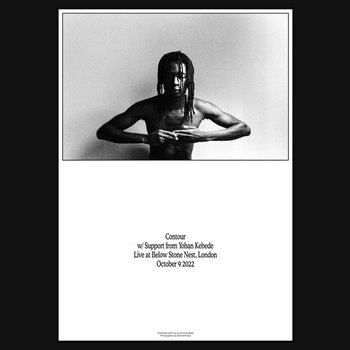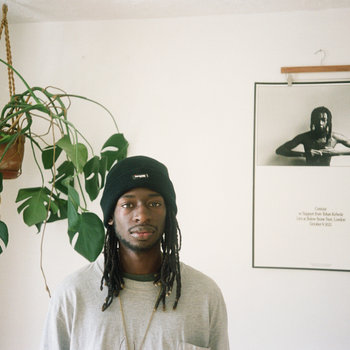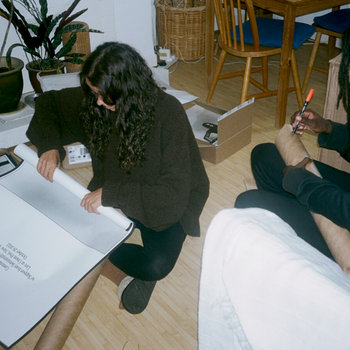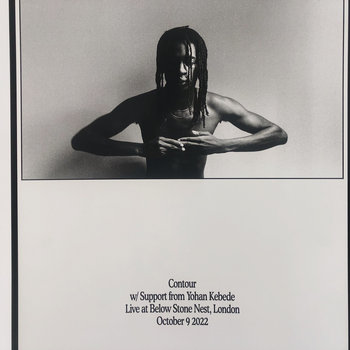 A soulful piano loop serves as a trippy backdrop for the refrain "we don't wanna see it end" in "Freedom Façade." In that song, Contour questions the validity of the freedom Black people experience in America in a series of coded lyrics: "And is this story told by any other name/ When violence is the only ecstasy we claim?" This type of writing is part of a long musical tradition. "Especially through blues and jazz traditions, groups of musicians, consciously or not, developed codified systems of communicating and documenting through music in order to escape surveillance and commodification from [external] forces of extraction," Contour explains. By documenting this interrogation of the Black experience, Contour creates space and invites others to participate in similar examinations.
"One of the things that is a throughline in my work is the theme of emotional presence and emotional self-understanding," he says. "Not in the commodified self-care kind of way, but as a vehicle to self-determination, the foundation to making choices with any kind of clarity or direction." Contour's controlled vocal performance on "At All" relays that idea of "emotional presence." The steady tempo of the bass and drums create a quiet, contemplative tone. The lyrics—"My thoughts are kinda mine/ But some are just somewhere else/ Come from someone else/ Come from somewhere else"—feel like a breakthrough of sorts, a realization that the sum of our parts of "self" were here long before we even got here.  "I've been in a process of how to navigate my emotions best for a while," he says. "And so I think this is just part of an extended process of gaining tools in order to do that."