FEATURES
Premiere: Color TV Are Part of the Fine Tradition of Minneapolis Punk
By Zachary Lipez · September 28, 2016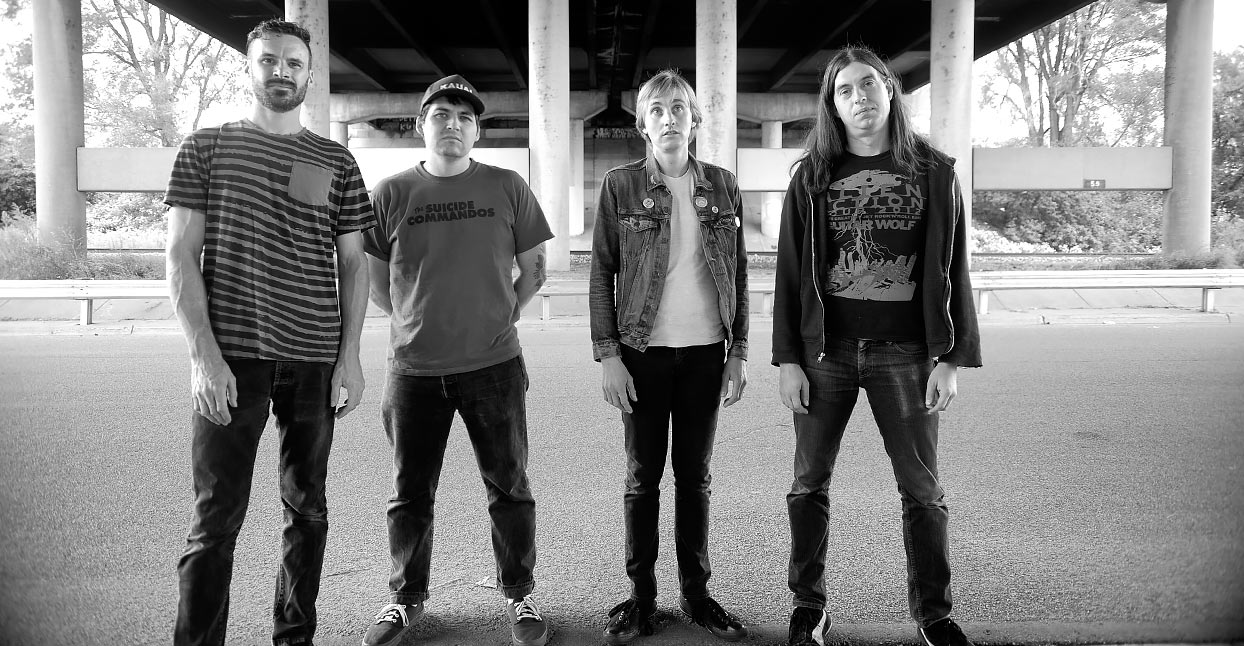 As two of the great historical pop songs of existential worry tell it, it's hard to be human (again) and making your way in the world today takes everything you've got. Navigating the body itself and the lifetime the body moves through takes constant invention and adaptation, and it takes speed. It's why we (both the royal "we" and presumably "you") love punk rock so much. It's easy to clown on the idea of being saved by punk, but digging a thing can be as essential as air.
Color TV, punkers from the town that made some of the best, operate within the folk tradition of strapping on one's instrument, real low Mick Jones style, and playing fast and melodic, so the kids and punk parents can sing along. It's essential stuff in its way—the kind of music people drink and get conceived to. Minneapolis has given us The Replacements and Hüsker Dü and the criminally unknown Suicide Commandos, who, along with all things Killed By Death, are probably Color TV's most direct ancestors. Color TV's songs are catchy buzzbombs of power-pop-punk that pretend the thud of hardcore never happened and focus on swinging like the only way to dance is up and down. It's groovy stuff.
The band is reasonably new and made up of ex-members (all punk bands should have at least three "ex-members of…" mentions on their flyers. Lie if you must) of garage and punk stalwarts like Cheap Time, The Retainers, and Welcome Home Walker. The variety of regional influences, especially Midwest no-bullshit and Northeast darkness, are apparent in the music. After a demo reissue on Drunken Sailor, Color TV have a proper debut 7" on Deranged. We premiere the album here and ask the band some questions that ranged from basic to alienating niche: the proper spectrum of all things punk rock.
.
00:10 / 00:58
Let's get the basics out of the way: how did the band get together? How do you guys all know each other?
Phil Schwarz: The band started when Devin and I met at a show at the 7th Street Entry in Minneapolis. We were both there to see some old friends from the Portland band Autistic Youth's new project. Devin had just moved to Minneapolis from the Bay Area, and we had a friend in common. I was familiar with some of his past bands, so we got to talking and found some common ground musically and exchanged contact info.
AJ Olmscheid and I had another band going at the time and have been playing music on/off for the past 14 years — so naturally I just asked him to play drums. Matt [Allen] and I knew each other for years and I always enjoyed his projects, especially Retainers. He had just moved back from Tennessee, where he was playing with Cheap Time. I ran into him at a show and asked if he might be interested. It turned out he and Devin had some mutual friends from touring. So we all met up and banged it out in AJ's basement. It all came together pretty easily.
What are your songs (generally or specifically, whichever you like) about? Do you know what they're about as you write them or do you write the music first and then go "these are words that fit" or what?
Devin Jorgenson: I mostly write about the human body and its relationship to changing technology.  As a person who functions with two different autoimmune diseases, I am constantly thinking about the merging of humans with machines.  I usually get fixated on a topic like mortality vs. the singularity and then try to write words that address the feeling of starkness that comes with it.  I also write down a lot of two to three word phrases that I hear or read throughout a day and piece them together. It's important to remember that most of my favorite songs have hooks that are just short bursts of stupid thoughts.
Is the tradition of fine punk(ish) bands from Minneapolis intimidating? Inspiring?
Schwarz: Twin Cities is pretty tightly knit, and for the most part everyone is approachable and cool. Folks like Terry Katzman, Grant Hart, Michael Yonkers, Tom Hazelmyer, Gérard Boissy, Lori Barbero, Patrick Costello, and many others are still active around town and are definitely inspiring.
What's the most under/overrated Minneapolis band(s)?
Schwarz: Man, so many great artists come from here. All the obvious stuff like Hüsker Dü, Prince, Replacements, Dillinger Four, Babes in Toyland, deserve every bit of attention that comes their way.
As far as underrated, there is SO much that is overlooked: Michael Yonkers, Suicide Commandos, NNB, Rifle Sport, Impetus Inter, Code 13, Civil Disobedience, Man Afraid, Kill Sadie (particularly the 2nd 7" and 10"), The Ending Again 7", The Infinity Dive/Ereshikigal split 10", The Salteens, Sweet JAP, Holding On, The Crush, Signal to Trust, and so much more.
There's a ton of more contemporary bands that people should go out of their way to check out: Teenage Moods, Royal Brat, Bug Fix, Uranium Club, Constant Insult, Condominium, Ataxxia, Joust, Zero, Deleter, Buddy System, Lemonade, Surrogates, Universel, The Blind Shake, etc.  
Your music is maybe closer to the garage punk of Retainers than the more classic rock/power pop of Welcome Home Walker. Was there a specific sound you guys set out to create or recreate?
Schwarz: When Devin and I first started talking, we were thinking about more of The Urinals meet The Clean. Once everyone started playing together we started covering bands we all like — Suicide Commandos, The Saints, Wipers, Dow Jones and the Industrials, Raxola, The Weirdos. I think our sound more or less just progressed naturally out of our common ground. We are all big record fanatics, so we are constantly sharing stuff with each other and adding our own flair to it.
Does each member have specific roles or skill sets or are all the songs written collaboratively?
Schwarz: Writing usually starts with a loose structure of riffs that I come up with, then Devin will reconstruct it and build it around his lyrics and vocals.  After that, we bring it to practice so Matt and AJ can add their perspective to it. Matt is really good at editing songs—making sure parts are the right length and adding backup vocals. For the most part, our process is collaborative.
I see the excellent UK label Drunken Sailor is pressing your demo on vinyl. That's nice. When the sound of the music we love is willfully "unpolished" and getting signed isn't exactly of paramount concern, does "demo" mean anything? Especially when it becomes a vinyl record?
Schwarz: I always feel like a demo is just a way to get something out there. Ours was recorded live to a four track.  We figured we'd work up to something a little better when our time and budgets allowed.
Personally, I think some of the best records have "poor" production and the dirtiness of it all makes it shine — makes it real. I don't know, I appreciate things with grit I suppose.
I know you guys cite KBD and Bloodstains comps as major influences, and I see it for sure, but I also hear plenty of (good) pop-punk, be it Buzzcocks or Marked Men. Are you avoiding the pop-punk tag or do you guys just not think about it (I may think about it too much)?
Schwarz: I don't know, I think we are just a punk rock band. There is nothing to a label for me really. Either you like it or you don't.
November 7th is "Suicide Commandos Day" in Minneapolis. Got any big plans? BBQ? Take the boat and kids out on the lake?
Schwarz: Ha, no big plans here. Maybe throw on Make a Record and cruise down the highway that the Commandos adopted last year.
Gun to your head… The Saints or The Scientists?
Jorgenson: This is really hard one to answer, but I'm going with The Saints.  That's our favorite cover to do, "This Perfect Day." Always The Saints.
—Zachary Lipez