FEATURES
The Anarcho-Punk History of Chumbawamba
By Joseph Gentile · April 07, 2022
Chumbawamba is as punk as it GETS. No, really: Chumbawamba, the band that was on MTV and the radio every 37 seconds, the band that had the one-hit-wonder jam "tubthumping" about drinking whisky and getting knocked down, the band that was played at your junior prom, was actually rooted in anarcho-politics and wrecking the system the entire time that they enveloped pop consciousness. In fact, they had been pumping out the anarcho-punk tunes and supporting direct action measures for 15 years before their massive smash!
By blending elements of punk, folk, dance, and pop into a singular racket, they established a distinctive sound with disruptive appeal that snuck into the mainstream without anyone noticing their anarcho-punk bona fides before it was too late! And now, 2022 marks four decades since the band first began their radical mission and you can still hear "tubthumping" on the radio…and most people still don't know about the band's punk rock platform.
So, to mark the group's 40th anniversary, Bandcamp spoke to Chumbawamba's Dunstan Bruce, Danbert Nobacon, Alice Nutter, and Boff Whalley about the band's early anarcho days.
---
"BEFORE THERE WAS CHUMBAWAMBA…THERE WAS CHIMP EATS BANANA!" (1979-1981)
It's 1979. Punk rock is rippling through England. Even small towns like Burnley, Lancashire are getting wind of the new aggressive music through the local record shops and the radio. It makes sense: Burnely was hit hard by the UK economic depression since it was an old mill town. Many of the mills had been shut down, with the work sent overseas for cheaper, and less ethical, labor. The town, which used to have factories spewing out so much pollution that you couldn't see nearby Pendle Hill due to the smoke, was now quietly eroding.
Boff Whalley (then "Allen"), nearing the end of high school, was walking down a street in Burnley to meet up with his mates. Standing there was a slightly younger guy, wearing a full-on straight jacket with the arms tied behind his back—and everything fell into place. "He was just chatting really normally…with this massive straight jacket on, all the buckles and locks and everything," says Whalley. "I thought that was fantastic!"
The young fellow in the jacket would become Danbert Nobacon, but at the time he was just "Nigel." Nigel, like Whalley, was into the new-ish punk scene, eating up bands like the Sex Pistols, Clash, and Undertones, as well as the more avant-garde groups like The Fall and the Monochrome Set.
Nobacon says, "My older brother's generation was into Led Zep and prog rock. I had this fantasy, 'Oh, I'd love to be in a band!' But I never thought I could do it. Then, punk rock comes along: 'Learn three chords and you're in a band!' It was like a revelation. It totally changed me life." Whalley, who was born into a religious family and struggled with some of the ideologies, adds, "I'll never forget seeing the Sex Pistols. They gave me a way out of the life I was in. When I first saw Johnny Rotten on TV, he grabbed the mic, looked at the camera, and screamed 'get off your arrssseee!' I thought, 'Whatever that is, that's what I want to do.'"
The pair quickly became pals and, along with mates Midge and Tomi, would go to almost every live show in the somewhat nearby Manchester. "We could usually catch the last bus home," Nobacon says. "And if we didn't, we'd have to sleep under a motorway bridge. That totally inspired us to be in a band."
Eager to get their own thing moving, the gang went to a meeting of a musician's collective. "It was all these people in bands," Whalley explains, "but we weren't in a band. They passed around a piece of paper and said, 'If you want to put the name of your band down, you can.' We had this joke about being chimps and someone put down 'Chimp Eats Banana' just off the top of the head. A month later they rang and said, 'You got a gig.'"
Little did they know, the groundwork for Chumbawamba was already being set. Chimp Eats Banana played a few dozen gigs, with most of them orchestrated as a sort of performance piece. Nobacon recalls, "It was more wacky. There wasn't much politics. We used to do something called a 'bed gig' where we would lay on the stage and wake up and start playing. One time, we had a gig a couple of miles away from where we lived and we decided to walk to it. We had pajamas on and dressing gowns and the cops stopped us. They said, 'What are you up to?' We tried to explain it to them and they didn't understand it—they thought we escaped from a mental institution or something."
Soon the gang went off to university for school. Nobacon says, "We barely went to classes. We just went to see shows and made up songs. Midge had this idea that you could go to Paris and play music in the street busking and make loads of money. We did it like three times and we didn't make hardly any money. But, we had loads of fun. We did covers of the Clash and…I think we even did some Stray Cats."
"Stop Pussyfootin' Around" (1981-1982)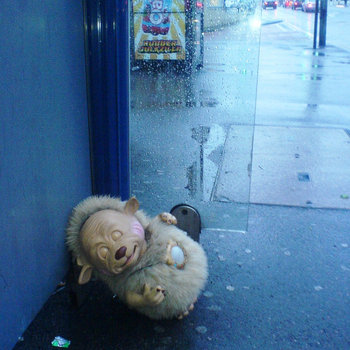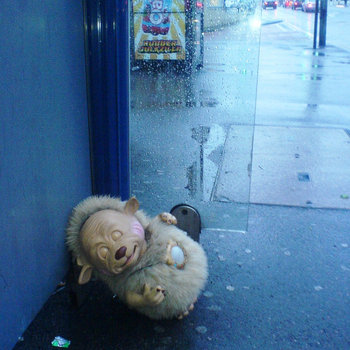 It was during one of these busking ventures that Chumbawamba began to emerge in its earliest form. For years, ambiguity about the group's name and its origin has floated through the press, usually because the band provided different answers each time they were asked. Sometimes they said it came from a dream Nobacon had about the inability to differentiate between the men's and women's bathrooms; another theory is that a monkey typed the name on a typewriter. Another is that it's the name of some obscure mascot. Well, here is the official, thrice confirmed, real-deal origin of the name "Chumbawamba."
Whalley says, "While we were busking in Paris, these North African drummers used to come busk near us and when they started you couldn't hear yourself think. They were fantastic! They used to sing, 'chum chum ba wailan!' It was great rhyming, and we thought we would call ourselves Chumbawailan because it doesn't mean anything and was open-ended. All the punk bands had a hard-edged name and you kind of knew what you were getting." Nobacon adds, "When we got our first gig, we changed it to Chumbawamba because it was snappier off the tongue."
By the time Nobacon, Whalley, Midge, and Tomi returned to Leeds, Chumbawamba had been born. They were still regularly hitting up all the local gigs, which greatly influenced the band's direction. Bands they caught included Conflict, Dirt, Flux of Pink Indians, Poison Girls, and the big-daddy-anarcho-champs of them all: Crass.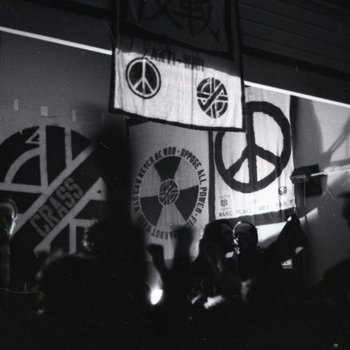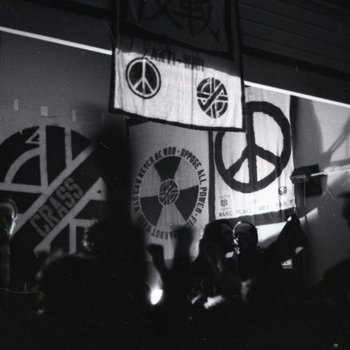 Merch for this release:
Vinyl LP, Compact Disc (CD), Cassette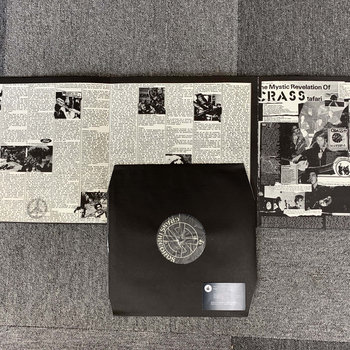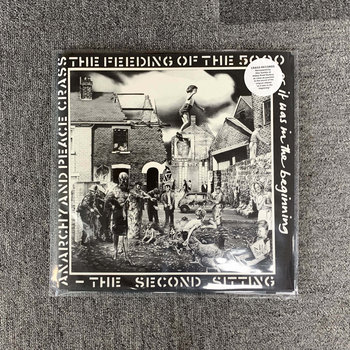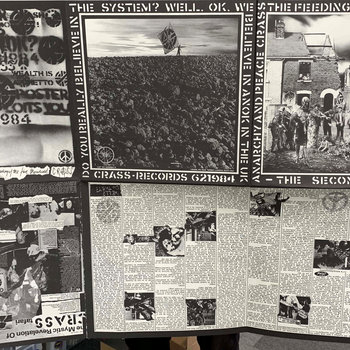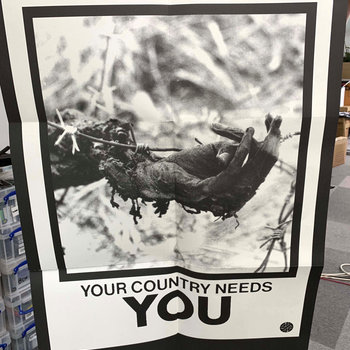 Whalley recalls, "Crass was like a step on from the Clash and Pistols. 'They're taking it really seriously!' The first time I saw them, it blew me away. Not with the music, but with the entire concept: What they looked like, how they were presenting. With Crass, I knew it was performance art. They know what they are doing. They're older than their audience. They came from a creative background. The way they looked and the lights and the banners, the way they stood on stage was beautifully choreographed. I think many of  the bands that followed Crass never got that creative thrust of it."
By that point, Chumbawamba was rapidly expanding its ranks. In an effort to not just be "another rock band," the band was open to letting anyone join. Within months, the lineup grew to include Lou Watts, Dunstan Bruce, and Alice Nutter. Nutter had also grown up in Burnley. Like the others, her family had been working-class and had been facing the pressures of the shifting manufacturing industry. She says, "I came from an area that had been under slum clearance, which was if an area was so bad, then they knocked it down."
Despite the surrounding economic depression, Nutter's creativity was encouraged by her mother, who took her on regular trips to the library. In these trips, Nutter, who was born Anne Holden, recreated herself. "In the early 1600s, a woman named Alice Nutter, who was part of the Pendle Hill witch trials, was hung for witchcraft," she says. "But also, one of the first books I was introduced to was Alice in Wonderland. So, I think because Alice Nutter was the last woman to be hanged for witchcraft, and because Alice was a young woman that had gone into another world, the name was already in my subconscious."
She continues, "When I met the people from Chumbawamba, I think I saw it as a creative escape. I could never have been in a normal band. It wasn't so much about music as it was everything together. I had grown up around quite rough lads that I needed to get away from really quick. I knew a lot of heroin addicts. Punk got me off one track and put me on to another."
Dunstan Bruce came from a similar background. "Billingham is a new town that was created largely to house people that work at a chemical works called ICI, so it was a cultural wasteland," he says. "It's a northern industrial town that had all their airs and graces associated with it as being a 'new town,' as if it was going to be the future of how to live your life. It was one of those classic places where there wasn't very much to do. So, you had to go out and find your own culture. Punk sort of blew the lid off everything and gave me access to a different world that I craved."
"Common Ground" (1982-1985)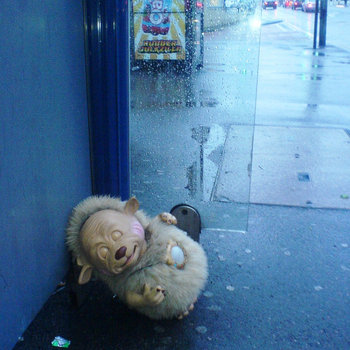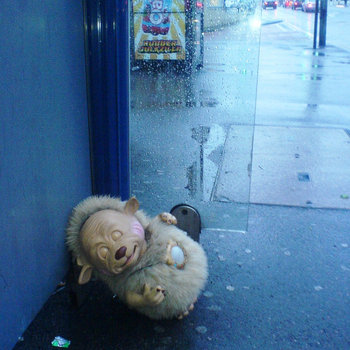 Somewhat mirroring Crass's iconic Dial House, The Chumbas moved into a squat in Leeds after returning from a short bus tour of Europe. The house in Armley became the center for everything Chumbawamba. The band lived there, practiced there, and organized pretty much everything about the band there. Around that time, Harry Hammer and Mav Dillon joined the band's ever-expanding ranks. "More or less, anyone that lived in the house joined in the band," Whalley says. "When people moved in, we said, 'You can sing a bit, can't ya?' And they'd go, 'No,' and we said, 'Have a go' and then they'd be in the band."
"We didn't call ourselves a commune, but I think we were," says Nutter. "We decided that we wouldn't have individual money. We'd share cooking. We'd share responsibilities. For the first few years, we spent all our free time going to things like demos, and our whole lives were devoted to going out on a limb."
Of course, a group of punks squatting in a house was a ripe target for the police, and they were targeted and raided for drugs. There were no drugs. Then, a few months later, the house was raided for drugs again. There were still no drugs. A little later, the house was raided once again, this time for bomb-making equipment. There was, wait for it—no bomb-making equipment.
Early Chumbawamba gigs were similar to the anarcho-punk shows of the time. Lyrics were screamed about animal rights, gender equality, and the horrors of capitalism. Guitars were played really fast. Yet, even at this early period, the band would slip in some tracks that weren't characteristically "punk," including some slower, Joy Division/Bauhaus type numbers and even a few folk interludes, as heard on "30 Years of the Same Old Shit."
During the early days, the band also made it a point to participate in demonstrations and even direct action. "We went to this demonstration in Glasgow, Scotland," Nobacon says. "We had a van, there was another van that came from Manchester, and a van or two from somewhere else. The demonstration was outside this laboratory where they were actually experimenting on animals."
"We get out of the van and the Scottish people are like, 'Roight! We're going in!' There's like one security guard sleeping there and they rush past him, and within minutes there's people coming out with all these beagle dogs and piles of books! The whole thing took less than 10 minutes. Suddenly we are getting back in our van and going back down the motorway and people have mice and piles of books. But I had never even gotten inside—I was just standing next to Midge talking."
"About an hour later, we stop off to make a phone call. We've just parked up and all these police vans surround us and we all get arrested and taken back to Glasgow and put in a cell overnight. The following morning, they put us on an identity parade. We're all scruffy punky looking and we're all on the identity parade with these clean-cut-looking college students, and I got picked out! We kind of realized at some point that we are not really good at being the activists and we were better at supporting the activists by playing benefits and bringing attention to causes."
"How to Get Your Band on TV" (1985-1987)
With that mindset, Chumbawamba shifted their approach during the pivotal UK Miners Strike of 1984-1985. For decades, trade unions and coal miners had opposed the conservative UK government. In 1985, the government-controlled National Coal Board decided to close 20 collieries, which would end over 20,000 jobs. For about a year, the trade unions and coal workers fought against Thatcher's government policies, including the issue of whether the strike itself was legal. Nutter explains, "The Miners Strike had an enormous effect on us. We threw ourselves into that matter. Before that, we had this thing that working was wrong and you could build your own life through creativity…and then, we were like, 'fuck this!' It was a war between miners and the state."
Around that time, the band's sense of humor became more prevalent in the music. While Conflict and Antisect and Discharge and Icons of Filth were stoically serious and dour all the time, Chumbawamba realized they could have a serious message and still have fun on stage.
Whalley explains, "We were playing a squat gig in Sheffield and we were having a laugh, taking the piss out of each other. And then, we had a set in five minutes and we went VOOM—serious face. We did the gig and came off and went back to doing practical jokes. Soon after, we were having a meeting and I thought, 'This is ridiculous. Why can't we have fun like we do offstage?'"
The pivot arrived at the right time. Just before the band was ready to record their first album, the massive, multi-national Live Aid was announced. Organized by Bob Geldof, Live Aid was a single concert split between venues in two cities (Wembley in London; JFK in Philadelphia) that was supposed to raise awareness and financial support for the fight against famine in Ethiopia. Dozens of rockstars played the event, including Paul McCartney, Queen, U2, The Who, Led Zeppelin (reunited with Phil Collins on drums), and pretty much everyone else. With Live Aid, which had cost millions of dollars to stage, now being "the charitable event" of the moment, Chumbawamba sacked the lyrics for their proposed debut and reworked the songs into what would become the scathingly titled Pictures of Starving Children Sell Records.
"For us, to mix star culture with the inequality of the world and not have any politics about what was happening in the developing world was wrong," Nutter explains. "Our view of it was that you cannot have this concern about world hunger and then have Phil Collins fly halfway across the world and not understand the politics of world hunger."
"Always Tell the Voter What the Voter Wants to Hear" (1986-1988)
For the group's second album, Chumbawamba took an even more severe approach. Never Mind the Ballots viciously attacked the contemporary democratic process.
Centerpiece track "The Candidates Find Common Ground" argued that the entire democratic process was a rigged game designed to fool the working class into thinking it had a voice: "A toast to democracy/ The prison guard of this society/ Sides in the voting game/ Disappear into the same machine."
"I think all the albums are interesting, but they are not all great," Nutter says. "I don't hate it, but looking back, I'm not particularly arsed about the politics of Ballots—not because I think parliamentary democracy is the great white hope, because it's not. But, I still knocked on doors for Corbyn because it was necessary. When the door opens, you have to push it. I think that's my problem with Ballots. I understand why we did that, but I think life is not that black and white."
Following the release of Ballots, the band underwent arguably the first of many significant sonic shifts. At the foundation of the shift was the "band meeting," a method by which the group decided on their next steps. Unlike other bands, who might decide things through a vote, or through a single-member dictatorship, or even through sheer screaming, Chumbawamba acted as a collective, with each significant move being made by consensus.
"It's always assumed that collectivist decision making is a brilliant thing and everything went swimmingly and was a really easy process…And it wasn't at all," Bruce adds. "That's because you've got eight people and you have to make compromises all the time! We would spend more time in meetings than we would rehearsing! There were meetings! Endless, endless meetings because we had to all agree on everything! But, what that meant is that because it wasn't majority rule, we very rarely voted. If you opposed something, it was kind of your responsibility to provide a positive alternative."
"English Rebel Songs" (1988-1990)
Merch for this release:
USB Flash Drive
Through the band meetings, Chumbawamba decided that their third album should be a cappella, and that it should contain only covers of protest songs from English history. The oldest song would be about 600 years old, and the two "newest" dated from 1918 and 1984.
"Lou and I had started going to folk concerts," Whalley says. "We realized that we didn't want to fall into the trap that political music meant four blokes with guitars, jumping about the stage shouting about 'The System.' It was a kind of antidote to the anarcho-punk stuff. It might sound really gentle, but it's as hard-hitting as Crass and Conflict."
For English Rebel Songs 1381 – 1984, the group researched the somewhat forgotten history of revolutionary English music and presented it to both the anarcho-punkers and the folkies. "The Cutty Wren," dating back as early as 1381, was about royalty oppressing the peasants and demanding poll taxes, which resulted in a revolts across England. The relatively "modern" "Hanging on the Old Barb Wire" dated to 1918 and featured the biting—and sadly still relevant—lyrics, "If you want to find the general, I know where he is/ He's pinning another medal on his chest […] If you want to find the private, I know where he is/ He's hanging on the old barb wire."
"Happiness is Just a Chant Away" (1990-1993)
So, what does Chumbawamba do after releasing a full-on a cappella album using songs from the Renaissance? They look to the future and merge dance music with rock, a rare crossover for the time. Both 1990's Slap! And 1992's Shhh relied on dance beats and samples, bolting the band's anarcho mindset to the top of the beat.
"Everybody was going to raves," Bruce explains. "I think what happened, what I found with that movement, it was the first time since punk I felt like I was part of this huge movement and maybe we could actually do something about the state of the world. Looking back, I realize that it was only because I was high on ecstasy. That drug is such a powerful, empathetic, communal drug, I just really felt empowered by being in these communal situations with a lot of people and felt we could really change the world if we all just took this feeling and turned it into something creative and powerful."
The group reflected this positive mindset lyrically, as well. While Pictures of Starving Children and Ballots railed against the evils of the world, Slap! saluted underdog victories. "You can't go on and on banging your head against a wall, 'The state is bad! Corporations are bad!' That's true, but you have to have more than that," Nobacon says. "We wanted to highlight working-class people who had done something positive despite the odds."
Yet, while the move toward a dance-influenced sound was a hit in the UK and Europe, the U.S. punk side of things didn't take kindly to the funkier beats. "When we played the west coast of USA, a lot of people liked it, but some people would scream out, 'Fucking disco! Fucking DJs!'" Whalley recalls. "They would compare us to Michael Jackson. Whereas in England, it was very anti-establishment and was equated with being outside of the law. So, it was quite funny for it to be referred to as 'Bee Gees music.'"
Little did anyone know that just around the corner was Chumbawamba's biggest selling release to that point, and arguably, their masterpiece: the aptly named Anarchy.
"Give the Anarchist a Cigarette" (1993-1995)
1994's Anarchy was both a culmination of the band's entire history to date as well as a bold step forward. The cover alone got the record banned in numerous shops…even though it was just a picture of a baby being born.
Whalley comments, "We thought, 'Wouldn't it be great to have a picture of someone being born, because it asks questions about obscenity and reality?' We found a children's book called How Babies are Born or something, and it still got banned! When we pointed out it came from a book for seven- or eight-year-olds, they said it was obscene and we had to keep it under the counter. For a while we told people it was a photograph of Danbert being born and they were like, 'Oh yeah, I can tell!'"
Musically, the album blended rock and electronic beats, with harmonic vocals layered on top, resulting in a unique ethereal sound. "That is a point where everything came together really perfectly," Bruce says of the Anarchy era. "The songs had the right mix of danceability as well as a strong political message. It was still quite DIY and we were touring endlessly—it was a really good time. I just felt that we were sort of on top of our game." One of the album's more iconic tracks was "Homophobia," which comments on violence against the LGBTQIA community, which in the early and mid-'90s was, depressingly, a rare topic in music.
"In northern England, this young kid was walking home and these guys set upon him and kicked him to death," Nobacon says of the inspiration for the song. "That song got a lot of reaction. We'd get people writing letters, some young kid from some town saying, 'I didn't know there were people like me.' They had never heard a song expressing the hatred they felt."
While "Homophobia" was written in a sort of old-world oompah march, the album also included the forward-looking "Enough is Enough," which bolted together rock, dance, and hip-hop, with contributions from UK rappers Credit to the Nation.
"We didn't want to just tour with white bands anymore," Nutter says. "We didn't want to just be in white anarcho culture. Plus, Matty from Credit was really good."
"Not the Girl I Used to Be" (1995-1996)
For 1995's Swingin' with Raymond, the band split the record into two conceptual sides. Side A, titled "Love It," featured quieter, self-reflective songs, including the masterpiece "This Girl." Side B, titled "Hate It," finds the band in a more energetic, anarcho-style charge.
"Every time we put out a record, we would sort of sell twice as many as the previous one," Nobacon says. "Swingin' with Raymond was the second for OLI Records, and it was the first time one of our records sold less than the one before it. We did the tours and everything and we were proud of it, but it kind of threw us into a downspin. 'Are we missing the mark?' It was a little doldrum…" Not only did Raymond lack the slam-punch of Anarchy, but the band was dropped from OLI—or, rather, they left before getting the boot.
"People had written us off after Swingin'," Nutter says. "The audience was going down a little, and I think there was some squabbling going on. So, we had a sit-down. We said, 'We will not accept that! We will not go the way of all bands. We either fight for it, or we fuck off and leave!' And we fought for it. When we did the next album, we were such a tight unit, we were like a group of boxers."
And so, yes, the band did regroup and went on to massive, international success with Tubthumper (on a major label!) and yes, they did sell over three million albums in the U.S. alone, and yes, that album did have the I-get-knocked-down song that everyone and their grandma loves. But, well, you already know most of that story.
"I'm incredibly, incredibly proud of everything that we did," Bruce says. "A lot of people think Chumbawamba is a one-hit-wonder, but we existed 15 years before that song, and after that song, we tried to do something positive in the belly of the beast. Everyone in Chumbawamba would probably say the biggest success is that we are still all friends. We never had a desire to go back and do Chumbawamba. That was of its time, but we've remained friends throughout."
"I think that zeal of youth is brilliant," Nutter adds. "I'm not saying that I'm not political now, but at that point, everything we did was based on, 'How do you change the world?' Luckily, we had a sense of humor or we would be absolutely fucking doomed."
"We thought certain things would be commercial suicide, and that was the beauty of Chumbawamba," says Whalley. "We could do an album of old rebel songs from like 1381, or rave music, or anything else and everyone was like, 'Yeah, let's do it. I've always been interested in modern art that challenged the status quo, and we really tried to do that."
"I am very proud of what we did the whole way through," Nobacon says. "We tried to push the envelope—we weren't always successful, but we always tried. And that's probably a defining characteristic of Chumbawamba. Whatever era or genre we tried, it always had a working-class basis, which is a whole other story when we signed with the major labels and the mainstream. It didn't destroy us. You could accuse us of selling out, but we weren't bought up. And I think that's a testament to the way we had each other's backs. The mainstream usually swallows people up and spits them out. I mean, it did spit us out. But we took that as a compliment, really."