FEATURES
Chris Zabriskie's Underwater Adventure Game Soundtrack
By Justin Spicer · January 23, 2017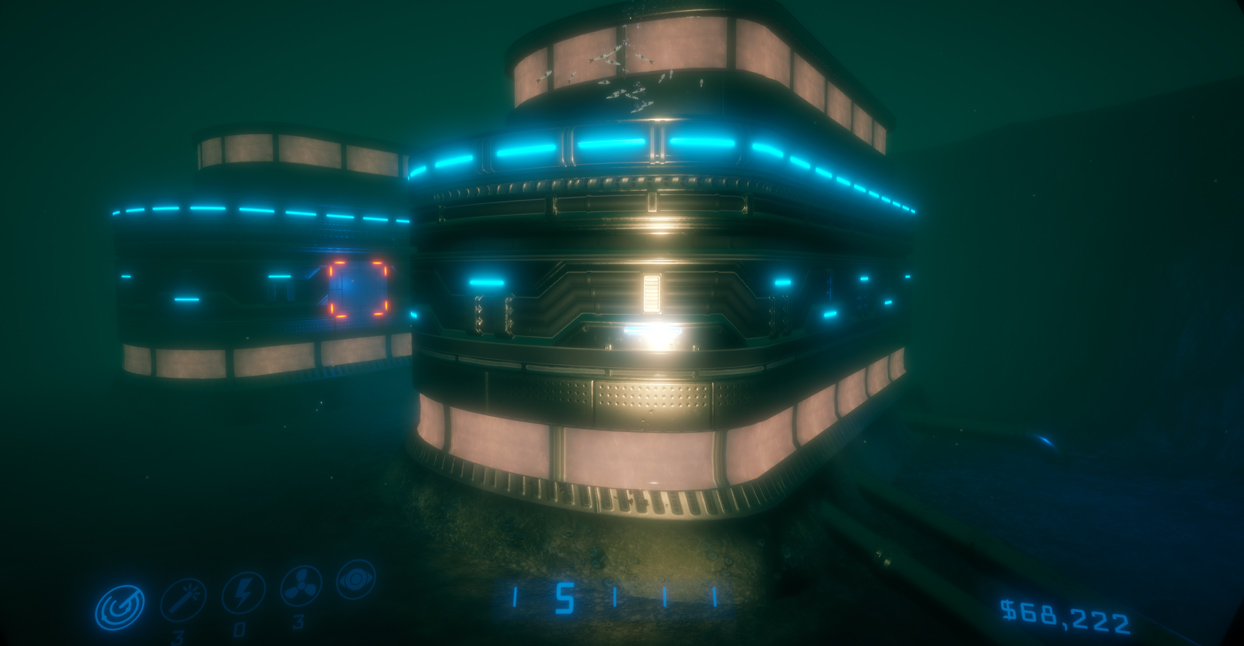 In 1998, the internet was still relatively young, but Chris Zabriskie was already taking advantage of the opportunities it created. Between starting a web-based label, creating music for digital distribution, and immersing himself in the burgeoning world of independently-created video games, Zabriskie was an early adopter of practices that have now become industry standard. He continues to explore these interests, even as technology continues to change the ways we interact with media. His minimalist compositions—breezy, uplifting drones—feel organic, tethered to a real world that may resemble our own. It's no wonder that he would eventually end up scoring a video game.
Zabriskie's soundtrack to the independently-released video game Neptune Flux arrived ahead of the game's debut. Much like his previous releases, the soundtrack to Neptune Flux is the product of one man's desire to create an authentic world that is both rich and lively. Zabriskie's music is perfectly suited to the underwater adventure game, with a sound that mimics the rhythms of the deepest, darkest oceans.
Just like his previous albums, the Neptune Flux soundtrack is offered as a pay-what-you-want release. We chatted with Zabriskie about embracing creative gains over financial profits, and how scoring an adventure game was different from his previous efforts scoring films.
.
00:10 / 00:58
How did you begin working with the designers of Neptune Flux?
Neptune Flux is pretty much a one man production. Nick Pettit designed and coded the whole thing. We've worked together at our day job for almost five years now. He asked if I'd do the music, I said 'sure,' and that was that.
Were you working from storyboards and information from the designers? Were you getting screenshots of the game, or were you just given a broad picture of its atmosphere and story?
[I] went and had drinks with Nick one evening, he gave me the script, and showed me some basic concept art. We talked about the different musical vibes, he gave me some references and that was basically it. I didn't actually play the game in full until the soundtrack was almost done. I'd just send him a batch of new pieces every few weeks and ask, 'Will these work?' and he never told me no.
.
00:10 / 00:58
Did scoring a video game change how you approach composing and/or writing?
Oh, of course. I've done film score work in the past, but honestly I've found I just don't enjoy it. I'm very rock-ist about this whole thing. I like to speak through albums. Soundtracks just aren't usually very fulfilling for me. So, despite my songs being used for soundtracks every day, this would be the first thing that actually was a dedicated soundtrack—and the idea terrified me for over a year. I also hate soundtrack albums, generally speaking. I like hearing soundtrack music in context, with images, sound effects, dialog, or whatever. Now I'm making music that isn't meant to be heard out of context, that I know will still end up being heard out of context.
That bothered me until I actually started putting the soundtrack together and realized this didn't have to be a complete soundtrack release. There was too much music to fit on one record anyway, and paring it down to 10 or so cues that worked well together as a record was more interesting than trying to fit in everything. The darker, more orchestral pieces—story stuff—could stay in context, and we could release a soundtrack that actually was more like [Brian Eno's] Apollo. I went from terrified to super happy with it in about 15 minutes.
Cylinders [a 2014 release] was similar. I didn't set out to make a record, but gathered a bunch of soundtrack doodles and other pieces I'd done over a year-and-a-half and assembled it into an album. That is Flux's closest analog in terms of process. The only real difference was all of this music was meant for one destination in the first place.
So, did scoring a video game change my process? Yes and no. My normal process is: sit down, create a sound that interests me, push record, and play a bit and see if something cool happens. Definitely still worked that way for basically all of the pieces for the soundtrack, they're nearly all first takes. But for any orchestral pieces, that's stuff I do in a totally different software, and it's a whole different set up for me, and I have to work and think totally differently, so there's a very audible difference for me between cues from the two programs.
.
00:10 / 00:58
Were you adamant that the Neptune Flux soundtrack was pay-what-you-want when agreeing to work on the score?
Nick knew all about my music and how I release it, and we honestly didn't even discuss it until right before the soundtrack came out. This isn't a $200 million game with a Super Bowl spot, this is a very low budget, independent thing, so any soundtrack release was definitely meant to promote the existence of the game and not just stand alone. So making the soundtrack as accessible as possible was in the game's best interests in the first place.
Sharing the music freely is the only reason anyone has ever heard me. It's the only thing that works. People find you. They discover you. They are not 'sold' you or 'marketed' you. You are never a product. Think about an artist you love that you stumbled onto, and how different that feels from something you were being advertised. At some point, it's not even about the quality of the music, relative or otherwise. It's about how people feel when they hear it, and the when and how they hear it for the first time. So yeah, lots more people are listening, but I'm learning that devotion is a real thing and I think at least some of it has to do with how people find you in the first place.
—Justin Spicer