FEATURES
Digging Up Rap History: The Story of Chopped Herring Records
By Jay Balfour · November 23, 2016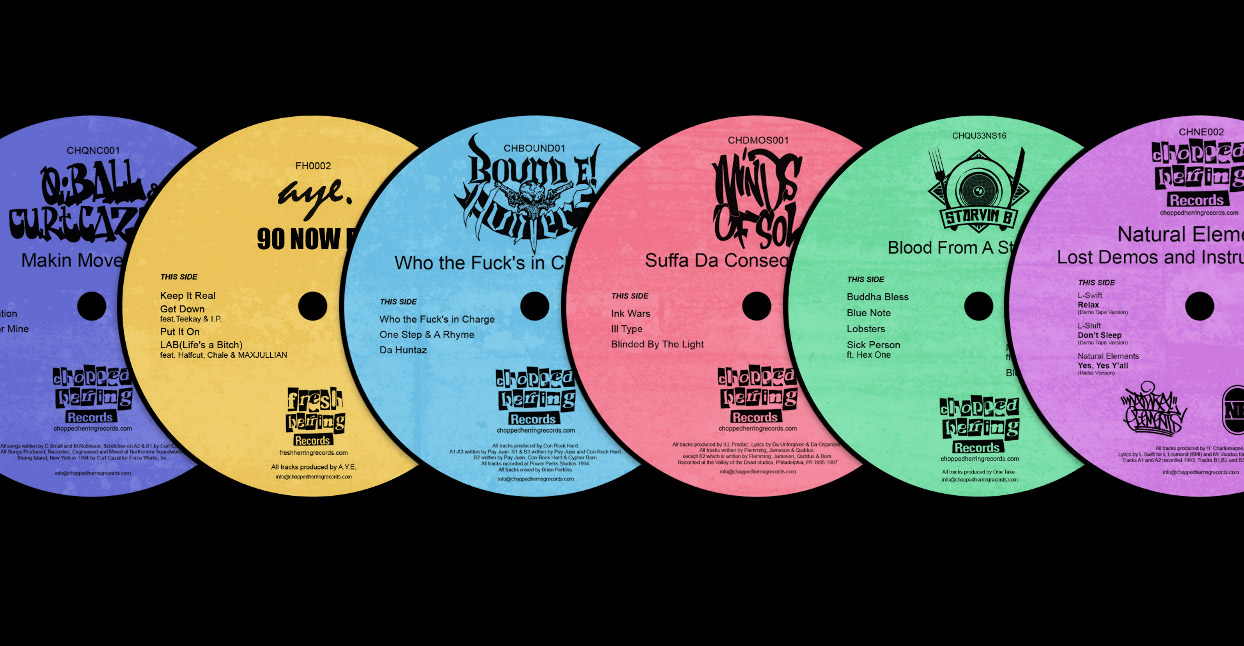 The U.K.-based Chopped Herring Records is one of the world's most prominent archival indie hip-hop labels. Its founder, a Manchester DJ named Bob Lipitch, launched the imprint more than 15 years ago as a pet project. Now, he's focused on excavating unearthed material from the 1980s and '90s in what appears to be an unplanned second act. All these years later, Chopped Herring is still a one-man crate-digging operation. Lipitch has constructed a large catalog of historic rap material that was previously unavailable to the public.
Lipitch grew up in North London and moved to Manchester to attend college in 1991, specially seeking out the hip-hop and dance music scenes. By the middle of the decade, he was DJing three or four nights a week, and soon started booking gigs around Northern England, Ireland, and Scotland. Lipitch—who went by the stage name Chubby Grooves—also worked at the Fat City Records store in Manchester. His expansive purchase lists for the store were loaded with obscure hip-hop, soul, reggae, and jazz.
Lipitch looks back on his career with a sense of disbelief. "For some reason, I got away with playing exactly what I wanted," he recalls. "It's the dream situation for someone in music, to be able to spin exactly what they want without anyone saying anything at all. Working in the record shop was quite helpful. I was ordering the hip-hop as well, gravitating towards the lesser known things."
Chopped Herring's first release, in 2001, played to both Lipitch's affinity for rare records and his tongue-in-cheek quirkiness. "I wanted to push the comedy, the satire," he says. "So the very first thing I did was that 'Daydream' thing, where I found like 70 or 80 copies of this old break, the Günter Kallmann 'Daydream' track that was on the Polydor easy listening compilation. I got 80 of them together and a friend of mine cut the record down so it became a 7-inch. [As for] the fonts, we cut them out at my girlfriend at-the-time's [apartment] and stuck them on, and that's what created the Herring logo."
The first handful of Herring releases were an outlet for a late '90s Manchester rap group called The Idiots, which Lipitch unofficially nurtured and managed later. The Idiots fizzled out as a group, but in 2001, Lipitch released a 12" single from the group's producer, Jay Glaze, featuring rapper Matt "Burgundy Blood." Lipitch—ditching the name Chubby Grooves for the moniker Pro Celebrity Golf—also helped Glaze stitch together the B-side, a cut-and-paste track that signaled some of the label's future releases. That first single, "Out To Lunch," legitimized Chopped Herring as a real-deal label. Lipitch soon expanded the imprint and released a few more singles, leading up to Lipitch and Jay Glaze's highly anticipated collaborative project, Three Sinister Syllables.
By 2009, as Chopped Herring's stock began to rise, Lipitch released a pair of unissued records from Brooklyn's Da Dysfunkshunal Familee, an underground crew from Bushwick who released two recordings in the '90s—a now-coveted 12"-single and an EP—but had leftover material to release. It was the first archival material Lipitch released on Chopped Herring. Between 2009 and 2011, Chopped Herring released 10 records. In 2013, the label released more than 40, upping the ante with higher-profile records from the likes of Masta Ace and Long Island rap crew J.V.C.F.O.R.C.E.
Lipitch has maintained a limited release strategy, usually pressing around 300 copies of each release. For a few years, the label released between three and five records a month, a schedule Lipitch admits he couldn't sustain. "It hadn't really occurred to me yet how deep the potential vaults were," he says. "I noticed that suddenly I was pressing loads of records. I was doing more releases. It just happened." The more Lipitch established Chopped Herring as a trustworthy destination for archival releases, the more material became available to him. "I just rode the wave," he says. "I don't know how I'm still doing it to be honest."
Chopped Herring releases sell out often, sometimes in minutes. Label followers tend to buy records sight unseen on the day of release. He plots release dates months in advance, but will only reveal what the record is when it's ready for purchase. Other times, he'll announce the album when it's minutes away from being sold out, creating brief moments of online hysteria. In June, for instance, he posted to Facebook: "MASSIVE NEW HERRING DROPPIN IN 10 MINS!!!!" It was an album recorded some 30 years ago in Philadelphia by a group called Tuff Crew. (Copies of the group's debut album rarely surface online and might easily fetch $100 in auction.) In September, the label released demos of The Notorious B.I.G. rapping on previously unheard original material. It sold out in less than five minutes.
By and large, Lipitch releases music that the industry has largely forgotten about: demos that slipped through the cracks, albums that were never finished or got shelved, batches of leftover B-sides. Accordingly, many of the artists Lipitch has worked with are industry weary or ambivalent about decades-old leftovers. "I think running a business is a performance," Lipitch says. "The great thing about DJing was always playing that next thing that no one necessarily expected, but that they absolutely loved. It's the same with the label. It's about dropping things. It's about making people happy. It's the excitement."
Chopped Herring has released more than 100 records, yet several stick out as particular archival triumphs. In 2013, the label released a collection of early demos by rapper Keith Murray, a two-part batch of unreleased Masta Ace songs recorded in 1990 and 1992, and a shelved Masta Ace sophomore album, released under the Herring banner as Shelf Life Volume 1 and 2. A few years earlier, Lipitch worked with producer Prince Paul to share previously unreleased music recorded in 1995 by a group of Long Island MCs named Horror City Productions.
Lipitch has also been early on some contemporary underground artists, too. Years before the rapper's TV deal and major label signing, Chopped Herring pressed up two of Action Bronson's early albums in extravagant bundle fashion, the first a full-color gatefold LP that remains a high-mark for the label. "I remember the Dr. Lecter record, another proud moment," Lipitch says. "Boxes everywhere, all over the sofas. They were everywhere. I was like, 'Wow, shit. This is starting to take over.'" Other contemporary releases include rappers Your Old Droog and Meyhem Lauren (for his label, Lipitch prefers younger lyricists with a gritty East Coast street sound).
Still, despite the label's many victories, Lipitch says Chopped Herring is still relatively small. The label leader is still a crate digger at heart, so he's always on the hunt for hidden gems. "What we considered to be the story of hip-hop is just the surface of the iceberg," Lipitch concludes. "I've always had this kind of view of the industry, that it's controlled by a minority of people who decide what is gonna be successful and what's not. These obscure artists that no one's heard of are actually more authentic, more pure in many ways."
—Jay Balfour