FEATURES
The Artful Dissonance of Chino Amobi
By Chris Kelly · May 08, 2017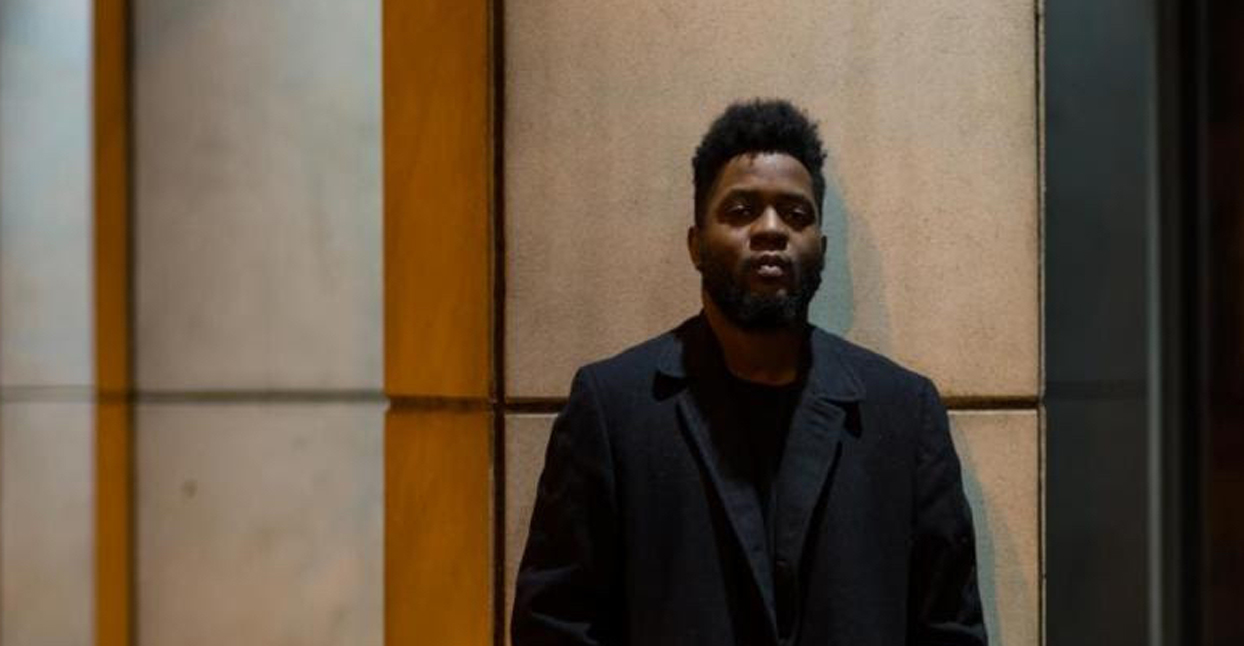 Chino Amobi used to "mess around with music." When he was in elementary school, the Richmond-based producer and his brother would record songs off the radio, creating "radio shows" with a mix of their own DJ patter and tracks that Amobi wrote on a Casio keyboard. Then, when Amobi was in high school, the brothers started making their own hip-hop: his brother would rap and Chino would make beats on early DAW software. Soon, he figured out how to supplement factory-provided sounds and samples with WAV files from other outlets, like tactical shooter video game Tom Clancy's Rainbow Six.
Those experiences still influence his work today. "It's funny how I was doing stuff then that I still do now," Amobi says. "It's very poetic how they come back into your work."
Amobi's various modes of creation are all at play on Paradiso, a sonic collage of club-borne beats, spoken-word poetry, and the all-too familiar sounds of our current world: gunshots, glass breaking, the whir of black helicopters. His most ambitious work yet, Paradiso continues his adventures in world-building, and like the artist himself, it's full of complexities.
As we spoke, Amobi proposed a variety of prisms through which the work can be viewed, but the more we talked, the more the album began to resemble a room-sized art installation that must be experienced several times to appreciate, and can never truly be seen all at once.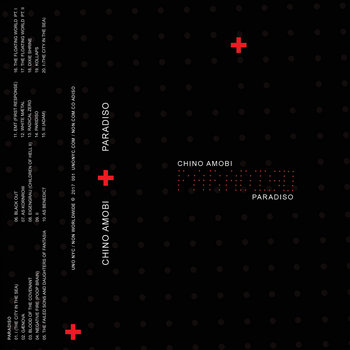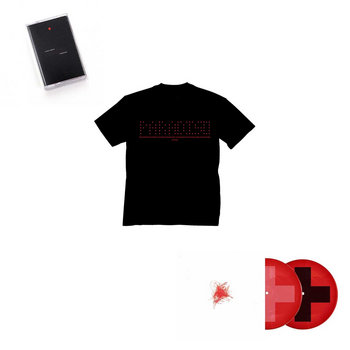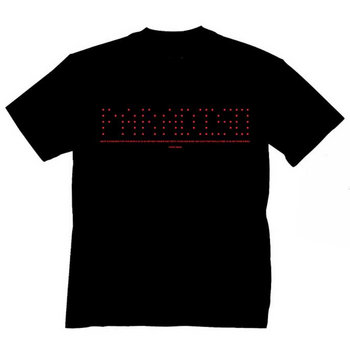 .
00:10 / 00:58
Merch for this release:
USB Flash Drive, Cassette, Vinyl LP, T-Shirt/Apparel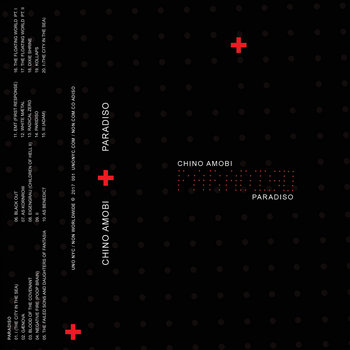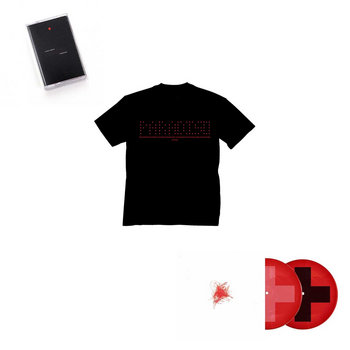 Amobi was born in Tuscaloosa, Alabama to parents who emigrated from Nigeria and moved to Virginia when he was a child. His travels with his parents to Nigeria first exposed him to different cultures. "It really opened my mind to the possibilities of what you can do through engaging and immersing yourself in other artists' worlds," Amobi explains. "Artists are cultural creators, and when you're interacting and forming relationships, you're entering their worlds."
Growing up in Virginia as the son of African immigrants came with its own challenges. Virginia is steeped in a legacy of colonialism, slavery, and racism; he now lives in Richmond—formerly the capital of the Confederacy. Monuments to Confederate leaders like Jefferson Davis and Robert E. Lee are just a few blocks from his house. Therefore, the spirit of rebellion plays a role in his work.
Paradiso is Amobi's world; he calls it a "megascape" and likens it to a city—a place where different voices "explode and smash" into one another, where tension, vulnerability, and loss of control are part of the experience. Amobi says Paradiso is also a "vessel" that the listener enters. You have to visualize it from a cubist's perspective, in multiple dimensions, where various moments bleed into one another and "you can't tell where each ends and begins." Amobi experiences sound as "total immersion." Rather than listening to a song, imagine being inside it.
From that multidimensional framework, Amobi sees Paradiso as the investigation of several ideas. His love of science fiction and fantasy—everything from video games to the work of conceptual entrepreneur Martine Syms—also left their mark on this album. "[Sci-fi] is a way of presenting alternate ways of moving in the here and now that also point simultaneously to the past and future," he explains. He compares the Paradiso experience to playing a role-playing game like Final Fantasy where you move through different worlds, interact with characters, and go on side quests.
The idea of sounds and bodies traveling around the world—whether as part of the African diaspora or as musicians sharing their work with listeners on the internet—is echoed in how Amobi created the album. Amobi worked with a long list of collaborators on this release—Rabit, Dutch E Germ, Aurel Haize Obogbo, Haleek Maul, Embaci, Full Carnage, Jesse Hlebo, Benja SL, Rena Anakwe, Therochelle Moore, FAKA, Lee Jones, Johnny Utterback, Moro, and Elysia Crampton—who are mostly credited en masse, rather than for their individual contributions. He worked with some of these people face to face; others contributed already-recorded material.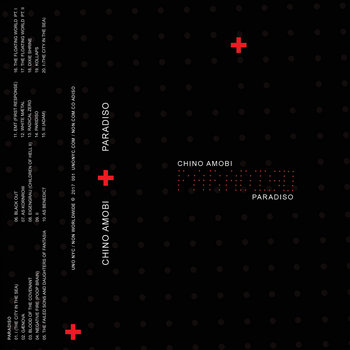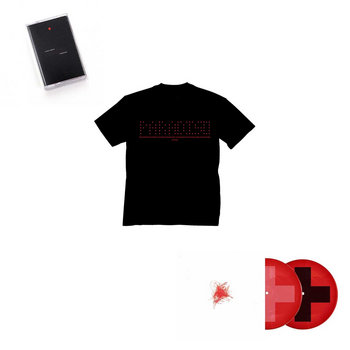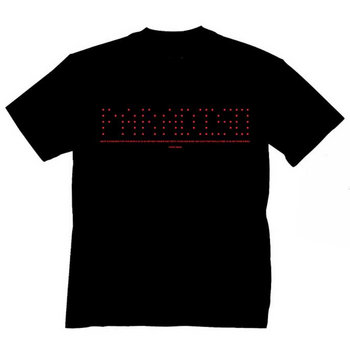 .
00:10 / 00:58
Merch for this release:
USB Flash Drive, Cassette, Vinyl LP, T-Shirt/Apparel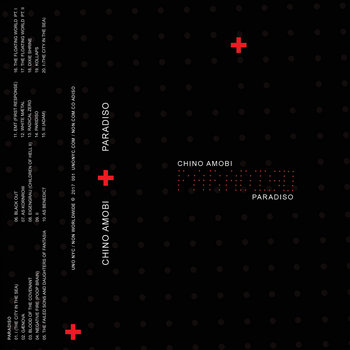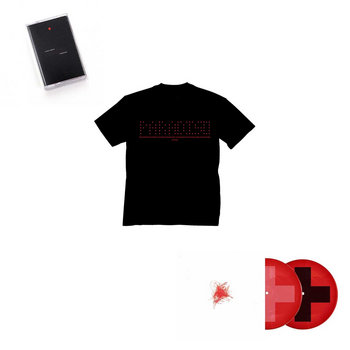 On Paradiso, Amobi suggests he acted more as a curator, director, or perhaps a journalist, chronicling the collaborators who "left their mark" on the vessel he created. Tracks were passed back and forth. Ideas were shared over the phone and online. Each collaborator also brought with them their own musical heritage, adding sounds from across the world, especially diasporic ones, to the collage. "Some of these sounds are alien to me, but at the same time, the music points to the original sources," Amobi says. "You have to get into the album, look at the credits, and investigate further, like you would look at a map."
Yet with so many chefs on this album, the resulting stew is often chaotic and dissonant. "Even when there's a moment of scalable beauty, it's countered by something that's traditionally considered ugly and unmarketable," Amobi notes. "I love the tension between making somebody comfortable and also destabilizing them, as well." That idea is central not just to the album but his entire artistic practice. These are tracks born of club music, but aren't built for the traditional club experience: a hypnotic beat will emerge, only to smash cut into an anarchic moment that destroys the groove.
That's by design. "It's a way of staying free," he explains. "When somebody is able to easily define it, put it in a pretty package and market and commodify it, it cheapens [the work]."
This is revolutionary music for the moment. Nationalism is on the rise, in America and beyond, and tensions that have existed for centuries seem to have reached a boiling point. So Paradiso isn't some sci-fi fantasy; it's reporting from the ground, and Amobi's form of therapy.
"Music's ability to bring people together is something that is very magical to me," he explains. "It gives voice to people that don't feel that they don't have a voice." While the negativity and fear of the current political climate is present on Paradiso, it also celebrates the voices—trans, African, Latinx—that have been "oppressed, repressed and shuffled under the rug for so long," Amobi says. "Even as fascism is on the rise around the world, the cultural energy [of those voices] is very uplifting to me."
Amobi isn't pollyannaish when he talks about music's ability to change the world, but he recognizes it can connect people that might not otherwise be connected. "When we're more aware of each other and our collective struggles, the unity forged through that is beneficial for us as people moving forward into the world that we want to see," Amobi says. As an artist, he sees his role as doing whatever he can to make these connections, pointing to a quote from a 1994 interview with Tupac Shakur: "I'm not saying I'm gonna change the world, but I guarantee that I will spark the brain that will change the world." He's giving the world a tinderbox.
—Chris Kelly