FEATURES
Chicago Underground Duo: Studio wizards
By Hank Shteamer · March 25, 2014
"…tension is what makes the music interesting."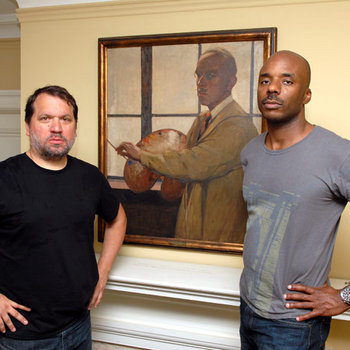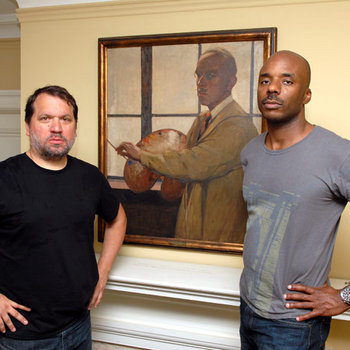 Merch for this release:
Vinyl LP, Compact Disc (CD)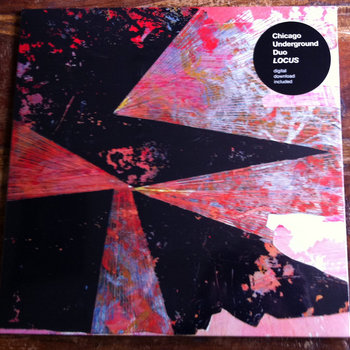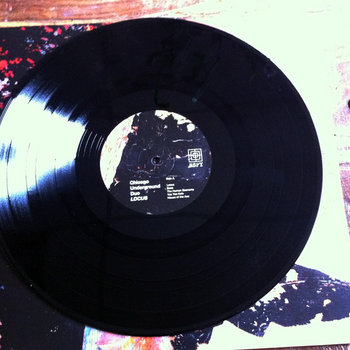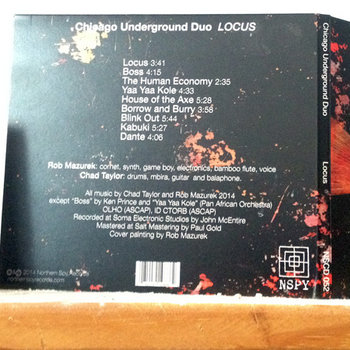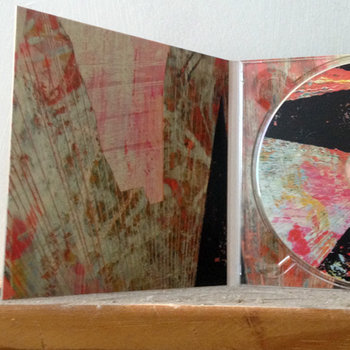 Real musical evolution is rare. But some bands—think of Radiohead on the startlingly un-rock Kid A—manage to pull it off. They outgrow the straightforward presentation they favored in the beginning and, in a way, become their own remixers. Enter Chicago Underground Duo: originally a stripped-down, jazz-oriented two-piece but now a borderless sound factory that treats each record as a chance to reinvent not only their sound but also their process.
"For us, the studio is a big laboratory," says drummer Chad Taylor, who has collaborated with cornetist Rob Mazurek in various Chicago Underground projects since the late '90s. "We call it a duo, but it's always been a trio, with whatever producer we're working with. Postproduction is a big part of our sound; recording is only about half of it." The title track and album opener of the group's new Northern Spy LP, Locus—which features Tortoise's John McEntire behind the boards—illustrates this method. Synths blast like laser beams over a strutting drum groove that sounds like it was mined off a vintage funk LP. But as Taylor points out, no looping was involved; he and Mazurek, playing keys, tracked the piece in real time, then manipulated the tones afterward. The same studio magic helped the duo simulate a larger ensemble on their danceable version of "Yaa Yaa Kole," a traditional Ghanaian theme. Here, Mazurek employs a pitch-shifter to make his cornet sound like a two-piece horn section, while Taylor layers rhythms to suggest a trio of percussionists. "It's hard [for a listener] to know what the process is," Taylor says. "And I think that's something that Rob and I like to manipulate."
Merch for this release:
Vinyl LP, Compact Disc (CD)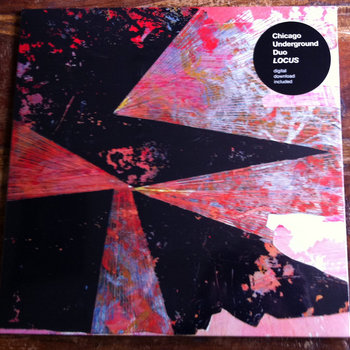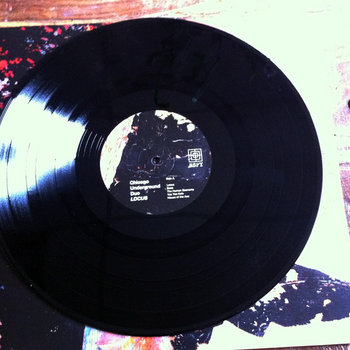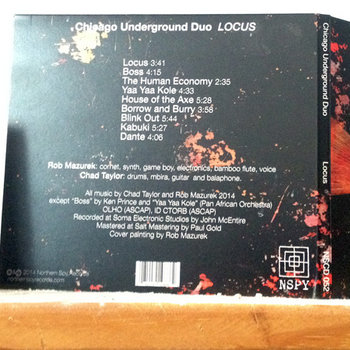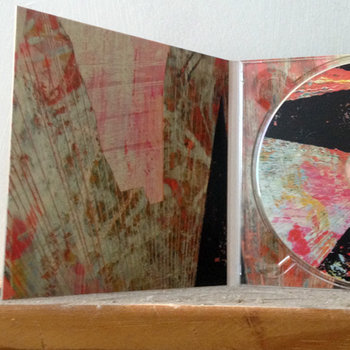 At the same time, there's no mistaking the instrumental prowess of these two players, each a formidable improviser steeped in jazz. (Taylor's résumé includes work with the late Chicago saxophonist Fred Anderson and NYC guitar hero Marc Ribot; Mazurek oversees the avant-jazz big band Exploding Star Orchestra and a slew of other projects.) Even through a wall of effects, you can hear Taylor and Mazurek generating serious heat on "Boss" and "Dante," pieces that suggest the classic trumpet-and-drum encounters of Don Cherry and Ed Blackwell, filtered through the heady, slice-and-dice-and-reassemble sensibility of late-'60s/early-'70s Miles Davis (with some punk grit stirred in for good measure).
The Duo is currently split between two cities—Mazurek in Chicago, Taylor in New York—but on tracks like these, you can hear the influence of the environment that birthed the project: mid-to-late-'90s Chicago, where free-jazz specialists, avant-rockers, pop sophisticates and the tough-to-classify likes of Tortoise mingled freely. "In New York, you have to specialize in something in order to be successful," says Taylor of his current home. "In Chicago, it's the exact opposite. You had these groups of musicians who played completely different genres of music hanging out and collaborating. It's just a different aesthetic, and I've always had trouble with that transition."
Fortunately the Taylor/Mazurek collaboration is a safe space, unfazed by regional bias. Locus is the latest in a string of increasingly confident releases from the pair, an album that bears the now-unmistakable Chicago Underground feel. It's hard to think of another group that might explore disembodied ambient jazz ("The Human Economy"), collage-like electronica ("Blink Out") and exotic groove construction ("Kabuki") on a single briskly paced LP. Taylor credits Mazurek—who embraced electronic music shortly after the Duo's 1998 debut, 12° Of Freedom—with fostering the project's liberated soundworld. "I didn't want to go that direction at all," explains the drummer. "I grew up playing acoustic music, and whenever electronics were involved, it was like a fight. But Rob kept pushing, and eventually, I realized that the friction that happens between a drum machine and a drummer is okay. That tension is what makes the music interesting."
Merch for this release:
Vinyl LP, Compact Disc (CD)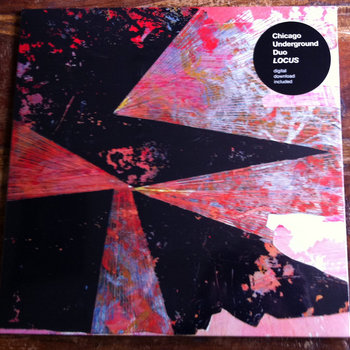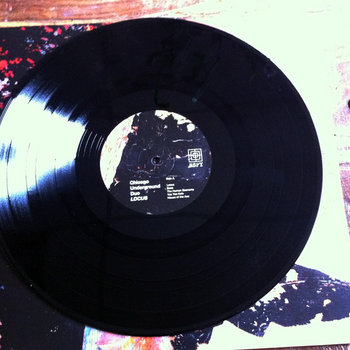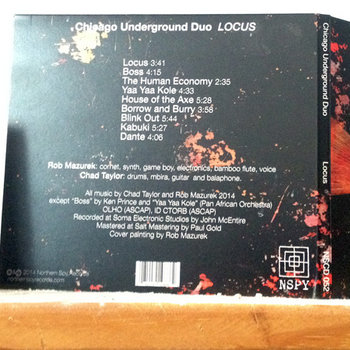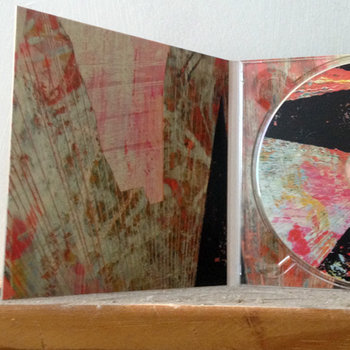 These days, Taylor is fully on board with the idea that no sonic strategy is off-limits. "We don't get caught up in the actual sound of what we're playing, because it might change," he says of his and Mazurek's current approach to record-making. "We never hang onto any ideas, like, 'This is the way it's going to be.' There are so many possibilities." It's to the Duo's credit that they can channel such a wide-open process into an album as listenable as Locus; in that sense, their editing is as impressive as their playing. "There aren't a lot of cornet or drum solos on Locus," Taylor points out. "It's more about having these compositions, these songs. Each has a different sound, and that's the record." It's a humble description of a method that, as this album proves, can sound a whole lot like magic.