FEATURES
Self-Love and Solidarity with Punk Trio Cayetana
By Luke Ottenhof · May 02, 2017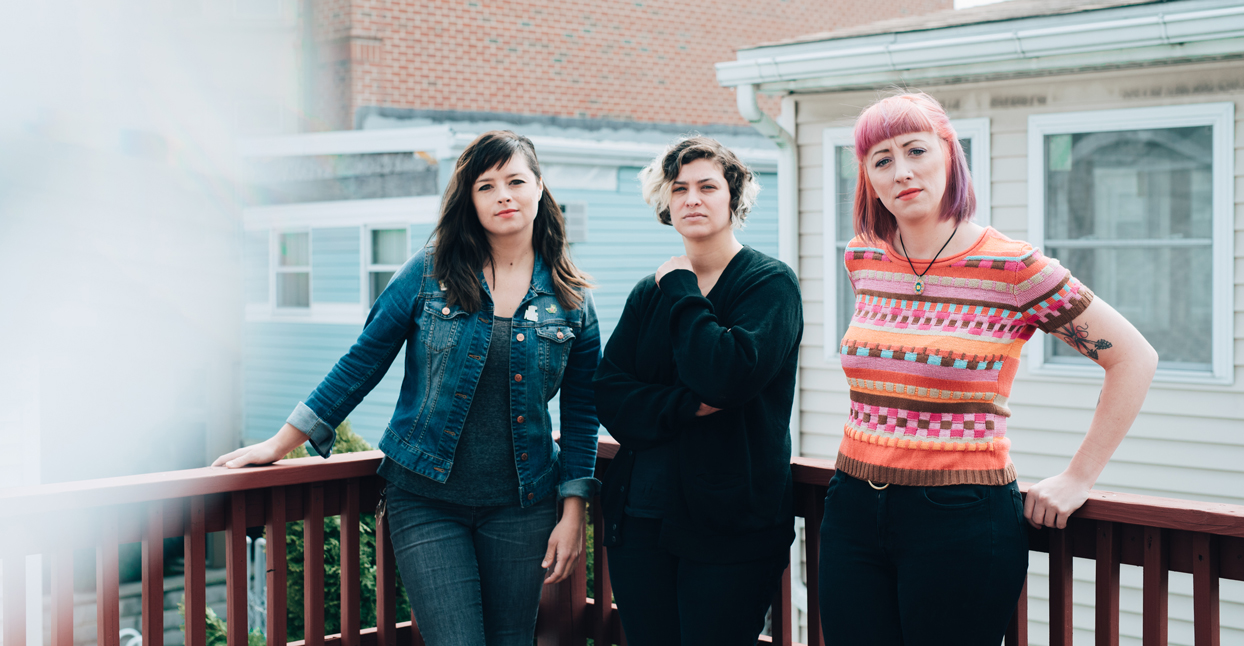 One of the valuable upsides of our modern times is an expansive toolkit of self-actualization and empowerment that's readily more available than ever, whether it's a forum for discussing mental health, tips on starting a self-run record label, or just working independently with your friends. Augusta Koch, Kelly Olsen, and Allegra Anka, the musicians in Philadelphia punk trio Cayetana, pursued all three of those in creating New Kind of Normal, their second full-length record. It's being released on May 5 via Plum Records, a label the band founded earlier this year. The label's Twitter bio cleanly outlines the project: "An independent record label. Founded and run by women. Rock and roll without compromise." Plum's mission statement is a pointed summary of not just the band, but the brilliant new record Cayetana have created. "We've always envisioned Cayetana as a project that has the potential to be a vessel for something bigger than just our own work," the website explains. That sentiment is driven home on "Mesa," the record's triumphant lead single. "Together we make flowers out of weeds!" Koch belts, her voice husky and powerful.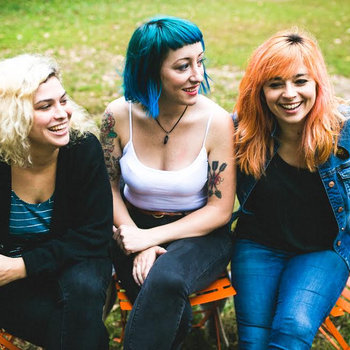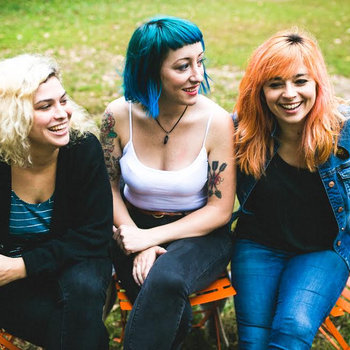 With New Kind of Normal, the group has crafted a vibrant, defiant assertion of independence and community, acute self-love and empathy, rock-bottom and survival, alienation and acceptance. It's an urgent, complex exploration of mental illness and wellness; it's a call to help each other and love ourselves, in equal measure.
Given the personal nature of the record, putting the record out on your own label must be really gratifying.
Allegra Anka: It definitely adds a rewarding element to it that we wouldn't have otherwise.
Kelly Olsen: We weren't really sure who would be putting it out, we weren't really sure what we wanted from it. The main thing that we wanted was to have as much control over the record as we could. You can't always get that when you're signing to certain labels. They can own rights and tell you when to tour and how to tour, or how to promote, and we were just ready to take things into our own hands and have control over what we're doing.
To me, the title suggests being comfortable and accepting of one's mental illness; forwarding it as a normal, everyday thing is a vital discourse. Were you aiming to normalize things?
Augusta Koch: That's the goal, learning to accept that part of yourself. Every day, you have to relearn that. It's something that we've always talked about as a band, and it ended up definitely being the theme of the record, which I think is helpful for other people that experience issues with that.
The first words on the album really set the tone: "Sometimes it's hard to say when you're having a bad day." Starting off with a universal sentiment seems intentional.
Koch: It was! It's hard to talk about not feeling well. You never really know what's going on in someone's life. I would assume everyone feels like they have really bad days sometimes, and other people don't see that.
There are these serene spaces of ambience and soundscape before and after songs like "Dust" and "World." How did those segments develop?
Anka: We've had the same engineer [Matt Schimelfenig] working with us, he's done everything that we've ever recorded. He has a good idea about what we want, how we want to sound, and what we're all going for. A lot of times, he'll come up with ideas that are exactly what we would've wanted. So a lot of the production that went into the record is his piece as well.
Olsen: I feel like those songs are definitely the moodiest of the record, as far as taking a little breath or a break from things. Augusta, I'm speaking for you, but I assume you wrote them in a quiet space with just you and your guitar. I remember sometimes you'd bring us songs and they would be very quiet, very emotional, and very beautiful. For each one of those songs, it took a lot of thought to create a mood that wanted to be portrayed, and they turned out beautifully in my opinion.
The album runs the spectrum of emotions within mental illness and wellness. Was capturing a breadth of experiences important for the record?
Koch: I definitely think so. Like Kelly said, some of the songs came easier than others. We weren't exactly sure how to compile them. But this was the first recording experience where we had a lot of time in the studio, so I think it allowed us to be a lot more creative. On "World," which is a song Allegra wrote a long time ago, we were strapping keys into glass jars to make noise. Matt was able to put a microphone out the window to record the street sounds. We were able to talk about the feeling and the vibes we wanted from the record, to record those moments of breath and ambient noise that we really wanted. We did want to have a record that really felt like a record.
The progression through the record feels similar to the impermanence of mental health. Was there a desire to portray these states as transient?
Koch: What I feel like we've found with our songwriting is sometimes [when] songs happen, they guide you to how you're truly feeling. I think it's a very honest representation of what we've gone through in the past few years, so in that way, it's very realistic. Even people who don't have an actual mental illness, life kind of ebbs and flows.
"Bus Ticket" is quite a remarkable moment. Could you explain where that track came from?
Koch: When we started working on the record, we started writing at my childhood house, where I hadn't been in a long time. Obviously, being in your childhood home and sleeping in your old bed reminds you of a lot of being in high school, or things you haven't thought about in years. Whenever we play that song, I definitely picture that house. [It's] a feeling that I had when I was younger that I realized I still have—of hitting rock bottom with yourself. Sometimes, you hit rock bottom several times.
Where was that house?
Koch: It's in the Poconos, which is like an hour and a half from Philly [where we live]. We've been going up there a lot. We wrote the record there.
Getting out of the city seems pretty conducive to writing and recording.
Anka: This was the first time that we had ever really put aside two weeks away from our lives, to just wake up every day and be together and write on a schedule. I think nature is pretty important to all of us. Even though we love Philly, we love getting out and being in quiet, beautiful space that smells nice.
"Certain for Miles" suggests the idea that everyone's got it together but you. Where did that song come from?
Koch: It's kind of two things. That was the last song that we wrote for the record. A good friend of mine, his brother had just passed away in a very tragic way. I think he felt very alone in his tragedy, like he was suffering by himself, which was hard to see. I think a lot of time when death happens, people feel like they can't relate to other people. The chorus was actually my mom's quote in her yearbook. It was, 'When the world bears down on me, I'll laugh at its audacity.' I always saw that as a kid and thought, 'My mom's a genius.' It's funny, because it ended up being very much a representation of her life, being strong in the face of the world being hard and throwing things at you all the time. So it's a combination of things for seeing people go through tragedies and come out strong, and also comparing yourself to other people that have everything together and don't seem affected by that kind of thing.
It strikes me that many of these songs can be understood to address both the self and others. Was that duality intentional?
Koch: Sometimes I feel like I write about myself too much. I don't want to come off as narcissistic in a way. A lot of the songs are not just about me, but about other people. Maybe that's where that comes from.
—Luke Ottenhof