FEATURES
Cavalier's "Private Stock" Speaks to Hip-Hop Through Many Different Voices
By Nate Patrin · March 20, 2018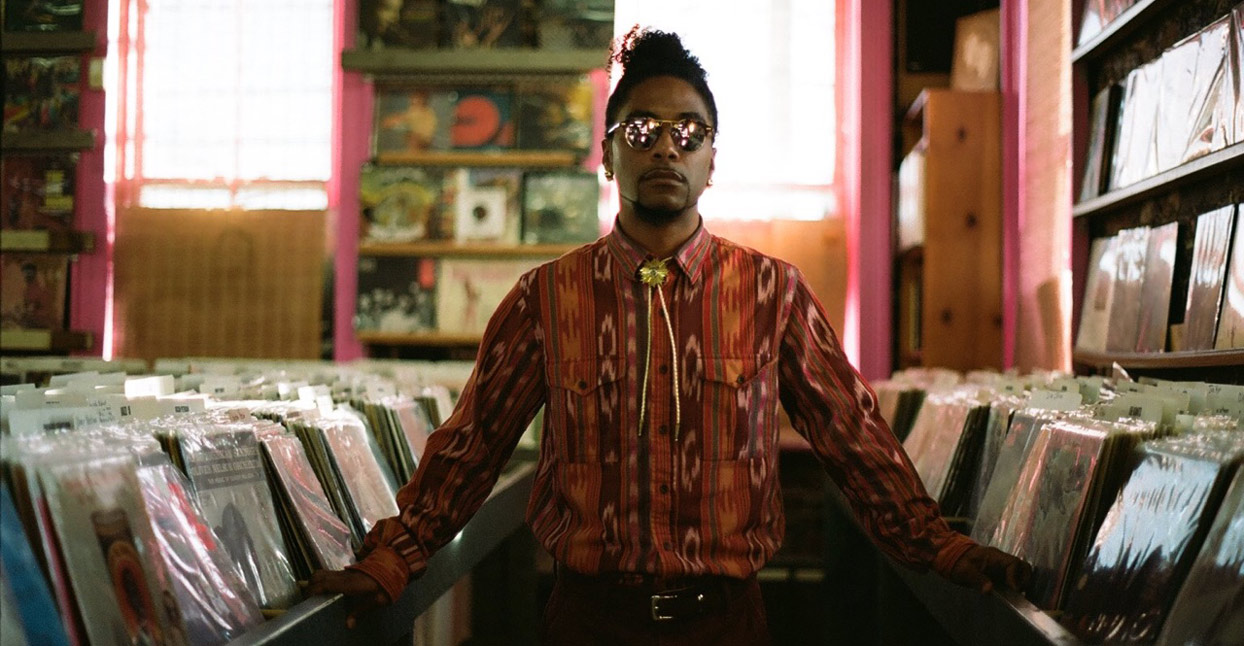 Cavalier is one of those MCs who's name doesn't need to be prefaced with the city he's from. Or the city he's living in, for that matter—the Brooklyn-raised artist moved to New Orleans shortly at the beginning of 2015. But if the transition has informed his style, it's been in subtle ways.
"It's more in the way people speak to each other than it is me observing other musicians or other rappers," he explains. "Just the vibe, the culture, the way people engage out here in the city, and the rhythm of how people speak—when I speak to them, they immediately know I'm not from New Orleans." But that just expands the possibilities: "It's like being a chef, and you're exposed to a different world market and they've got a spice rack of stuff you're familiar with but didn't have access to all the time."
.
00:10 / 00:58
Cavalier's new album, Private Stock, builds upon the foundation he laid on 2015's Lemonade with Iman Omari, the Solange and Kendrick-cosigned singer/beatmaker who Cavalier considers a key stylistic partner. "Iman has what I call a signature break—he almost created his own breakbeat in a way, he has this specific bop in his beats, the way he's programming or the way he plays the drums on [them]. You recognize him. Iman's background is in vocal jazz; he has a gift for melody, it makes his sample ear really, really strong." The beats on Private Stock bear that out: choirs stretched out and plucked like strings, piano keys restlessly worked over until the lacquer wears off, next-room booms and compression-artifacted baps. And that carries through Cavalier's voice, a twisting flow that blends lyrical dexterity and rhythmic cadences. "It's the environment," Cavalier says, "making me pay attention to things like timing differently, or phrasing—like how a jazz musician would."
With each listen, Cavalier's flow becomes more immersive, intricate, and revealing. The spare piano accompaniment on "Bar Therapy" gives him much-needed breathing room to stretch his legs and wax conversationally about literal and figurative prisons before the drums and bass come in, both snapping his flow into focus and broadening his vision into a bigger picture. "Holla Kid" is pure acrobatics, zooming across time and space to juxtapose Brooklyn bodega wares ("All that shit and a bag of Utz/Vintage can of St. Ides with the Spanish fly platitudes") with the NOLA cemeteries that inspire Easy Rider acid trips.
.
00:10 / 00:58
Another home turf rumination, "Go Brooklyn" has Cav's voice chopping its way through a hazier, more autumnal update of classic '90s NYC soul-jazz breaks as he reconciles the rep, reality, looming past, and ambivalent future of the city he only seems to have left behind physically. Nearly 20 years ago, Mos Def's Black on Both Sides repped Brooklyn and reinforced the idea that "it ain't where you from, it's where you at" on consecutive tracks; Cavalier's attempts to expand the "from" and the "at" into wider vistas is its own compelling narrative.
The sense of place might have many origin points, from Brooklyn to NOLA to Omari's current base of Los Angeles, but that nomadic feel still coheres in a time where traditional notions of classic NYC hip-hop roots keep needing to adapt and relocate. Cavalier cited both Detroit-turned-Angeleno legend J Dilla and frequent collaborator/former housemate Quelle Chris—the New York-born, Detroit-based, everywhere-schooled producer/MC—as examples of artists who expanded the idea of sonic migration in hip-hop.
And his subject matter has similarly expanded to contain more voices, zooming out from his own personal life situations to a bigger-picture idea of what it means to be black in America and how continuing defiant resistance feels necessary. As "Open Season" puts it, "I see the beast, they gunnin' out in the open / Say fuck 'em out in the open, baby / I puff the weed in public out in the open / They hunt us." To that, Cavalier says, "I can't walk away from the fact that the art we're putting out is starkly acknowledging that it's coming from this black space, and this black city. But it's not opposing—we're all in it. I'm here with multiple musicians and backgrounds all contributing and helping to redefine the form and test it out."
-Nate Patrin