FEATURES
Casa Fantasmes is the Finest Homemade Recording Studio in San Juan
By Amaya Garcia · June 28, 2017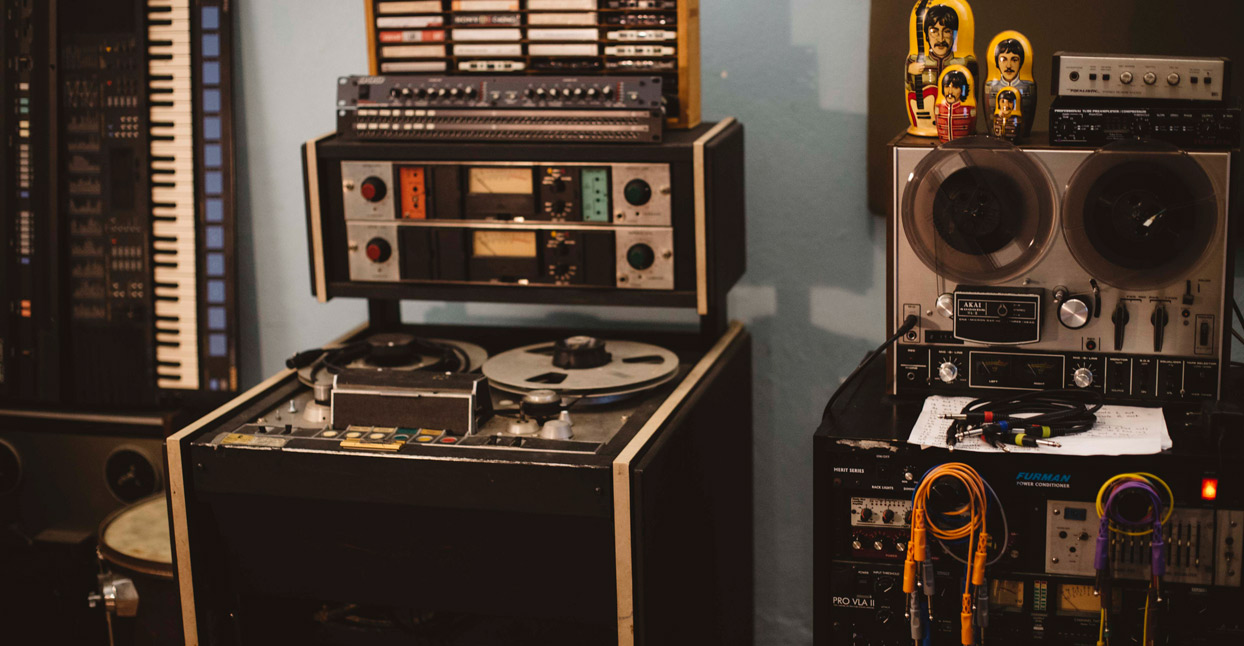 On a busy corner in the Santurce neighborhood of San Juan, right behind a restaurant that doubles as a small theater, sits an inconspicuous two-story house that is estimated by its tenants to be a little over a 100 years old. With its weather-beaten, off-white paint job, the house could almost disappear into the city landscape, overshadowed by the modern architecture of the newer, taller, and shinier buildings that surround it. But its humble facade is a bit misleading—inside the structure is Casa Fantasmes, the studio responsible for some of the most enthralling, grungy recordings coming out of Puerto Rico's DIY music scene.
The space was established by the members of the psych rock group Fantasmes—Mario Negrón, Darío Morales-Collazo, Daniel Sierra, and Juan Arroyo—along with Gabi Sifre, the owner of the label Last Bummer Records. The group was looking for a way to record their music without the limitations of time or space that come with a typical commercial recording studio. The band—specifically Negrón, who's an engineer—had a specific vision for the sound they wanted to achieve: lo-fi, distorted, weirdly compressed music aligned with the sound of '60s and '70s analog rock 'n' roll recordings.
They recreated this particular sound on their first two records, Redness Moon and Thralls to Strange Witchcraft, with found, traded, and sometimes purchased vintage equipment (a 1959 Hammond M3 organ, 1967 Yamaha Spinet piano, an Indian harmonium, 1979 Realistic Stereo Reverb, Maestro Echoplex tape delays, among many others). It became a hit with quite a few musicians in the scene, some of them even looking to replicate the sound and vibe in their own recordings. It wasn't just because it was different, but because it suggested new possibilities for what Puerto Rican music could sound like.
Like any DIY venture, the beginnings of Casa Fantasmes in 2011 were wild and fun, but inherently rough. The first iteration of the studio was in a tiny apartment on Calle Georgetti in Santurce that famously featured a bathroom with a toilet in the shower. "As a facility, we could help ourselves, but we couldn't offer a lot of things to other people and bands, save for vision or a particular approach," Negrón explains. "We wanted to upgrade [the facilities], but in the back of our heads, there was this thought that we could do something a little bit bigger, something that reached other people. It went beyond the personal aspect of making our own music—it was the idea that you could open up a space, and have other people use it. A house for two or four people to record themselves only exists in that moment; a space like this, that is in constant flux and has other people using it, has a life of its own."
For Negrón, Sifre, and the other band members, it was important that the studio was located in the Santurce neighborhood, not only because of the city government's renewed interest in turning it into an arts district, but because it would be one of the few affordable recording studios in a perpetually struggling independent music scene. "Santurce had its moment of importance," explains Darío Morales-Collazo. "In the '60s and '70s, it was home to a lot of musical production, record labels, and recording studios. That got lost. We're interested in giving some of that back to the area. There are studios, but there wasn't a space in tune with the needs of the scene. Almost all of the studios are in the suburbs, and we wanted something to be in the city. We wanted to make a life in this space."
After acquiring the humble abode—located at 454 Calle Saldaña—in 2013, the space opened with sparse equipment and limited expectations. A few of the band members adopted the building as a temporary home, fixing it up and slowly gathering equipment from several sources, making expeditions to nearby radio stations that were throwing away old equipment because of closures or renovations. "Juan [Arroyo] and I used to do that. We used to go to old radio stations and ask, 'Are you throwing anything out? Anything, like a couple of gobos, microphones?'" Negrón recalls. "We learned a lot [from those visits]. We got some really amazing equipment out of it, like old limiters from the '60s, tape decks, and EQs. We also found some really cool equipment we couldn't get our hands on."
As the equipment kept coming, the studio started to properly take shape on the first floor of the house, on what would normally be the living room. Once inside, it's easy to feel like you're walking through a music room set up by the most sophisticated grandparents, with old-timey carpets and rare, worn-out philosophy books lining the wine-colored walls, amidst the organ and upright piano. Negrón is an amateur arachnologists, so there are spider specimens as well, giving the place a mysteriously unique vibe.
They started working with friends, like Enrique Olivares, who recorded in both the old and new house with his two bands, the '60s-style pop group Los Manglers and the glam rock outfit B. Jacques Express. Olivares was drawn to Casa Fantasmes because of its unimposing atmosphere and the fearless experimentation and expertise that Negrón, Morales-Collazo, and Arroyo offered—characteristics that would soon draw in many others, who would come through word of mouth or low-key announcements on social media.
"[Recording with them] is simultaneously relaxed and hands-on," Olivares says. "With Los Manglers, we might come with a very specific idea in mind and we execute it at a 'wham-bam-thank-you-ma'm' pace. Or, we might just want to try something unusual to see how we can use the studio as an instrument in itself. The great thing about Casa Fantasmes is that it provides a space to explore and experiment with different ideas and how to give them new sonorities. Oddly enough, the studio has the flexibility to embody or vanish within the music."
It is this versatility, along with the engineers' ability to personalize the experience, nurture talent, and adapt to other musicians' needs, that has brought others into the fold, like the jazz fusion group Sr. Langosta. Their music, a mixture of psychedelia and experimental jazz, couldn't be further removed from the music of Fantasmes but, as Sr. Langosta member Andrés Ferreras tells it, he was after what Negrón has called "the Fantasmes Treatment"—"very few microphones, very limited equipment, very lo-fi, grungy, old Tascam TFX, and old weird compressors, but mostly, just a lot of imagination."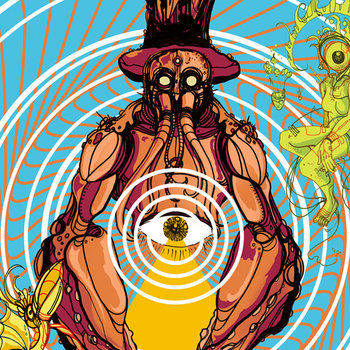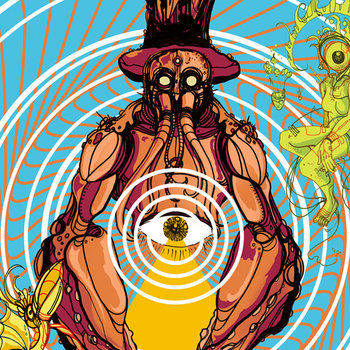 Their self-titled debut had an early Beatles vibe, but for their second, El Experimento Caribeño, Negrón, who was their engineer, helped them craft a more experimental, psychedelic effort. "The second record was more challenging, because it required more instruments. But Mario researched a lot of techniques about how to record these instruments [like the didgeridoo] with what they had, because the studio doesn't have a lot of equipment. They do wonders with what they have. I don't know how to explain it, but I feel like it's a dark sound, in terms of mixing and particular frequencies." Though El Experimento Caribeño was a learning experience for both Negrón and Ferrerasa, it was a success and released on the New York indie label Ropeadope Records.
Experimenting within limitations is mostly the way Casa Fantasmes works. With every project or artist, there's a reciprocal learning process—the studio crew learns from the bands, and the bands learn from them. Whether it's albums that play to their strengths—like the newly formed project Las Palabras, and psych rockers The F.S.O. and Mono Camper—or lo-fi acoustic projects—like Harry Rag and the late folk singer Dax Díaz—the ethos that has guided Casa Fantasmes over 20 recording projects (so far) is to open doors to anyone with a great idea that they wouldn't be able to develop on their own.
"When I think about this place and the idea behind it, it's always romantically," Negrón says. "I associate it with what the people from Elephant 6 Recordings used to do, and what spaces like Western Works Studios, where Cabaret Voltaire used to record in England, represent. Things like that inspire me. It's amazing that places like that get to exist because, as musicians, we have very little that's given and that's secure, especially right now in Puerto Rico. We have so little that's a guarantee. So it's important to know that there's something that will be here. At first, it was important for me and the band, because we wouldn't survive without it. And if that applies to our band, I'm sure it applies to others."
Their tenacity, endurance, and work ethic has not only made Casa Fantasmes the go-to place for bands who want their particular analog sound, it's also made it a friendly place for others like the Puerto Rico/NYC duo Buscabulla to rehearse when they come back home. But it's more than that. Over the years, the founding members have morphed Casa Fantasmes into a makeshift cat sanctuary and converted its second floor into the independent art gallery Hidrante, which was started by their peers Sofía Mercedes, Alberto Zayas Montilla, José López Serra and Ramón Ponce. For an older generation of musicians, like Eduardo Alegría, who uses Casa Fantasmes as a practice space with his band Alegría Rampante, the project also offers a blueprint and hope for the development of future independent spaces in San Juan.
"I rehearse there now, but at some point I know I'll record something with them," he says with a laugh. "Fantasmes is their band project, but it's also a way of thinking about sound, and how Puerto Rican indie recordings can sound. It's a model to emulate, and an inspiration. After so many years of making music, I've never been able to create a space where we can do the things that we do. That's something that people from my generation admire a lot from a collective project like Fantasmes. It's a small family that got together to create something that they felt didn't exist for them, and that's inspiring. It shows that we can do this, that these things are possible here."
—Amaya Garcia