FEATURES
Preserving the Post-Punk Legacy of Bush Tetras
By Erin Margaret Day · November 15, 2021
The New York City of the late '70s has been described at length in recent years in the memoirs of key figures like Patti Smith, Richard Hell, Chris Frantz, and Debbie Harry—it was a largely abandoned city where you really didn't have to bother much with the straight world to survive. But the price for feeling like you and your friends owned the East Village was being in fairly constant danger, and often pretty hungry. While lots of influential bands were birthed from these cultural conditions, punk-funk pioneers Bush Tetras set the danger and discord of New York's Lower East Side to music that felt remarkably singular. With their strutting basslines jutting boldly through angular and obstructive guitar noise, and percussive accents ringing out from all corners like creepy lurkers in the urban landscape, Bush Tetras captured the era well enough to transport modern listeners to a place that no longer exists. Like many of the funky post-punk bands which emerged in both the U.S. and the UK at that time, however, their records had been long out of print. A new career-spanning box set on Wharf Cat Records—fittingly titled Rhythm and Paranoia: The Best of the Bush Tetras—rights that wrong.
Guitarist Pat Place was the first band member to live in New York, experiencing the Ramones, Television, the Voidoids, Patti Smith Group, and Talking Heads as they were emerging in the early days of CBGB's. She got involved with the no wave scene via James Chance, who invited her to play guitar in the Contortions. She had never played before, but had watched many other no wave bands utilize a slide guitar technique introduced by China Burg of Mars—which would eventually become the most widely employed technique in no wave. After the Contortions broke up, Place moved in with Cleveland native Laura Kennedy, who had just moved to NYC after attending Cleveland Art Institute with friend and fellow Clevelander, Cynthia Sley. While students, Kennedy and Sley would go to a bar near their school called Pirate's Cove, where every Thursday night they saw weird and wacky regional bands like Devo, Pere Ubu, Rubber City Rebels, Dead Boys, and Destroy All Monsters. Sley knew other people from Cleveland besides Kennedy who had moved to New York, like Adele Bertei (also a Contortions member and the first Bush Tetras singer, though very briefly) and Jim Jarmusch; a year after Kennedy arrived in New York, Sley followed. Drummer Dee Pop was a big Contortions fan, and wanted to start a band with Place the second the Contortions broke up. The original line-up didn't last long, but it solidified when they gave Sley some words and a microphone and she became their lead singer. Place brought in the slide guitar and funk backbeat of the Contortions—which Pop was very happy to play into and around—while vocalist Sley and bassist Kennedy brought their art school perspective and the knowledge they'd gathered from their years spent in that other art punk mecca on the burning river.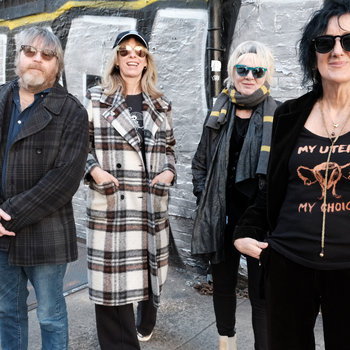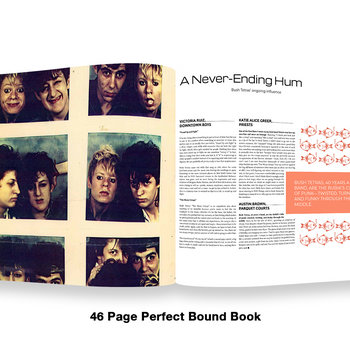 .
00:10 / 00:58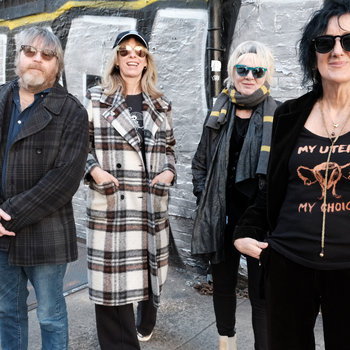 Merch for this release:
Vinyl Box Set, Compact Disc (CD)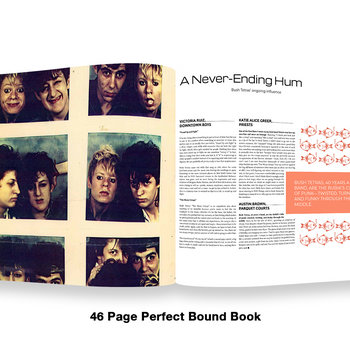 In February of 1980, Bush Tetras released their debut 7-inch, Too Many Creeps, on crucial dance punk label 99 Records (which also released contemporaneous avant-funk and no wave bands like Liquid Liquid and ESG) and they toured for the first time that fall on a budget flight plan via Eastern Airlines—which required every flight to be routed through Atlanta; so they would go from New York to Atlanta to get to Seattle, back to Atlanta to get to Los Angeles, and back to Atlanta to get to Minneapolis. They toured Europe, Canada, and the United States relentlessly in their first three years of activity, playing and rehearsing in New York when they were not on tour. As a result, the band never had much time to write new material, which prevented them from ever producing a full-length—they had a booking agent, but no manager.
In an interview given before his untimely death the night before the New York release show for Rhythm & Paranoia, Dee Pop describes early Bush Tetras songs as being written rhythm first, from the bottom up. They were trying to bring dub and African sounds into the music, so all of their songs had percussive breaks to which all band members contributed, often bringing in a garbage can lid and other odds and ends to communicate the rhythms of the city. They also wrote songs collaboratively, utilizing their lived experiences ("Too Many Creeps") or cut-up techniques ("Cowboys in Africa"); Pop was a poet as well as a drummer, and wrote the lyrics to the song "Rituals." Pop was particularly conscious of other instruments—that rare drummer who is an incredible listener, paying attention to every sound in order to perfectly weave in his little accents, creating a slinky and tribal sound. Most of their original material was produced by percussionists, who worked with the band on forming the drum sound which was so central in their music. All of the music Bush Tetras made during their original tenure was released on 7″s—their first was co-produced with Don Christensen (Contortions, impLOG)—except for the Rituals 12″, which was produced by Topper Headon of The Clash.
Rhythm and Paranoia came together as a result of Bush Tetras's 40th anniversary show, which took place in February of last year—right before Covid-19 shut down live music indefinitely. During the lockdown, Pop brought in R.B. Korbet (Even Worse, King Missile, Missing Foundation, Pussy Galore) to play bass in a new line-up of Bush Tetras. Korbet came into the NYC scene in the early '80s, but she was more involved in the hardcore punk and early thrash scene that was happening around venues like A7 and 171 A before the all-ages hardcore matinees on the Bowery began. By the mid '80s, she was more involved in the noisy art rock scene, working with Missing Foundation and hanging around with Live Skull and Sonic Youth. Though unfortunately the world will now never know what a "force to be reckoned with [they were] as a rhythm section," Korbet says the Tetras have composed ten new songs, which they are planning to record next year. "We're going to carry on and we'll carry the torch for Dee, too," Pat Place confirms. "It may be a little bit of a different sound without Dee, but it will be similar."
.
00:10 / 00:58
The box set compiles all of their original material, along with previously unreleased tracks like "Cutting Floor," produced by Henry Rollins, and alternate versions—like the take of "Mr. Love Song" that features backing vocals from Nona Hendryx and Darlene Love. Bush Tetras were very particular about what material they released, not releasing anything too generic or commercial, which is why they didn't release "Cutting Floor." They didn't even remember composing it, or how to play it, before Pop, who also served as the band's archivist, unearthed it from his collection. While many post-punk revivalists began to forge their own dance punk sounds at the turn of the century, the Bush Tetras were oblivious to them and to being a source of inspiration to a new generation of musicians and listeners; they were busy struggling to create new music from interests outside dance punk entirely, with Place and Sley taking more of their cues from grunge and shoegaze, while Pop was looking more to the avant-garde jazz of Albert Ayler for inspiration. In addition to being the most expansive collection of their music to date, the box set boasts a 46-page LP-size bound booklet, featuring flyers and previously unreleased photos showcasing their deep friendship as a band, lyrics to all of their songs, and an original essay on the band by Marc Masters, author of No Wave, the definitive text on the scene the band emerged from. There are also micro essays by artists who worked closely with the band like Nona Hendryx and Topper Headon, among others.
The work of preserving the history of the band is ongoing and the box set is just the beginning. They anticipate finding a lot more stuff to preserve in the wake of Pop's death, as he recorded all of the band's shows from 1980 to 1990, including notes on each one. But despite Pop's passing, there are no plans for the Bush Tetras to resign themselves to eternal life on the museum walls and in the liner notes of this box set while they are still here. "We love playing live, we're going to continue playing," Sley says.