FEATURES
Album Premiere: BROOKZILL! Shares Throwback-Themed Record
By Marcus J. Moore · October 05, 2016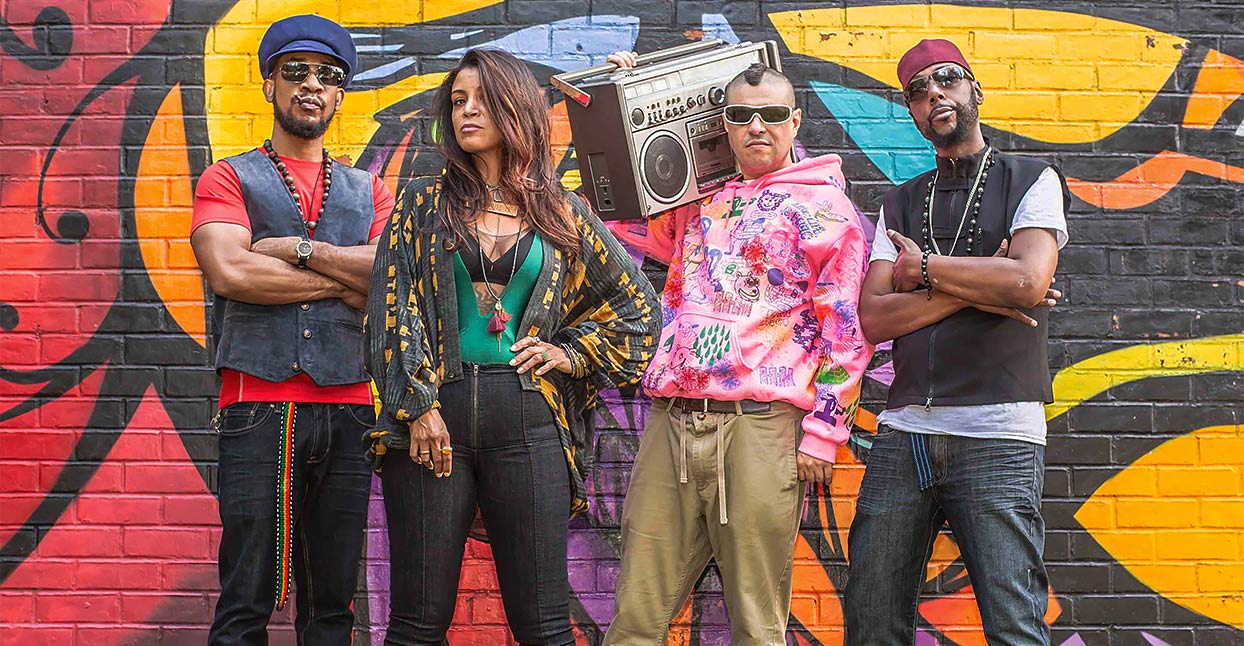 Ten years ago, legendary DJ Prince Paul went to São Paulo, Brazil. It was his first time in the city, so he wanted to soak up as much of the culture as possible. During the trip, his friend Scotty Hard introduced Paul to popular Brazilian MC Rodrigo Brandão—aka Gorila Urbano—who was a long-time fan of Paul's. Paul and Brandão struck up an immediate friendship, and agreed during that trip to start working together.
Eventually, the two invited Digable Planets MC Ladybug Mecca to work on a track. The collaboration became a full-time opportunity to work in their group. Like Brandão, Ladybug Mecca is fluent in Portuguese, and is the daughter of Brazilian jazz musicians, the sound of which became the starting point for the burgeoning collective. From there, producer, musician, and arranger Don Newkirk was added and BROOKZILL! became an official group.
On their debut album, Throwback to the Future, which we're premiering here in full, the quartet creates a tropical soundscape over which Ladybug and Brandão spit bars in Portuguese. It combines Brazilian samples with hip-hop beats, making for a light, seamless brew. We spoke with all of the group's members about the album's creation, Brazil's political climate, and why Throwback to the Future can be seen as a gospel record.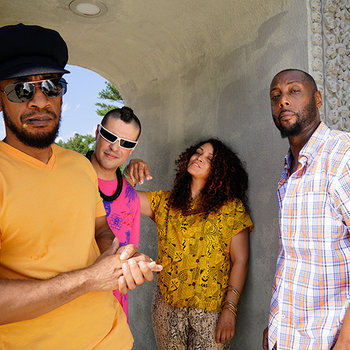 .
00:10 / 00:58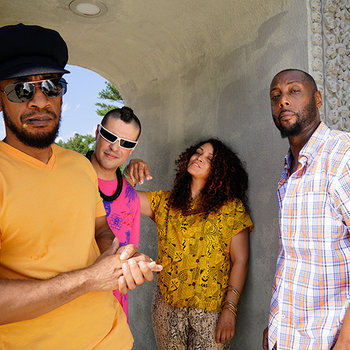 The genesis of the LP began with a trip Prince Paul took to Brazil 10 years ago.
Paul: Wow, I can't believe it's [been] 10 years! I went with a good friend and my engineer, Scotty Hard. We went down there to do some shows, and that's how I met Rodrigo. It was during that trip.
So what was it about Brazil? Why did you decide you wanted to go there?
Paul: One, I'd never been there. Two, Scotty was like, 'Oh my God, you gotta go!' I'd heard so much about it that I wanted to go. I'd never been invited to Brazil in my whole career. It seems like I've been invited to the moon and back, but never to Brazil for some reason. I had to seize the moment.
How did you and Rodrigo link up? What was that interaction like?
Rodrigo: For me, it was like, 'Fuck, man, Prince Paul is in the house. Oh my God, I can't believe that.' Then, I didn't know how to approach; we were all in the lobby, waiting to get on the bus, and Scotty was late. The first thing Paul says is, 'Don't blame it on the black man!', everyone started laughing, and that was it. After that, I was like, 'OK, we are friends.' [laughs]
Paul: [laughing] I don't remember that, but that sounds like me.
How did you all build a working relationship from there?
Paul: [Rodrigo's] energy is so good. So we just got to talking. Scotty played me his stuff, because Scott produced his last record. Then I said, 'We really needed to work together.' I loved what Scott did, but I thought we could do something a little crazier. He was like, 'Yeah, let's do it!' It was as simple as that. From that point on, we started to email ideas back and forth. When he finally came to the States and brought some ideas, it was like this [Paul snaps his fingers.] We just started cranking out songs. It was beautiful. It's nice to have an introduction and communication back and forth, but there's nothing better than being in the same place at the same time. You know how it is nowadays; cats are like, 'Yo, what you got?! Just email me some beats.' They rhyme on it, send it back. I like working with people. There's an energy. It was imperative for us to be in the same place to even start anything.
What kinds of ideas did you bring?
Rodrigo: I always liked concept albums. They always got my attention. That's one of the main things that drove me. When we started working together, I wanted to bring more than just sounds. There's gotta be some sort of concept. I selected all the samples, doing my best to bring all the African and Brazilian aspects. There have been other people who have done that—J Dilla, for example. But for me, the real treasure was an Afro-Brazilian connection that hasn't been touched before by hip-hop. I wanted to have as much as possible for Paul to filter through. Out of the 50 [samples], we selected 15 that ended up being this album.
Paul: We would listen to the samples and be like, 'This is cool and this is cool,' then we'd put it to the hip-hop test and be like, 'Yo! That Works!' So we started compiling things that had a similar feel to it. We didn't want to be all over the place. We wanted a cohesive sound, and a piece of music that had a certain vibe to it.
The thing with this album, you can just put it on at a party and let it play. Did you structure it that way on purpose?
Rodrigo: That's great to hear, man! I feel like if you can dance to a song, that's always a great part of it. But the way it came out was the way it happened. We didn't want to make the album sound like a certain way. After we made the music, we wondered what it was that we'd made. It was like, "'Let's let the creation take shape, then we'll put a name to it after that.'
Paul: We wanted to keep it organic. A lot of music today sounds contrived, and I was trying to avoid that. We were just like, 'Yo, we're gonna put this in God's hands, and whatever happens is gonna happen.'
Ladybug, was it a hard sell for you to join the group?
Ladybug: Not at all. I was invited to do one song, and we hit it off right away. Paul and I have vibed from day one. We're all family, so there was no thinking about it. It was just supposed to be, ya know.
Was it different for you rhyming in Portuguese, or have you done that before?
Ladybug: I haven't done a full verse. I used to throw in a little Portuguese here and there. I don't know if anyone even noticed. Portuguese is my first language, so a lot of times I think in Portuguese and I write American rhymes using those cadences. I've always wanted to rhyme in Portuguese, so getting with Rodrigo and just making that happen, was a dream come true. It was very natural, and I want to do it more.
Given the album's light vibe, paired with the heavy state of current events, it feels this record is coming out at the right time.
Ladybug: Definitely. And you can't plan stuff like that, ya know. But that's who we are as artists. We're not defined by time and space. We just go with the flow. We go with our instincts, and it's gonna be finished when it's finished, and we're gonna put it out.
Rodrigo: For me, man, in Sao Paulo, Brazil, we're having a terrible time. The president just got impeached, and that's not fair. So for me, when I listen to the album now, it's a Brazil that no longer exists. You know that Sun Ra, Space is the Place feeling? I totally have that thing when I listen to this music. I feel we're creating Brookzill knowing that Brazil itself is changing. It's like, 'I gotta live in Brookzill now.'
Brazil was on a very nice road for people to be balanced and respect each other, and now man, with the guys who are running the country—they're like old vampires who don't want [balance and respect] to happen at all. So there's a lot of hate going on. You gotta create your own place.
From what I'm hearing, it sounds like this album is very therapeutic. What is the mission statement? When the album comes out, what do you want people to take away from it?
Don Newkirk: I think the title says it: it's a throwback to the future. It's not just what's old is new—it's what's old is more genuine. It's not just the music, either: A lot of what's going on now in the world is contrived. I was watching this De La Soul documentary, where they threatened to stop the show because people wouldn't put their phones down and just have a good time. I thought that was heavy, because that's a 'today' phenomenon. That's not something that happened in the golden age of hip-hop coming up. People were there to party and have a good time. The future should be a throwback—right now, at least.
I was trying to listen to a couple albums on the way here, and I started skipping a lot. Like, 'Man, I like this artist, but I'm just skipping.' Some of them, I couldn't get 40 seconds in. We're trying to get people back, man. The takeaway is love, family and a praise to the gods. The whole album is a praise to whatever god you hold high.
—Marcus J. Moore