FEATURES
The Avant-Garde Adventures of Yeah Yeah Yeahs Drummer Brian Chase
By Brad Cohan · June 11, 2018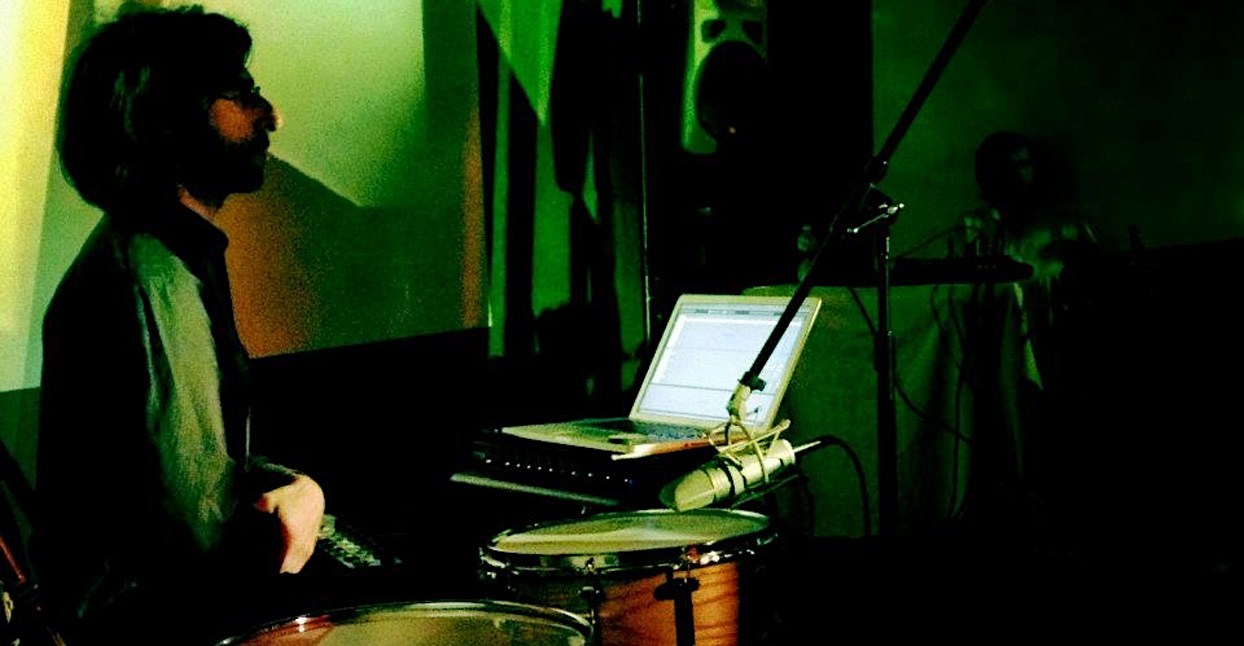 The double life of Brian Chase as both ubiquitous John Coltrane-inspired free improviser (dude gigs virtually every night) and spastic anchor of post-punk lifers Yeah Yeah Yeahs keeps the longtime Brooklynite firing on all cylinders. That double life has now turned into triple life, as Chase now heads up his own label, Chaikin Records. But more on that later.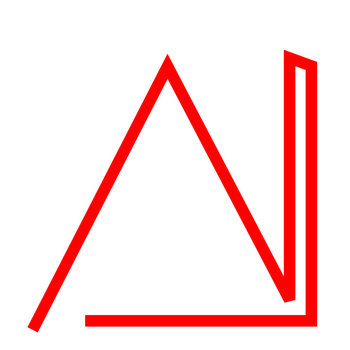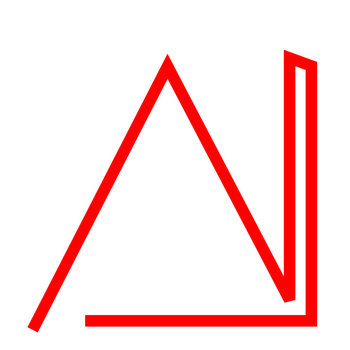 During our flurry of emails, Chase was assembling a crib for his newborn while preparing to announce Chaikin's launch. He also managed to attend to his long slate of live gigs. As a staple of New York City's experimental music and "out"-jazz underground, the percussionist is usually at creative music hubs like Zorn's space The Stone, downtown Brooklyn venue Roulette, and local DIY spaces, sometimes playing before only a handful of improvisational music seekers.
That's a far cry from his other musical endeavor: providing the berserk yet rock-steady backbeat in the wildly popular YYYs. But in Chase's mind, these seemingly polar opposites—the art of improvisation and razor sharp, anthemic art-punk—are actually a singular interchangeable being. "In my experience, I've come to view music as a form of language. It is a language of sound and sonic expression," he explains. "From this viewpoint, the differences and boundaries between genres begin to vanish. If one is familiar with and fluent in various musical languages, then switching between different 'musics' is not an issue. In fact, differences begin to disappear altogether and it's just music."
After cutting his teeth at the Oberlin Conservatory in Ohio, Chase settled in Brooklyn in 2000 and found himself in the thick of the downtown scene at a crucial period, a regular at legendary spots like Tonic, The Cooler, and The Knitting Factory. It was in that scene where Chase's two worlds—punk and free-improv—would intersect and flower. "The New York scene of the late '90s and early '00s was very pivotal for me," he recalls. "Knitting Factory was a place where a lot of shows were happening for bands on the Brooklyn scene." Meanwhile, under the tutelage of former David S. Ware Quartet drummer Susie Ibarra, Chase was also finding his way as an improviser. "My favorite drummer was, and is, Susie Ibarra. Her playing instantly resonated with me: her style, her technique, her musicianship. It was at that time that I asked her for lessons, and since then I still credit her as my teacher."
Chase's sublimely crafted shapeshifting, telepathic interplay, abstract passages, and mind-bending complexities echo Ibarra's captivating and conversational approach. And like Ibarra, he's mesmerizing to watch, appearing trance-like as he both massages the drums with warm, subtle nuances and goes in for an all-out assault. Chase's influences run the gamut from grunge, thrash metal, no wave, and spiritual jazz. His heavy-hitting and bonkers beats are owed in part to childhood loves like Nirvana and Slayer, while the spiritual vibes reflect his love for Coltrane. "My attitude as a performer is to tap into music in its power to be communicative on a 'deep' level, whether it be catharsis or confronting painful emotions or expressing joy and bliss," he explains. "Probably the greatest example of this for me is Coltrane. Whether it be on Interstellar Space or A Love Supreme, his playing always transmits that spiritual depth that will be a continual inspiration."
Merch for this release: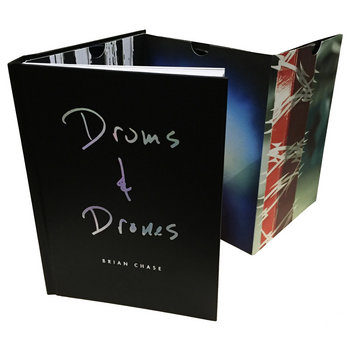 The cosmic bond Coltrane and drummer Rashied Ali share on Interstellar Space also radiates from Chase's vast experimental output. The percussive-based minimalist and classical-leaning compositions Chase helped Kid Millions realize in Man Forever was a trip into beats-driven ecstasy, while duo sets with electroacoustic instrumentalist Andrea Parkins and Chrome Cranks guitarist Peter Aaron resulted in space-jazzy drone and ear-bleeding jams, respectively.
In apocalyptic chamber ensemble Pale Horse, Chase, alongside Jeremiah Cymerman and cellist Christopher Hoffman, journey into dystopian terrain with a minimalist doom-jazz rumble that channels the dark bludgeon of Swans. "Jeremiah is like a brother, both musically and personally," Chase says of Cymerman. "Together I believe we see the full scope of what experimental and improvised music is on a purely unpretentious level. Experimental music, in its complete freedom of sound, is capable of expressing the deepest, darkest, nastiest tones available, as well as the sweetest and most sublime." Cymerman is clearly on board with Chase's vision. "It's rare to meet a musician with as much focus as Brian Chase. He hears the most subtle details in intonation, rhythm, and dynamics."
Chase and pianist Thollem share a similar kinship. 2014's Dub Narcotic Session found the pair letting loose on jittery punk-jazz, gnarly classical music deconstructions, and bluesy boogie-down. On their newly released companion piece, Dub Narcotic Sessions Vol II (via Personal Archives), the duo welcome guitarist Todd Clouser into the fray. "Todd is a great and sensitive musician," says Chase. "He brought to the table an important sense of lyricism which may not have been as pronounced in my or Thollem's playing." Thollem marvels at Chase's protean sensibilities, saying, "Brian Chase is a relentless explorer of sound and the infinite approaches to making it. His ears are tuned wide and deep. He's got impeccable technique, the ability to respond on a dime, ideas and skills and connections with a joy that permeates it all."
Now, Chase is turning his attention towards his label Chaikin, which was originally his surname before it was changed to Chase by his paternal grandfather. The label—which he started upon advice given to him by John Zorn—is a manifestation of the diverse musical tongues that Chase and his peers speak in while rooted in the DIY ethos. Chaikin's inaugural releases define that vision.
Taking inspiration from La Monte Young and Marian Zazeela's Dream House installation in TriBeCa, Chase birthed Drums & Drones, his solo project whose meditative explorations of tones and pitch using drums and percussion is dizzyingly hypnotic. "The Drums & Drones project started as a means to explore in detail subtle aspects of a drum's acoustic resonance," explains Chase. "As a drummer, I would hear how complex the sound of a drum really is and I believed that learning to manipulate this complexity would provide access to many expressive possibilities of drums as an instrument."
On the other end of the sound spectrum, Drums & Drones led to the sax/drums tandem of Catherine Sikora and Chase. "I was giving an interview and playing tracks on WKCR for a show hosted by Chris Pitsiokos," he recalls, "and Catherine happened to hear the broadcast while she was driving. She was intrigued enough to drop me a line." That strange happenstance resulted in Chase and Sikora channeling Coltrane and Ali on Chaikin's second release, the mostly improvised untitled: after, a blistering set based loosely on themes that were inspired by specific passages of Beowulf as translated by Seamus Heaney. "There are strong traces of Interstellar Space on this record and in our playing," Chase says. "Catherine and I both love that record very much and it is hard to not gravitate towards its influence. Some aspects that distinguish Catherine and I from that classic style is our greater emphasis on exploring melody and timbre. Much classic free jazz has a relentless propulsive energy which is part of what we do but which we at times channel in different ways."
Merch for this release:
Compact Disc (CD)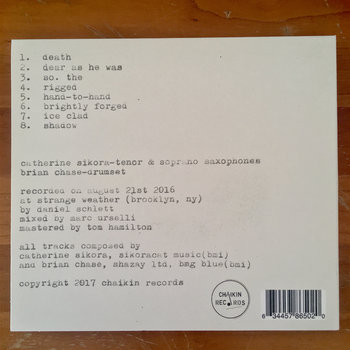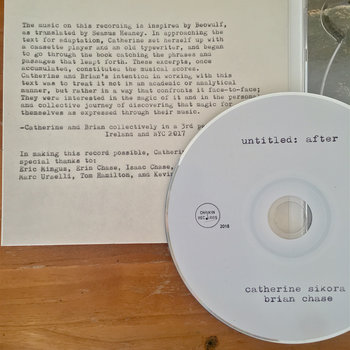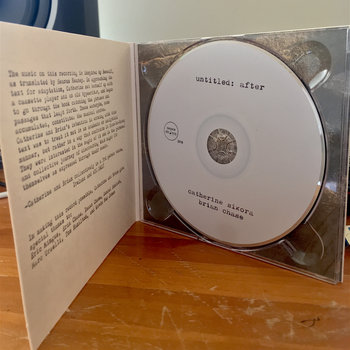 With the first two releases in the can, Chase is already prepping his label's next release: the debut from 13 Million Year Old Ghost. Chase is keeping details about it under wraps, at least for now. "13 Million Year Old Ghost is still to be shrouded in mystery at the current moment. I'll divulge that it is a project by a close friend of mine in the rock world. The music is along the lines of dark atmospheric instrumental songs that set a deep mood."
For Chase, his quest is never-ending. "The aspect of improvised and experimental music that has me knee-deep in it is the process. I feel like I'm on a mission, a mission to find music. It's not a mission that will ever end because there is always more music to discover. I guess that's why I like keeping active, and playing with different people, and developing deeper relationships: I'm finding music."