FEATURES
Brazilian Producer ÉRICA Takes Center Stage
By Amaya Garcia · May 02, 2018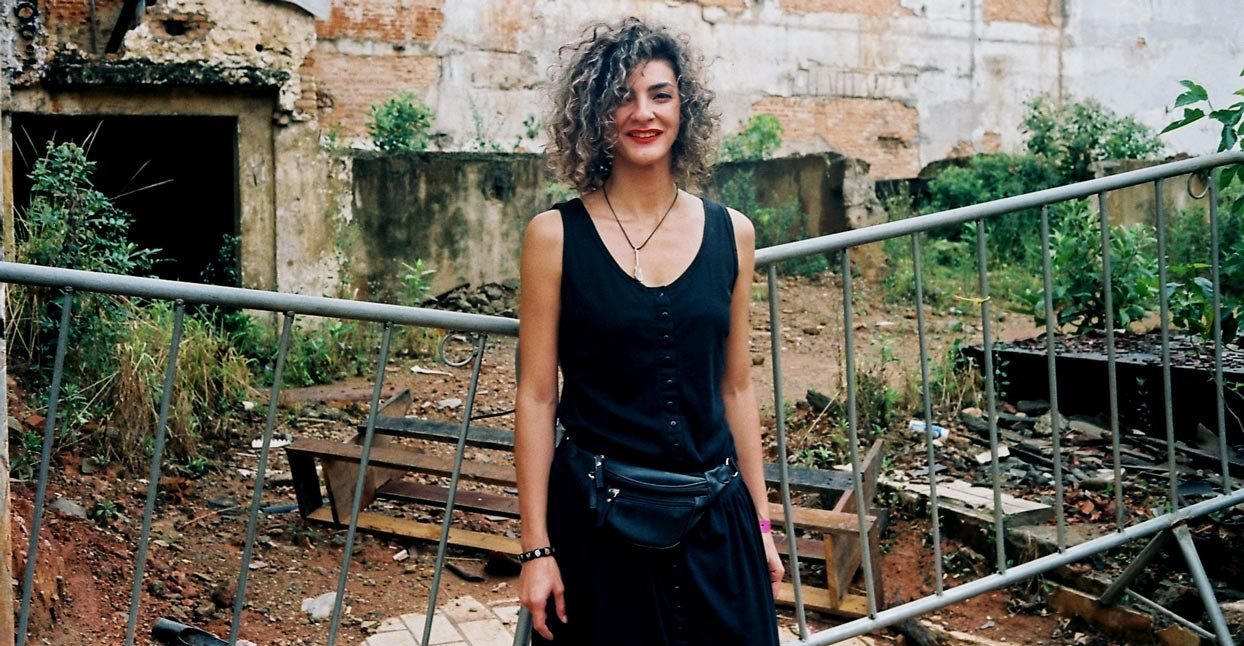 When Rio de Janeiro-based singer and producer Érica Alves recorded and released her debut solo album, Beautiful, she was at a strange crossroads as an artist. She had already achieved some degree of success in the São Paulo music scene as part of The Drone Lovers, her shoegaze band with producers Davis Genuino and Pedro Zopelar, even scoring an album deal with the recording arts branch of a popular Brazilian beer brand. Everything seemed to be going well. But as soon as she quit her day job as an English teacher to dedicate her time to the recording process, trouble began to surface.
"Here in Brazil, the artistic community is upper class to high class," Alves explains on a Skype interview from her home in Rio de Janeiro. "I'm working class. I have to make a living off of the music I'm making. That's what the people from the beer company couldn't get. I had to quit my day job to make this album, and as soon as I did that, the financial crisis hit the music business and they didn't call me into the studio for four months. I had no work, so I needed to go solo."
After winning a spot in Red Bull Music Academy's annual workshop, she began shaping her career as ÉRICA, an artist who would slowly shatter the stereotypes of what it means to be a singer, lyricist, and producer in a Brazilian music industry where, according to Alves, "the role of women is to be performers and interpreters."
Beautiful is where Alves comes into her own as an artist with immense agency and an extraordinary capacity to turn lessons learned and moments of introspection into synth-heavy compositions that are somehow both haunting and life-affirming. The album began as a spoken-word manifesto, a poem written in conjunction with two Brazilian poets. That poem eventually became "Manifesto," the closing track where Alves lets loose her battle cry: "Take the atom out of closed circuits, and obsessions with balance and order. We are comets. We are waves."
Inspired by the movements of the ocean—the feeling of being surrounded by an unstoppable force like water, and the inherent beauty and sadness of a dark, empty beach—Alves created echo-filled synth textures designed to represent the time in her life where she felt like she didn't have much control over her art. "The music is recognizing the dark side of life, but it's also very uplifting because you have to go through that in order to know what happiness is," she says. "Parts of the album are about discovering myself not only as a person, but as a producer; finding my own identity."
Over time, Beautiful began to signify the beginning of a new era for Alves, one in which finding her own identity also came with a need for activism, fighting for the inclusion of women in her native Rio de Janeiro's electronic music scene. Alves has spoken at length about the difficulties she's had creating space for herself in the music scene as an electronic music producer. Then, she told us how much of a struggle it had been to get bookers and promoters to recognize her as an artist on equal footing with her male counterparts and to get equal payment for both her live show and her DJ sets. She faced resistance on all fronts—her decision to go solo, her decision to play shoegaze, her fondness for writing and singing in English instead of her native Portuguese. In the three years it took to compose, record, and finally release her album, she confronted a scene that was hesitant to make space for her. She became an accidental activist, making it her mission to empower women to own their art and to claim a space for it.
"It took me a long time, and I was really resistant about doing something about it," she says. "I thought: 'OK, am I gonna spend my time making music, or am I gonna spend my time advocating for rights?' Then, it got to a point where in order for me to actually play, I had to open spaces for women. The reason that things were going harder for me was because I was a woman. It's not that people didn't want to hire me because I was a woman. It's because being a woman makes it harder for me to be completely focused in music because of other things: housework, marriage, self-esteem issues. When you're socialized as a woman, you don't think that you could do something for yourself. We're really raised to be codependent, enabling men to become full individuals and we're just sidekicks."
This reckoning inspired her to establish a series of spaces for women to be artists. She became part of the Women in Music movement in Brazil, and her first endeavor was Synth Gênero, a series of workshops she started in 2015, during her residency at São Paulo's Red Bull Music Academy. "The idea of the workshop is to offer a safe learning environment for women and LGBT folks to exchange knowledge about music production, synthesizers, technical audio stuff, among other things," Alves explains. "What has been successful about [this workshop] is that it has become a space where both newcomers and experienced producers meet. It's almost an excuse for us to come together. Many women have connected through the experience, and innumerable projects have been initiated through this. What hasn't been successful maybe is that it's difficult to keep doing this workshop consistently without funding. But, little by little, supporters have been growing. I keep thinking how far this idea can go with the proper support."
After being inspired by the WIM movement and the success of Synth Gênero, she realized she also needed to change the vocabulary surrounding her career. She stopped hiding her role as the producer and engineer of her own work. "People need to know that I studied this, that I'm not just a singer," she says. "Behind the work that I do, there's dedication, technical work, engineering, and men are more socialized to do that kind of work. That's why I started focusing on visibility and raising awareness about that."
In the past year, Alves and other women in the Brazilian music industry have also begun getting into the business side in order to correct the lack of women in festival and club lineups, while also fighting for their right to equal pay for equal work. "I've been working with three party labels in Rio de Janeiro: NUA, Manga Rosa, and Me Gusta, getting more into the business part of it all," Alves explains. "I have not had many outside bookings lately, so the best thing to do has been to invest in my local scene, help it grow."
This investment has also come in the form of Baphyphyna Records, the label Alves created in order to release her own music. The venture now has a bigger purpose as well: supporting women artists in Brazil. She has plans to release the compilation Baphyanas Brasileiras Vol. 1 in June 2018; it's a record that highlights the best of the music she has received for her monthly residency with Reform Radio. She plans to showcase the work of women who are bedroom producers, and who haven't necessarily had a chance for exposure. Alves also recently released Érica & Pinaud, her newest work with producer Jõao Pinaud. "We are working on a jazzy, lounge-y, groovy feel, with organic bass, loops, drum machines, synth, and noise textures," she says about the work. "We are working with songs of mine that I don't usually do live, so it's a whole new thing for me."
Alves has detailed the many obstacles women have had to endure in order to practice their craft in the electronic music scene in Rio de Janeiro, but there is progress being made. "I think the most beautiful part of the Women in Music movement has been the Women's Music Event conference, which [took] place in March in its second edition," Alves says. "This is just one of many of its kind to arise since 2015 and these events have been showcasing the amazing female singers and songwriters in action in Brazil. I think times really are different. Of the music I receive from women, I would say half the material is singer-songwriter stuff, so this is great. And lately this tendency has been making its way up the charts and crossing over to a wider public, although not mass consumption yet."
Alves has continued her labor, opening spaces for women and for the many players that conform Rio de Janeiro's independent electronic music scene. Alongside her work with NUA and Manga Rosa, she's become part of a group of promoters creating an independent artists guild in order to present a united front when it comes to fighting for the existence of the scene as a whole. The group, which is being built from the ground up, attempts to find solutions for immediate problems, shady booking practices, and big picture issues, like the economic collapse of Rio de Janeiro's government. Érica Alves, through her music, continues to fight the good fight.
-Amaya Garcia