FEATURES
Body Meat's Unhinged Pop/Footwork Fusion Celebrates Life's Outsiders
By Ben Jolley · April 23, 2021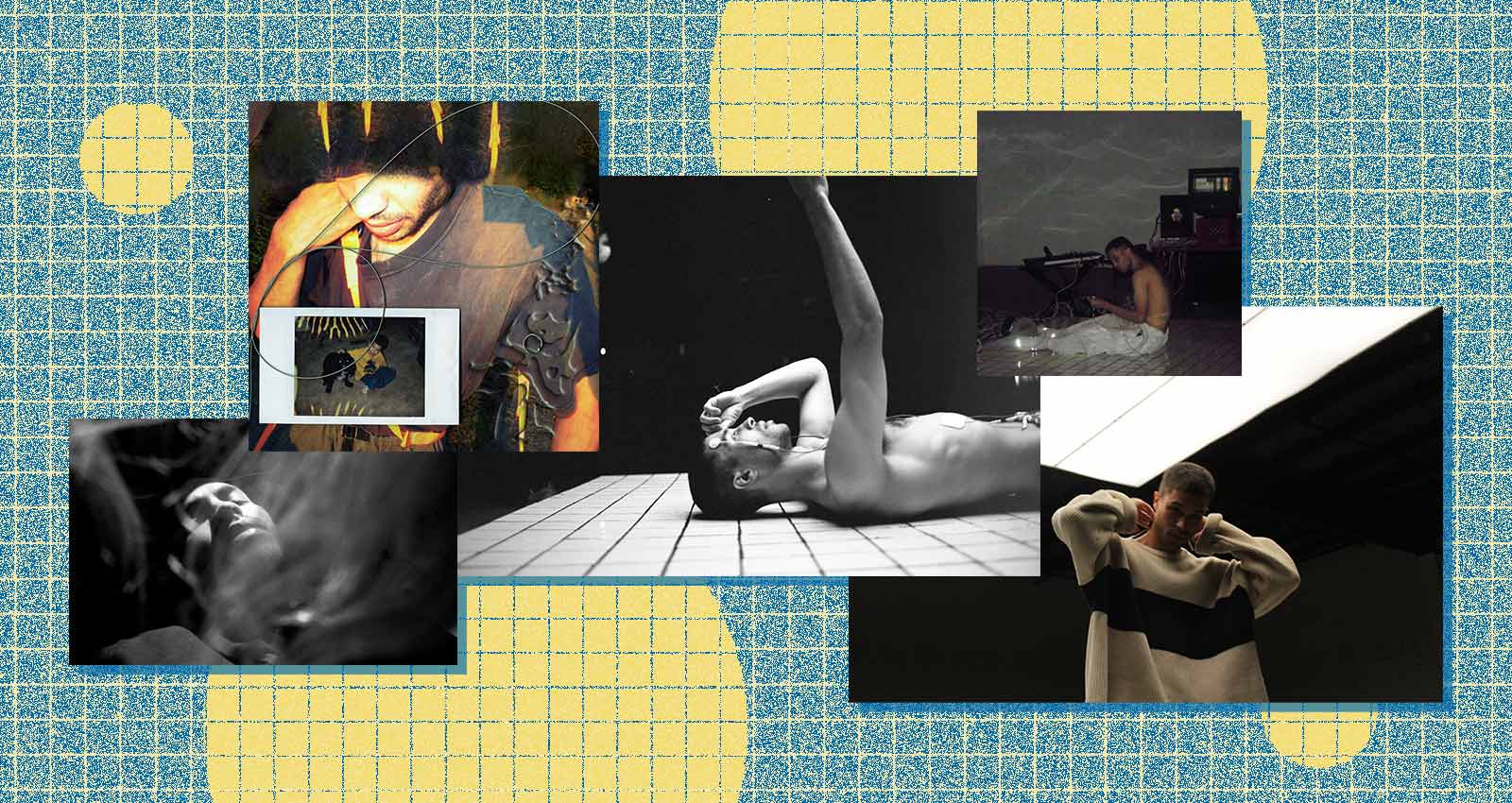 Body Meat has always seen himself as an outsider. Whether it's the things that excite him most in music, or his approach to songwriting and producing, he jokingly says that he often "feels like an orc".
For example: Ever since he was young, the Philadelphia-born musician—real name Christopher Taylor—wasn't drawn to actual songs so much as to "spaces of timing, where you could create a big movement with just a few things," he says. "I was fascinated by what the drums were doing, or what the guitar was doing with the drums; I didn't care about all the notes that everyone was playing."
.
00:10 / 00:58
Merch for this release:
Vinyl LP
When Taylor got his first acoustic guitar at age 18, he only learned a few chords—"the root" of songs—preferring instead to "make [his] own thing." His approach—making a conscious effort not to recreate what's been done before—translates to the experimental electronic music he'd go on to make as Body Meat. "I would just put my 8-track through a weird pedal and make my acoustic guitar sound like a computer, because I didn't have a computer to make music on," Taylor recalls. Aiming to "make moments" out of the breaks or breakdowns in songs, he'd take self-created samples and "do a crazy hook. None of it had to make sense."
While his music remains difficult to categorize—Taylor's creations have been called art-rock, mutant-pop, and, most recently, hyperpop—he still thinks genre is useful, as "it gives people something to latch onto." While he describes his aim as "trying to find harmony between the physical and electronic worlds," Taylor notes, "I never want to be the type of artist that intentionally wants their music to go over someone's head. I want people to feel like it's okay if they don't understand it."
With his new EP Year Of The Orc, Taylor sought to "create something where I could really play with the weight of rhythm and space," he says, "to see how much and how very little I could put into a song before I started to evaporate." Moreover, it's an exploration of his idea of songwriting. "The less you put in, the bigger something can sound," he says, "and the more you put in, the smaller something can sound."
By redefining typical song structures and pushing the limits of what's considered "pop," Taylor ends up with songs that feel as if they have a million things going on at once—though every intricate detail has its place in his R&B-meets-footwork sonic landscape. "ULTIMA," "This Is Something," and "Twigs" are frantic and almost chaotic in their glitchy energy, while "Ghost" provides a comparatively somber moment of near-ambient reflection.
.
00:10 / 00:58
Merch for this release:
Vinyl LP
The EP's most affecting track, "My Brother Orchestral," is a celebratory tribute to Taylor's brother, who died last May. "It rocked me pretty hard, because I hadn't seen him in years," he remembers. "When I got the call, it shook me up and I couldn't write music." Due to the pandemic, the family had to hold the wake over Zoom. Recording the wake helped, as Taylor could experience it later, when he was coherent. Months later, ready to process what his brother had been going through, Taylor started writing. "It was really hard, and I'd just start crying as I was playing the keys," he reflects. Hearing his sister say, "Eddie looked like he was smiling" gave Taylor comfort. "The song wasn't about mourning," he points out, "it's about someone who had been suffering for a long time finally finding peace." Adding in his father's actual farewells, alongside booming percussion, completed Taylor's framing of the song as "a celebration" rather than a lament.
Making the EP helped Taylor to "find peace" with each aspect of his life. The title Year Of The Orc was inspired by Taylor imagining himself as an orc ("I just want to be living my life in this mystical world and not worrying about what everyone's thinking"); and "ULTIMA" was a breakthrough moment: "It's going into my past and saying 'Okay, I can find peace here, too; there were good things among all these bad things'," he explains.
Crafting Year Of The Orc following a period of self-pressure and childhood reflection has also instilled in Taylor a newfound sense of freedom. "Being comfortable about how and what I create," he says. And as Body Meat, he's gained the confidence to celebrate those outsider tendencies.