FEATURES
The Quiet Genius of Bob Gaulke
By Saby Reyes-Kulkarni · June 22, 2022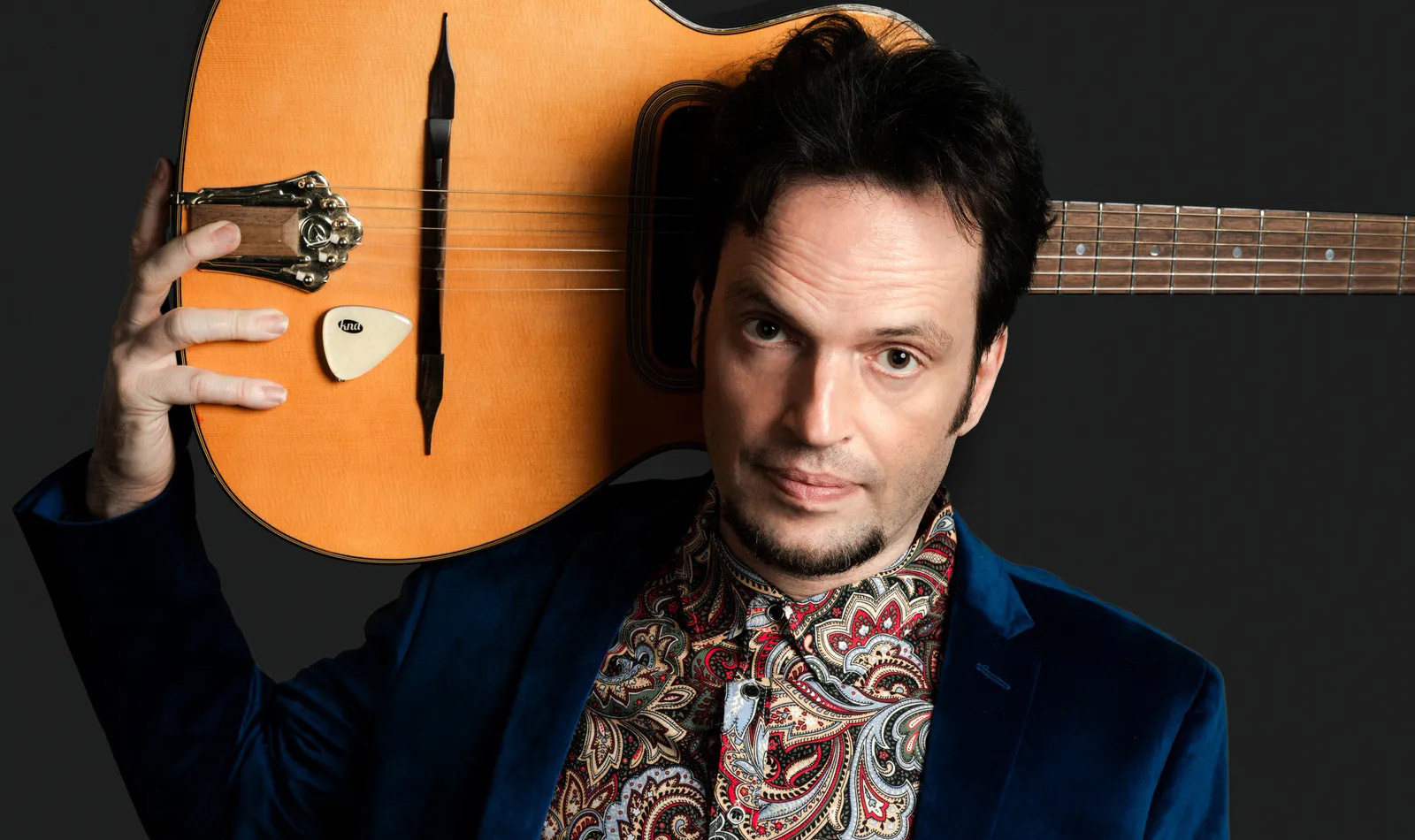 It's been many years since Bronx-based singer-songwriter Bob Gaulke gave up on "making it" as a musician. After what turned out to be a comically miscalculated move to Seattle and Portland in the early '90s at the height of grunge, Gaulke figured he was most likely going to be out of step with mass appeal. Ironically, shrugging off the pressure to "succeed" in the classic sense has helped Gaulke hone his sound into a remarkably accessible amalgamation of pop, soul, and post-punk heavily rooted in Brazil's Tropicália movement. In addition, although Gaulke has worked full-time since 2005—teaching English as a New Language to 7th-graders in the Bronx's Tremont neighborhood, one of New York City's most impoverished—he's only gotten more prolific over time.
.
00:10 / 00:58
Currently, Gaulke—who turned 55 this year, on the same day he released his latest EP Symbolism—is in the midst of an astonishing creative outpouring. As of this writing, he's about 15 titles into his plan to release 50 albums/EPs. With the release of Obviously and GQZ in April and May, respectively, Gaulke decided to accelerate his pace by putting out a new title every month. (Ideology follows in July, and Pareidolia in August.) And though Gaulke could, in all fairness, be described as something of a bedroom artist, it's not just the sheer volume of material that's noteworthy. From smooth pop (Obviously) to scratchy garage psychedelia (GQZ) to a solemn chamber pop/lounge blend (Symbolism), each title stands on its own in terms of style and tone. The lyrics, delivered in a half-spoken style, reflect a deep affinity for poetry that Gaulke suspects he inherited on account of his mother being from Iran.
To understand Gaulke's journey up to this point, however, it helps to go back to 1991 and the formation of Hypermarket, a group he founded with friend and fellow singer-songwriter Eric Gregory in the small Western New York city of Rochester. Inspired by British post-punks turned blue-eye-soulsters Scritti Politti—and as a reaction to how segregated they felt American rock music was at that time—the pair sought to make R&B-inflected sophisti-pop blended with agitprop capitalist critique. "The way the English have always reflected and remixed American music," Gaulke offers, "helped us understand our racism." Of course, in the Pacific Northwest, they were surrounded by the very types of rock bands whose ethos they were trying to counteract.
And though ambitious, their crude production skills yielded a lo-fi approximation of their vision. Nevertheless, listening back to the chugging De La Soul/3rd Bass/Prince Paul-esque sampled beat that underscores "Thrill of the Purchase," from 1994's Famous Profiles in Retail, what immediately jumps out is that Hypermarket had arrived at the same hip-hop-informed pastiche sensibility that artists like Cornershop, Soul Coughing, and Beck would make waves with that same year. Notably, though, Famous Profiles in Retail was recorded from 1992-93—which appears to put Hypermarket at the forefront of a major cultural curve that shaped the decade.
.
00:10 / 00:58
By that point, Gaulke was coming to his rude awakening about stardom. But before Hypermarket disbanded (they'll be back with a new album later this year), he came across Brazilian giant Caetano Veloso's Tropicália 2 album via the Columbia House subscription club—perhaps the single most defining event of his creative life to date. "Suddenly," he explains, "here was this whole new palette, and I felt the same jolt at 30 that I'd felt for post-punk when I was 16. It sounded to me like a language for expressing adult feelings. It came from this unified-field theory of music, where songs are very rhythmic and the lyrics are poetic, but with minor chords and intricate jazz harmonies."
Gaulke says he "imported like two hundred CDs from Brazil, and then it was like, fuck it—I need to go there and learn the language." Gaulke set his sights on Bahia, the birthplace of tropicália, where he lived and worked for a year and a half and learned Portuguese. Though Gaulke didn't go to Bahia in pursuit of fame, the move didn't pan out much better for him than the Pacific Northwest. "It was stupid," he deadpans. For the first several months, the locals mistook Gaulke for a German tourist, and they were puzzled that he wasn't spending more time at the beach. "I did not have this transformative experience," he chuckles, "but I did find a path forward. What I took from Brazil was something that Milton Nascimento said, which is that sharing is at the heart of creating."
Indeed, Gaulke gives the artists he works with as much latitude as they need to run free with his material. And he's gotten into long-term working relationships with Latin American luminaries he's admired for years, including film composer Marcos Kuzka Cunha (who produced much of Gaulke's current output) and guitarist Junior Tostoi (famous for his work with Lenine), among others. The extent to which Gaulke's guest roster enriches his songs with individual shades of character simply defies words: a sumptuous, perfectly-situated bass note on "New Samba" courtesy of Cunha, Henrique Band's melancholic flute puffing lazily along at a steamboat's pace on "A Recurring Whale," and background harmonies from New York City-based singer Emilia Cataldo (aka Nehedar) that lift songs like "New Samba" and "Follow the Prettiness" to stratospheric heights of beauty and tenderness that Gaulke simply could never reach on his own.
.
00:10 / 00:58
That said, to hear Gaulke tell it, he's still a ham-fisted novice blindly groping his way through his own songs—almost like a non-musician—but that's just not the case. Yes, Patagonia-based mixing engineer Martin Scian nearly steals the show, making all the parts fit with a fine-art painter's loving, deliberate touch, but Gaulke's body of work reveals the mind of an auteur. "I follow the Cassavetes template," he explains, "where the directing is 90% in the casting. I think of all art as a dialogue and learn through collaborating. My biggest thrill is sending out the bones of a song and hearing back what everyone adds."