FEATURES
On "Negro Swan," Blood Orange Dissects the Enduring Pain of Underserved People
By Briana Younger · September 05, 2018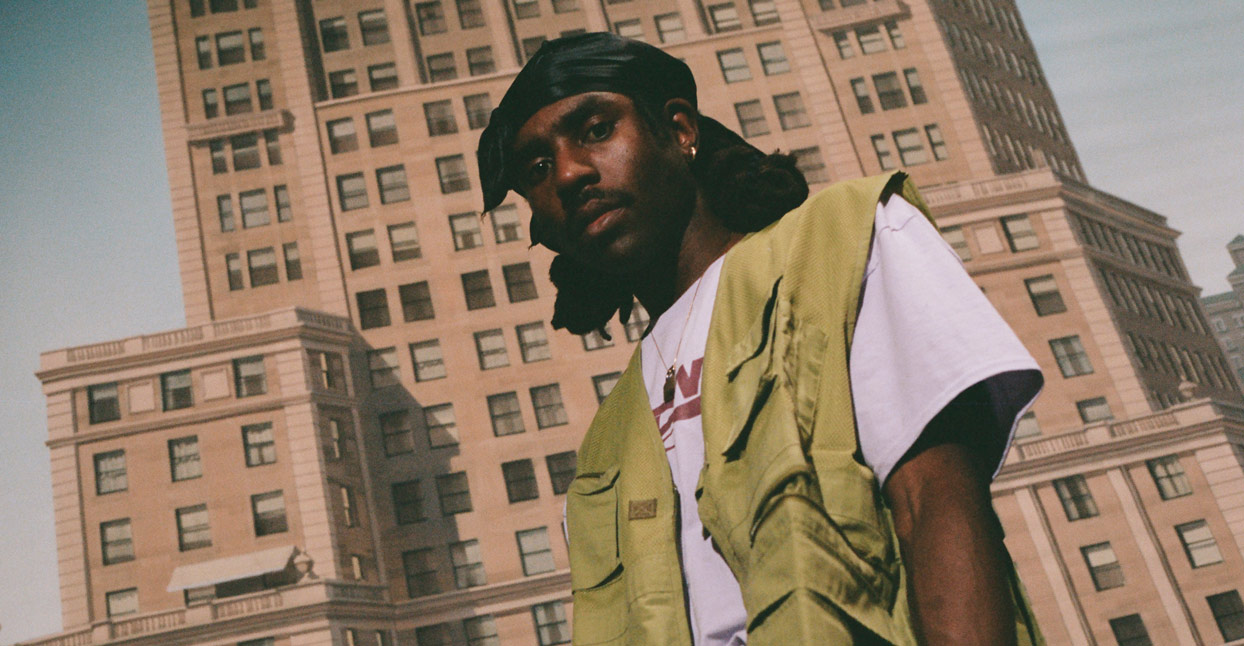 Dev Hynes didn't go into Negro Swan, his fourth album as Blood Orange, with any kind of master plan. Instead, it took shape in small pieces; Hynes would mull over ideas, see them through to the end, and then he'd start the process all over again. Eventually, a common thread began to emerge: a thesis on the mental health of black and brown and queer people. But to hear Hynes explain it, the final product could have just as easily been handed off to someone else.
Merch for this release:
Compact Disc (CD), 2 x Vinyl LP
"Even when I was deep day and night working on music, I was like, 'I literally don't know what this is,' because especially with me, a lot of things could end up being [songs] with other people," Hynes says at a cafe near his home in New York's Lower East Side. "If I have a song and someone I know hears it, and they have ideas for it, and they're like, 'Can I use this for my record?' I'll say 'Yes,' no matter what it is. I have no preciousness about any of it."
Though it's hard to imagine any artist being content with someone else taking over their work, Hynes has never seemed to mind. After all, a portion of his fanbase likely discovered him through his collaborations—Solange's True EP, which he co-produced, Sky Ferreira's "Everything Is Embarrassing," and FKA twigs's "Hours," to name a few. His generosity stems from the knowledge that there will always be more ideas—whether he's seeking them out or not. "I'm kind of lucky, in a sense, that music has just been so natural and so ingrained in me," Hynes says. "I've worked really hard, but it's never felt like a thing I'm particularly chasing. It's just how I document and get through things. I never sang in front of a mirror, you know?"  
As a child growing up outside of London, Hynes was introduced to the piano around six or seven by shadowing his sister, who was taking lessons. The following year, he joined the music program at his school and picked up the cello—mostly "because everyone else in the class picked drums or guitar." He later learned those instruments on his own and eventually joined the dance-punk band Test Icicles. It was fairly short-lived (the group only released one album), but it gave him an opportunity to leave home. When planned U.S. tour dates were canceled and the group disbanded, Hynes found himself with a fresh visa and nowhere to go. He thought about moving to Paris or New York City before deciding on the latter, eventually packing his things and taking off.
"I feel like there was an element of naivete in it," Hynes says. "You know, I was really young, and so I just kind of went. I didn't know anyone." Once he arrived in New York, Hynes lived on a couch that belonged to a friend of a friend's old roommate in Long Island City. Before the Big Apple, he took a pit stop through Omaha, Nebraska where he recorded his debut album as Lightspeed Champion, a folksy Americana act that he has said was largely about ticking nerdy musical boxes. He earned a bit of attention from those records, but it wouldn't compare to his next act.
Merch for this release:
Compact Disc (CD), 2 x Vinyl LP
Hynes's debut under the Blood Orange moniker, 2011's Coastal Grooves, presented a nostalgic version of NYC through new wave-esque variations on R&B and pop. Behind the scenes, he was amassing a Rolodex of famous friends and widespread acclaim. But it wasn't until his sophomore album, 2013's Cupid Deluxe, that he began to reach even larger audiences. It was unlike anything he'd released prior; its synth-pop grooves had a buoyancy about them, and the album was brimming with songs that sounded a lot like love. Compared to the abstract nature of the album that preceded it and the ones that came after, Cupid was warmer—an album about feeling at ease, and the people who'd helped him get there.
"When I think of the period of Cupid, it's really interesting, because, essentially, it was the first time maybe in my life where I first felt like I had a home," he remembers. "I'd been in New York a few years and I had an apartment—which eventually burned down—but it felt like mine, and I felt comfortable."
The apartment fire wasn't the only disruption to impact Hynes' songwriting. In 2014, police officer Darren Wilson shot and killed Mike Brown—an unarmed black teenager—in Ferguson, Missouri, sparking an explosive movement seeking justice for Black lives. 2016's Freetown Sound was born in that context—under a perpetual state of duress and a constant search for home. Negro Swan drills even deeper into those anxieties, emerging with hope and validation. "It was a natural step from where I was when I was making the last record, so it's like a continuation of examining life and myself."    
The tracks stretch across field, era, and genre. Janet Mock, the writer and activist who made history as the first trans woman of color to direct a television show (FX's Pose), provides the album's narration. Her words capture the constant pressure of marginalized people to shapeshift and navigate a world that constantly rebuffs them. Musician and producer Steve Lacy, singer-songwriter Tei Shi, and hip-hop mogul Diddy also appear, but the two guests that stick out most for Hynes are legendary Memphis rapper Project Pat and the incomparable vocalist Georgia Anne Muldrow. "On the tracklisting, that's the name to me that is unbelievable," he says of Muldrow's contribution. "Project Pat and Georgia—their names to me are psycho. I'm just as in shock as anyone else is that I have records with those two people on it."
"Chewing Gum," a dynamic track that includes Project Pat and Harlem rapper A$AP Rocky, was born out of Hynes's desire to mix the iconic sounds of Memphis hip-hop with his celestial melodies. That desire resulted in two songs: "Hun43rd," on Rocky's latest album, and "Chewing Gum." It stands apart as a connective hip-hop moment within the album, as Hynes juxtaposes the vulnerability of his vocals with Rocky's buttery flow, a Kingpin Skinny Pimp sample, and Project Pat's screwed verse.
"I wanted it to feel like 3am or 4am Saturday night," Hynes says. "That's why the song after it, 'Holy Will,' is like Sunday morning." "Holy Will" is a one-take hymn that spotlights a stunning falsetto, courtesy of vocalist Ian Isiah, and a reimagining of the Clark Sisters' "Center Thy Will."  
Muldrow's track, on the other hand, is a testament to Hynes's collaborative nature. Her vocals tower over the guitars on "Runnin'" as she imbues the song with a spirit of encouragement that serves as an answer to Hynes's pain. No matter how personal a song may be—and "Runnin'" is very much so—Hynes firmly believes that there's nothing he has that can't be improved on by the presence of someone else.
"I don't know what I gain from keeping them," Hynes says of his songs. "They could go to another place. I always believe that other people can finish something, or even express something better than you," he says. "That song existed in its entirety, and Georgia's part was the very last thing recorded. If you take her part away, it's such a different song. She took it to this—almost one of the most hopeful moments on the album, and without her, it's one of the darkest."
Merch for this release:
Compact Disc (CD), 2 x Vinyl LP
Negro Swan unfurls as a work that is, at once, the tunnel and the light at the end of it. It's a culmination of experiences unique to minorities, as well as a creative undertaking that opens Hynes up to new artistic territories. Unburdened by expectation, he uses sound in a way that exists on the fringes, but is still familiar and soothing. It's music that is perfectly suited for feeling, at any given moment, like you're not enough and yet somehow too much—but as Mock questions at one point on the album, "Why would we want to do the least?" It's validating and political in its refusal to be anything other than what Hynes and his collaborators decide it is.
"If you do anything for other people, you will go crazy, I think," Hynes says. "That's a broad statement, but even when you're doing something for someone else, it should come naturally. If you're happy with what you've done, you can't really be knocked for it."