FEATURES
Between The Bass Lines
By Dub ID · May 28, 2013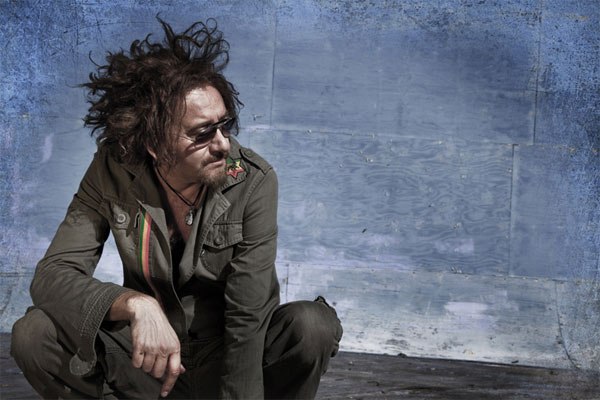 "I want to see and feel my music without watching a screen. I don't want to program my music, I want to play it."
With his wild tufts of hair and racks of analog synth gear, Italian-born dub and electronic producer Daniele Gaudi is hard to miss on stage. He's been up there a lot lately, as his globe-spanning performance schedule has accelerated in recent years, taking him from Black Rock desert to Australian beaches to the pyramids of Egypt. Known for chilled-out psychedelic dub beats on albums for  Six Degrees, Interchill and other labels, Gaudi has risen to the forefront of eclectic electronic music, alongside artists like Nickodemus, Pathaan, Kaya Project and others.
Over the past 30 years Gaudi has performed in live rock bands, released a dozen solo albums, remixed Bob Marley, and created an album of original music with unreleased multi-track vocals from Pakistani Qawwali master Nusrat Fateh Ali Khan. Gaudi's last album, No Prisoners, was released in 2010; he doesn't rush his output. Instead, traveling and transition are at the heart of his expansive and often collaborative recordings, music that has earned him a devoted international audience.
Gaudi's extensive musical achievements, which include commercial productions for Sony, Fiat and Fiorucci, have made him known to both Burning Man types and industry execs alike. Both, apparently, trust his taste and discernment, whether he's performing on the playa or composing car commercials. So it was no surprise that when I caught up with Gaudi via Skype he was in the green room on the set of the Italian version of The Voice, the famous syndicated TV singing competition, where he was to be a guest judge.
With an Italian-tinged British accent, Gaudi described his approach to music production, which, given his nearly 80-gig-per-year touring schedule, is remarkably still analog rather than laptop-based. In Between Times was recorded in his London studio filled with vintage gear, Moog synths, spring reverb and tape delay effects units, which Gaudi calls "a necessary environment" for his creative output. "My [music] ideas are totally connected to the sounds in my studio," he explains. "The same idea made with a computer-generated synth would be totally different. I want to see and feel my music without watching a screen. I don't want to program my music, I want to play it."
Indeed, most of the gear in his studio is pre-MIDI era, including some special items, like a Fender Rhodes piano purchased from Bob Marley's former backing band the Wailers. He admits that he does use laptops and a Dictaphone to capture sketches when he's on tour, but now, celebrating his 30th year in music, he's as adamant as ever about his methodology.
"Nowadays, making a song with technology takes seconds," he says emphatically, "you have plenty of pre-set [sounds] and drum loops–you just assemble them, upload it, and it sounds killer." He clarifies that he doesn't think it's wrong for others to make music solely with computers, but it's not for him. "My way of creating music doesn't always reflect today's speed–that frantic velocity where everything needs to be done now. Fuck it! I spend three or four years every time I make an album," adding, "I make music for one reason primarily: it makes me feel free."
In Between Times packed with crisp, energetic songs that straddle the listening and dancing threshold. The opener, "Put Your Guns Down," featuring former Black Uhuru vocalist Michael Rose, is a perfect blend of percussive house and steppers dub. Elsewhere, French reggae toasting talent Jahmai delivers rapid-fire verses over a hybrid hip-hop/dubstep beat. The set also includes evocative instrumental tracks that range from ambient dub to spacey electronica, and then there's "Hurriya," featuring Moroccan vocalist Tahar, "Babylon Is Fallin" with UK MC Deadly Hunta, and an utterly sublime collaboration with Lee "Scratch" Perry and The Orb titled "I Start To Pray."
Although the instrumentals provide breadth, the guest artists show Gaudi's mastery of cooperative music making."[It's] like when a good football team plays together, everyone can affect the outcome of the game," he relates. "When I work with collaborators it's like a team playing together, achieving the same final result."
Take the Michael Rose track for example. Canadian dub producer Ryan "Twilight Circus" Moore introduced Gaudi to the singer. The original vocal was cut in a German studio. Gaudi took the acapella vocal to his studio, created a new original electronic backing track and presented the final result to Rose. "He was mega-ecstatic, so excited that he's going to participate in a video that we're shooting," he says. "It was a similar approach to what I did with the Nusrat project, using the vocal and having total freedom to experiment."
Similarly, Gaudi hooked up with longtime friend and fellow music traveler Raja Ram of TIP Records and psychedelic trance outfit Shpongle. After seeing each other at gigs throughout 2012, including at a performance during the lunar eclipse in Australia, they made their collaboration a reality when Ram came to London and tracked a memorable Middle Eastern flute solo on "Tamino and the Temple of Dub."  The Australian eclipse event also inspired one of the album's best instrumentals, "Subtle Obscurity," which, Gaudi says, was finished quickly by his standards: "It took only two weeks."
A turning point for Gaudi and his music came in December 2012, and ultimately provided the basis for the new album's title. He was invited to perform at the pyramids in Giza, Egypt, and the significance of playing music at one of the Seven Wonders of the World during a moment when some claimed the Mayan calendar predicted the world would end was not lost on the producer. "[The pyramid] is one of the most powerful concentrations of energy on our planet," he explains. "Something really intense happened to me."
Meanwhile, back in Italy, his father was gravely ill and nearing death. "It was terrible seeing him like that. I wanted him to be with me, but on the other hand I wanted his pain to end," he explains. He decided to synthesize the various points of transition into his art, thus In Between Times had both personal resonance as well as significance to the state of the world, music and technology.
That transitional vision is summed up on "I Start To Pray," a co-production with The Orb and Lee "Scratch" Perry. The 70-year old Perry represents a link to original Jamaican dub music, while The Orb and Gaudi add their electronic techniques to the mix. And while Gaudi is very much a futurist, his process and inspiration go back to the roots. "My dub references are coming from King Tubby, Lee Perry and Scientist," he explains, "but I'm not trying to recreate their sound. What the hell! It makes no sense; you can't be better than the original."
Like original dub music, Gaudi's music takes the listener between the bass lines, leaving space for the nuance and color in his productions to emerge. He's decided that while the computer offers endless synth, sample and rhythmic layering possibilities, often you can say more with less. "With all of the plug-ins and effects, the result is a wall of sound," he explains. "There's no time for the brain to filter it out. With the dub producers as a reference, I give the same importance to the silence between the notes as the notes themselves. I try to not oversaturate my sound with a thousand elements. That, to me, is an art nowadays. Music is beautiful, but silence is just as beautiful."