FEATURES
Being Quelle Chris: A Look Inside The Rapper's Quirky Hip-Hop Sound
By William E. Ketchum III · February 01, 2017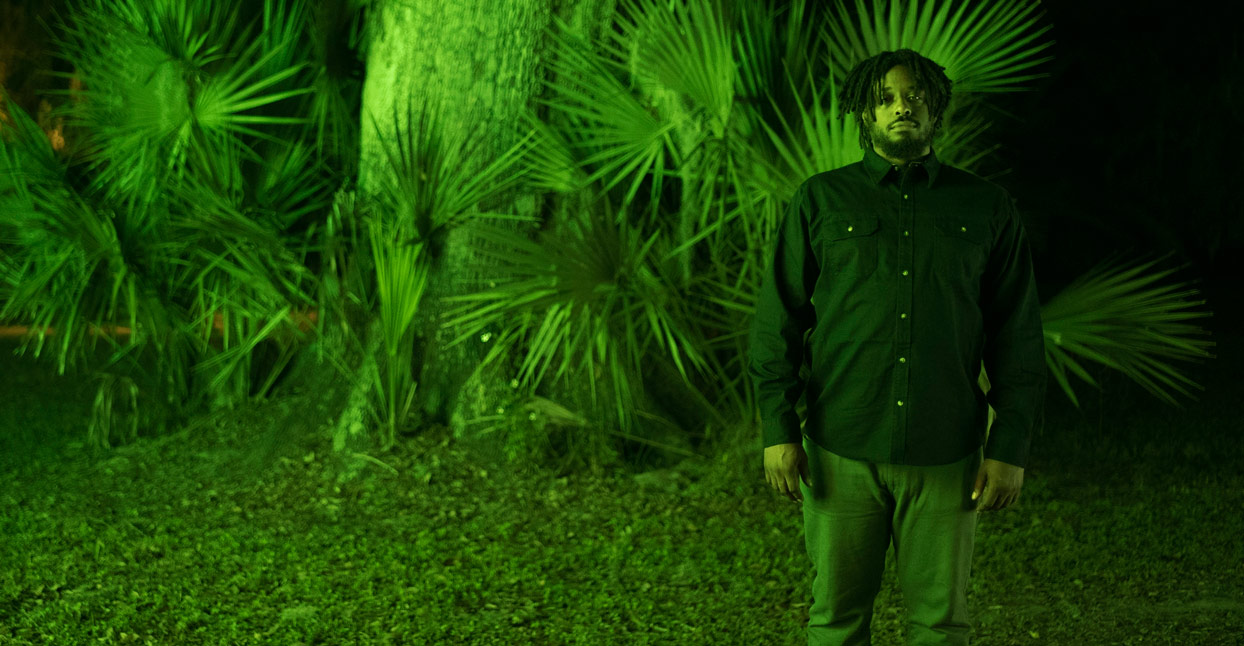 On a breezy winter afternoon in Brooklyn's Bushwick neighborhood, Quelle Chris is reclining on his couch, playing video games and enjoying a smoke. It's a rare bit of downtime for the producer/rapper; he lives here with his girlfriend—rapper/actor/comedian Jean Grae—and relaxes with Playstation, weed, and Netflix. After pouring each of us a glass of Red Label whiskey, he shuts the window to drown out the sounds of traffic. "If I keep this open, we may not hear any of the interview," Quelle says. It's a slightly ironic move—that same hum of traffic is part of the palette of sound Quelle uses to create some of the most unique, forward-thinking hip-hop around.
Most hip-hop producers who build their work from samples spend a lot of time in record shops, digging through crates to find the gems they'll eventually chop and manipulate into new masterpieces. But Quelle is different; when he goes looking for sounds, he starts with the television.
"I'll sit and watch hours and hours of the most terrible movies, just waiting for those little moments," he says. "Not even just samples, but [the sound of] someone tripping up a flight of steps in a movie." He calls his sound "explorer hip-hop." It's perhaps best compared to Madlib or Knxwledge, both of whom use random clips—vocal splices, in particular—from films to create their music, stringing things together with a heavy helping of oddball soul. Some of Quelle's productions do the same; others seem to go out of their way to create dissonance.
Take Quelle's upcoming LP, Being You Is Great, I Wish I Could Be You More Often. "The Dreamer In The Den Of Wolves," one of many album standouts, swings, looping a nasally horn sample in a way that's relatively conventional for hip-hop. Conversely, "Don't Get Changed" has almost no melody at all; though it's clearly layered with a collection of rumbling sounds and buzzes, it's tough to pinpoint what any of those sounds actually are. If you try to pull them apart and identify them, it becomes distracting; but if you just stand back and listen to it, it'll burrow its way into your brain.
Merch for this release:
Vinyl LP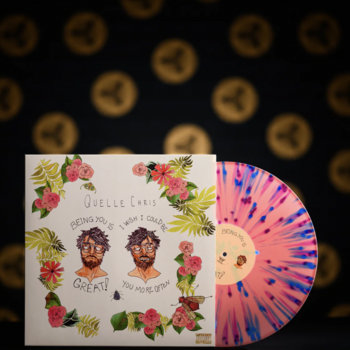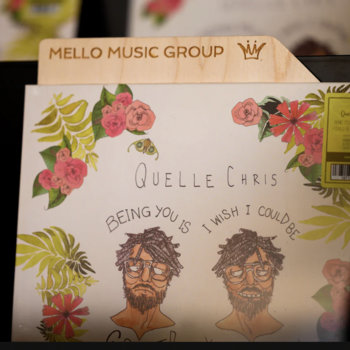 While Quelle's production works best as big-picture listening, his lyrics are the exact opposite. Quelle's rhymes vary between scattered and conceptual, jovial and reflective, and his flow has a consistently blunted, conversational tone. It accentuates his satirical rhymes and wry sense of humor, but makes emotions like joy or sadness tough to pick up on early listens. It's almost as if he sees those feelings as fleeting—that neither will be around very long. Quelle admits that he'll write songs that range "spirit-wise, from super high to super low," within a single three-day period. Being You Is Great captures both ends of that spectrum and, despite its weird, tough-to-decipher sounds, the record is based around a clear, coherent concept.
"The idea came to me during one of those relationship-type arguments," Quelle says. "The other half says to me, 'Sometimes you're so great Quelle, you can be so kind and so patient. Then sometimes you can be an asshole, and selfish. Why can't you just be [kind and patient] all the time?' Being You Is Great is kind of a sad statement. You're talking to yourself, talking to that better side of you, saying, 'Being that better you is great. I wish I could be that more often.'
Quelle's new album follows both Innocent Country and the instrumental Lullabies for the Broken Brain. "Innocent Country was supposed to be a pairing with this record, in the same way that Niggas Is Men and Ghosts At The Finish Line came right after each other," Quelle says. "Innocent Country was supposed to be me looking at everybody else—'this is what all y'all are doing'—while Being You Is Great was supposed to be, 'but this is what you are. Look at yourself, too.' They are kind of the similar idea, just from two different perspectives. One is from the inside looking out, one is from the outside looking in."
Being Great opens with "Buddies," a happy-go-lucky mission statement in which Quelle literally enjoys his own company as a friend, rapper, drinking companion, and vacation partner. "I fuck with myself/ might buy myself some flowers/ I'm in love with myself," he says, before strolling into the chorus: "I might just jump back and kiss myself." But the mood turns melancholy on the next song, "Popeye," where he laments that he "never meets my goals, but always reach the finish." He unconvincingly attempts to believe friends when they tell him that he's a good person. The album continues to pivot between self-doubt, self-deprecation, and self-aggrandizement until it arrives at "It's Great To Be," near the album's end. "I fuck with myself, I fuck with myself," Quelle repeats, his voice more confident than before. "Might bring myself some flowers, I'm in love with myself." In the end, Quelle is in love with is both sides, the good and the bad; to deny one of them is to deny reality.
"The purpose of the album is kind of to show the human element," Quelle says. "For women, you get these constant barrages of, 'This is what your image should be to be a woman.' With men, you get the machismo type things, 'This is what a man should be.' But no one just talks, in media and so forth, about how this is what human is. Don't sit here and tell me that your hard ass hasn't cried before, or you haven't been unnecessarily confident before. The more natural and simple emotions, in my mind, are the greatest and most complex ones."
Merch for this release:
Vinyl LP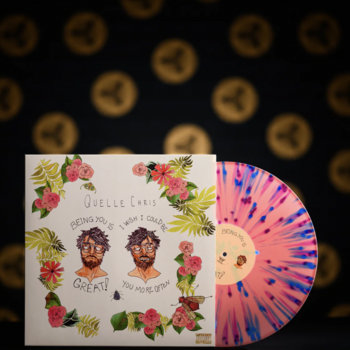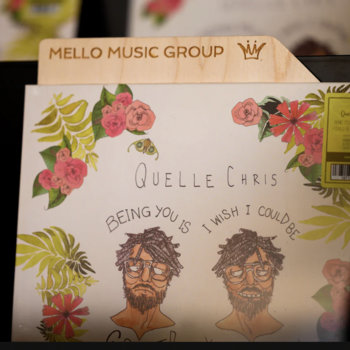 Quelle Chris has worked long and hard to achieve this sense of stability. He calls Detroit home, since he's spent most of his life there, but as the son of a shoe designer, he's lived all over the country. He was born in upstate New York and stayed there for about six years before moving to Detroit. He briefly lived in St. Louis while he was in middle and high school, before a stint in college in Michigan's rural, isolated upper peninsula. After that came a move to Chicago with friends for community college, before moving back to Detroit. San Francisco, Los Angeles, and Oakland came next, before he settled in Brooklyn about three years ago. "I like moving around and being a part of a lot of different things," Quelle says. "Home is not only a physical thing, it's an idea. Whenever I have homies that go, 'I've been here all my life, I'm never going nowhere,' I can never understand that."
Quelle was a creative kid: he wanted to be a ventriloquist or an animator, and he spent a lot of his free time drawing (he would later learn to do music videos, he said, out of necessity). When he started making music, he would experiment with whatever sounds and themes were popular at the time: crunk music, rhymes about toting guns and having sex. The turning point came in 2003: Quelle was recording at the home of Marlow "Loose Goose" Green, a member of old Detroit rap trio Wasted Youth, who Quelle grew up with.
"One time I was rapping a verse for [Loose], and he was like, 'Why don't you just rap like how you talk? Why you feel like you have to put all that extra shit in there? Just be you,'" Quelle recalls. Loose explained that since Quelle had a slight speech impediment, his voice was already unique. "That was sort of like an eye-opener, because I respect him beyond anything else," Quelle says. "It took me going through that period of trying to be a rapper, then realizing that I'm just naturally a rapper myself. With that realization came everything there is now. What you perceive as your flaws are what makes you unique to other people, or what they see as your strength. Other people are looking at you, like, 'I wish I had that.'"
Quelle steadily began refining his sound with a newfound confidence in his own personality. He formed Crown Nation with Detroit rapper/producer Denmark Vessey, as well as an offshoot called Awesome In Outer Space, along with his own solo work. "(His music) was just weird," Vessey recalls. "I was making weird stuff, and it was cool. It was stuff that I was talking about, or an approach that didn't sound like everybody else to me. It might have made a reference where I thought, 'Oh, that's a little oddball reference. I know where that comes from, I don't know how many people that rap actually saw that TV show.' Just little stuff like, 'Ha! I caught that!'"
Merch for this release:
Vinyl LP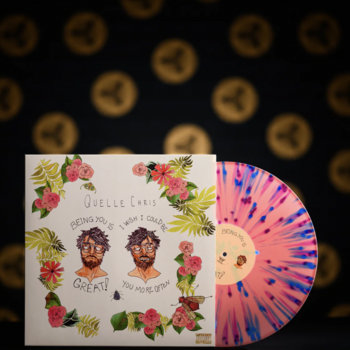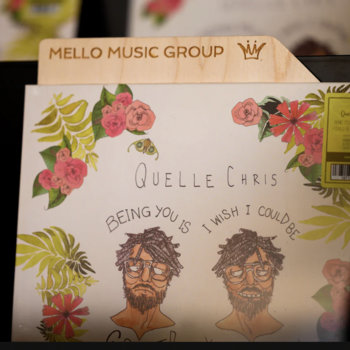 In 2011, he released Shotgun & Sleek Rifle, which put him on the radar of Mello Music Group, the indie label that's home to Oddisee and Apollo Brown. Mello's CEO Michael Tolle was intrigued by the album's cover art, and was impressed with Quelle's song "The Crook," produced by Roc Marciano. He liked the way Quelle's lyrics pushed enlightenment and self-awareness without being corny, and respected the fact that, at a time when Marciano's rhymes were in particularly high demand, Quelle enlisted him not for a verse, but for a beat. Tolle is quick to point out that Quelle keeps company with the likes of Alchemist, Danny Brown, Elzhi, and Pharaohe Monch, but refuses to rely on them or exploit them for singles or  buzz. Being You Is Great, he says, takes that bravery to a new level.
"Quelle's records are not the Branford Marsalis type of thing," Tolle says. "They are the Sun Ra 'Rocket Number Nine' type of thing; they are the Phillip Glass type of thing. They make people uncomfortable before they make you smile, before they give you that epiphany."
Being You Is Great includes production and guest appearances from previous collaborators Chris Keys, Alchemist, Elzhi, Jean Grae, MNDSGN, Homeboy Sandman and others (Quelle produces six of the album's 17 songs himself). By the year's end, he hopes to complete another Crown Nation album with Denmark Vessey and to continue working on new music with Alchemist and Your Old Droog. He's also slated to assist with Cavalier's next album, and to appear on an upcoming LP by Iman Omari.
Quelle also finds time to continue one of his childhood past times: drawing. Last year, he and Jean Grae released an adult children's book, Goodnight Courtney, and performed on Jonathan Coulton's Joco Cruise. Quelle creates commercials for Jean's live talk show series, "The Show Show," and has also designed a haunt for a board game, and started working on a new comic book.
After our interview, we head to a bodega a couple blocks away: I grab food, he cops a small $1 alcohol bottle and some smokes. The schedule for the rest of his day is loose; there's no telling when the inspiration for new music will strike.
"At the core of it, it's always hip-hop," Quelle says. "I can't walk down the street and hear construction noises without thinking about a beat."
—William E. Ketchum III