FEATURES
The Healing Power of Beatrice Deer's "Inuindie" Music
By Luke Ottenhof · May 24, 2018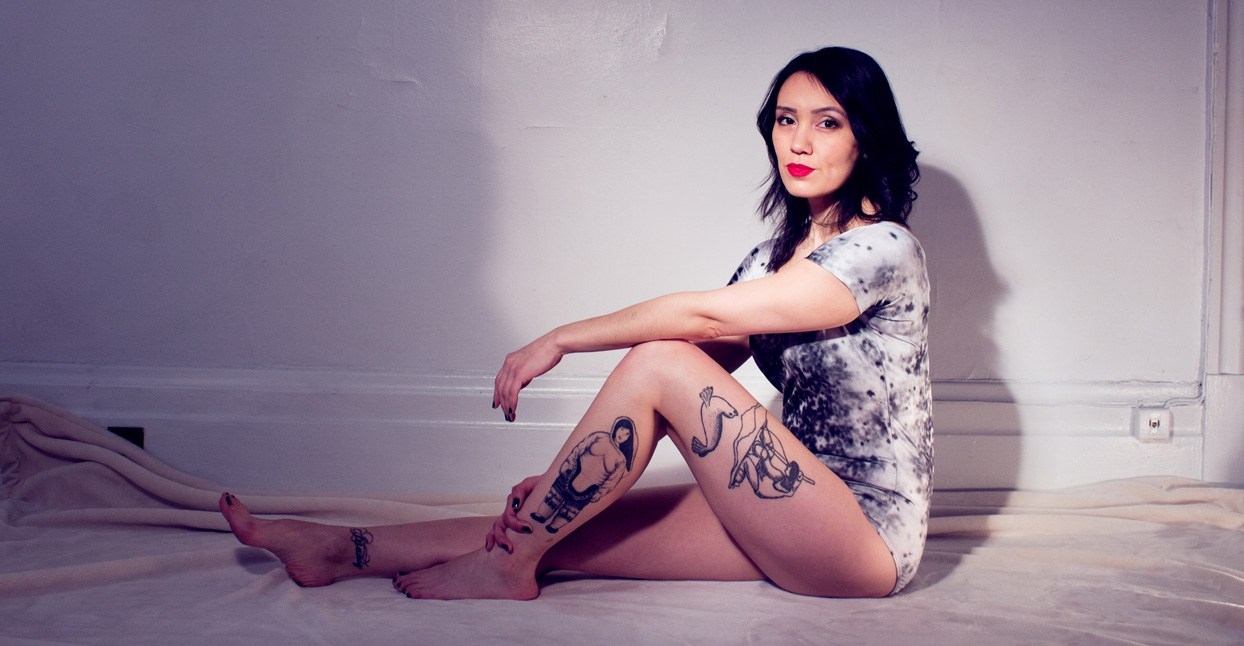 Beatrice Deer has been living in Montreal for over a decade now, but for the half-Inuk, half-Mohawk artist, the city doesn't always feel like home.

"Sometimes it does," she says over the phone. "But when I go back to my hometown, that's when I feel like I'm home."
Home is Quaqtaq, a small town on the coast of Nunavik in northern Quebec. With just 376 residents, Quaqtaq is the place Deer grew up before she moved south in 2007 to focus on her music career. Her music reflects her two homes—Deer describes her music as "Inuindie," a term that captures her eclectic mix of Inuit culture and contemporary indie music—which celebrates Deer's Inukness, and the way she weaves Inuit culture into Montreal's vibrant, reverb-laden rock sound.
Her new record, My All To You, is an immersive listen, showcasing Inuit storytelling, shimmering production, and Deer's gentle compositional hand. With a roster of collaborators that includes members of Land of Talk and Stars, as well as contributions from Montreal-via-Inukjuak throat singer Pauyungie Nutaraaluk, My All crystallizes Deer's Inuindie sound for an album that chronicles trauma, healing, and hope. Though it's her fifth full-length, it's the first for which she wrote all of the music. "Every time I had an interview about a new album the same questions would be asked: 'Did you write the music?'" she says. "I used to say, 'I just wrote the lyrics,' and somehow I didn't quite feel adequate."
The music Deer creates is broad and pensive, mirroring the quiet wisdom of her lyrics. As with previous releases, the lyrics on My All To You are mostly sung in Inuktitut, an Inuit dialect. Colonization has threatened the survival of Indigenous languages like Inuktitut, but Deer's record celebrates her mother tongue in both word and spirit. "We're always encouraged to write music in Inuktitut in our region, just because it's encouraging the use of language," she says.
Just as everyday usage is critical to a dialect's endurance, Deer explains that it's important to share Inuit legends on record. 2015's Fox EP relayed a tale of deception between a fox and a hunter on the title track, and on My All To You track "Atungak," Deer shares another piece of her cultural history: Deer wrote and named the song after the eldest woman in her hometown. "These stories are known in Nunavik, but each region kind of has its own meaning," says Deer.
"In my culture, stories were passed down from generation to generation for centuries," she explains. "There was no written history. It was all oral history. When a new writing system was introduced to our culture, and with colonization, the storytelling hat happened every single night from parents to children started fading away. We don't hear these legends anymore, so that's why I wanted to include a legend."
On "Atungak," Deer's voice slinks between shifty organs and woozy guitars as she relays the story of a man who doesn't age, doomed to watch his children grow old. Producer Mark "Bucky" Wheaton suggested adding keys to heighten the story's haunting tension. "That organ sound kind of adds a mysterious tone to the song, which really translates the story even more," says Deer.
Much of My All To You is dedicated to Deer's steady march towards personal peace, but, as the title suggests, it also celebrates interpersonal relationships and support. "Qaujimagit," with its staccato hi-hats and ominous keys, works through a series of blunt inward assessments ("Are there things you do that you don't want to do? Are things in the past controlling you still?") and builds to a triumphant, post-punk guitar climax, while album closer "You're With Me" affirms the boundlessness of loving relationships.
Perhaps the most affecting song is "1997," the record's serene, spacious opener. "In 1997, we had a tragedy in my family," Deer says. "My house burned down, and I lost two siblings and a cousin." "1997" was written for Deer's friend, who stayed with her after the fire. "She never left my side for three whole months. She slept by my side, she'd spend the whole day with me, she was always there. So that song is my 'thank you' to her."
Through the mournful, rainy-day guitars and mellow percussion of "Isumavunga," Deer wrestles with her own self-worth, trying to find peace. An English translation of one line reads, "I wonder how it feels to respect oneself." By the end of the song, she's created hope out of hardship, likening the process to reclaiming her senses of smell and vision.
"'Isumavunga' is when I started understanding that I have to envision myself in a better place, in a more positive place, because I had a really, really hard life before," she says. Through therapy and support, Deer has been able to create peace, but says the first step is to believe that peace is possible. "You have to see yourself healed," she says. "You have to see yourself happy."
-Luke Ottenhof