FEATURES
Barrio Lindo Builds His Own Sound, Literally
By Catalina Maria Johnson · May 16, 2017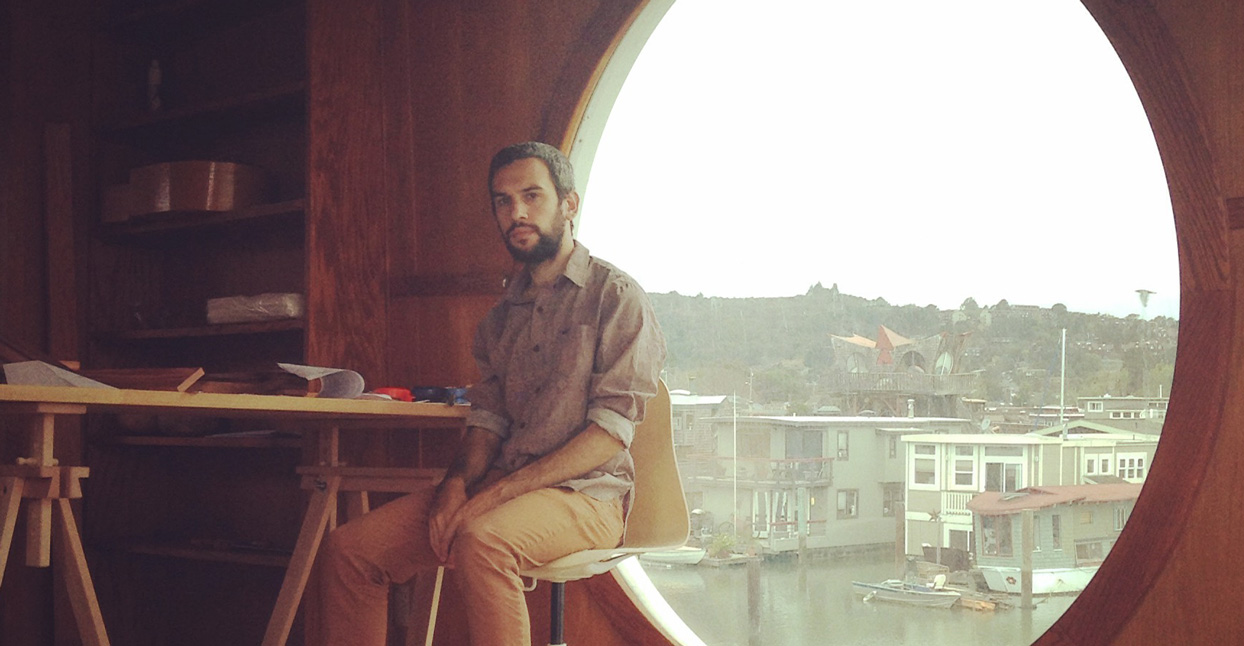 Berlin-based, Colombian-Argentine electronic musician and luthier Agustín Rivaldo, aka Barrio Lindo, speaks in quiet, measured phrases, punctuated by the occasional shy laugh. Like his music, his sentences are carefully composed, revealing an underlying sense of wonder and joy. His latest album, Albura, takes its title from the term for the youngest wood on a tree—wood that is very valuable to luthiers like Rivaldo. Its songs reflect the three years Rivaldo spent traveling the world, including his 2015  Varda Artists Residency where he built instruments and created music on a houseboat in Sausalito, California that was once home to Jack Kerouac and Alan Watts.
Albura features collaborations with a stellar roster of South American producers, including Ela Minus, Lulacruza, and Clara Trucco from Weste. It also incorporates a vast array of instruments—charangos, guitars, and a marimba Rivaldo built from older wood he'd replaced on the houseboat.
Merch for this release:
Vinyl LP
We spoke with Rivaldo about the recently-released album, and how Varda's houseboat, instrument-building, and recent travels came together to create his magical, shimmering soundscapes.
[We spoke with Rivaldo in his native Spanish and present both the original discussion and an English translation below.]
In your music, you seem to be constantly uniting folkloric music with the ancestral roots of South America. 
Yes. Above all, Andean music—but even the music from the Pacific Colombia, and its marimba music. These are cultures, languages, and a whole different way of being in terms of what life is considered to be. I myself don't live that way, but that's the side that brings together anthropology and music. I don't want to create folkloric music—what I'm doing is taking those tools and interpreting them through the filter of who I am, someone who lives a contemporary, modern life, the child of immigrants who has the occupation of building instruments, which is very tied in to the past; there are still techniques being used that are least 500 years old.
En tu música, pareces estar constantemente uniendo la música folklórica con las raíces ancestrales de Sudamérica. ¿Es esta la visión que te inspira?
Sí. Sobretodo la música andina inclusive la música del pacífico colombiano, de su marimba. Son culturas, inclusive lenguas y toda una conjugación muy distinta acerca de lo que es la vida. Yo no es que viva de esa forma pero ese es el lado que une la antropología y la música. Yo no estoy queriendo hacer folklore, estoy tomando esas herramientas e interpretándolas según quien soy, siendo una persona que vive la vida contemporánea, hijo de migrantes, que tengo este oficio de la construcción de instrumentos, que al mismo tiempo habla mucho sobre el pasado; porque se siguen usando las mismas técnicas que hace 500 años quizás. Ya de por sí es un oficio que busca conservar mucho las raíces.
Do you adjust your music when you go live? Because it feels pretty meditative at times.
I do modify it a bit. I'm really now a part of two scenes. On the one hand, I go play at tropical parties, and I'm maybe getting to be too electronic for the tropical scene. Then, I go play in spaces that are more electronic, and it sounds very Latin and very organic. So I'm a little bit of an odd creature in those environments. But lately in Europe—and especially here in Berlin—there's starting to be a receptiveness to very slow electronic music with organic elements, a sort of 'slow techno' music trend that has more spirit. I fit in a little bit better in this more current 'spiritual' electronic scene.
¿Le haces ajustes a tu música cuando tocas en vivo? Porque a ratos se siente bastante meditativa.
Si también, un poco lo modificó en vivo y aparte tambien pasa que quede en medio de dos escenas. Que si bien las dos me reciben, no soy ni una cosa ni a otra. Por un lado voy a tocar a fiestas tropicales y quizás ahora ya empiezo a ser muy electrónico para la escena tropical. Y voy a tocar por ejemplo acá en Berlín en lugares más electrónicos y suena muy latino y suena muy orgánico. Entonces sigo siendo un bicho raro dentro de esos contextos. Pero, en el último tiempo sobretodo aquí en Europa y más que nada en Berlín, empezó a haber mucha abertura sobretodo en la música electrónica lenta y con elementos orgánicos y como toda una corriente de slow techno y con música así con un espíritu más espiritual. Esta escena más espiritual que ahora hay dentro de la electrónica como que a la que mejor me adapto.
Merch for this release:
Vinyl LP
Why so much nostalgia and melancholy? And even the use of the word 'saudade' as the title of one song—that word is so full of longing and solitude.
You know, Argentina is really a very melancholic land, even within all of South America! Our folkloric traditions are the most melancholic—the saddest, always brokenhearted—like a nostalgia for something that happened that might never happen again. 'Saudade,' I liked that. The word seemed so romantic and also about accepting that something might be very good, but that it also might only happen once.
¿Y porqué tanta nostalgia and melancholy? Y hasta la palabra 'saudade' como el título de una canción—esa palabra tan llena de anhelo y soledad.
Sabes, Argentina es un país muy melancólico, inclusive dentro de Sudamérica! De nuestros folklores, el más melancólico, el más triste, con el corazón roto todo el tiempo. Y, sí, es como una nostalgia de algo que sucedió y puede que no vuelva a suceder nunca más. 'Saudade,' si, me gustaba eso, me parecía bastante romántica, me parece bastante romántica la palabra, y poco también de aceptación de que puede ser muy bueno pero también la única vez que suceda .
You built all the instruments yourself, the ones that were used in this recording including charangos, guitars, quenas, and marimbas?
I did build most of them. But I also use digital instruments and samplers. I have my own library of sounds as I go along. Even instruments that I build [for others]—when I finish them up, I usually have them a week or two. I'll tape a musical idea and then that's in my library that and I can take it up again in the future.
¿Construiste todos los instrumentos tú mismo, los que se usaron en esta grabación? ¿Incluyendo charangos, guitars, quenas and marimbas?
Si la gran mayoría, también uso muchos instrumentos digitales y samplers, y voy construyendo mi propia librería. Inclusive también lo hago con los instrumentos que yo hago, porque muchas veces los instrumentos me los encargan y entonces los termino y los tengo una semana o dos semanas. Allí grabo alguna idea y eso me queda en algún lado y luego retomo eso para trabajar.
In your previous album, Kayak Break, you incorporated a lot of instruments that were made on the Agnes Varda boat and residency. Does this album also have sounds of instruments built during that time?
I built a marimba when I was there. I love using the instruments from the Agnes Varda boat because the space with the residency is was so beautiful. Nothing but nature.
En el album anterior, Kayak Break, incorporaste muchos instrumentos que constuiste en el barco durante la residencia de Agnes Varda. ¿En este álbum también hay sonidos de instrumentos de ese época?
Si, yo construí una marimba cuando estaba allí. Me encanta usar los instrumentos de la residencia porque porque el espacio donde está la residencia era muy bonito. Pura naturaleza.
Why the marimba? There's a lot of that instrument on Albura.
The Colombian Pacific Coast [is] a region where there's a huge African community. Even ethnologically, [the marimba is] one of the instruments that did the most to unite Africa and Latin America, because they're all connected to the balaphone, the African marimba. Besides that, there's a very romantic story from the Pacific coast of Colombia about when you build those instruments. You normally had to tune the keys and in ancient times, the builder would go up into the mountains under the full moon and use birdsong to tune the marimba. So the sound seems super magical to me, I've loved it so much for many years.
En la costa pacífica de Colombia, es la región donde hay más comunidad africana, inclusive etnomusicológicamente es uno de los instrumentos que sí han unido a África y Latinoamérica, porque están conectados al balafón, al instrumento este, la marimba africana. Aparte hay una historia muy romántica, cuando la construcción de ese instrumento ahí en el Pacífico Colombiano. Cuando normalmente tenían que hacer la afinación de las teclas y antiguamente el constructor iba en la luna llena por el medio del monte y con el canto de los pájaros afinando la marimba. Entonces me parece súper mágico el sonido, me tiene enamoradísimo desde hace muchos años.
Besides the Andes and South America, what are your other sources of ancestral inspiration?
Little by little, I'm beginning to discover other kinds of rhythms. I'm very interested in the Cuban rumba and in Yoruban music, music that is tied into rituals and, let's say, is practically shamanic, but comes directly from Africa, especially West Africa. Today the kind of work other artists such as Dengue Dengue Dengue are doing within Afro-Peruvian and Afro-Colombian aesthetics seems super interesting. It seems to me that it's a new way to reimagine South American folklore through new technology.
Y aparte de los Andes y América del Sur, ¿cuáles son tus otras fuentes de inspiración ancestral?
Poco a poco también estoy empezando a descubrir otras clases de ritmos, hoy en día estoy muy interesado por la rumba cubana o por la música yoruba, música que tiene que ver y es como muy ritual y hasta chamánica digamos, pero viene directamente desde África, desde el oeste africano. También por ejemplo hoy en día esta muy interesante ver Dengue Dengue Dengue y otros artistas están también trabajando con la estética de lo afroperuano, de lo afrocolombiano y está super interesante. Me parece que es una nueva forma de revisionar el folklore sudamericano a través de las nuevas tecnologías.

Merch for this release:
Vinyl LP
This music that you're mentioning—Afro-Cuban music, Yoruban music, and South American shamanic music—what are the connections you're exploring there?
I've often thought about how dancing at a club brings people together. There's no social classes, no differences among people. Sometimes, it's solitary. People are doing their own thing. Sometimes, there's groups of people with their eyes closed dancing by themselves without speaking to anyone. Or sometimes, it's groups of friends in a circle all dancing together, or couples, or different configurations. There's all these very intense dialogues happening, something that comes, no doubt, from a very ancestral era, it's very primitive.
It seems very interesting to me to use those elements again, as well the aesthetics of certain sounds to compose music that I'm going to be playing at parties and dance clubs, and for this very sound to inspire this kind of ritual encounter between people who could be from very different places.
One of the things that I like the most here in Germany, in terms of playing here, is the fact that it's one of the countries that's most open to refugees. Even for parties, today refugees are the only ones that go can get in for free—at almost all events, there's a 'refugees welcome' sign. So there's a huge connection with people from everywhere—African people, even now Syrians who are also listening to this folkloric music for the first time, and yet they feel that it's very familiar, quite apart from the fact that we're from very different parts of the world, that we don't share histories or cultures.
It's a search for music that's a little slower in tempo and yet transforms everything and makes it a little more mysterious. It nurtures the imagination and this idea of a ritual and music that's not made to be too cerebral but rather for breathing deeply and enjoying.
Las músicas que mencionas, la afrocubana y la yoruba y la chamánica sudamericana ¿cuáles son las conexiones que exploras en todo eso?
Muchas veces he pensado acerca de cómo une la danza, por ejemplo el bailar en una pista de baile. No hay clases sociales, no hay diferencias de ningún tipo entre la gente, es como solitario y cada uno va de una forma distinta, desde el montón de gente que está con los ojos cerrados bailando sola sin hablar con nadie o ves a un grupo de amigos que están en una ronda bailando todos juntos o parejas o distintas colocaciones. Siempre ocurren diálogos muy intensos. Es algo que viene sin duda de una época ancestral, muy primitivo.
Me parece muy interesante volver a utilizar esos elementos y sus estéticas sonoras para componer música que la voy a tocar en fiestas, en lugares bailables; que el sonido inspire a un un ritual, a un encuentro de personas que pueden ser de distintos lados.
Aquí una de las cosas que más me gusta , por ejemplo de estar tocando en Alemania, es primero que es uno de los países con más apertura para los refugiados. Inclusive en muchas fiestas, hoy en día, los refugiados son los únicos que entran gratis, en casi cualquier evento está el 'refugees welcome.' Entonces hay una conexión muy grande con gente de todos lados, gente africana o incluso ahora gente de Siria que igual escuchan esta música folklórica por primera vez y al mismo tiempo la sienten muy familiar, más allá de que somos de la otra parte del mundo, otra historia, otra cultura.
Es una búsqueda de la música un poco más lenta que lo vuelve todo un poco más misterioso. Alimenta ese imaginario de un escenario ritual y de una música que no está hecha para romperse la cabeza, sino que está para respirar hondo y disfrutar.
Define for me what you mean by music made for 'breathing deeply and enjoying?'
It's about that inspiration from nature. In our case as Latinos: Where are our roots, and where do they come from? Not just the indigenous roots from [the] interior of the land. In my case, I have a whole cultural salad in my DNA—Spanish family and Colombian relatives and Argentinian family. So there's lots of influences that have shaped who I am.
And within all of this, there's a message that I think is important for artists to share, full of goodness and light. To speak of things in life that have to do with good things, nature, our existence as humans, humans as part of the world—there's so many things that are bigger than ourselves.
Entonces, defínenos lo que significa para ti música hecha 'para respirar profundo y disfrutar?'
Es esa inspiración de la misma vida y la naturaleza y en nuestro caso de ser Latinos, de dónde son las raíces y cómo vienen, y no solo de las raíces indígenas del interior del país. Sino, la raíz de, yo por ejemplo, de ser hijo de migrantes y tener una ensalada cultural en mi ADN porque tengo familia española, familia colombiana, argentina. Entonces son muchas influencias que van marcando quién yo soy.
Y dentro de eso, en cuanto a las letras y todo, es eso un mensaje, siento que como artista es importante que el mensaje sea algo bondadoso y con luz. Que hable de buenas cosas y de cosas en la vida que tienen que ver con eso, con la naturaleza, la existencia del hombre, humanos como parte del mundo—hay cosas que son más grandes aún que nosotros mismos.
—Catalina Maria Johnson