FEATURES
Bargou 08 Update Tunisian Folk Music for Modern Times
By Tristan Bath · February 09, 2017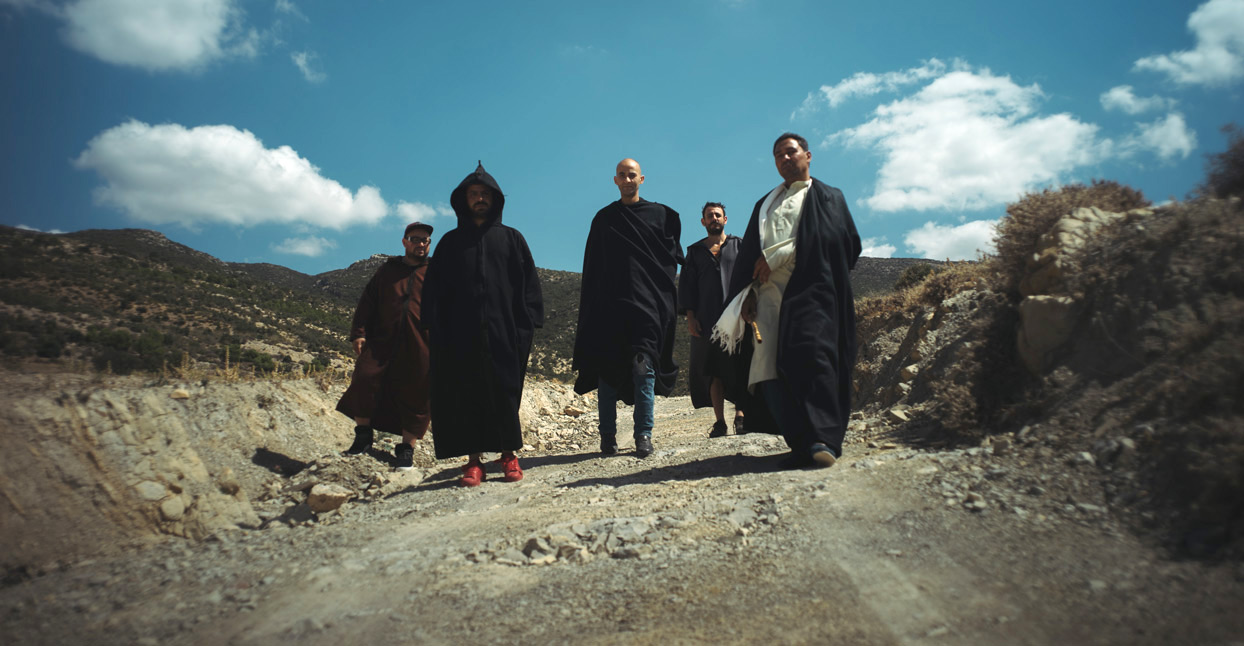 "World music is changing," says Sofyann Ben Youssef, speaking from his home in Brussels, Belgium. "In the information era, the boundaries between countries and cultures are disappearing, so this old 'world music' concept is also disappearing slowly." The Tunisian musician and producer, fresh from a trip to Nigeria to record music for a documentary, is discussing the heavy grooves of the debut album from his group, Bargou 08. The project dates back some three or four years, when Ben Youssef's childhood friend Nidhal Yahyaoui asked him to produce a new project named after an isolated village in the Northwest of the country.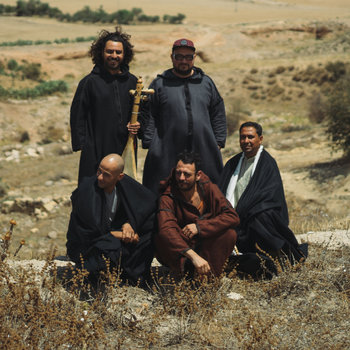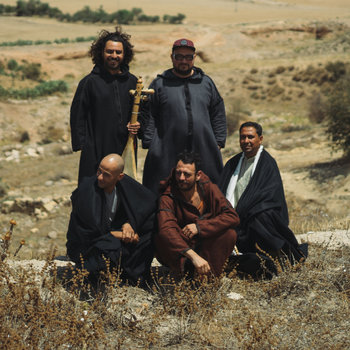 Merch for this release:
Compact Disc (CD), Vinyl LP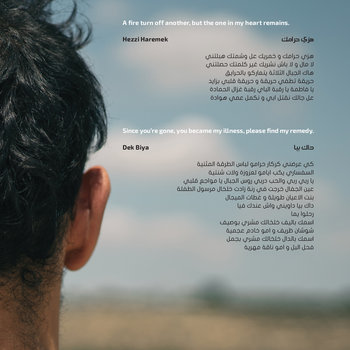 "Nidhal and I grew up in the capital city Tunis," explains Ben Youssef, "but his family were from Bargou. So, every vacation he was there." The arid region surrounding the village has caused it to develop its own unique dialect of local folk songs and tales, which singer Yahyaoui started collecting and learning. Ultimately, it was these songs that would make up Bargou 08's debut album, Targ. It was the first time anyone from the village had documented its folk music. In the past, it was preserved only via oral tradition. "Somebody sung it, and then somebody remembered it," says Ben Youssef. "They'd sing it again and again, and it was transmitted that way through generations."
The record began to take shape during the group's live shows. "From one concert to another the music was always sounding so different," explains Ben Youssef, "so we thought maybe it wasn't a good time for an album yet. The group eventually expanded to become a five-piece, playing around Tunisian towns and at various European festivals, including a well received set at Roskilde in Denmark. Once they felt they'd achieved a level of comfort with the material, they headed to Bargou to record.
The group are hardly traditionalists: on Targ, they integrate a modern drum kit and chunky Moog synthesizer alongside the traditional gasba reed, zokra pipe, and bendir string instruments. The combination transforms the repetitive structure of folk music into funkified party grooves.
Finding new ways to energise traditional music is something of a passion for Ben Youssef. "In almost all traditional musics you have very poor low end," says Ben Youssef. "My approach in Bargou 08 is to find a way to use the Moog or the drums in the low end, which is complementary and symbiotic. I try to use the Moog in a traditional way—as if an airplane full of Moogs fell out of the sky over Bargou, and then people discovered these machines and started fiddling with them and using them in their traditional music."
The decision to start documenting and updating uniquely Tunisian folk traditions took place against a turbulent political backdrop.  The popular uprisings in Tunisia that began in December 2010 and continued through 2011, ultimately toppled the regime of President Zine El Abidine Ben Ali, triggered a wave of similar action throughout the Middle East and North Africa (often referred to as the "Arab Spring"). Because Tunisia had only gained independence from its status as a French protectorate in 1956, and then experienced decades of dictatorship all the way up to 2011, the departure of Ben Ali signalled an opportunity for Tunisians to heal what Ben Youssef describes as their "very damaged" identity. "Since the changes that happened in 2011—I don't call it 'revolution,' for some reason—there was a huge identity crisis", says Ben Youssef. The Bargou 08 project presented an opportunity to share a part of the Tunisian identity and, as Ben Youssef puts it, "to not let go of certain heritage that we needed most in that crisis time."
"We want to encourage Tunisian musicians to look back at their roots," says Ben Youssef. "Not to conserve it or preserve it, but to give it a second life and a contemporary sound." It's a trend that's been making its way steadily across North Africa and the Middle East, audible in the electrified Egyptian chaabi music, or Syrian dabke, both of which have managed to reach young local and Western audiences alike by melding traditional musical modes with a borderless blend of contemporary production methods. "The old 'World Music' concept is disappearing," Ben Youssef reiterates. "It's becoming more often labelled as 'electronic music from Tunisia,' or 'dancehall from India,' you know? I think Bargou is a good example of how 'traditional' music is just evolving. We need fewer generalistic labels now, and it's more like each album has its very own label and its own way of describing it. I think the labels will become longer and longer—until one day they all just become small stories."
—Tristan Bath