FEATURES
Backxwash's Brilliant, Explosive New Record is A Harrowing Journey Inward
By Max Mertens · Photos by Bianca Lecompte · June 12, 2020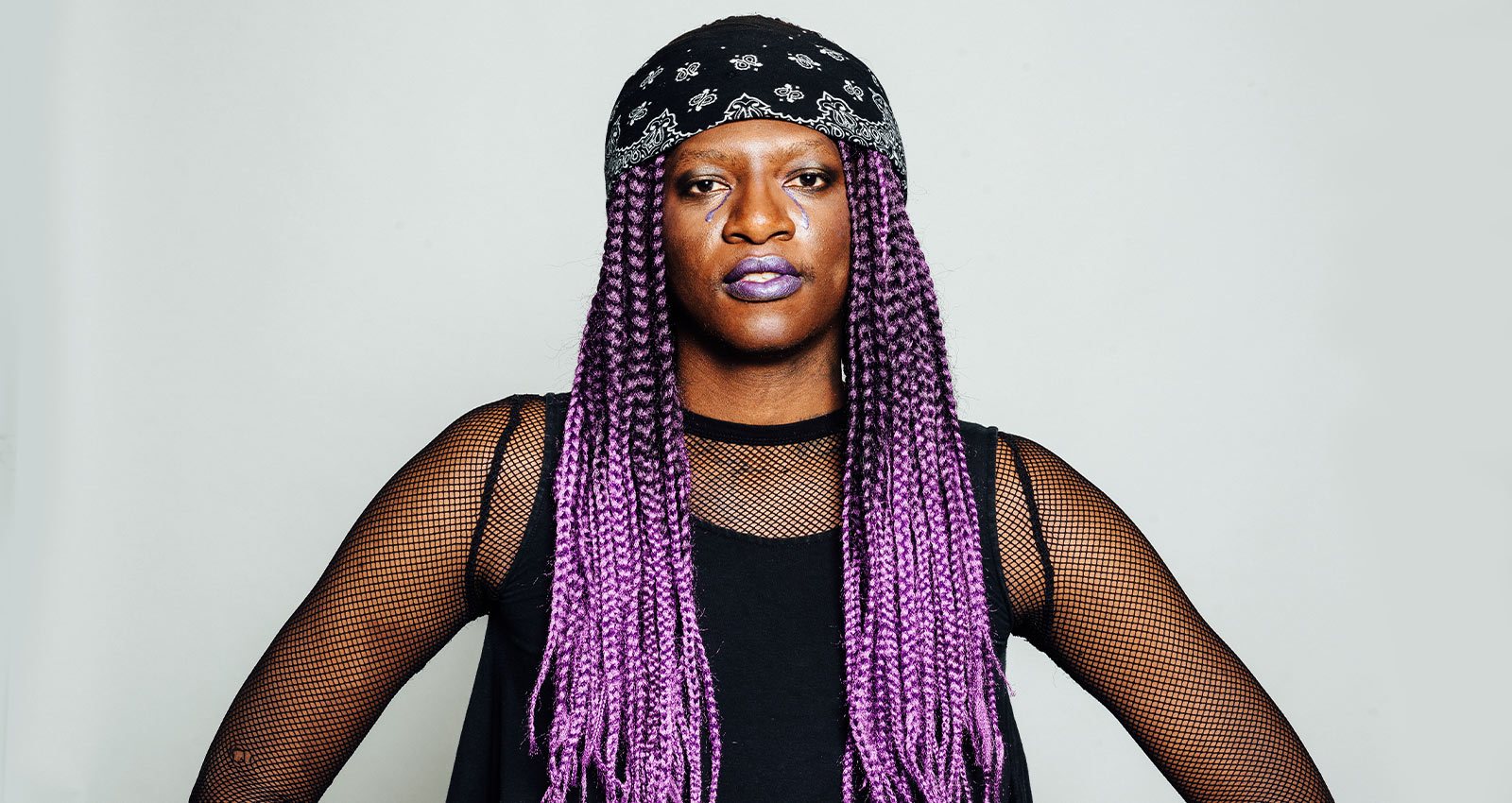 The inspiration for the title of Backxwash's second album came when the rapper and producer was recovering from having six teeth removed. She and her creative director were watching Verónica, a 2017 Spanish supernatural horror film loosely based on the true story of a Madrid teenage girl's mysterious death in 1991.
"There was a scene in which this nun is talking to one of the characters, and the character was asking if God would be able to save her from what's coming after. The nun replied 'Oh God has nothing to do with this, leave him out of it,'" says Ashanti Mutinta. "I was like, 'That's going to be the name of my next album.' It just made sense with the type of album that I wanted to make."
The title couldn't be any more fitting for the latest from the Zambia-born, Canada-based artist who describes her experimental hip-hop as, "less slasher flick, more found footage." God Has Nothing To Do With This Leave Him Out Of It is a record that's about "my version of forgiveness," where fiery televangelist sermons and African choir voices mesh with choice heavy metal samples. Compared to last year's moshpit-ready Deviancy—which Bandcamp named one of the best albums of 2019—God is doomier and more introspective, with Mutinta handling the bulk of the beats for the first time.
"In the beginning I was really afraid to use my production, because I was very self-conscious about it. I thought it wasn't good enough," she admits. "There's one quote that I got from Royce da 5'9. He said 'You don't have to make the greatest beats ever on earth, but you have to make the beats that work well for yourself.' I was like 'Oh, I don't have to make stuff to impress other producers. If I can make something that works well with my sound and what I want, then I'm settled.'"
Growing up in Lusaka, Zambia, some of Mutinta's earliest musical memories were going to  church and Sunday school with her family. She got into beatmaking when her older brother got a copy of FruityLoops on their computer (much to their parents' total dismay). "African church drums are ridiculous," she enthuses. "I think that always stayed with me, even with the music that I started to make." The music of Mutinta's youth is intricately woven through the album; the ghostly chants on "Spells" come from a live performance by Zambian singer Angela Nyirenda, while "Amen" samples the choir from the church she attended. Today, Christianity plays no role in Mutinta's life; she chooses to follow the practices of her Tumbuka tribe ancestors. "African spirituality is only called 'witchcraft' because when the colonists first came by that's the name that they gave it," she says.
To help flesh out her vision, she recruited a handful of guests, including Canadian noise-pop duo Black Dresses (Ada Rook and Devi McCallion), San Diego multi-instrumentalist and producer Malldate, and Virginia producer fatherfake. "I was texting people like, 'Hey would you be able to play this guitar for me? Would you be able to do this hook for me? Would you be able to contribute this bassline?,' she says, adding that she's yet to meet several of these collaborators in real life. "It was really organic, it was at people's own pace."
This increased confidence in her creative process also extends to her songwriting and delivery. Although she honed her skills as a teenager attending cyphers in Montréal, and praises battle rappers like Nu Jerzey Twork and Tay Toc for their "raspy and as in-your-face as possible" styles, she wanted the album to showcase her growth from her early EPs. "I've got this aggressive voice, and I can use it, but that shouldn't be my always go-to," she explains. "I have some songs that had some lines that needed a bit more enunciation." Like Deviancy and 2018's Black Sailor Moon, the album sees her frequently examining what it means to be black and transfeminine in a patriarchal society, while looking harder at herself in the mirror. On the unrelenting title track, she candidly discusses her own experiences with substance abuse and suicidal feelings ("I'm off the vodka, how I deal with insecurity"), and "Adolescence"—which lifts John Bonham's iconic drums from Led Zeppelin's "When The Levee Breaks"—is a somber open letter to Mutinta's younger brother. The record culminates with the slow-burning "Redemption" which, in keeping with the album's religious themes, feels like a confessional, with Mutinta rapping "Feel like you lost a son but you gained a daughter" over sparse production.
"Before you write, you ask yourself 'Are people ready to listen to this? Are people ready to receive these lyrics the way they are? Am I ready for people to listen to these lyrics?'," she says. But she found affirmation in albums like Danny Brown's Atrocity Exhibition and JPEGMAFIA's Veteran, both of which feature unconventional song structures, and center on narrators wrestling with personal and political demons. "The more that I was releasing songs, the more that I was rejecting everything that was imposed on me, essentially," she says. "Bringing people into your world is something that is really tough when you're first starting out. I think this album is where I got it right."